Envira Gallery Documentation
Documentation, Reference Materials and Tutorials for Envira Gallery
Do you want to allow visitors to filter the images in your galleries? With the Tags Addon for Envira Gallery, users can do just that! This doc will show you how to display a list of tags above your Envira Gallery using the Tags Addon, which visitors can select to filter the gallery view.
---
Requirements
Installation
Before you can use the Tags Addon, you'll have to install and activate the addon. Please follow our instructions on how to install and activate addons for a detailed walkthrough of the installation process.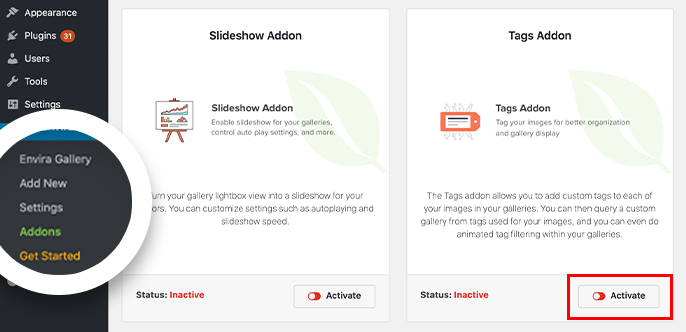 Remember, in this instance, you'll need to activate the Envira Tags Addon.
Setup
Step 1 – Create or edit your gallery
The Tags Addon won't work without an image gallery. So, the first step to creating tags with the Tags Addon is to create a Envira gallery or click to edit an existing gallery. You can follow along with our documentation for creating your first gallery if you're new to the plugin.
Step 2 – Set up the tag options
Inside the gallery creation or edit page, navigate to the Tags tab near the bottom of the screen. Click the Enable Tag Filtering? option to turn on gallery tags.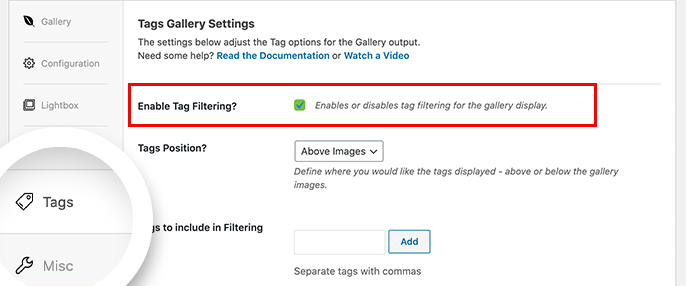 Enabling tags will reveal additional configuration options, including the position of the tags in relation to your gallery images, the tags you want to include in filtering, tag scrolling, and more.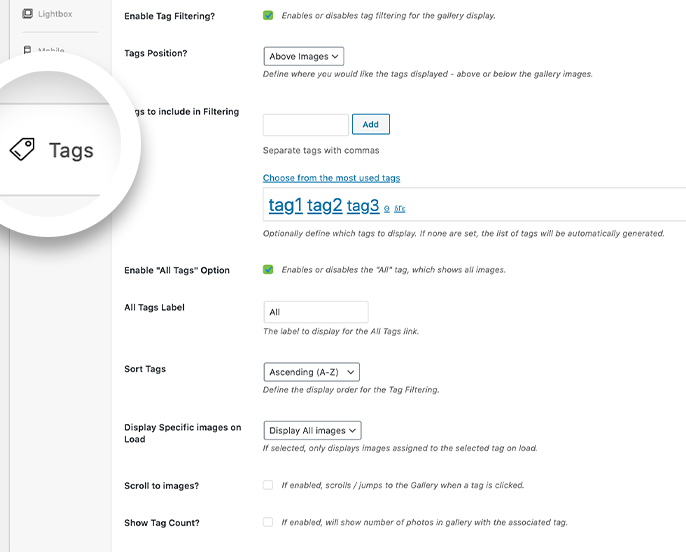 Step 3 – Edit and tag gallery images
Now that you've enabled tags, you need to edit our gallery images in order to assign them to the tags you specified. To do this, click the blue pencil icon on the images in your gallery to open the Edit Metadata window.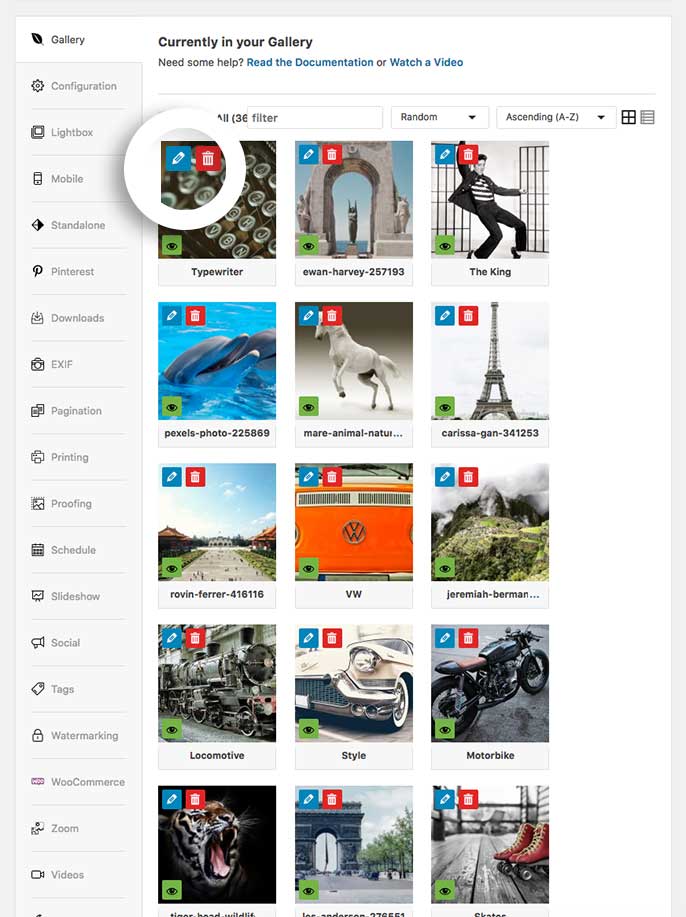 Here you'll add your tag(s) to each gallery image. You can add multiple tags to one image by separating each tag with a comma.
Once you've added all the tags for your image, click the Save Metadata button to save the changes. When you're finished tagging all the images, just click the X icon to close the Edit Metadata window.
Step 4 – Publish or Update your gallery
Finally, click Publish or Update on your gallery to save the changes.
Auto Tagging with Imagga
Alternatively, you can also auto-tag images using the Imagga image tagging service.
From your WordPress Admin dashboard, navigate to Envira » Settings » Tags tab. Here you'll see options to enable, connect to your Imagga account, and configure the Imagga: Minimum Confidence percentage.
Check the box for Imagga: Enable Auto Tagging? in this screen to get started.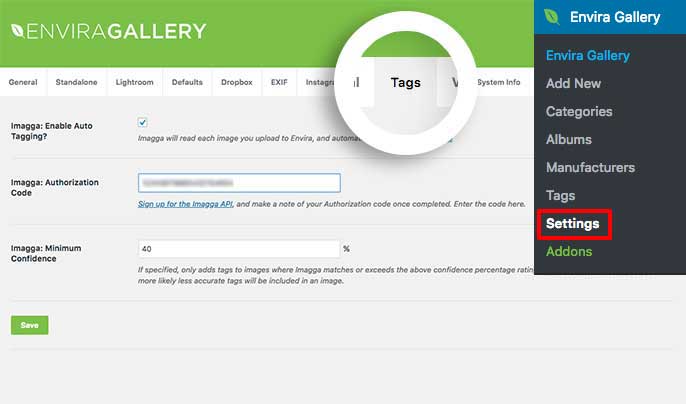 Next, create a free account at Imagga.
Once you've confirmed your account, copy the Authorization Code from your Imagga Dashboard.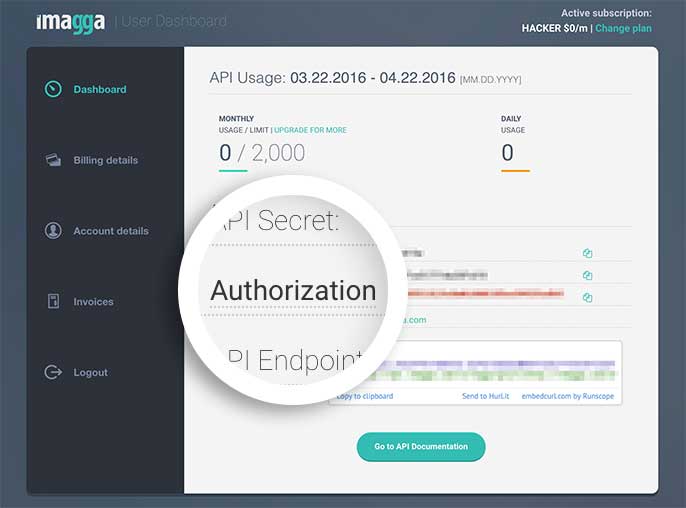 Return to the WordPress Admin and paste the code into the Imagga: Authorization Code field in the Tags tab.
You can also specify a Imagga: Minimum Confidence percentage. If specified, only adds tags to images where Imagga matches or exceeds the above confidence percentage rating. A lower confidence means it is more likely less accurate tags will be paired with an image. The default value is 40%, but you can raise or lower this based on your specific needs.
Then, just click the Save button to save the changes and begin auto-tagging images.
Imagga auto-tagging is not applied to images already present in your galleries. You'll need to manually add tags to any images already in your Enivra gallery.
That's it! You've successfully configured auto-tagging for your galleries!
Using the Albums Addon you can also use Envira Tags Addon for albums too! Check out our tutorial on How to Create a Filterable Album.
---
FAQs
Q: Can I bulk-add tags to my gallery images?
A: Absolutely! Just follow along with our tutorial here on How to Bulk Edit Gallery Images to bulk edit your gallery images and add your tags.
---
Q: How do I manage existing tag names and slugs?
A: You can navigate to the Envira Gallery » Tags screen to manage your tags.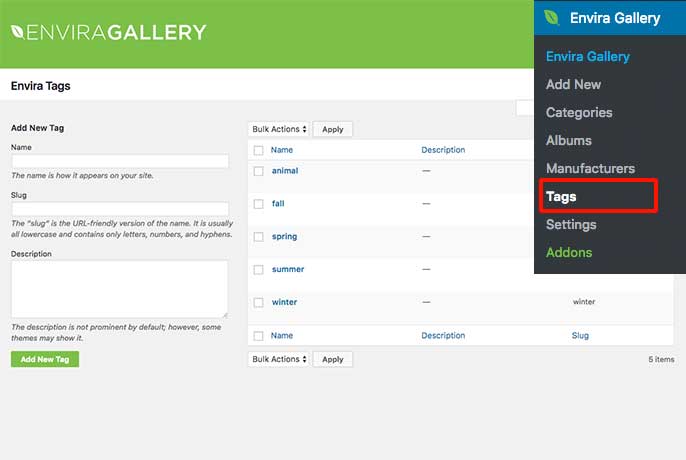 ---
Q: Can I change the look of the tag filter links?
A: Yes! We have an article on How to Style the Tags List.
---
Q: How can I create a dynamic gallery with images from a specific tag?
A: You can use the Dynamic Addon to display a tag-based dynamic gallery. Read our documentation and tutorials to learn more.
---
Q: Can I filter my images by tag name from the Media Library?
A: Yes! Follow our documentation to learn how to filter by Envira Tags in the WordPress.
---
Q: I don't see a smooth transition when filtering the images in my gallery by tags. Why?
A: In order to see a smooth transition when filtering by tags, you must be using the Mason layout setting from the Configuration tab of the gallery.
---
Q: Why don't I see all of my tags in the list?
A: The tags you've included in the section for Tags to include for Filtering will be the only tags populating the list.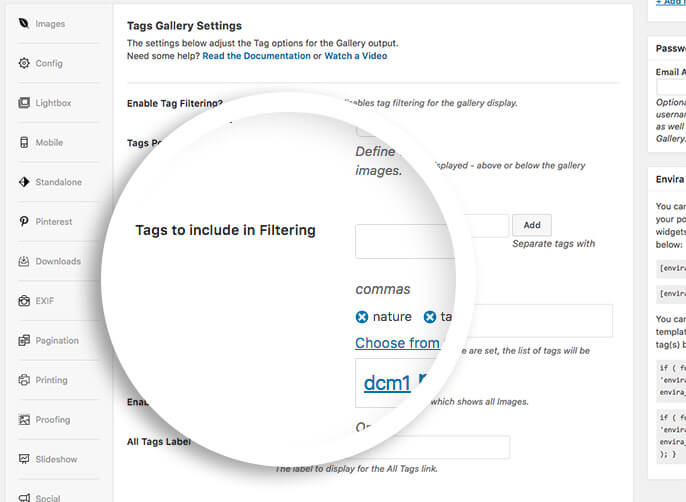 ---
Q: I can't get the sorting to work correctly?
A: Please check how you've included your tags. If you are using the Tags to include in Filtering option, your tags will appear in this order: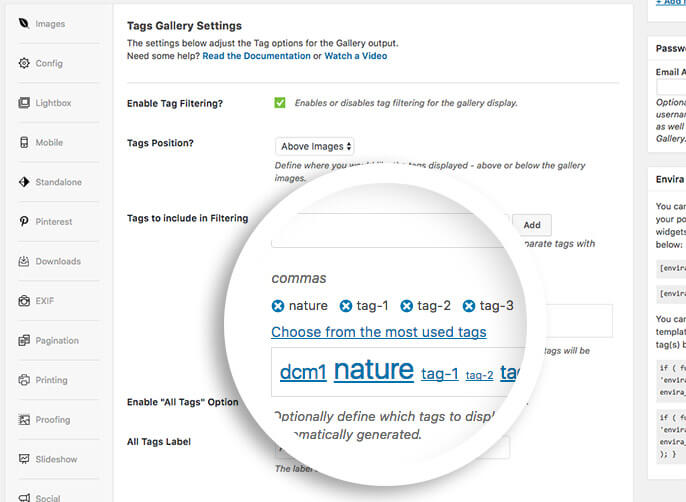 ---
Q: Why don't I see all of the tags showing in the filter?
A: Please check to make sure your Envira Tags and your Envira Categories are not using the same name.
All gallery titles, album titles, Envira Tags and Envira Categories should have unique names. If you notice any issues, please edit the names and their slugs or permalinks to make them unique, and then go to Settings » Permalinks. Click Save to update WordPress and apply your changes.
---
Q: Can I filter by EXIF tags as well?
A: Absolutely! Just click to Enable EXIF Tag Filtering? on the Tags tab.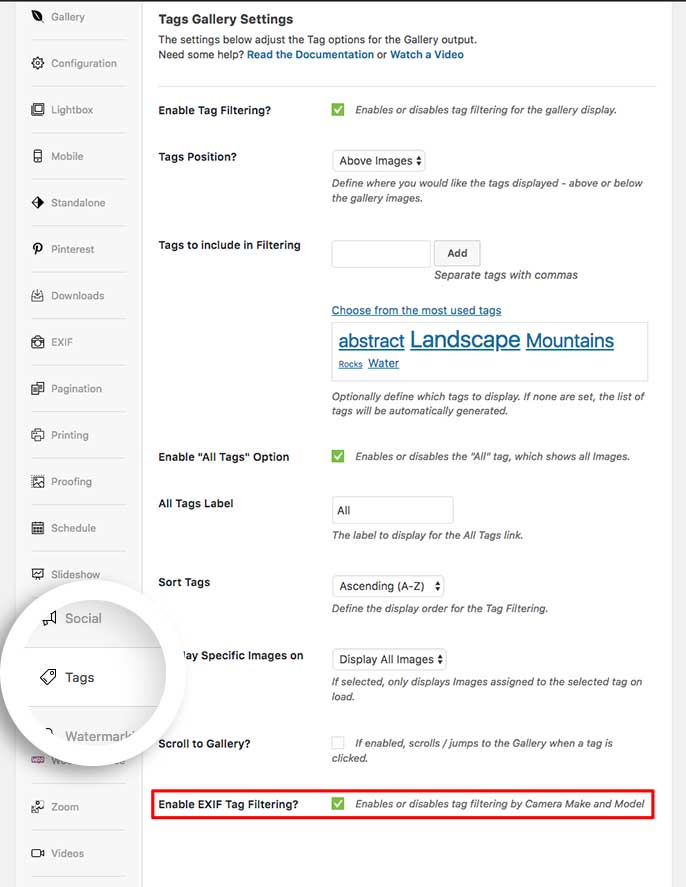 ---
Q: Will I be able to use Envira Tags Addon with albums?
A: Yes, the Tags tab is also available when creating or editing an Envira Album.
---
Q: Is Tags Filtering also available on mobile?
A: Yes, you can toggle tags filtering on and off on mobile from the Mobile tab, as long as the Tags Addon is activated.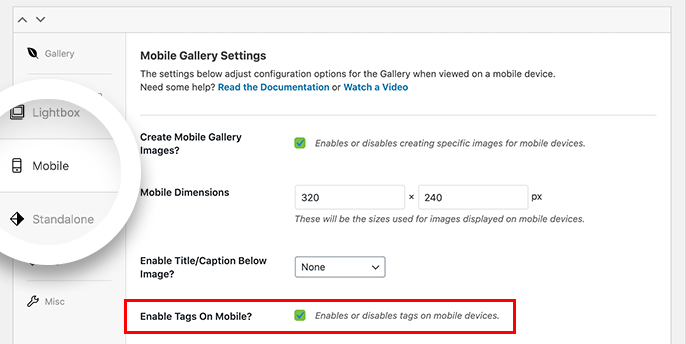 Changelog
1.7.8 (05-11-2023)
1.7.15 (07-15-2021)
Fix: Resolved issue where filterable album with categories were not filtering correctly.
Added: Envira Tags field on "Attachment Details" modal from WP Media Library.
1.7.14 (05-26-2021)
Fix: Removed view from tags and categories admin screen.
1.7.13 (04-28-2021)
Fix: Improved animation in mason layout.
1.7.12 (03-10-2021)
Added: No tags message and filter for tabs with no images.
1.7.11 (09-30-2020)
Added: Added envira_check_gallery_maybe_filter_by_tag filter.
1.7.10 (09-16-2020)
Fix: Minor bugs, typos, and PHP warnigns resolved.
1.7.8 (02-05-2020)
Added: Filter to control displayed tags in admin moda: envira_gallery_tags_modal_args
Fix: Fixes to admin menu settings that should be hidden in certain scenarios.
Fix: Minor typos and PHP warnings resolved.
1.7.7 (12-17-2019)
Added: Improved support with Imagga v2.0 API
Fix: Better compatibility with Slikk and similar themes.
Fix: Resolved filtering in isotope issues.
Fix: Dupilcating images and/or tags in some setups resolved.
Fix: Tagged Gallery only showing certains tagged images in lightbox.
1.7.6.1 (10-24-2019)
Added: Settings to enable/disable tag count.
1.7.6 (10-23-2019)
Added: Tag count.
Fix: Tweaks and bug fixes related to tag filtering.
1.7.5 (05-20-2019)
Fix: Issues related to lightbox not working once tag was triggered.
1.7.4 (01-16-2019)
Added: White labeling of the ?envira-tag= parameter is now possible.
1.7.3 (11-07-2018)
Fix: Tags and Manufactures menu CSS.
1.7.2 (10-16-2018)
Added: Image counts/filter in tags admin screen.
1.7.1 (05-30-2018)
1.7.0 (04-10-2018)
Added: Fancybox3 support.
Fix: Minor bug fixes.
1.6.2 (11-07-2017)
Fix: Dynamic Compatibility
1.6.1 (10-23-2017)
1.6.0 (10-18-2017)
1.5.1 (08-22-2017)
Fixed: Tags disappear on Column Layout
1.5.0 (08-08-2017)
Fixed: instances where the page reloads
Fixed: Active class not being added on all galleries
1.4.9 (07-25-2017)
1.4.8 (04-13-2017)
1.4.7 (03-08-2017)
Fix: Tags to include for filtering and manual sort compatibility.
1.4.6 (02-15-2017)
Fix: All tags output class
Fix: Minor bug fixes
1.4.5 (02-01-2017)
Fix: Albums not sorting
Fix: Minor bug fixes
1.4.4 (01-19-2017)
1.4.3 (2016-12-08)
Fix: Dynamic Compatibility
Fix: Minor bug fixes
1.4.2.6 (2016-12-08)
Fix: All tag always has active class
1.4.2.5 (2016-11-03)
1.4.2.4 (2016-10-04)
Fix: Ensure manual sort saving the changes when altered for albums and galleries.
1.4.2.3 (2016-08-25)
Fix: "&" character no longer causes tags to not appear.
1.4.2.2 (2016-07-26)
Fix: Minimum Confidence setting now saves properly.
1.4.2.1 (2016-07-01)
Fix: Remove debugging code from album output to prevent errors.
1.4.2 (2016-06-30)
Fix: Category tags should save properly for albums.
Update: Removed redudant category metabox in right sidebar on ablums when tag addon is activated.
1.4.1 (2016-05-12)
Added: Option to enable or disable All tag
Added: Option to only display images with specified tag on load
Added: Option to filter Album Galleries by Category
Fix: Ensure image tags are included in Envira Gallery export files
1.4.0 (2016-05-05)
Updated: Standardised edit screen titles and descriptions
1.3.9 (2016-04-28)
Fix: Output tags within the Envira Gallery container, so they can be better managed by CSS, JS and other Addons, such as Pagination.
1.3.8 (2016-04-21)
Updated: Spanish translation
1.3.7 (2016-04-16)
Fix: Prevent success / error notices on Settings screen from jumping
1.3.6 (2016-03-31)
Added: Documentation and Video Help Links
Updated: Moved image editing modal descriptions inline with fields
1.3.5 (2016-03-10)
Fix: Scroll to Gallery anchor changed so tags are not sometimes hidden
Fix: Get Term by Name and output slug in gallery image class so JS filtering works correctly
Updated: Spanish Translations
1.3.4 (2016-03-03)
Added: Tags are stored against an image when uploaded from Lightroom (requires Adobe Lightroom 1.0.1.0+; Envira Lightroom Addon 1.0.3+)
Fix: Tags displaying slug instead of name
Fix: Non-JS tag filtering URLs failed to use slug correctly
1.3.3 (2016-02-25)
Added: Sort tag filters option
Added: Manually define tag filter display order
1.3.2 (2016-02-18)
Added: Option to scroll to gallery when tag clicked
1.3.1 (2016-02-11)
Added: Automatically tag images using the Imagga API
Added: tags="*" will output a Gallery comprising of all tagged images
Fix: No longer require the tags_id element on shortcodes; require the ID parameter. This standardises shortcode syntax to follow all Envira Addons.
Fix: Clear caches on all tag-based galleries on image tag change to ensure all relevant tagged images are displayed
1.3.0.1 (2016-02-08)
Fix: envira_tags_get_gallery_by_tags() error
1.3.0 (2016-02-04)
Added: Restructured plugin to use classes and singletons per other Envira Addons
Added: Filter images in Media Library view by Envira Tag
Fix: Renamed 'Tags' to 'Envira Tags' so it's easier to distinguish in third party plugins between Post Tags and Envira Tags
1.2.5 (2015-12-31)
Added: Support for new Envira Gallery 1.4.1.0+ meta editor
1.2.4 (2015-12-23)
Updated: Spanish translations
1.2.3 (2015-12-10)
Updated: Spanish Translation
Fix: Ensure all strings are localized for translation
1.2.2 (2015-11-26)
Added: Spanish translation.
Fix: Ensure Tags appear alphabetically on front-end output to match backend output when "Tags to include in Filtering" are defined.
1.2.1 (2015-11-06)
Fix: Tag filtering works when multiple Galleries embedded on a single Page.
1.2.0 (2015-10-29)
Fix: Unexpected end of input JS error when using Albums.
1.1.9 (2015-10-14)
Added: Add tags to multiple images (requires Envira Gallery 1.3.7+)
1.1.8 (2015-09-24)
Added: Abstracted transient expiration
1.1.7 (2015-07-30)
Added: Ability to define tag label
1.1.6 (2015-07-23)
Added: Most Popular Tags below Tag Inputs
1.1.5
Added: Number of Images Limit support for Dynamic Addon
1.1.4
Added: Tags Addon actions when a new image is uploaded or selected for insertion into a Gallery.
Fix: Tag filtering by slug when AJAX / JS not used.
1.1.3
Added: Better actions and filters on taxonomies for easier documentation
1.1.2
Added: Generate galleries with images matching all specified tags or any specified tag(s)
1.1.1
Added: Non-Javascript support for filtering a Gallery by Tag
1.1.0
Added: Tags Tab in WordPress Admin UI when editing a Gallery
Added: CSS for general markup now in main Envira Gallery CSS for better accessibility
Added: Support for outputting Envira EXIF Make/Manufacturer tags
Added: Generate a dynamic gallery by image tag across all Envira Galleries (requires Envira Dynamic 1.0+)
1.0.9
Fixed: Ability to choose which tags appear for the tag filtering
1.0.8
Added: Misc tab - ability to choose which tags appear for the tag filtering
1.0.7
Fix: Support for Envira Gallery 1.3.0 and higher with Isotope v2
1.0.6
Fix: Tag filtering on Envira shortcode re-enabled
1.0.5
Full localization support with .pot files.
All tags now moved to custom taxonomy for better query support (and eventual support for popular tags and building galleries by tag).
1.0.4
Removed leftover logging utility from the addon.
1.0.3
Updated to reflect new namespacing for Envira.
1.0.2
Fixed bug causing tags not to be saved.
1.0.1
Fixed bug that caused tag filtering to always be turned on.
1.0.0
Initial release of the addon.