Envira Gallery Documentation
Documentation, Reference Materials and Tutorials for Envira Gallery
How to Use the Bulk Apply Settings
Envira Gallery makes it easy to bulk apply settings from one gallery or album. Follow this guide to learn how to bulk edit your galleries and albums.
For our example, we're going to say previously we've had all of our galleries set up using the 2 column layout but we now want to use that new and awesome 'Automatic' layout feature. These docs will show you how easy we can make that change in one gallery and apply the same change to all galleries.
---
Requirements
Installation
Please follow our instructions on how to install and activate addons.
In this instance, you'll be activating the Envira Defaults Addon.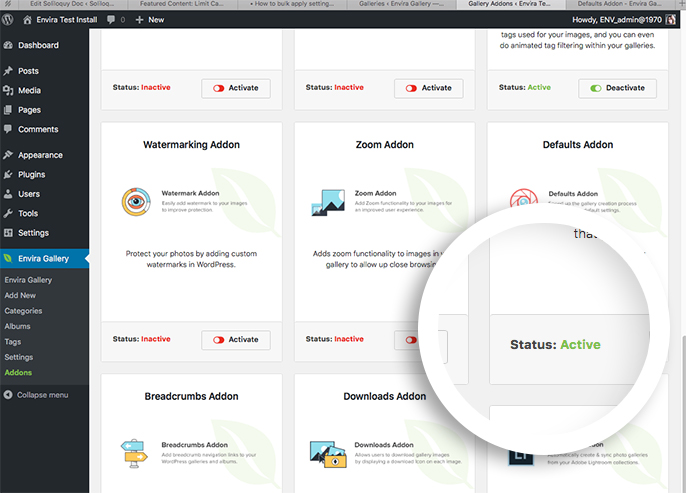 Bulk Editing
Step 1 – Set up your Default Gallery Settings
In this example, we are going to make all our change to the Envira Default Settings. You don't have to use the Envira Default Settings, but for the purpose of this documentation, we will be.
Edit the Enivra Default Settings gallery and go to the Config tab, change the Number of Gallery Columns from 'Two Columns (2)' (from our example) to 'Automatic' and click 'Update' on the gallery: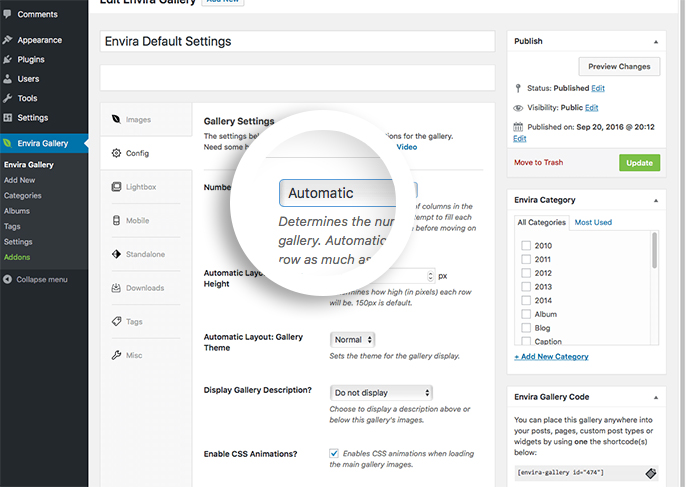 Step 2 – Select the galleries you would like to bulk apply these settings to
Once you go back to your Envira Galleries list screen, select all the galleries you want to change to use this new setting by selecting the checkbox beside the gallery title. From the dropdown above the title column, select 'Apply Settings from Another Gallery':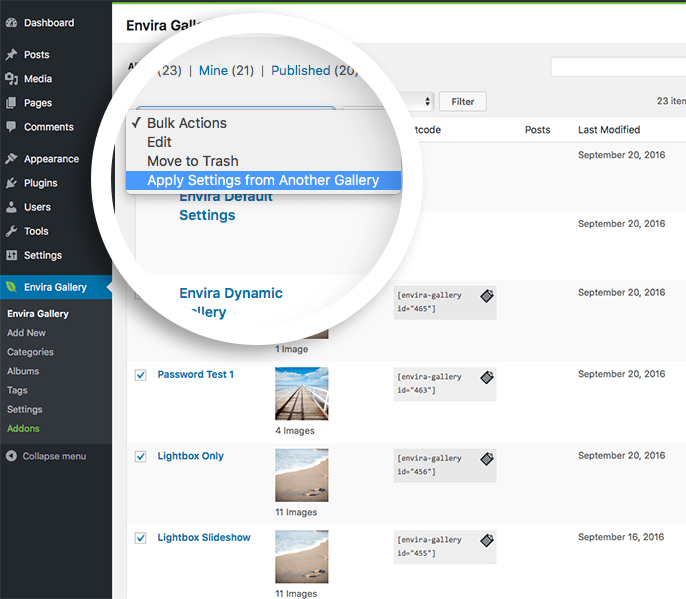 Step 3 – Select the gallery you would like to bulk apply these settings from (Default Gallery)
When you click 'Apply' after you have selected the 'Apply Settings from Another Gallery' dropdown, a pop-up window will open and you will be able to choose which gallery you want to apply the settings from. For this example, we're going to select 'Envira Default Settings'. Once you have selected the gallery you want to use for your setting changes, click the 'Apply' button in the bottom right-hand corner.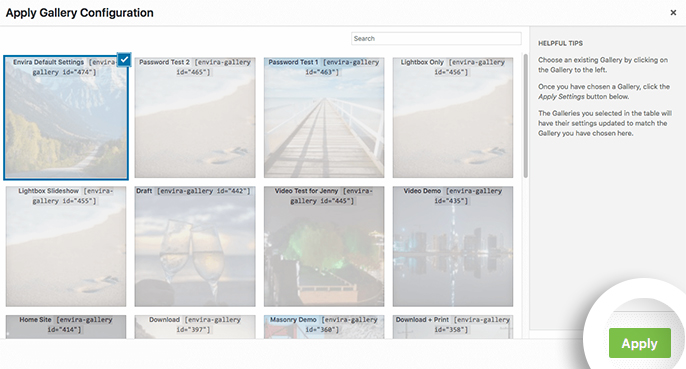 Step 4 – View your new gallery settings
And it's that simple, with a few clicks of your mouse, you can change all of your galleries or just a select few!
---
FAQs
Q: Can I bulk edit albums too?
A: Absolutely! Following the steps above from the 'Albums' view, these same exact steps can be followed for albums as well.
---