Envira Gallery Documentation
Documentation, Reference Materials and Tutorials for Envira Gallery
Would you like to turn your Lightroom collections instantly into beautiful Envira galleries? The Lightroom Addon for Envira Gallery allows you to synchronize your Adobe Lightroom Collections with Envira galleries. In this documentation we will show you how easy using Envira's Lightroom Addon can be.
---
Requirements
Installation
The Lightroom Addon requires two separate components to be configured. These components are needed to allow Envira to communicate with Lightroom.
The first is the Envira Lightroom Addon and is installed on your WordPress site.
The second is the Envira Lightroom (Adobe) and is installed on your local computer to be used with the Adobe Lightroom software.
Each of these 2 components will communicate with one another to create your galleries or update your gallery images should you edit them at any time from within Lightroom.
Installing on WordPress
Please follow our instructions on how to install and activate addons. In this instance, you'll be activating the Envira Lightroom Addon.
Please make sure Permalinks are set to Post name OR /%postname%/

---
Installing on Lightroom
---
Download from Envira
To begin with installing the Lightroom Addon (Adobe) for Envira, you must download the file and install it on your computer.
First you'll need to log in to your Envira Account and click the Downloads Tab. There you'll see a list of addons that you can click to download.
Next, click on the download link for the Envira Lightroom (Adobe) file.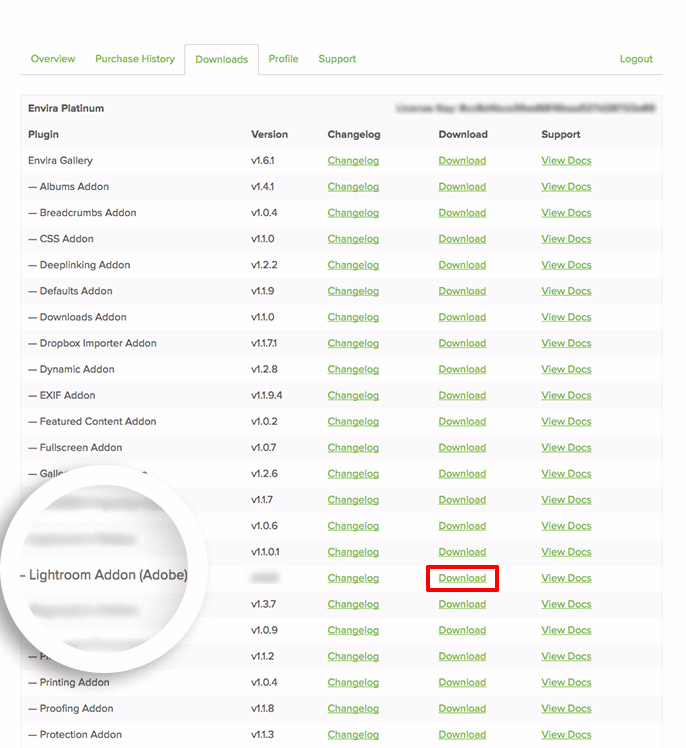 You'll need to find the download on your computer either in your download's folder or where ever you may have saved the file upon downloading it.
When you locate the file, you'll see the enviralrplugin.zip.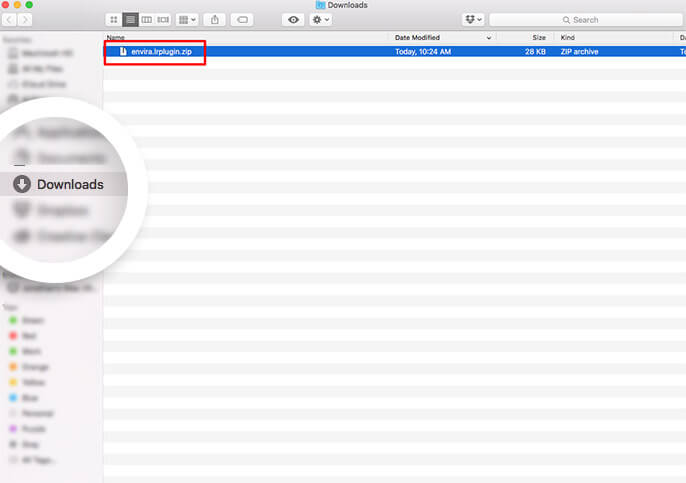 For Mac users, double click on the enviralrplugin.zip to unzip it and you'll now see the envira.lrplugin file that will need to be installed and set up inside Lightroom.
If you are a Windows user, you can right click on the .zip file and choose Extract All from the menu.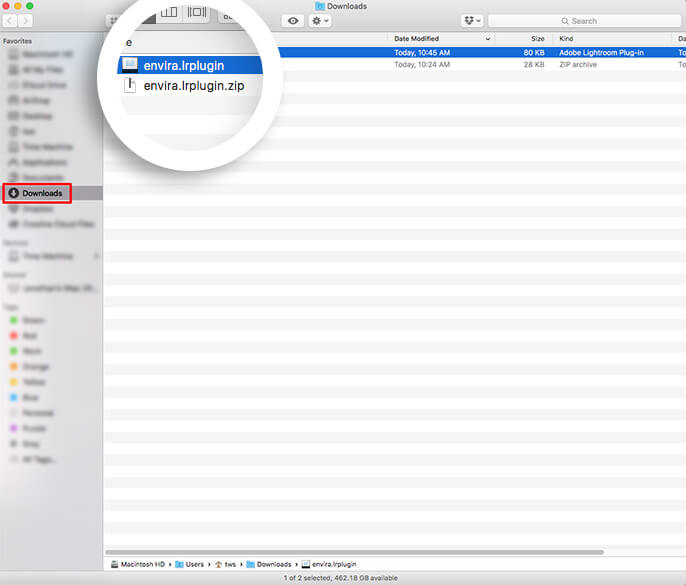 We recommend you move the envira.lrplugin to a place that it will not get accidentally deleted. We suggest the file is moved to inside the Lightroom folder on your computer for safe keeping
To move the file, you can copy the file by right clicking on the file and selecting copy.
Next, you'll go to your folder where Lightroom is installed and paste the file to this folder for safe keeping.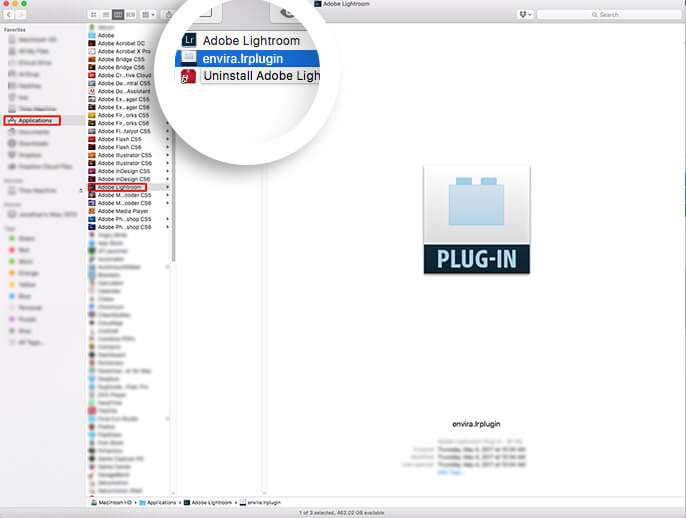 Now that we have our Lightroom Addon installed safely on our computer, it's time to install the application into Lightroom.
First, you'll need to open Lightroom on your computer.
Once Lightroom has opened, from the File menu, select Plugin-in Manager to open the window.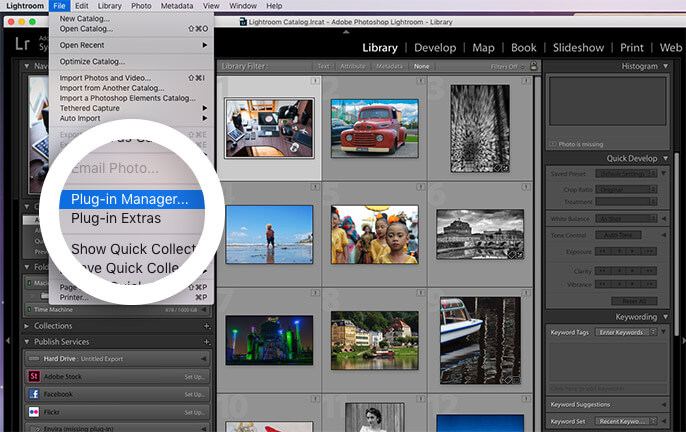 With the Plugin-in Manager window open, select Add from the bottom left corner of the window.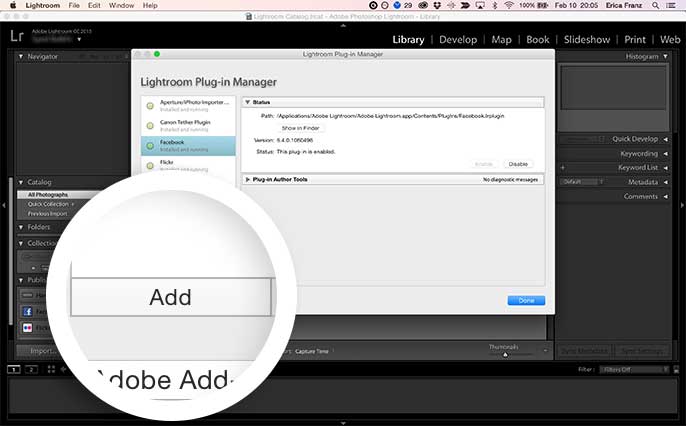 Next, navigate to the folder containing the plugin file, select the envira.lrplugin file and then the Add Plug-in button.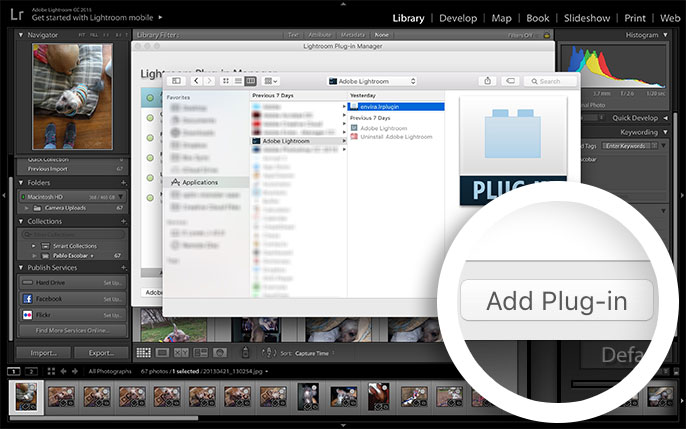 You'll now see the Envira plug-in in the Plug-in Manager. Select the Done button to finish.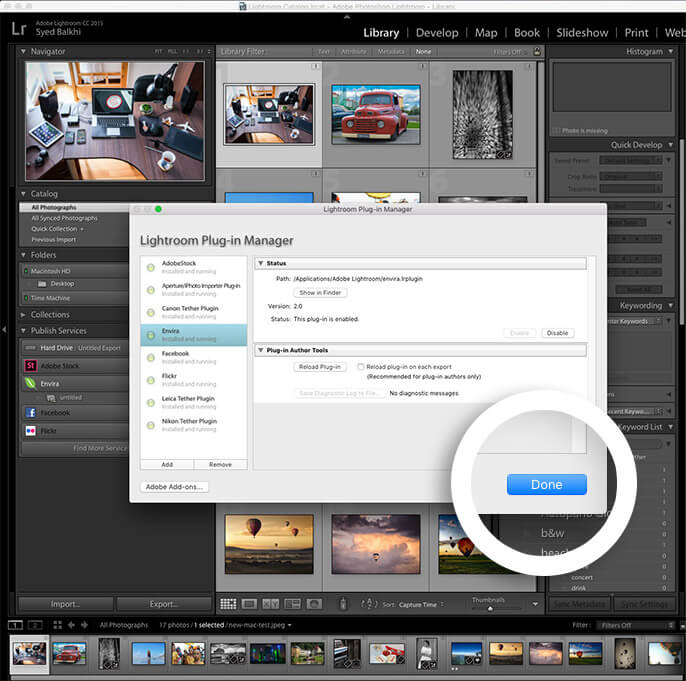 Finally, we have Envira Lightroom (Adobe) installed on your computer. We will come back to the configuration of this addon a little later in the documentation.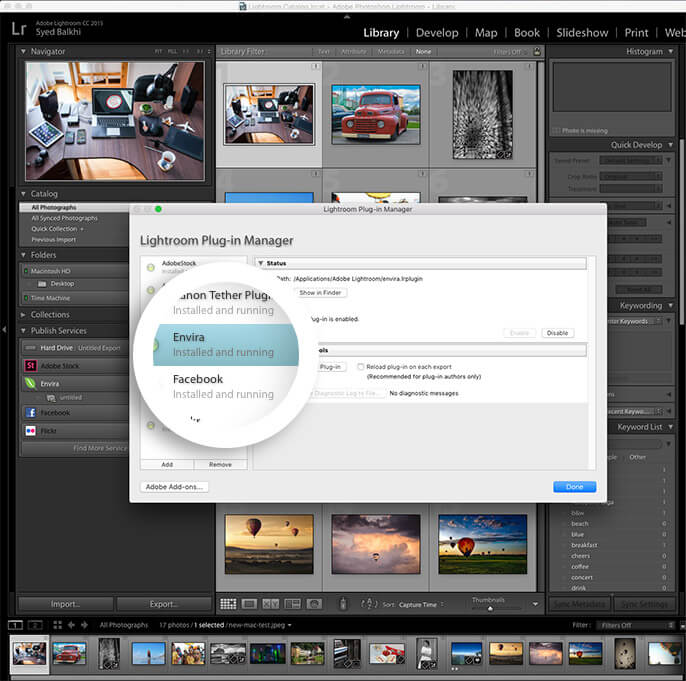 ---
Setup
Now that we have Envira Lightroom Addon installed on WordPress and we have the Lightroom Addon (Adobe) installed inside Lightroom, we now need to configure the settings so the 2 applications can communicate with one another.
Setup WordPress
WordPress User – The WordPress User that Lightroom will use to create and manage Envira Galleries. Note that this User must have the relevent role / capabilities.
Accent Token – Copy this access token, and enter it into the Access Token field in Lightroom Publishing Manager » Envira.
Remove Images – Remove Images from server when Lightroom replaces them. When you edit your images in Lightroom, you can choose to have Envira create new images for you or just remove the images that were already published and replace them with the new edited version.
First, let's start by navigating to Envira Gallery » Settings » Lightroom tab. From this screen, choose the WordPress User that Lightroom will use to create and manage Envira Galleries.
IMPORTANT: this User must have the relevant role / capabilities to perform the following:
Create Envira Galleries
Edit Envira Galleries
Delete Envira Galleries
Create Media Library Items (Attachments)
Edit Media Library Items (Attachments)
Delete Media Library Items (Attachments)
Next, make a note of the Access Token. This is the key that allows Lightroom to communicate with Envira. Without it, you wouldn't be able to authenticate the connection.
Simply select the Access Token and right click to copy it. We'll use this token in the next step to setup the Lightroom settings.
IMPORTANT: Do not share your access token with anyone else. The Access Token, when used in the Lightroom Plugin, will allow galleries and images to be created, edited and deleted.
If at any time you are concerned that your access token may have been compromised, or that another user knows your token, click the Generate New Access Token button: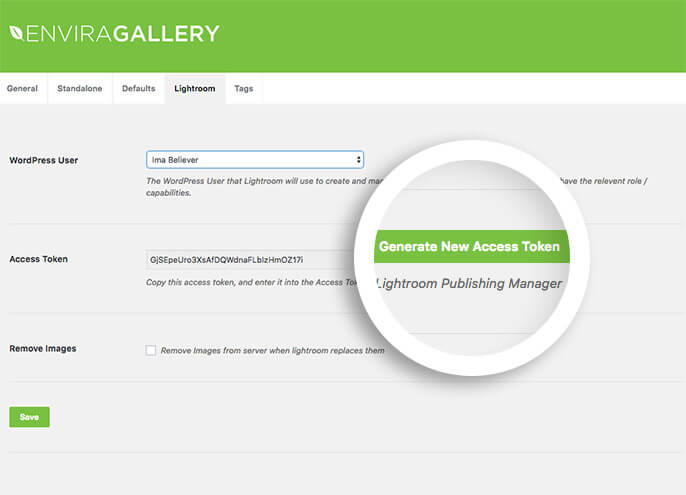 The last setting on the Lightroom tab is the option to replace the images on your server when any edits have been made in Lightroom. To remove the images on your server, simply check the box next to Remove Images.
Select the Save button to apply the chosen configuration.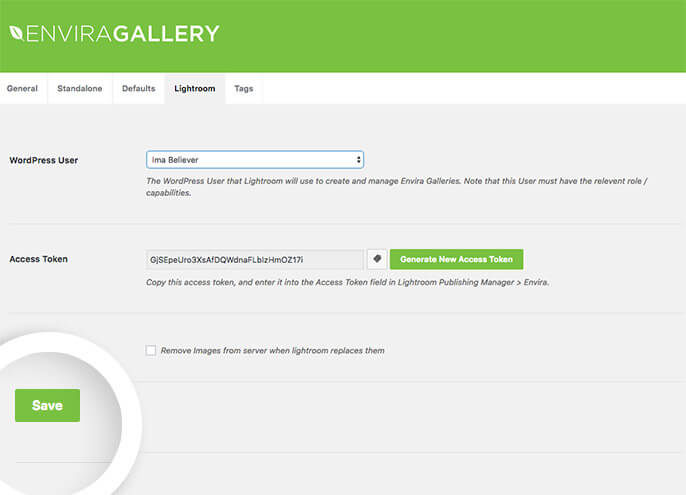 ---
Setup Lightoom
Before we can begin publishing our Lightroom collections, we'll need to configure the Envira settings inside Lightroom. First, open up the Lightroom software if it's not already open.
Once Lightroom is open, right click on Envira from the Publish Services section and choose Edit Settings.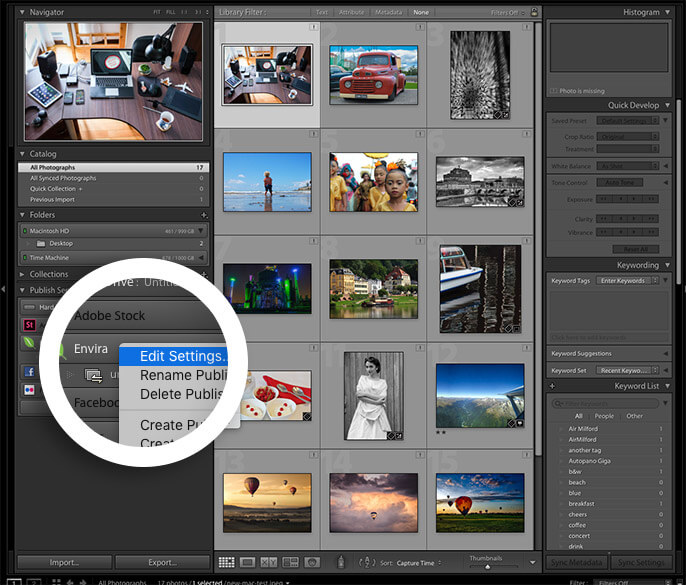 Enter your WordPress web site URL, as displayed at WordPress Administration » Settings » General » WordPress Address (URL)
Enter your Access Token, as displayed at WordPress Administration » Envira Gallery » Settings » Lightroom » Access Token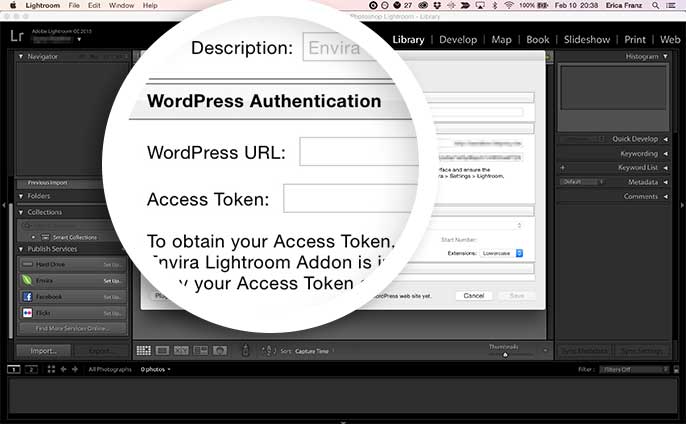 Next, select the Authenticate button: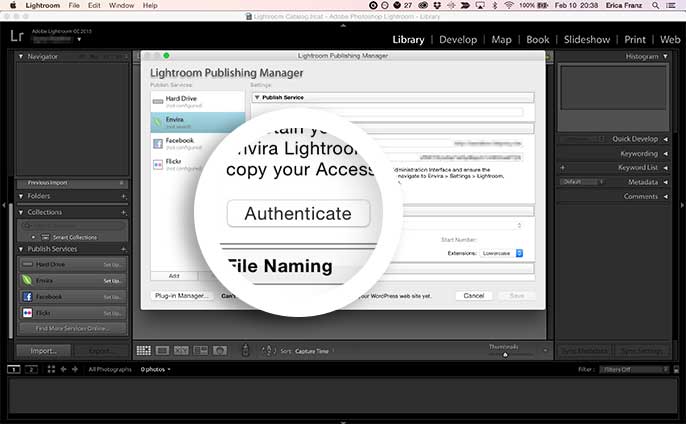 If authentication was successful, an on screen message will be displayed.  If it failed, make a note of the error message and ensure you've correctly defined the WordPress URL, Access Token and that you've followed all previous steps in this document.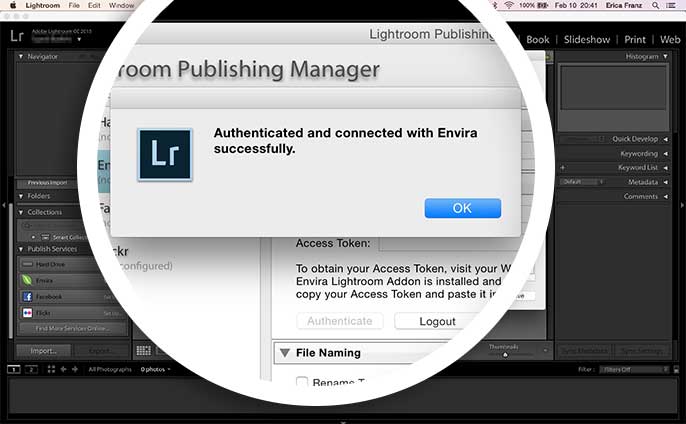 Finally select the Save button: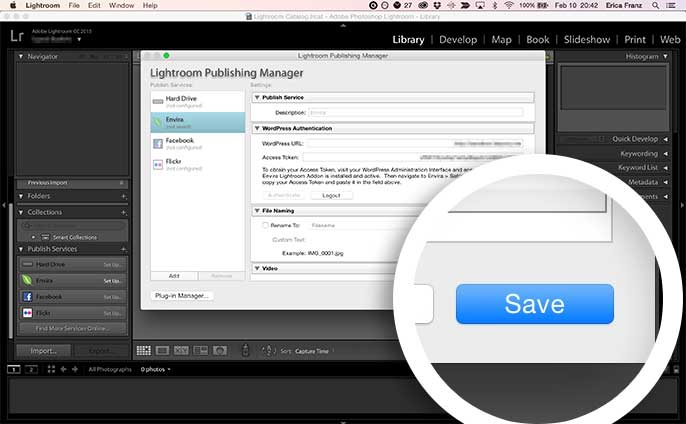 ---
Use
Using Lightroom in conjunction with Envira Lightroom Addon is very easy to do. You already know your way around Lightroom but we're going to review some basic processes below.
---
Lightroom: Create a New Collection
Let's begin with creating a new Collection in Lightroom. Right click on Envira under Publish Servicesand select Create Published Collection.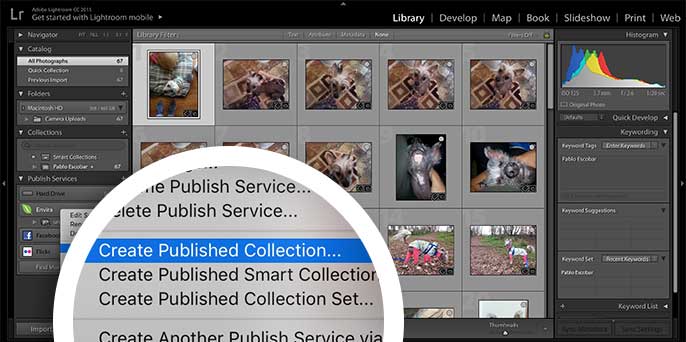 Next, enter a Name for the Collection and click Create.
The Name you give you enter here will be the title of your Envira gallery when you go to publish the Collection.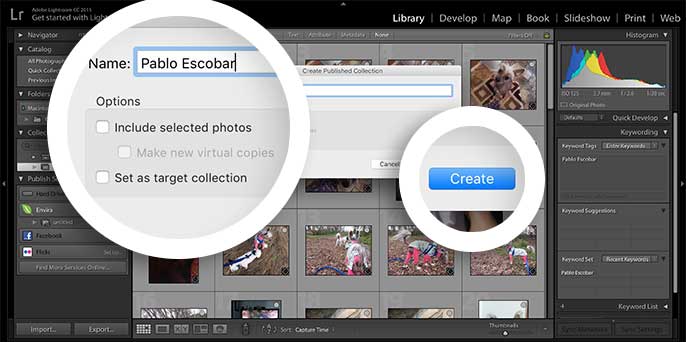 You can have as many Published Collections as you wish. Each Published Collection will have its own Envira gallery on your WordPress web site.
---
Lightroom: Add Photos to a Collection
Your next step is to add some images to your Collection. Simply drag and drop your photos from the Lightroom library into the Collection.
---
Lightroom: Publish a Collection
Finally, your last step is to publish your new Collection. The Publish button will be available towards the bottom left of the Lightroom screen: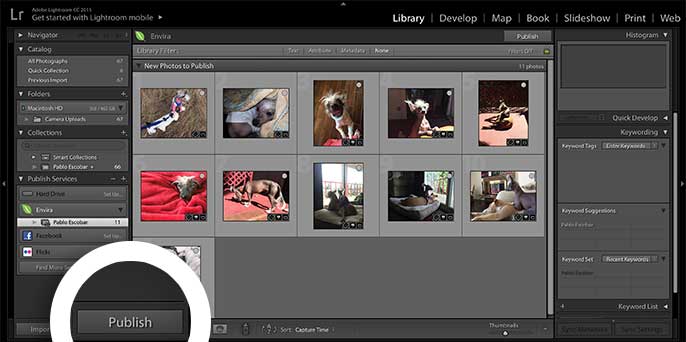 You can check the progress of your publishing by viewing the progress bar in the upper left corner of the Lightroom screen.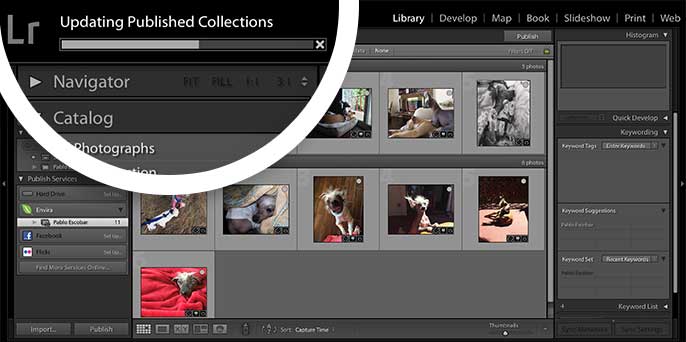 When you publish your Collection, Envira will automatically publish your gallery and set the status to Published. Your gallery will be created using a set of default settings if the Envira Defaults Addon is not installed and activated. You can log in to your WordPress site at any time to update these settings or simply install and activate Envira's Defaults Addon to use a base configuration each time your Collections are published.
---
Lightroom: Delete a Published Collection
To delete an already published Collection, you only need to right click on the Collection and choose Delete. Lightroom will ask you how you would like to delete.
If you select the Leave on Service, the Envira gallery would remain on your WordPress site. Alternatively you can select Delete and not only will the Collection be removed from Lightroom but the gallery would also be deleted from your Envira Galleries as well.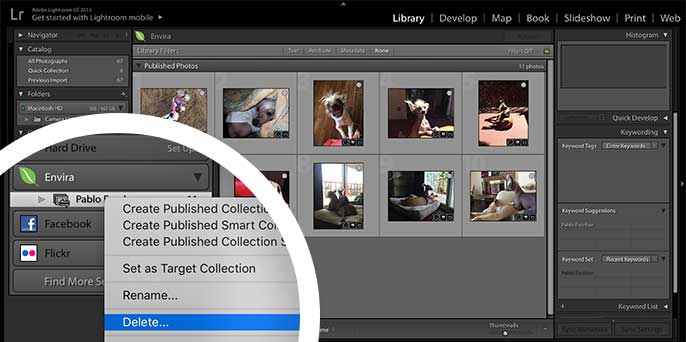 ---
FAQs
Q: What file types are supported?
A: You can use GIF, JPG, PNG or JPEG.
---
Q: Why can't I publish a Collection?
A: There can be several different reasons. Please review this checklist to see if any of these scenarios apply:
That your site is using pretty permalinks. This means in the WordPress Admin » Settings » Permalinks screen "Post name" should be selected.
In the WordPress Admin » Envira Gallery » Settings » Lightroom tab, make sure the WordPress User assigned has the Administrator user-role assigned and select the Save button to re-confirm this setting.
Please check that WordPress web site URL you have entered in Lightroom authentication settings is without www (for example it should look like: http://yoursite.com)
Make sure that you are connecting through a live site and not a local install.
If you are experiencing some images publishing and others are not, it could be the file size is too large for the publishing service. Please check your Image Sizing setting by right clicking on Envira from within Lightroom and checking the Image Sizing option. If you don't have anything set there, this could be creating the issue for you. Try changing your settings to Long Edge and a smaller pixel setting.
Make sure you don't have debug enabled on your site. This can cause issues when trying to publish if there are errors being thrown due to debug being enabled.To check if debug is enabled you can follow along with this tutorial from our friends at WPBeginner. Please make sure the debug line looks like this: define('WP_DEBUG', false); or resolve the errors coming from the debug log. Once debug is disabled or the errors are resolved, you should be able to publish your collection.
---
Q: Why am I receiving a 1004 error with my GoDaddy hosting?
A: This is caused by the object caching for GoDaddy's WordPress setup. In order to resolve the issue, you will need to rename the object-cache.php file to object-cache-old.php. This file can be found in your wp-content directory. You can do this with an FTP client.
Once this is done, you will need to regenerate the Access Token following the same process that you used to generate in this doc above. Don't forget to add the new Access Token to the Adobe Lightroom Envira settings. Next, reload the plugin in Adobe Lightroom from the Plugin settings.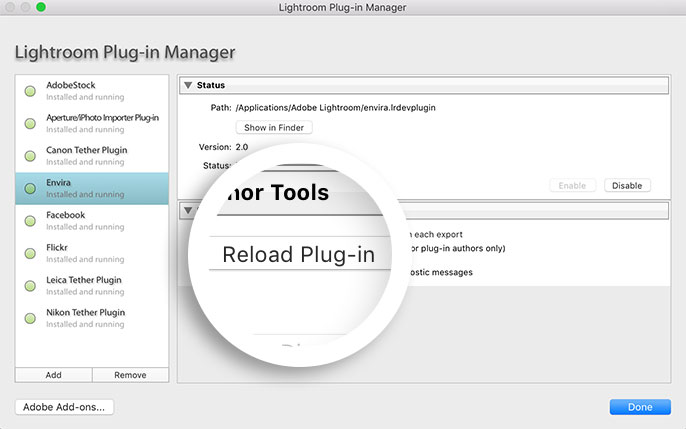 After all of this is completed, you can republish your collections to Envira Gallery.
---
Changelog
WordPress Plugin
2.2.0 (04-10-2018)
Added: Fancybox3 support.
Fix: Minor bug fixes.
2.1.0 (10-18-2017)
Fix: Titles, Captions and keywords not updating
Fix: 1004 error coming on some configs
Fix: Conflict if Tags addon isn't active
Fix: Minor bug fixes
2.0.1 (08-22-2017)
Fixed: Cases where API returning 404
Fixed: Cases where fatal error is caused on upload
Fixed: Error is tags addon isn't active
2.0.0 (05-16-2017)
Requires Envira Lightroom 2.0.0 Plugin.
Minor bug fixes.
Added: Added new API.
1.1.0.1 (2016-16-12)
Hotfix: Make sure images are set to active
1.1.0 (2016-06-10)
Fix: Do not double encode strings that are already UTF-8.
1.0.9 (2016-06-09)
Fix: Make sure accented characters display correctly in titles and captions.
1.0.8 (2016-05-31)
Fix: Addressing a post trashing issue.
1.0.7 (2016-05-05)
Fix: Ensure the correct function is called for the WP REST API v1 initialisation.
1.0.6 (2016-04-28)
Added: Copy to clipboard option for access token in Settings
Added: Error notice if WP REST API v1 and v2 missing
Added: Error notice if both WP REST API v1 and v2 activated at the time time
1.0.5 (2016-04-16)
Fix: Prevent success / error notices on Settings screen from jumping
1.0.4 (2016-03-10)
Added: WP REST API v2 Support
Updated: Spanish Translations
1.0.3 (2016-03-03)
Added: Image Title is now stored when supplied by Adobe Lightroom Addon 1.0.1.0+
Added: Image Caption is now stored when supplied by Adobe Lightroom Addon 1.0.1.0+
Fix: Accented characters supported in titles and captions
1.0.2 (2016-02-25)
Added: Populate alt field with image filename if no metadata exists for the alt parameter
Added: Spanish Translations
Fix: Issue publishing images which were previously published but no longer exist in the WordPress Media Library (resulting in a remotePhotoId error being displayed on screen within Adobe Lightroom)
1.0.1 (2016-02-18)
Fix: Display notice if Pretty Permalinks not enabled (required for Lightroom Addon to work)
1.0.0 (2015-10-07)
Initial release of the addon.
---
Lightroom Plugin
2.0.0 (05-16-2017)
2.0.0 Rewrite
Improved Error Handling
Integrate with Envira Lightroom API.
Bug Fixes.
1.0.3.1 (2016-05-06)
Fix: Internal error message on json.lua:383 (title, keywords and caption are only sent if not empty, preventing the error).
1.0.2.1 (2016-03-31)
Fix: Send correct Content-Disposition header for WP REST API v2 integrations
1.0.1.1 (2016-02-18)
Added: WP REST API v2 Support
Added: Image Title is exported when publishing an image in a collection
Added: Image Caption is exported when publishing an image in a collection
Added: Image Keywords are exported as Tags when publishing an image in a collection (requires Envira Tags Addon on WordPress site)
1.0.0
Initial release of the addon.