Envira Gallery Documentation
Documentation, Reference Materials and Tutorials for Envira Gallery
The NextGen Importer Addon for Envira Gallery will allow you to quickly and easily import your NextGen galleries into Envira as well as your NextGen albums. We'll walk you through how to import your NextGen galleries and albums into Envira.
---
Requirements
Any Envira license
WordPress 4.9+
Envira Gallery 1.3.4.1+
Installation
Please follow our instructions on how to install and activate addons.
In this instance, you'll be activating the Envira NextGEN Importer Addon.
Setup
Step 1 – Select the galleries to import
Your first step will be to navigate to the WordPress admin » Envira Gallery » NextGen Import.
Here you'll see a complete list of all the NextGen galleries on the Galleries tab.
Step 2 – Import the galleries and confirm success
Simply select the gallery you want to import by clicking the checkbox and then the Import Galleries button.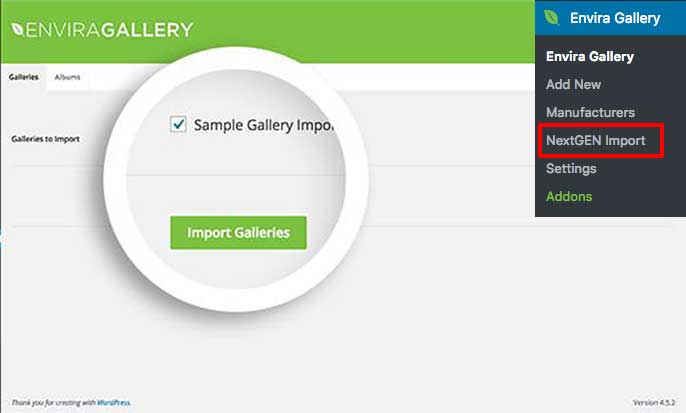 Once the import has successfully completed you'll see confirmation on the screen.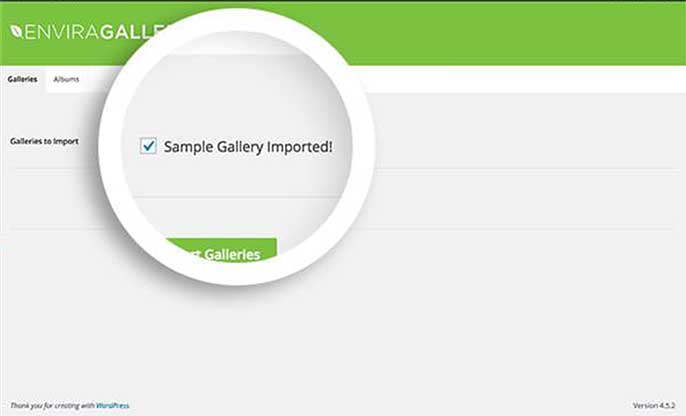 Step 3 – Setup your Envira options for your imported galleries
You'll find the imported galleries by clicking Envira Gallery » NextGen Import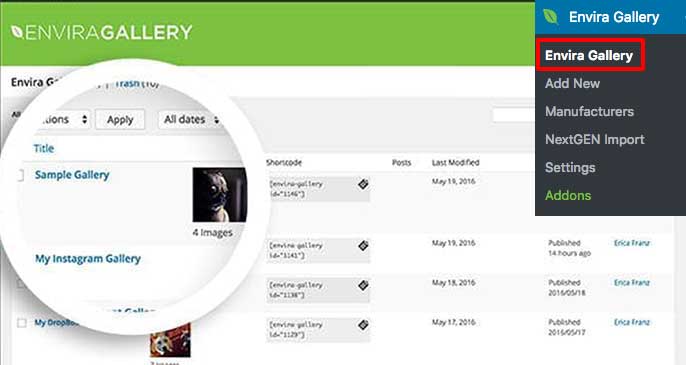 Simply edit the galleries and enable any specific options you wish.
Once you've set up your options, click Update to save the changes.
These imported galleries will look like any other Envira gallery, the only difference is how they were created.
And that's it, it's really that simple!
Now that you've tackled importing NextGen galleries, check out our article on how to create a gallery using your Dropbox images using Envira's Dropbox Importer Addon.
---
FAQs
Q: Can I import NextGEN Albums?
A: Absolutely! Using Envira's Albums Addon, you'll be able to import NextGen Albums as well by following the same steps as above but clicking the Albums tab to import any available NextGEN Albums.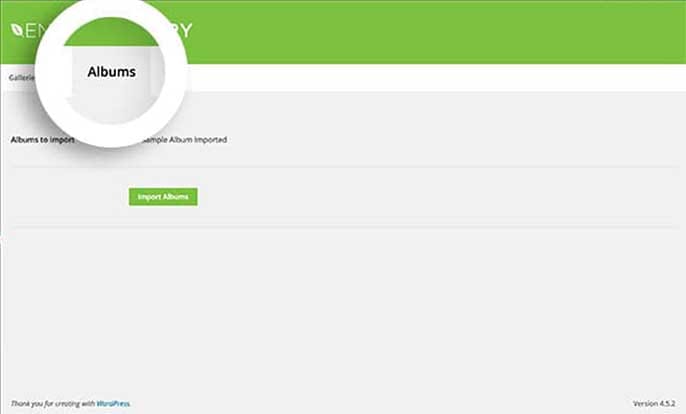 An important thing to remember for importing Albums would be to make sure you've imported all of your galleries first or the albums won't have the right galleries to import.
---
Q: Why aren't my galleries importing?
A: You may be trying to import too many galleries at once. The import could be timing out and therefore you'd need to only import a few galleries at a time.