Envira Gallery Documentation
Documentation, Reference Materials and Tutorials for Envira Gallery
Password Protection Addon
The Password Protection Addon for Envira Gallery will easily let you password protect your galleries with a few clicks on your mouse! We'll walk you through how to create a password protected gallery.
---
Requirements
Installation
Please follow our instructions on how to install and activate addons.
In this instance, you'll be activating the Envira Password Protection Addon.
Setup
Step 1 – Create or edit your gallery
Your first step is to create a new gallery or edit an existing one. You can follow along with our documentation for creating your first gallery.
Step 2 – Set the Visibility options
Next, you'll need to set the Visibility on the gallery to Password protected.
When creating a gallery, in the sidebar you'll see a Publish panel. Here you can set the status manually as well as the Visibility. For the purposed of this tutorial, we're going to set our Visibility to Password protected.
To do this click the Edit link next to the Visibility, select Password protected and then enter a password for your gallery and click the Ok button.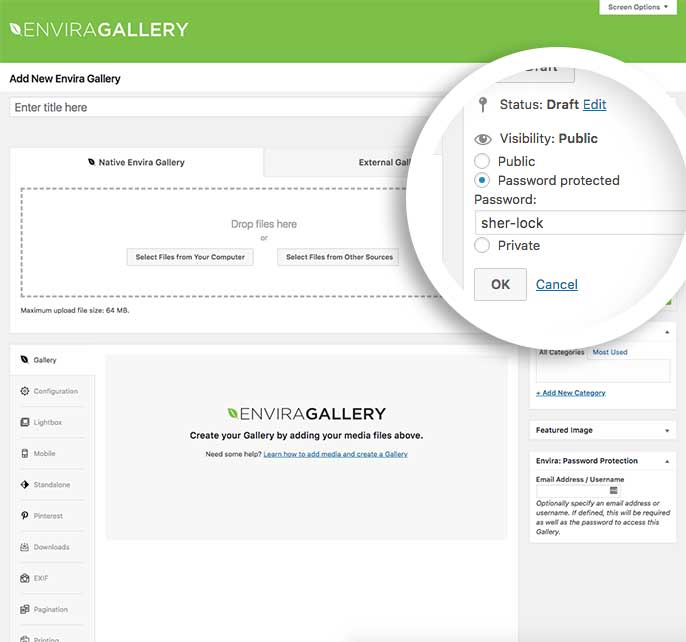 Step 3 – Require a username or email (optional)
The next option is completely optional. If you'd like to require an email address or username in addition to the password, you can see in the right sidebar the ability to require a specific email address or username by completing the Email Adddress / Username field.
You can also set the message they'll see before entering the password.
Step 4 – Publish or Update your gallery
Finally, click Publish or Update on your gallery to save the changes.
Your gallery is now password protected and can't be seen until the correct password is entered.
Did you know using the Password Protection Addon that you can also password protect your downloads using the Envira Gallery Downloads Addon? You can read more about that on our documentation for the Downloads Addon.
---
FAQs
Q: Can I use the Password Protection Addon with albums?
A: Absolutely! When creating or editing an Envira Album you'll be able to password your album following the same steps.
---
Q: How can I remove Protected: from the gallery Title?
A: This is default WordPress behavior to show this in the title and not caused by Envira. You can certainly use a plugin like Remove Protected to remove the "Protected:" portion from your password protected galleries.
---
Q: Why are my images showing on the album?
A: When you add a password protected gallery to an album and enable the ablum's lightbox, the user would never be prompted for the password so it's always best to either password the album as well or you can disable the lightbox for that 1 gallery by editing the gallery from within the album edit screen (click the blue pencil icon) to edit and it will open up a pop up for you to disable the lightbox for this particular gallery. Simply uncheck the Enable Lightbox For Gallery? option and click Save Metadata.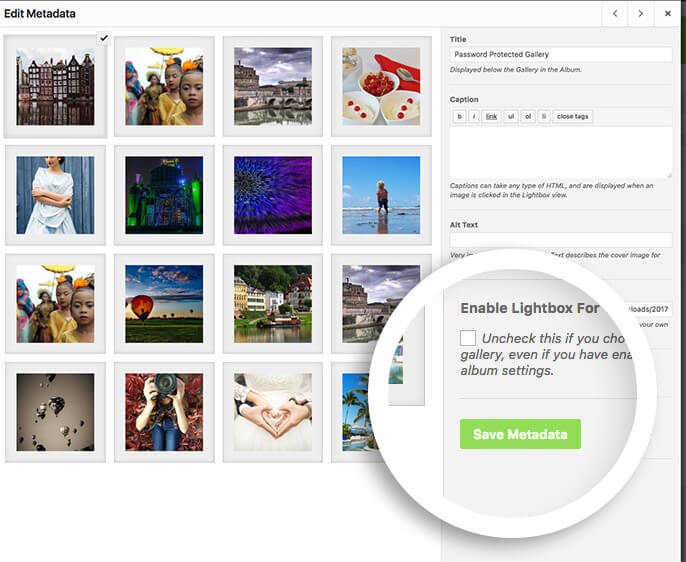 ---
Changelog
1.4.3 (02-05-2020)
1.4.2 (12-17-2019)
Fix: Resolved issue involving incorrect auto displayed text.
1.4.1 (11-13-2019)
Fix: Resolved issue involving "Password required" text and auto-display "Wrong password" text .
1.4.0 (10-23-2019)
Fix: Password protected galleries should better show link back to albums depending on cache settings.
1.3.8 (02-20-2019)
Fix: "Stuck in the login loop" issue when email/username requirement is enabled.
1.3.7 (01-23-2019)
Fix: Fatal error for certain versions of PHP.
1.3.6 (12-19-2018)
Fix: Better compatibility with third party plugins.
Fix: Minor bug fixes.
1.3.5 (12-19-2018)
Enhancement: Custom popup, with settings for header, main text, and text for button.
Enhancement: Allow users to set cookie expire times via new 'envira_password_protection_time_limit' filter.
Fix: Resolved proper admin classes in body header.
Fix: Better compatibility with iOS 12.
Fix: Minor bug fixes.
1.3.4 (10-16-2018)
Enhancement: Added "Password Required Message" setting in admin.
Added: envira_password_protection_message WordPress filter.
1.3.3 (08-22-2018)
Fix: Remove PHP Warnings.
1.3.2 (08-22-2018)
1.3.1 (05-30-2018)
1.3.0 (04-10-2018)
Added: Fancybox3 support.
Fix: Minor bug fixes.
1.2.0 (10-18-2017)
1.1.1 (08-08-2017)
Fixed: Multiple galleries fields alignment
Fixed: Galleries showing without password field
1.1.0 (07-25-2017)
1.0.9 (2016-03-03)
Fix: Return and don't output an error if Password Protection couldn't retrieve the Gallery/Album Post
1.0.8 (2016-02-25)
Updated: Spanish Translations
1.0.7 (2016-02-18)
Added: Integration with Printing Addon for Password Protection
1.0.6 (2015-02-04)
Fix: Use gallery / album ID argument to check if Password Protection is required, instead of gallery / album config, to provide compatibility with the Dynamic Addon
1.0.5 (2015-12-10)
Updated: Spanish Translation
1.0.4 (2015-12-03)
Added: Spanish translation
1.0.2 (2015-11-19)
Added: Password option for Downloads Addon
1.0.1 (2015-07-23)
Added: Password field option
1.0.0
Initial release of the addon.