Envira Gallery Documentation
Documentation, Reference Materials and Tutorials for Envira Gallery
There may be instances in which you want to provide download links to images in the galleries you've created. That's where the Downloads Addon can help. The Downloads Addon allows you to give download links for images in your gallery in both the gallery and Lightbox view.
You can even use the Downloads Addon with the Envira Password Protection Addon to require users input a password before downloading your images.
In this guide, we'll walk you through how to set up a gallery using the Downloads Addon.
---
Requirements
Installation
First, install and activate the Envira Downloads Addon. For more help installing and activating Envira Gallery addons, follow our instructional guide how to install and activate addons.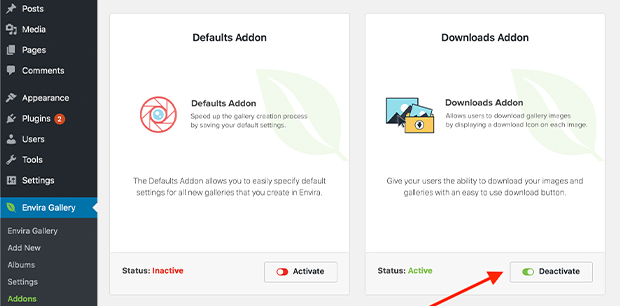 Setup
Step 1 – Create or edit your gallery
The first step to creating download links for your images is to create a new Envira gallery, or choose to edit and existing one. If you haven't created your first gallery, follow along with our documentation for step-by-step instructions.
Step 2 – Set up your Download settings
Once you've created your gallery, navigate to the Downloads tab and adjust the image download settings so that they meet your needs.
The list of settings available for the Downloads Addon are listed on the Downloads tab and include:
Option to display a download button on each image in the gallery view
Drop-down to define the downloaded image size
Toggle to turn on the Download All option
Option to specify Download button location
Option to force downloads
Button display option for galleries in Lightbox view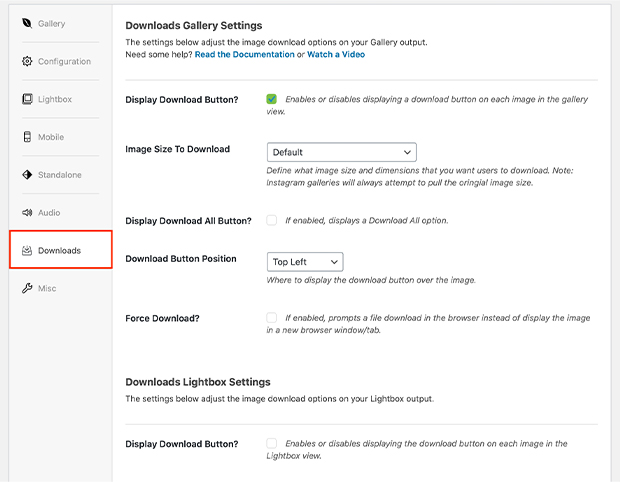 Step 3 – Publish or Update your gallery
Finally, click Publish or Update on your gallery to save the changes.
When you view your gallery, you'll now see a download icon in the upper left corner of your images in the gallery view when you hover your cursor over them.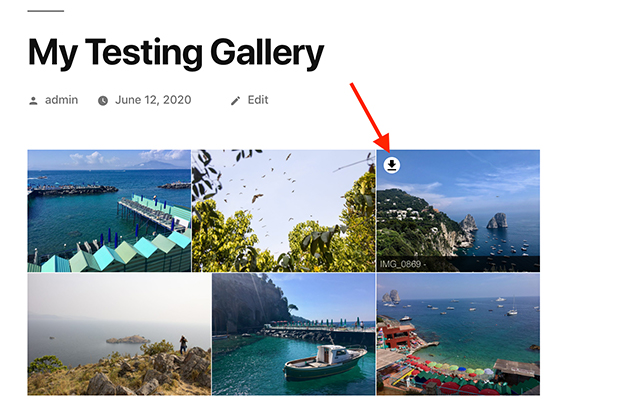 If you've enabled Lightbox, you'll see an additional download icon when you click on the gallery image thumbnail to view it in Lightbox.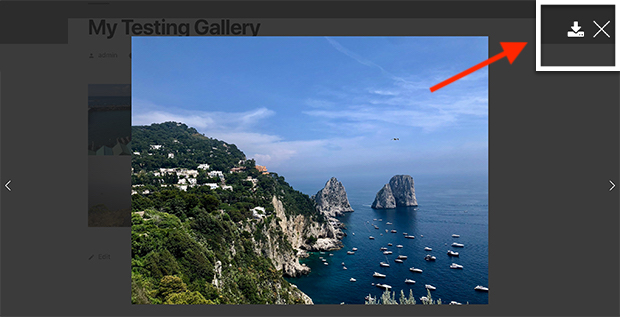 If you've enabled the Downloads All option, you'll see a link on the gallery view to download all gallery images in a zip file.
See the demo to view the Downloads Addon live in action!
Would you like to track your image downloads? Take a look at our documentation on How to Track Views, Shares, and Downloads of Each Gallery Image.
---
FAQs
Q: Can I use a CDN with Envira Gallery and the Downloads Addon?
A: Unfortunately, the Enivra Downloads Addon is incompatible with images served using a CDN. In order to use the Downloads Addon, all images will have to be stored in the default WordPress Media Library.
---
Q: Why is my downloads zip downloading as 0kb?
A: This can happen for several different reasons:
Server timeout — If your gallery contains multiple  hi-res images, the gallery may be too large for the server to zip all the images, resulting in a process time out. The max execution time for php processing and server timeouts are set through your hosting company. We recommend you reach out to them and ask them to increase your timeout and max execution time settings. It may be a good idea as well to ask them to check the Zip library on the server to make sure it doesn't need re-installing.
Image or images in the gallery are corrupt — If any image in the gallery is missing or corrupted, this will affect the entire download process.
Server errors — You may want to reach out to our support team and ask them to further debug this issue for you.
---
Q: Will I be able to require a password for my downloads?
A: Absolutely! If you install and activate the Envira Password Protection Addon, you'll see some additional options on the Downloads tab.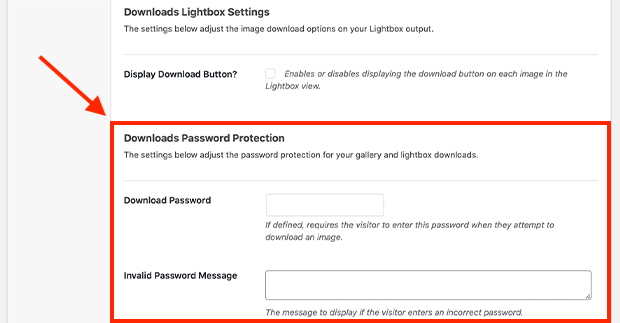 ---
Q: Can I use the Downloads Addon with albums?
A: Yes! The Downloads tab is also available when creating or editing an Envira Album. However, you'll only be able to download the Lightbox images, so the configuration options look a little different for albums.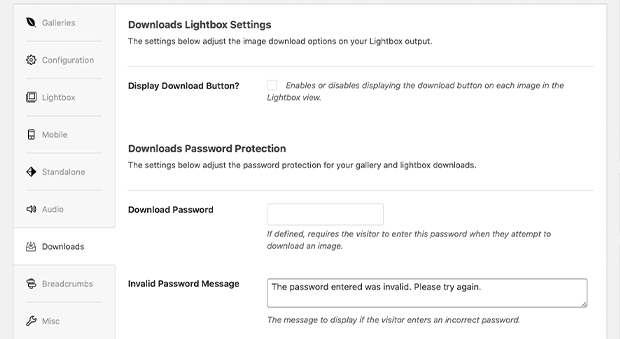 ---
Changelog
1.5.5 (05-11-2023)
1.5.4.2 (03-23-2022)
Fixed: Fatal error in some scenarios on downloading with dynamic addon.
1.5.4.1 (11-17-2021)
Fixed: Mobile option now available for downloading albums.
1.5.4 (05-26-2021)
Added: Options in settings to turn off downloads on mobile.
1.5.3 (04-28-2021)
Fix: Resolved issue with lightbox buttons appearing.
Fix: Correct password indicator is diplayed in lightbox.
1.5.2 (03-10-2021)
Fix: Resolved issue with naming zip file in all caps.
1.5.1 (12-02-2020)
Fix: Resolved issue with a subdomain use case.
1.5.0 (11-05-2020)
Fix: Allow non-scalled full size downloads.
1.4.9 (02-05-2020)
Fix: Issue involving Envira links and lightbox downloading.
1.4.8 (02-05-2020)
Fix: Issue involving dynamic galleries and lightbox downloads.
1.4.7 (08-20-2019)
Added: Warning message if server does not have zip archive installed.
Fix: Issue related to subdomains was resolved.
1.4.6 (07-09-2019)
Fix: Issue with subdomains and download all resolved.
1.4.5 (06-04-2019)
Fix: PHP notices resolved.
Fix: Minor bug fixes.
1.4.4 (10-31-2018)
Added: Download All link can now be displayed above and below galleries, instead of just one location.
Fix: Misc fixes to lightbox downloading in some situations.
1.4.3 (10-16-2018)
Fix: Add support for single and download all for Instagram photos (via Instagram Addon)
Fix: Download url in lightbox for images w/ Dynamic Addon folder option.
Fix: Account for https in some user cases.
Fix: PHP notices resolved.
1.2.1 (05-30-2018)
1.2.0 (04-10-2018)
Added: Fancybox3 support.
Fix: Minor bug fixes.
1.1.0 (10-18-2017)
1.1.1 (06-27-2017)
Fix: Download icon in lightbox with display:none inline styling now resolved.
Fix: Downloads button should show after AJAX loads new page.
1.0.9 (02-01-2017)
Fix: Draft images contained in downloads
1.0.8 (2016-12-08)
Added: Select image size for download
Fix: Force downloads for instagram
Fix: cases where download is 0kb
1.0.7 (2016-11-03)
Fix: Download links open in new windows.
Fix: Various minor bug fixes.
1.0.6 (2016-10-04)
Fix: Resolving compatibility issues with dynamic addon.
1.0.5 (2016-09-22)
Fix: Password protected downloads should ask for passwords properly, and not allow downloads w/o correct passwords.
1.0.4 (2016-09-01)
Fix: Safari downloads all images as regular zips and not EXE files.
1.0.3 (2016-08-25)
Fix: Now functional when "Render all WordPress Galleries using Envira" option is enabled.
1.0.2 (2016-07-26)
Fix: Download button position setting now properly saves.
1.0.1 (2016-05-31)
Add an option to the Downloads Addon allowing users to download an entire Gallery as a ZIP file.
1.0.0 (2016-05-05)
Initial release of the addon.