Envira Gallery Documentation
Documentation, Reference Materials and Tutorials for Envira Gallery
The Slideshow Addon for Envira Gallery will allow you to easily automate a lightbox slideshow for your gallery images. We'll walk you through how to set up a lightbox slideshow for your Envira galleries.
---
Requirements
Any Envira license
WordPress 4.9+
Envira Gallery 1.3.4.1+
Installation
Please follow our instructions on how to install and activate addons.
In this instance, you'll be activating the Envira Slideshow Addon.
Setup
Step 1 – Create or edit your gallery
Your first step is to create a new gallery or edit an existing one. You can follow along with our documentation for creating your first gallery.
Step 2 – Configure the slideshow options
Next, navigate to the Slideshow tab and check the box to Enable Gallery Slideshow?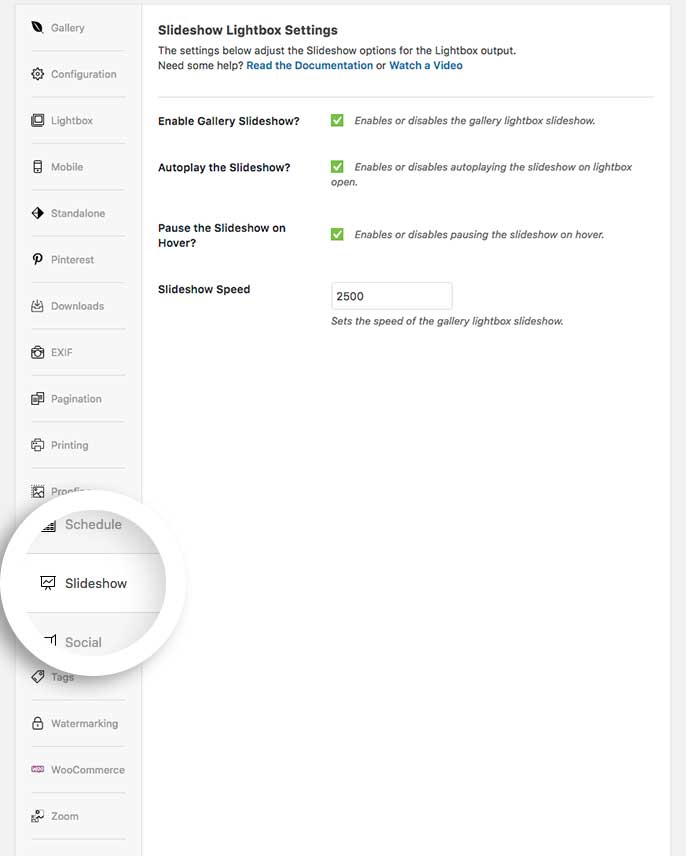 You can also set up the remaining options for the slideshow on this tab.
Step 3 – Publish or Update your gallery
Finally, click Publish or Update on your gallery to save the changes.
That's it, you've successfully configured your gallery's slideshow!
Would you like to see what else you can do with Envira's lightbox? Check out our article on How to Supersize Lightbox Images.
---
FAQs
Q: Why is my slideshow flashing so fast?
A: You'll need to check the speed set on the Slideshow Speed. You can increase this speed if the slideshow is running too fast.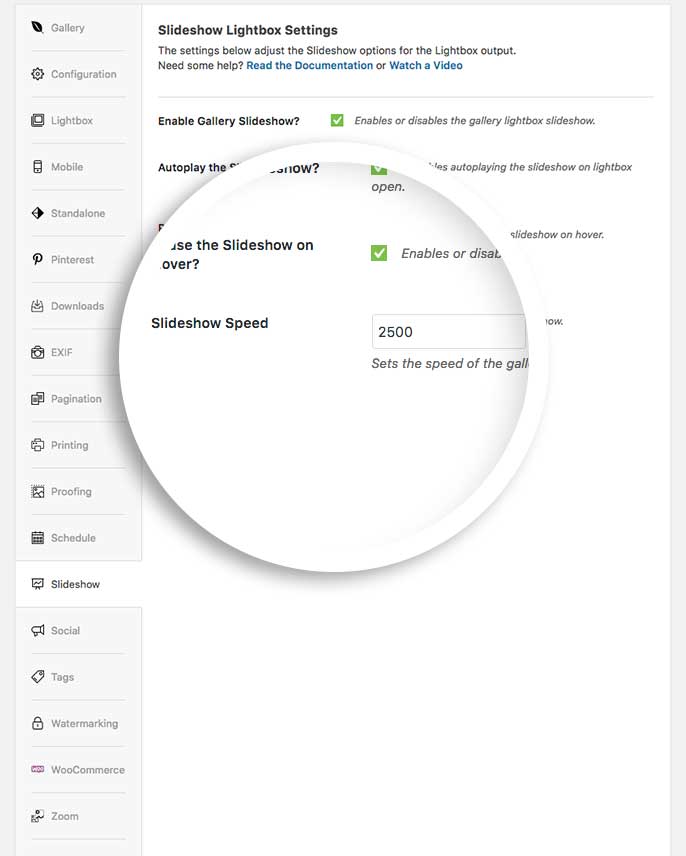 ---
Q: Do I have to have the lightbox to see the slideshow?
A: Not at all! You can check out our sister product Soliloquy and the Soliloquy Dynamic Addon to easily create on page sliders from Envira galleries.
---
Q: Why can't I see the controls for the slideshow?
A: If you're not using one of the Base lightbox themes, you'll need to click the Enable Gallery Toolbar? from the Lightbox tab in order to see the play and pause controls for the slideshow.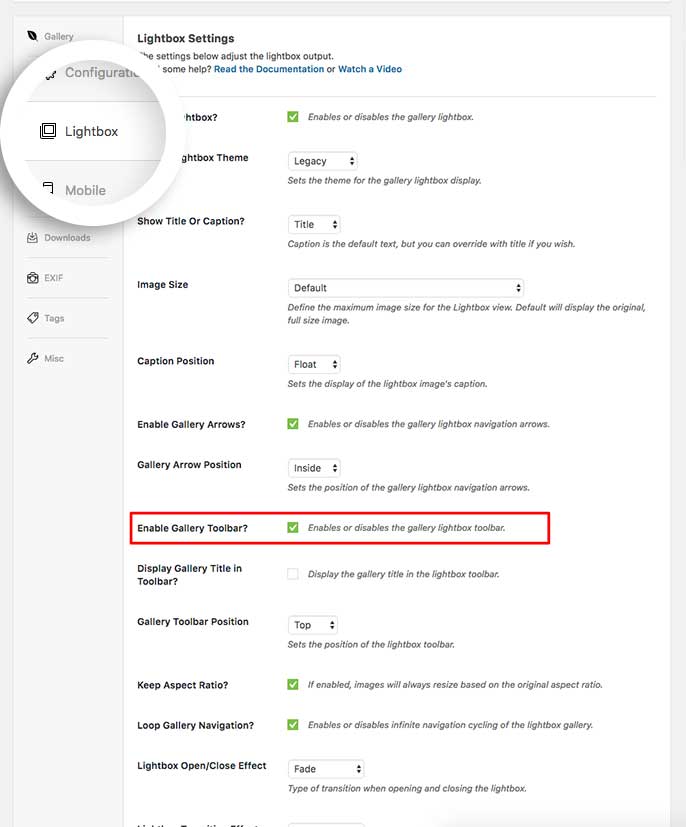 ---
Q: Can I use the Slideshow Addon with albums?
A: Absolutely! The Slideshow tab is also available when creating or editing an Envira Album.
Changelog
1.3.7 (05-11-2023)
1.3.6 (11-05-2020)
Fix: Tweaks related to new lightbox designs.
1.3.5 (02-05-2020)
Fix: Plugin updater revised.
1.3.4 (06-05-2019)
Fix: Code clean up, minor bug fixes, enhanced security.
1.3.3 (10-31-2018)
Fix: Adjusting in timing when navigating.
1.3.2 (10-16-2018)
Fix: "Slideshow Now Stops On Next Slide" issue, present in some cases, now resolved
Fix: Minor coding and wording changes in admin.
1.3.1 (08-22-2018)
Enhancement: French translations updated.
Fix: Minor bug fixes.
1.3.0 (04-10-2018)
Added: Fancybox3 support.
Fix: Minor bug fixes.
1.2.2 (11-07-2017)
Fix: Hover setting saves correctly in settings.
1.2.1 (10-23-2017)
Fix: Hover setting saves correctly in settings.
1.2.0 (10-18-2017)
1.1.3 (08-08-2017)
1.1.2 (04-13-2017)
1.1.2 (02-15-2017)
Added: Option to pause on hover.
1.1.1.2 (2016-12-16)
1.1.1.1 (2016-11-03)
1.1.1 (2016-08-25)
Updated: Spanish translations
1.1.0 (2016-05-05)
Updated: Standardised edit screen titles and descriptions
1.0.9 (2016-04-21)
Updated: Spanish translation
1.0.8 (2016-03-31)
Added: Coded plugin to follow other Envira Addon structures
Added: Documentation and Video Help Links
1.0.7 (2016-02-25)
Updated: Spanish Translations
1.0.6 (2015-12-10)
Updated: Spanish Translation
1.0.5 (2015-11-26)
Added: Spanish translation.
1.0.4
Fixed: Slideshow play/pause button not displaying on lightbox when viewing a Gallery within the Lightbox from an Album
1.0.3
Added: Slideshow support for Album Galleries
1.0.2
Full localization support with .pot files.
1.0.0
Initial release of the addon.