Envira Gallery Documentation
Documentation, Reference Materials and Tutorials for Envira Gallery
Would you like to add a watermark to your gallery images? With Envira's Watermarking Addon you can easily achieve this. We'll walk you through how to create a gallery of images with a watermark using the Envira Watermarking Addon.
---
Requirements
Installation
Please follow our instructions on how to install and activate addons.
In this instance, you'll be activating the Envira Watermarking Addon.
Setup
Step 1 – Create or edit your gallery
Your first step is to create a new gallery or edit an existing one. You can follow along with our documentation for creating your first gallery.
Step 2 – Set up the watermark options
Navigate to the Watermarking tab.
Click the Enable Watermarking? box to enable watermarking. Next, select your watermark image from the Media Library or upload a new image.
Then you can choose the Position and the Margin for your watermark placement.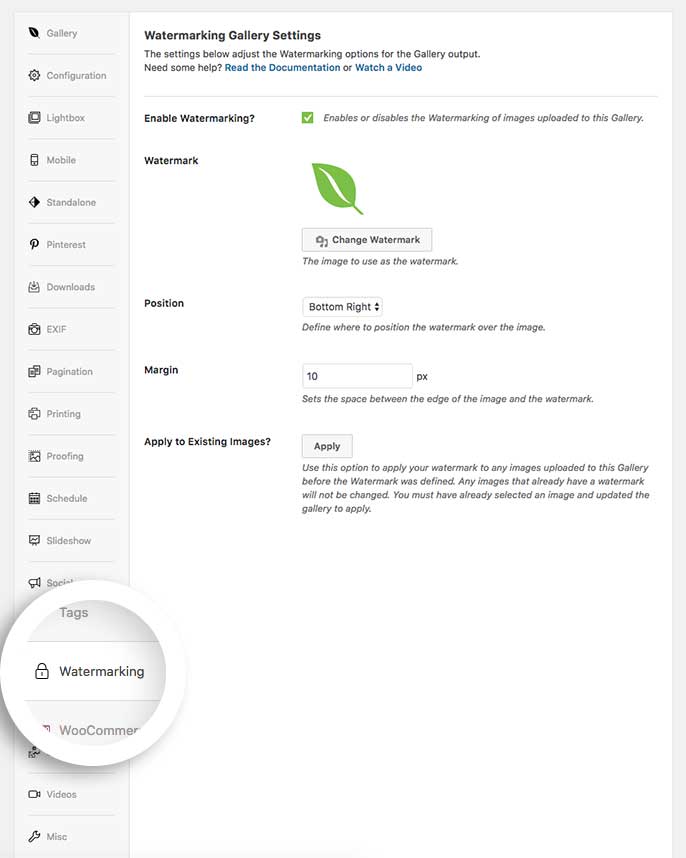 Step 3 – Publish or Update your gallery
Finally, click Publish or Update on your gallery to save the changes.
That's it! You have created your watermarked gallery. If you want to add additional protection by disabling right click on your images, check our Protection Addon.
---
FAQs
Q: Can I remove or change the watermark image?
A: No, the watermark is applied to the original image so it can't be removed. You'll need to re-upload the original image to your gallery.
---
Q: Does the watermark get added to all gallery images?
A: Yes. Your images will appear with a watermark when viewed in the thumbnail layout, in lightbox view, and even the thumbnails if you enable thumbnails to appear in lightbox view.
---
Q: Why is there a delay in showing the watermark image?
A: The server your website is hosted on will process the images in the background to add a watermark. If the images you're watermarking are very large, there are many images in your gallery, or your server is running slow for any reason, you may notice a lag between when you configure watermarking for a gallery and when the images are done being processed by your server.
If you're noticing very large lag times, you may wish to contact your web host about how to improve the performance of your server.
---
Q: Can I use GIF files in my gallery and add the watermark?
A: We recommend a .png file with a transparent background.
---
Q: I'm not seeing a Watermarking tab on the Dynamic settings or on Envira Albums?
A: Watermarking is not available for dynamic galleries or for Enivra albums.
---
Q: The lightbox thumbnails aren't showing the watermark?
A: If you did not set up the watermarking functionality before uploading your images to the gallery, you will need to change the Image Dimensions in order to force the regeneration of the images. This causes a new image creation using the watermark.
---
Q: The gallery images aren't showing the watermark but the lightbox images are?
A: This could be because you're cropping the images in the center so where the watermark is placed, you may not see it in the gallery view if you're using cropped images.
---
Changelog
1.4.4 (05-11-2023)
1.4.2 (05-26-2021)
Fix: Watermark images being imported from Envira Lightroom addon.
1.4.1 (02-05-2020)
Fix: Plugin updater revised.
1.4.0 (12-17-2019)
Fix: Improved watermarking processing.
1.3.3 (06-05-2019)
Fix: Code clean up, minor bug fixes, enhanced security.
1.3.1 (10-31-2018)
1.3.0 (04-10-2018)
Added: Fancybox3 support.
Fix: Minor bug fixes.
1.2.0 (10-18-2017)
1.1.0.2 (2016-12-16)
1.1.0.1 (2016-11-03)
1.1.0 (2016-08-25)
Updated: Spanish translations
1.0.9 (2016-04-08)
Fix: "Black box" should no longer appear when a watermark image that is taller than the gallery image.
1.0.8 (2016-05-05)
Updated: Standardised edit screen titles and descriptions
1.0.7 (2016-04-21)
Updated: Spanish translation
1.0.6 (2016-03-31)
Added: Documentation and Video Help Links
1.0.5 (2016-02-25)
Updated: Spanish Translations
1.0.4 (2015-12-10)
Updated: Spanish Translation
1.0.3 (2015-11-26)
Added: Spanish translation
Fix: Some strings had the wrong text domain
1.0.2 (2015-11-06)
1.0.1 (2015-10-14)
Added: Option to apply watermark to existing gallery images.
1.0.0 (2015-10-07)
Initial release of the addon.