Envira Gallery Documentation
Documentation, Reference Materials and Tutorials for Envira Gallery
Online protection for your images is one of the most important considerations for any photographer. Envira's Protection Addon prevents against right-click downloading of your images, so you never have to worry about online image theft. We'll walk you through how to use the Protection Addon to keep your images and galleries secure.
---
Requirements
Any Envira license
WordPress 4.9+
Envira Gallery 1.3.4.1+
Installation
In order to use the Protection Addon, you'll first have to install and activate the addon. Follow our instructions on how to install and activate addons for help.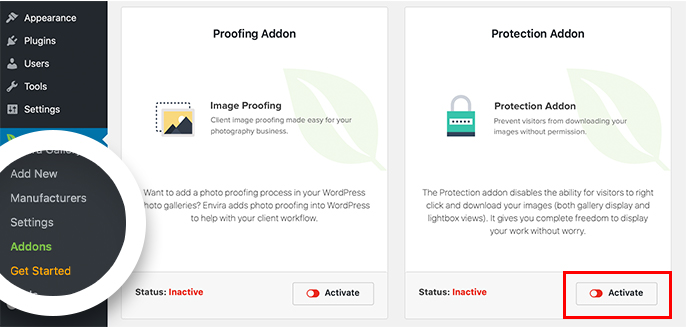 Remember, in this instance, you'll be activating the Envira Protection Addon.
Setup
Step 1 – Create or edit your gallery
To use the Protection Addon, you must first create a gallery or click to edit an exiting gallery. You can follow along with our documentation for creating your first gallery if you're new to the plugin.
Step 2 – Enable the Protection Addon
Once you've created a new Envira gallery, navigate to the Misc tab and click the Enable Image Protection? option to turn on image protection.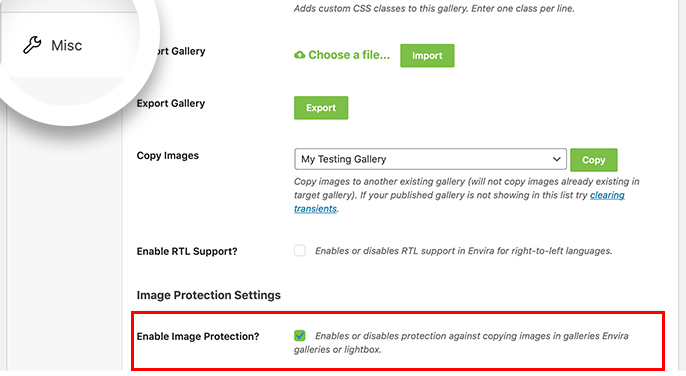 Now, visitors to your site won't be able to copy or download images in Envira galleries or Lightbox.
The addon also gives you the ability to display a popup alert should a user attempt to copy or save an image. To turn this feature on, click to check the box next to the Enable Popup Alert? option, located below Enable Image Protection?.
When you do, a number of other options will appear, allowing you to customize the popup title, message and button text.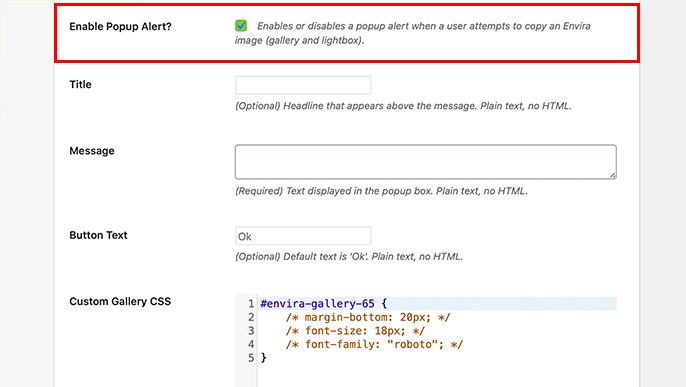 If you have the CSS Addon activated, you'll also see the Custom Gallery CSS box below that offers the opportunity for further customization.
Step 3 – Publish or Update your gallery
When you're done, click Publish or Update on your gallery to save the changes.
That's it! You've just disabled the right-clicking on your Envira gallery and Lightbox images.
Would you like to watermark your image as well? Check out our Watermarking Addon.
---
FAQs
Q: Will all of my images be protected?
A: No, the addon can only protect images in Envira galleries, albums and Lightbox.
---
Q: Can I also protect my images on mobile?
A: Yes, images protected by the Protection Addon are safe from copying and downloading on mobile devices and tablets as well.
---
Q: Will the Protection Addon work with albums?
A: Absolutely! The Envira Album Addon supports image protection. Simply enable it in the Misc tab.
Changelog
1.3.5 (05-11-2023)
1.3.4 (02-05-2020)
Fix: Plugin updater revised.
1.3.3 (06-05-2019)
Fix: Code clean up, minor bug fixes, enhanced security.
1.3.2 (08-22-2018)
Enhancement: French translations updated.
Fix: Minor bug fixes.
1.3.0 (04-10-2018)
Added: Fancybox3 support.
Fix: Minor bug fixes.
1.2.0 (10-18-2017)
1.1.3 (02-01-2017)
Fix: Error if albums isnt installed
1.1.2 (02-01-2017)
Fix: Selecting images on mobile
1.1.1 (2016-12-08)
Fix: Prevent right click enabled on captions
1.1.0 (2016-03-31)
Added: Prevent Shift + Click
Added: Prevent Cmd + Click
Added: Prevent Ctrl + Click
1.0.9 (2016-02-25)
Added: Restructured plugin code to follow other Envira addons
Added: Prevent downloading of image using Alt + click
1.0.8 (2016-02-18)
Added: Protection support for Albums
1.0.7 (2015-12-23)
Updated: Spanish translations
1.0.6 (2015-12-10)
Updated: Spanish Translation
1.0.5 (2015-11-26)
Added: Spanish translation.
1.0.4
Full localization support with .pot files.
1.0.3
Prevent images from being dragged to the desktop.
1.0.2
Disable right clicking for lightbox arrows as well.
1.0.1
Updated to reflect new namespacing for Envira.
1.0.0
Initial release of the addon.