Introducing Adobe Lightroom to WordPress with Envira Gallery
by Syed Balkhi on Feb 3, 2016
Can you connect Adobe Lightroom with Envira Gallery? This was among the top feature requests that we got from our users. After the redesign and launch of 6 new addons, our team went to work with a single mission: allow users to upload photos from Adobe Lightroom to WordPress.
Today, I'm extremely proud to announce the launch of our new Adobe Lightroom Addon that allows you to connect Lightroom to WordPress, so you can streamline your workflow.
With over 289,000 downloads, Envira Gallery is the best WordPress gallery plugin for photographers.
Adobe Lightroom is one of the best photo editing software for photographers.
So it made sense to combine the two and give our users what they want.
Starting today, Envira's Adobe Lightroom addon is available for everyone with a Pro or Ultimate license.
You can now upload photos directly from your Adobe Lightroom into WordPress. The Lightroom addon allows you to create and synchronize your Adobe Lightroom Collections with your WordPress galleries.
Yes, you can create, sync, and delete galleries straight from Lightroom.
See the screenshot below for a preview of steps: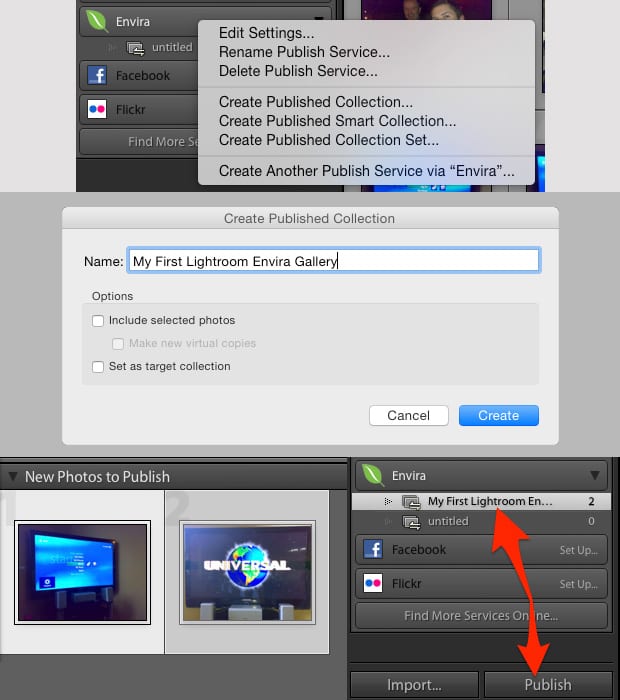 We have a step by step guide on how to connect WordPress with Lightroom.
The setup only takes a few minutes, and it's very easy to use.
Start using Envira Gallery today and try our Lightroom Integration for WordPress.
Special Thanks to the team at Adobe
We want to give a special shout out to our friends over at Adobe for helping us through out the process. Without their help and support, this integration would not have been possible.
Special Thanks to our Beta Testers
We also want to give a shout out to our VIP users who agreed to beta test this feature. We really appreciate your patience and support through out the process.
Lastly, thank you everyone who ever sent a Lightroom feature request. We really value your feedback, so please keep sending us new features that you would like for us to add.
I hope you enjoy using the new Lightroom Addon. I along with the entire Envira Gallery team look forward to helping you create beautiful responsive photo and video galleries.
Syed and the Envira Gallery Team
Using WordPress and want to get Envira Gallery free?
Envira Gallery helps photographers create beautiful photo and video galleries in just a few clicks so that they can showcase and sell their work.