The Best Camera for Beginners
by chriscct7@awesomemotive.com on Oct 26, 2021
Welcome to your guide to the best camera for beginners.
You're done learning all about f-stops and aperture. It's time to go out and try your skills in the real world.
But wait… you need a camera first!
You've also been saving up for a while now. However, being a beginner, you aren't sure which camera to invest your money in. There's the budget, features, upgrades, and potential assignments to keep in mind. With so many things, how do you make a choice?
Worry not! We've got you.
We have narrowed down a list of cameras for beginner-level photographers, so you don't have to. Let's find the perfect camera to kick start your career in photography.
---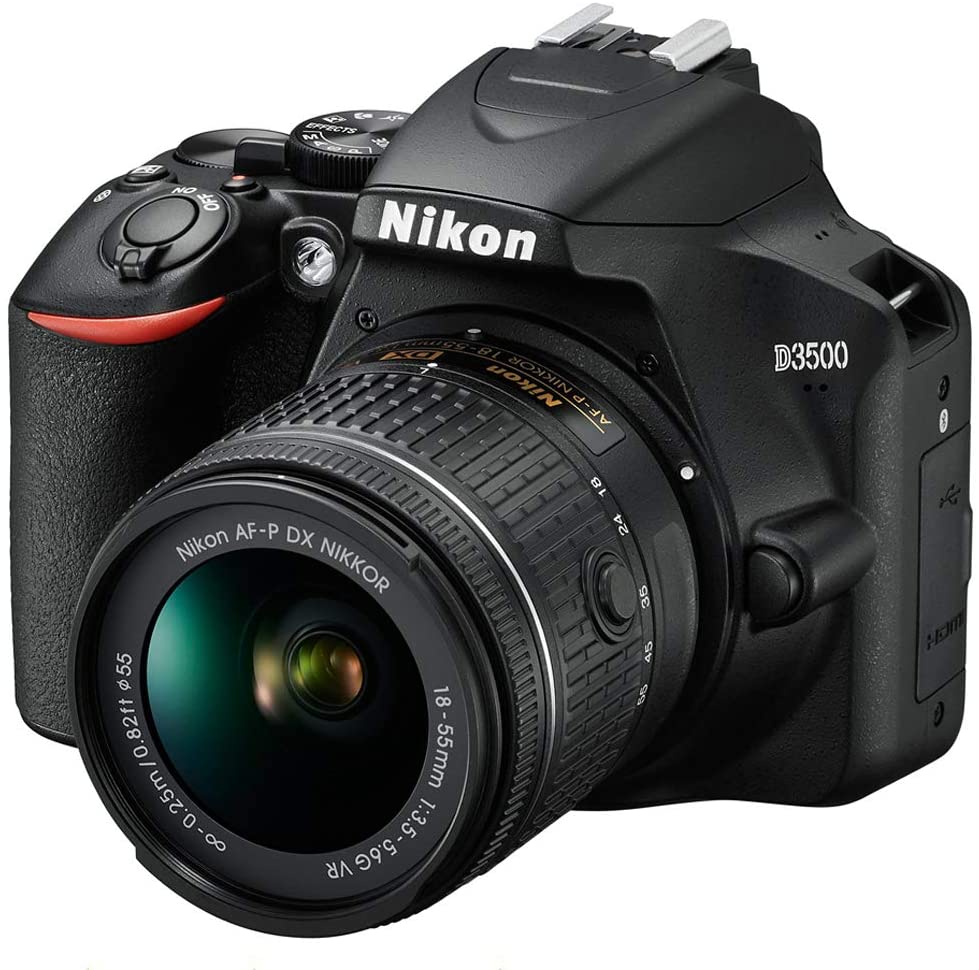 Nikon D3500
DSLR | 3-inch (fixed) Monitor 921K dots | APS-C | 1080/60p Full HD | 5ps | 24.2 MP | F Mount | 11-point AF | ISO 100 – 25,600 | 1,550 Battery life
---
Best DSLR Camera for Beginners
What's better than a camera that teaches you photography while you shoot? The Guide mode feature on the Nikon D3500 provides you with on-screen guidelines to help you through the process of clicking a great picture.
You can use it as a point-and-shoot or as a DSLR. It is lightweight, compact, durable, and versatile—a great camera for the traveling photographer. The controls on this machine are clean and easy to navigate. Quality is not an issue either, as this camera has a sensor 15 times larger than your smartphone. It gives you a clear, sharp image that captures every detail from the moment.
As with all other Nikon cameras, this one also comes with its EXPEED image processing system. It is giving your pictures vibrancy and that pop out. It also has 11 point autofocus locks that keep your subject in focus always.
Another bonus for users is the Nikon two-lens kit that includes two matched lenses. The AF-P DX NIKKOR 18-55mm f/3.5-5.6G VR lens and the AF-P DX NIKKOR 70-300mm f/4.5-6.3G ED telephoto zoom lens. The 18-55mm is excellent for shooting videos, landscapes, portraits, or perspective shots. At the same time, the 70-300mm is useful for nature, concerts, or sports photography.
If you want a device easily compatible with your smartphone, then this one can do it. Sharing pictures is easy with the help of the Nikon Snapbridge application. However, your device must be compatible with the app.
Overall, we think this is the best camera for photography beginners! It has essential functions covered and will last you a few years without upgrades.
For tripod options that work with the Nikon D3500, look at this one!
Pros
Guide mode for beginners
Excellent battery life
Cons
Fixed screen
No touchscreen
---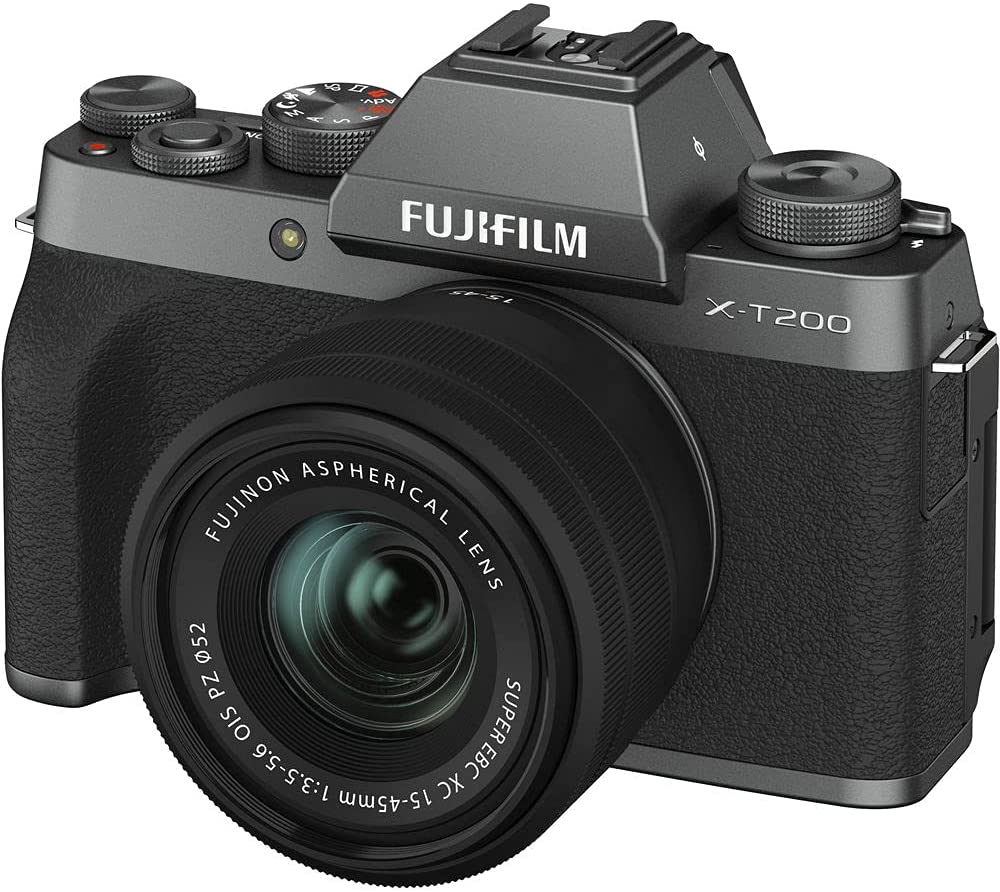 Fujifilm X-T200
Mirrorless | 3.5-inch touchscreen monitor 2760 dots | APS-C | 4K UHD video | 8fps | 24.2 MP | X Mount | 425-point AF | ISO max 25600 | 270 battery life
---
Best for Beginners in Photography and Videography
Like the Nikon D3500, the Fujifilm X-T200 is also a lightweight and compact camera. It comes equipped with a 3.5-inch touch screen that has an easy-to-use interface that you can flip out. The Fujifilm X-T200 supports 4K video recording at 30 fps.
The best thing? Its mirrorless body makes for great images that need little in the way of editing. The autofocus feature on this device can detect your subjects faster with updated face/ eye detection. The automated detection also works for selfies when your LCD monitor is turned out.
It has a widescreen vari-angle LCD touchscreen with a 16:9 aspect ratio. So, shooting videos is no longer a hassle with the X-T200.
The copper wiring processor in the Fujifilm X-T200 reduces all the noise, so you can click away without worries. Its gyroscopic sensor comes installed in the camera and uses digital image stabilization to help achieve a smooth video. However, this function gives a cropped field of view and has limitations with the lens and angle options.
The X-T200 is an excellent camera for beginner bloggers or social media creators with video recording needs. It is the best camera for photography and video.
Need more features?
The Fujifilm X-T200 also has in-built WiFi and advanced filters to make it more suitable for seamless connection and quality photography. You also get an EVF (Electronic Viewfinder) on the X-T200, which can help you improve your skills and learn as you work.
Are you looking for a tripod with your Fujifilm X-T200? Check this UBeesize 60-inch model!
Pros
3.5-inch touchscreen
Copper wiring
Cons
No image stabilization
Poor battery life
---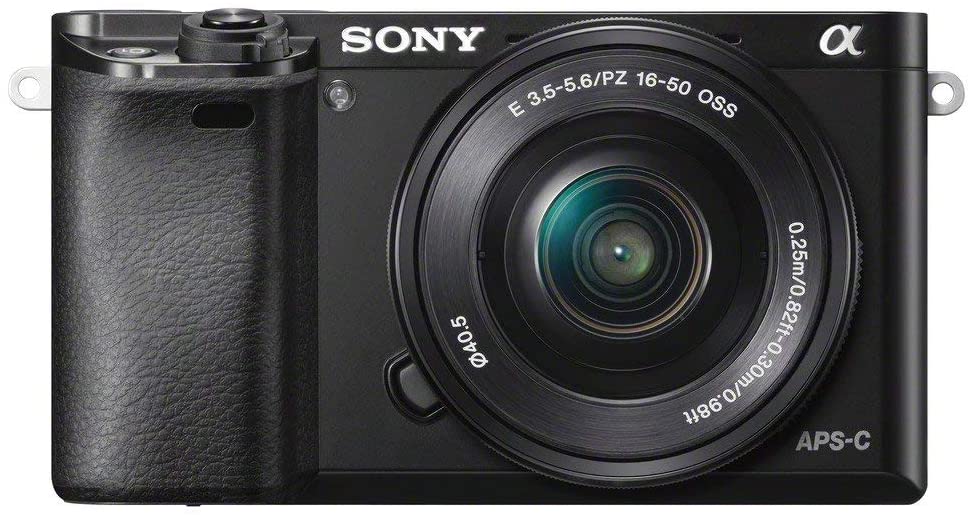 Sony a6000
Mirrorless | 3-inch tilting screen 921K dots | APS-C | 1080p Full HD | 11fps | 24.3 MP | E Mount | 179-point AF | ISO 100 – 25,600 | 420 battery life
---
Best Budget Camera for Beginners
Released in 2014, the Sony A6000 is still the best cheap camera for photography!
If you can compromise on features but need a beginner-level camera to practice, buy the Sony A6000. Although its features are old and have been upgraded in newer models, the A6000 still remains a useful, compact camera. It also has one of the best burst speeds on our list, with 11fps.
Sony's BIONZ X image processor is another cool feature that reduces a lot of noise. You will find it very useful for those low-light shots. With all these features, it's surprising how the A6000 is such a lightweight. It was ahead of competition back then and is still giving newer models a good run for their money.
It comes with a 3-inch LED screen, 16-50mm power zoom lens, and panorama mode. You also get WiFi connectivity on the Sony A6000, which makes image transfer easier. With the lens variety available through Sony, there's no reason to miss out on the A6000.
This camera has an electronic viewfinder that allows you some room to practice outdoor photography – an electronic viewfinder is a good feature for lessons in composition. Overall, this is an excellent camera for wildlife photography and regular indoor photography as well.
Are you transitioning from a learner to a beginner? Get this camera! While the specs don't impress us much, the A6000 still delivers quality performance.
Need a tripod with your Sony A6000? Check this one!
Pros
Cons
---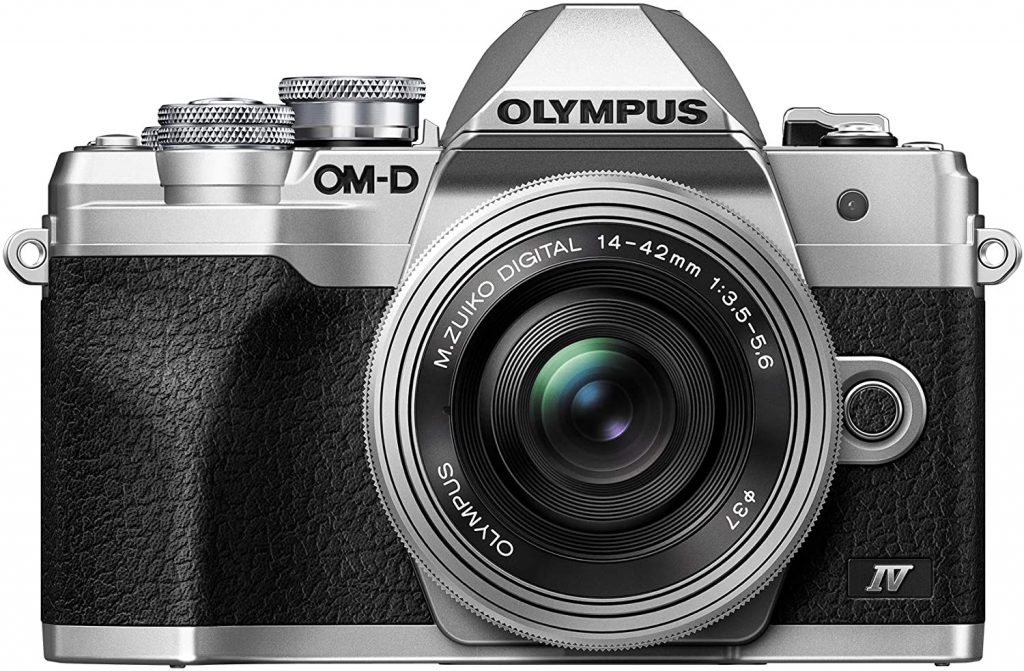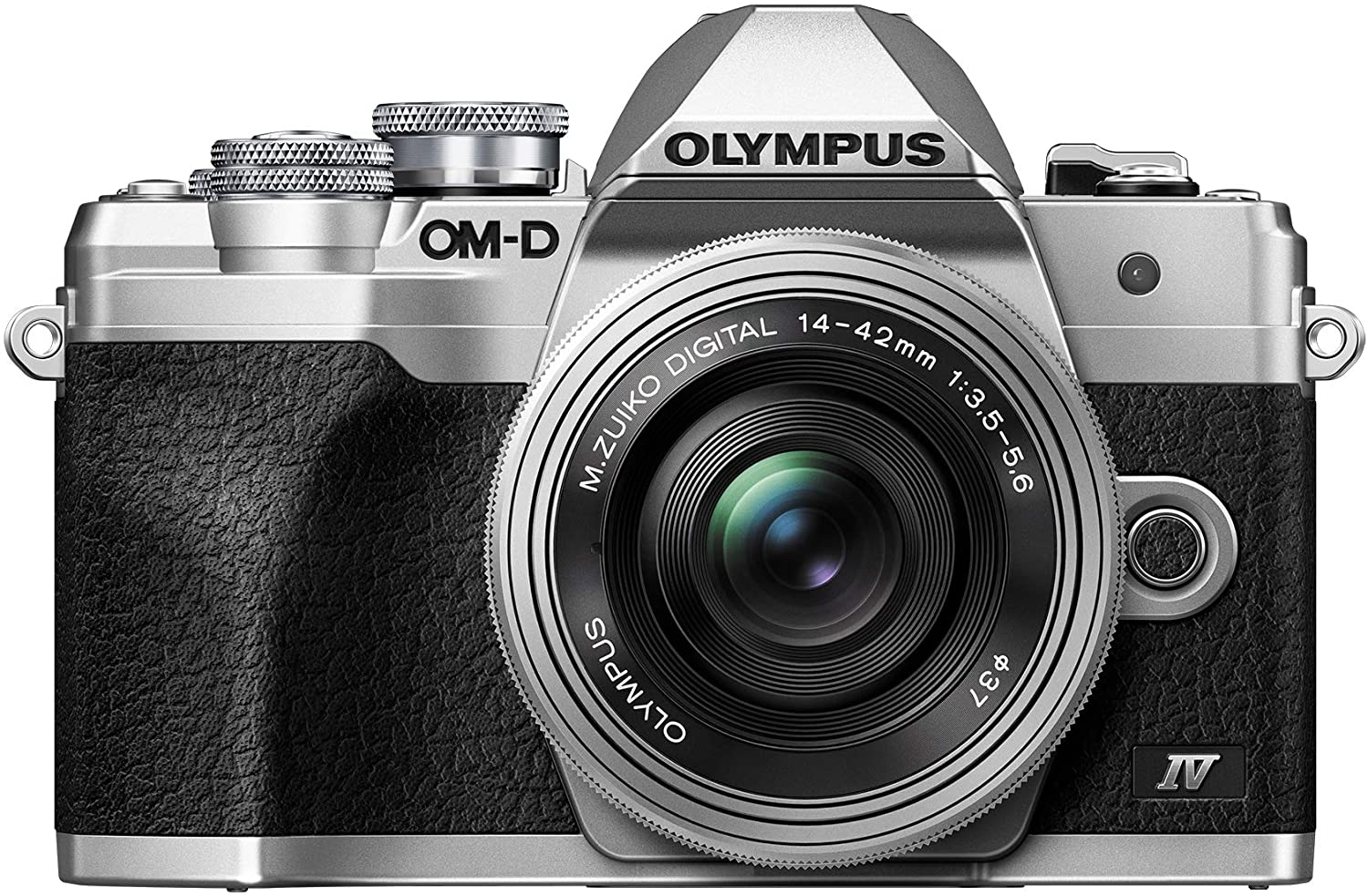 Olympus OM-D E-M10
Mirrorless | 3-inch tilting touchscreen 1037K dots | Micro Four Thirds | 4K UHD | 15fps | 20.3 MP | MFT | 121-point contrast-detection AF | ISO 200 – 25,600 | 330 battery life
---
Best for Flexible Lens Compatibility at Beginner Level
The Olympus M10 is a compact camera with a lot of power. It is the best camera for an aspiring photographer.
First of all, it provides an in-body 5-axis image stabilization system which gives you excellent quality still images. The Olympus M10 is a popular option for travel photography. However, its features are perfect for its price and beginner-level photography.
The 20MP Live MOS sensor is tiny but performs beyond its expectations. It's a great feature when you want to experiment with low-light photography. The Olympus M10 also supports 4K video recording. If you love taking selfies between photography shoots, then the M10 has a flip-down monitor just for you. The monitor has a dedicated selfie mode that automatically turns on when you flip down the monitor.
Connectivity isn't a problem either with its always-on connection. You also have options for background connection via Bluetooth or OI share smartphone app.
Besides, this one is an MFT (Micro Four Thirds) and is thus compatible with a range of lenses and accessories. Although you will find cons, they are manageable and not related to camera functionality.
Ready to buy the Olympus M10? You should also buy this tripod!
Pros
5 axis image stabilization
Lens and accessory compatibility
Cons
No USB-C port
Plastic body
No input for microphone
---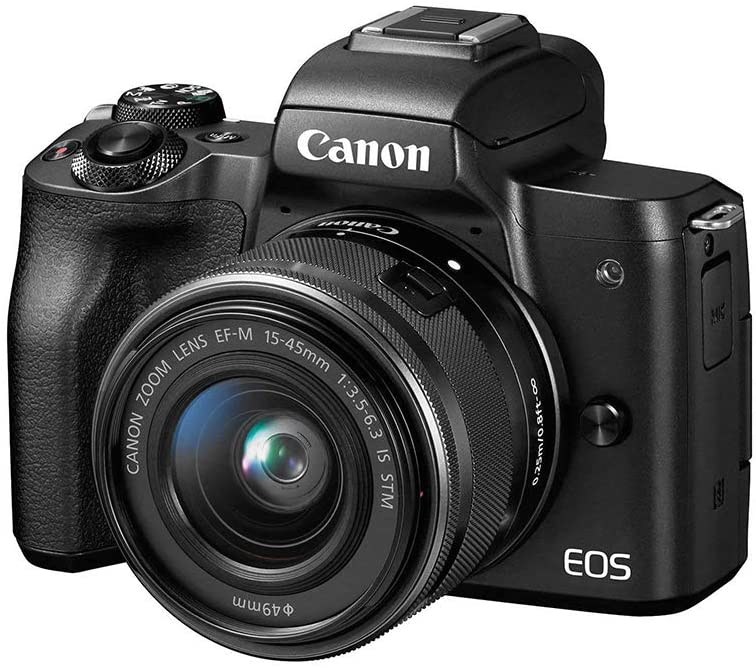 Canon M50
Mirrorless | 3-inch vari-angle LCD touch screen | 1,040K dots | APS-C | 4K 24p and HD 120p | 10fps for single AF and 7.4fps for continuous AF | 24.1 MP | EF-M | Dual Pixel CMOS AF | ISO 100 – 25,600 | 235 battery life
---
Best Mirrorless Camera for Beginners
The Canon EOS M50 is another powerhouse camera in a tiny body. Beginners can use it for nature and wildlife photography just the same. It also has a viewfinder in a mirrorless body which was quite surprising for us.
For those of you with an interest in daylight photography, the M50 stands out well. However, the best features of this camera are its 4K video, 24MP imaging sensor, OLED EVF, and autofocus. It might not deliver the same results in low light; for this, the Olympus M10 is a better choice.
We found the plastic body on this camera a bit too flimsy and awkward to use. Moving on, this camera also offers Bluetooth and WiFi connections. That is pretty common for newer models, though.
However, with all those great features come a few drawbacks as well. Its retracting kit lens for one isn't the easiest to use, and the 4K video brings up limitations. Another drawback is the lack of in-built image stabilization.
However, you can achieve stability in your videos by using lens-based image stabilization along with a digital image stabilization system. We figure it'll be worth it to learn more tips and tricks to work your way around various cameras.
After all, you're only just beginning your career in photography; there is a long way to go and many cameras to try.
If you need a tripod for the Canon EOS M50, then check this out.
Pros
Bluetooth and WiFi
OLED EVF
Viewfinder + mirrorless
Cons
No image stabilization
Plastic body
Limited video usage
---
What Should You Look For in a Camera?
Budget
We know how hard it can be to fit your needs into a budget. However, it isn't impossible to get a good deal at affordable prices these days. So, before you go ahead and start putting down the pros and cons of the cameras, finalize a budget. A budget can help you limit your search and save you time.
Video
Video is an uncompromised feature these days. Everywhere you go, there's a video recording playing. For a photographer, it has become a necessity to deliver the best photo and video quality footage. Professional or beginner, keep an eye out for at least a 4K video or Full HD1080p feature.
Manual Modes
There's no feeling for a photographer like getting the image you want. Now that requires manual control mode. A camera with manual mode will allow you more freedom to explore later on. You will progress faster and won't have to spend money on a new camera anytime soon either.
Interchangeable Lenses
Compatibility is a big issue when it comes to professional cameras. More often, beginners with some savings want to invest big and go for a top-notch product. Remember, price does not always translate to versatility.
Check what accessories and lenses you can use with your camera before you make a purchase.
Megapixels
Looking at megapixels as a standalone feature is a wrong choice. Yet, megapixels count does affect your image quality. Its primary function comes to use when you're printing your images. A 12-megapixel camera can print any standard size image in good quality. Most professionals often go for anything above 20 megapixels.
Controls
The controls on a camera should make it easier to operate it. However, not all manufacturers have this in mind. Find a camera you can handle, whether it's a professional shoot or a personal exercise.
Battery Life
Battery life might not be the most essential feature for all photographers. However, it is for times when your resources are few and electricity is one of them.
DSLR cameras will have better battery life in general. That's because they draw less power when reflecting the image composition to the photographer.
Connectivity
Using SD cards is a thing of the past. It also increased the risk of misplacement or damage to the cards. Bluetooth or WiFi connection helps you finish the transfer process within minutes. Whether it's an edit or an upload you can focus on more important things now.
Durability
Durability comes with a cost and beginners don't have the right budget for it. However, some of the older generation cameras might be more durable than others. So, look for some durability at least. It'll save you bucks when you accidentally drop your camera on a shoot.
Futureproof
We've come to our last segment with the most essential tip.
Upgrades in cameras are plenty and quick, but sadly budgets don't upgrade as fast. That means you're going to spend at least one or two years using your first camera. It is harder to progress when you're a beginner. So, our advice is to research upcoming gadgets, their specs, and prices. Then go back and buy the one that'll keep up with those features at best.
It's not easy to transition from a beginner to a professional, but the right camera can help. So, choose well, and let us know what camera you pick in the comments below!
Once you have your camera, avoid these camera mistakes.
Using WordPress and want to get Envira Gallery free?
Envira Gallery helps photographers create beautiful photo and video galleries in just a few clicks so that they can showcase and sell their work.