Best Drones for Beginners
by Keren Dinkin on Oct 12, 2021
If you want to buy a drone for the first time, you might be wondering which type you should pick. There are many drones for beginners.
With so many drones on the market and more coming up, 2021 is the year for drones. But did you know that drones go back to the mid-1800s? They made their first appearance when Austria attacked Venice with unmanned balloons filled with explosives.
Since then, the use, technology, and demand for drones have exploded with non-military applications. If you've been nursing a growing fascination for drones and are interested in getting in on the action, we put together this guide for you.
This article talks about beginner-level drones, their common features, and what to look for when shopping for one.
Let's answer the biggest question first.
What Are the Best Drones To Buy for Beginners?
The best drone to buy for a beginner is price-friendly, small, and easy to manage. Why? Your first drone is all about learning how to fly one. Since it's your first, the drone you buy will most likely take many hits in the initial days of trial.
Is it wise to get an expensive drone for this? No. Stick to a cheap and durable model. Camera quality and image stability are not the features to focus on at this point.
Our suggestion is to try out some of the drones from our list of the best beginner drones.
Let's start with the DJI Mavic Mini.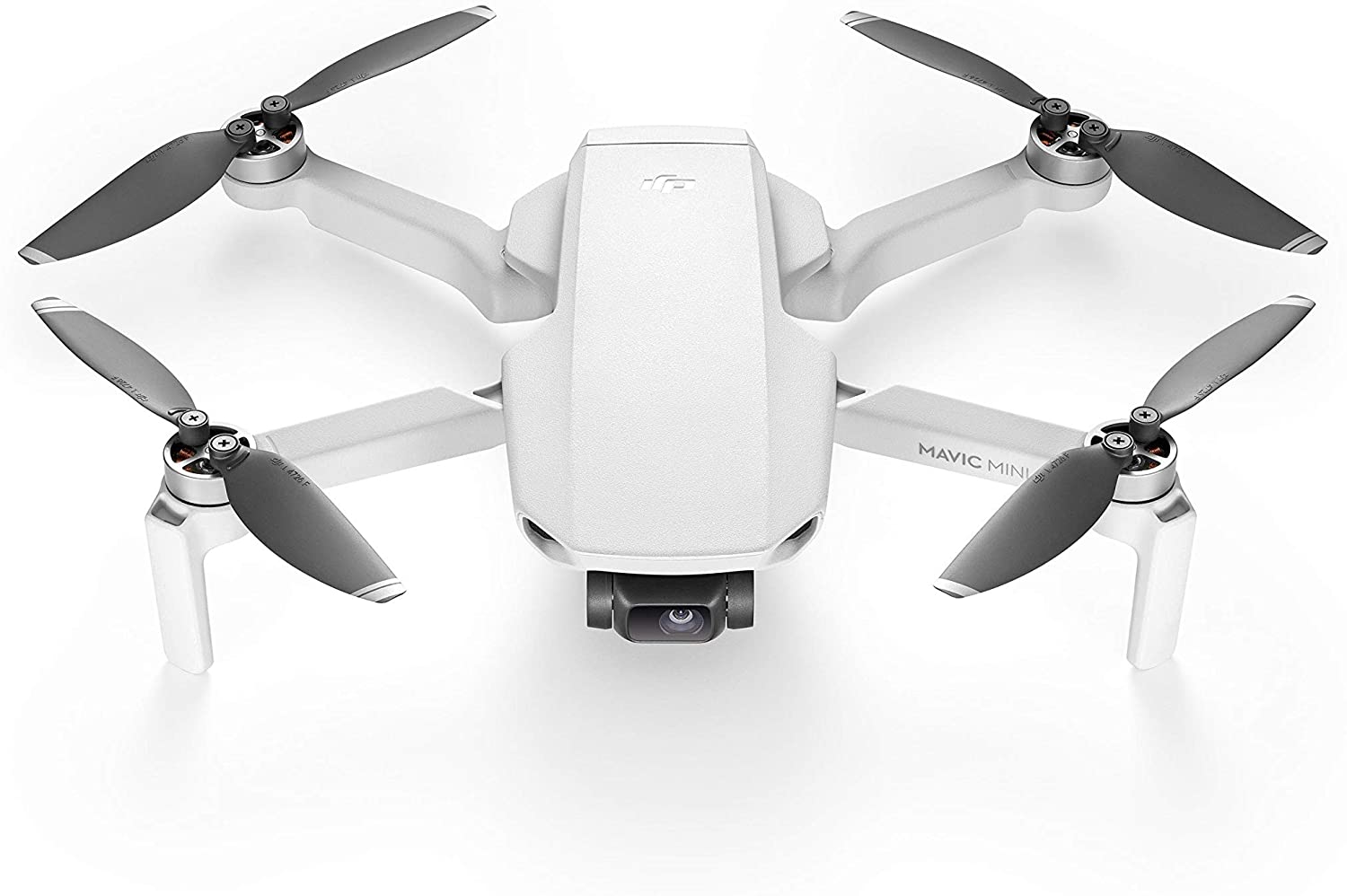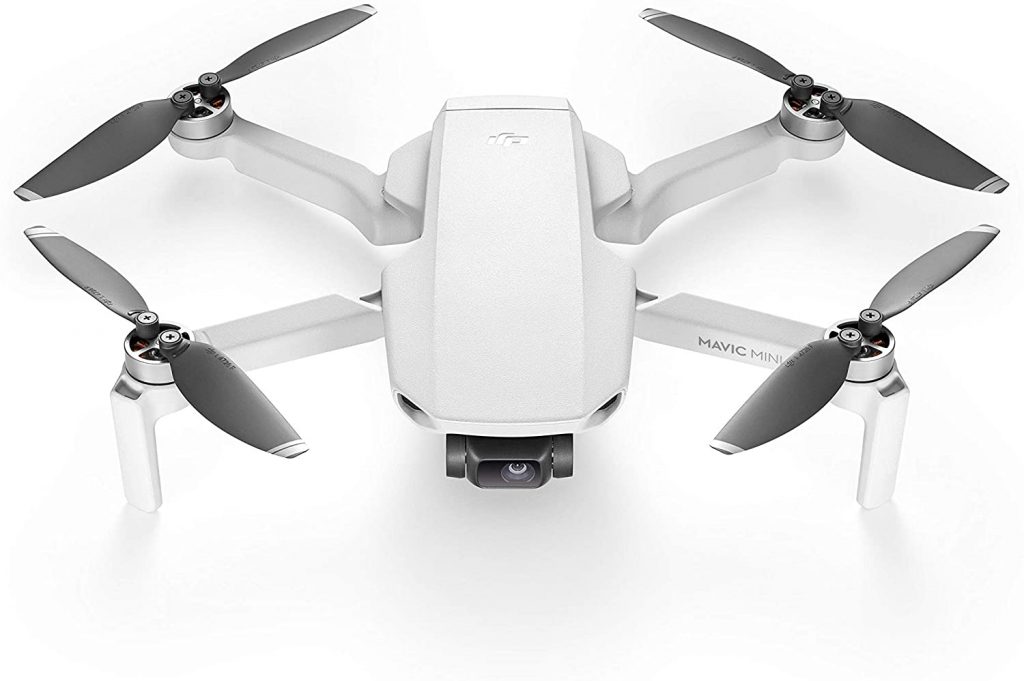 The DJI Mavic Mini is a compact and portable drone weighing only 0.75 grams. Using it is super easy with its flight tutorial feature. While it isn't one of the best drones with a camera, it doesn't fall short on its image quality with a resolution of 12 megapixels and a 2.7K video quality. The drone also has a three-axis motorized gimbal to ensure stable aerial footage.
Moving on, the DJI Mavic Mini boasts a four-kilometer transmission range and a flight time of 30 minutes — no small feat for this device. For video lovers, its QuickShot feature can be used to execute elaborate preset motions while recording conveniently. You can then take your automatically generated video and share it online. Other features include return-to-home, geofencing, and hover capabilities. There's also a tripod that you can buy separately.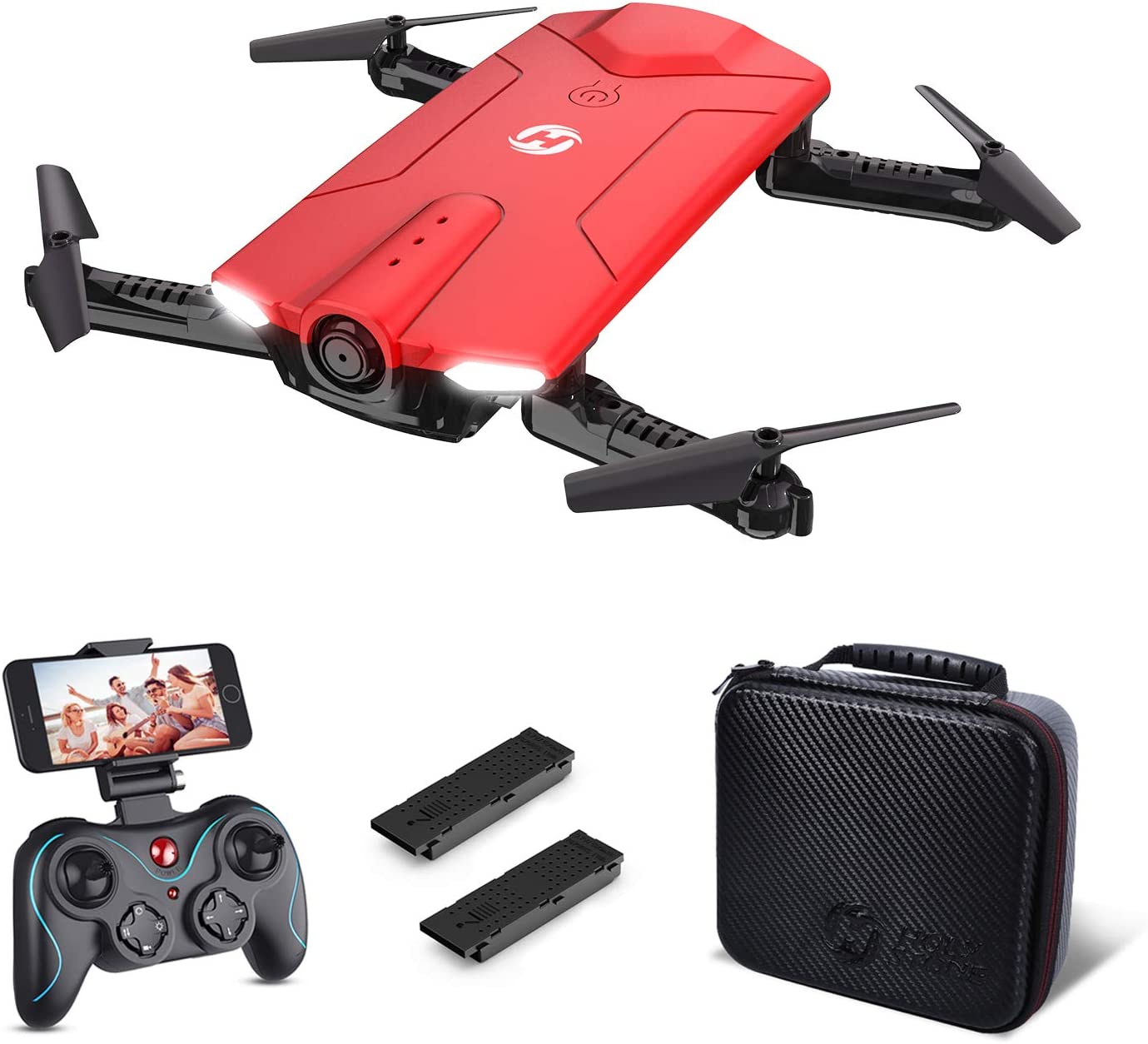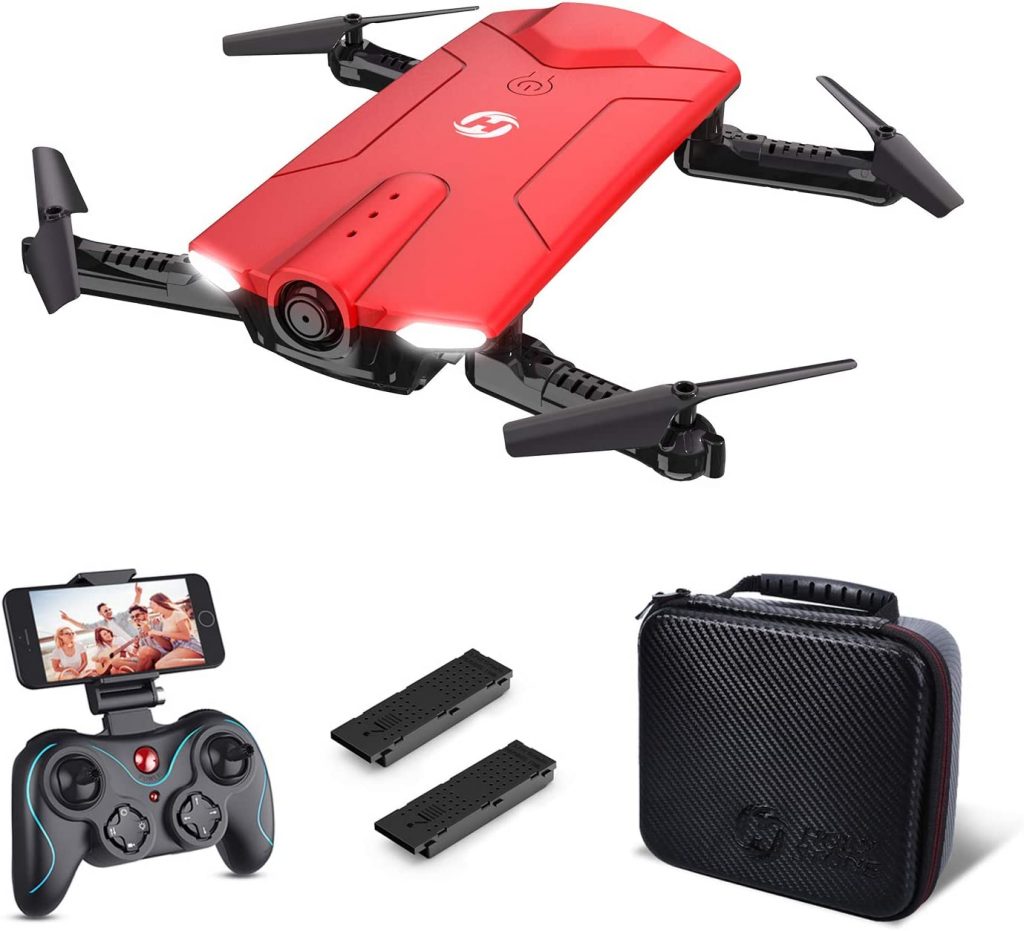 The second-best beginner drone on our list is the Holy Stone HS 160 Shadow. This 1.37-pound drone has a foldable and flexible ABS-plastic aerofoil and fuselage.
It's also the best cheap drone for photography that amateurs and professionals will enjoy. It has four-speed modes for all levels of users and a flight time of eight minutes for every 50 to 70 minutes of charge time. The HS 160 Shadow has a maximum transmission range of up to 50 meters in an unobstructed outdoor space, but that's not all you get.
The Holy Stone HS 160 has an altitude hold feature that allows the drone to hover in position. This is great for shooting stable footage and pictures or videos with clarity. It has a 720p WiFi FPV (first-person view) HD-enabled camera for viewing footage from the drone. The camera can be manually adjusted to point downwards. It also has a headless mode to make it easier for beginners to fly.
The drawback? This drone isn't wind-resistant, so you should plan to use it in environments with minimal wind.
What Is the Easiest Drone To Learn to Fly?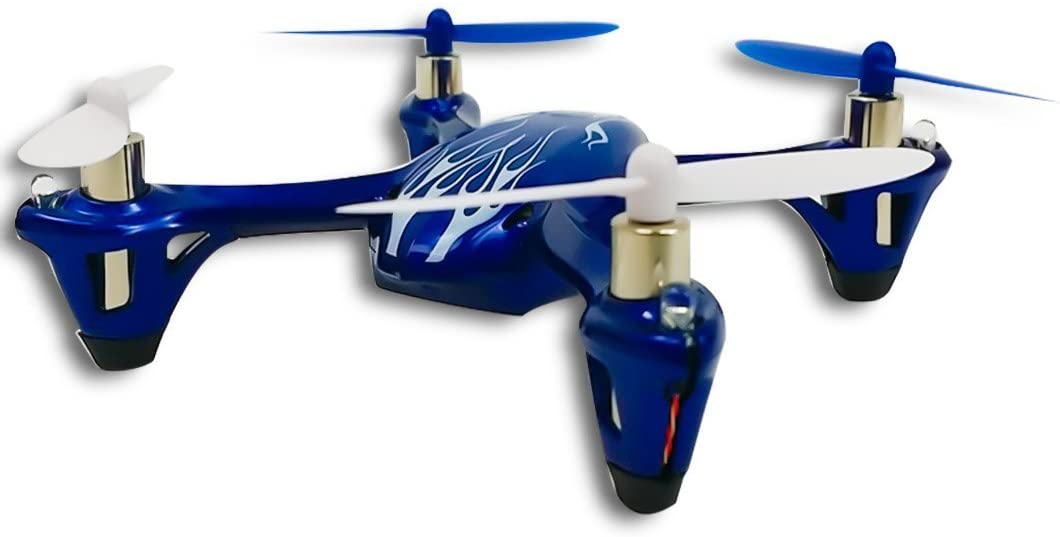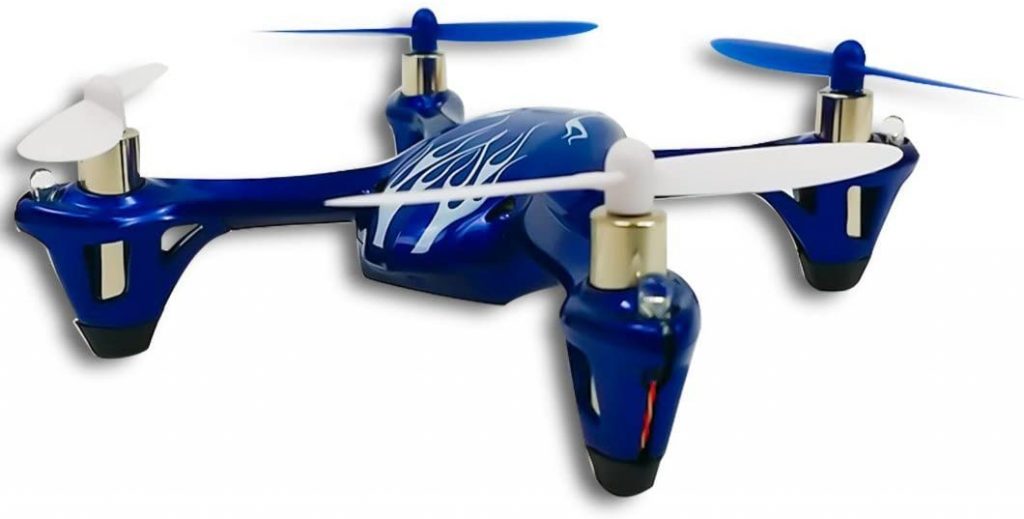 The easiest drone to fly is the Hubsan H107. The most significant benefit of flying this drone is its durable body that can function despite taking many hits. Its adjustable gyroscope and 6-axis flight control system make it enjoyable to fly. However, the camera on this drone is nothing to boast of. On a 30 to 45 minute charge, the drone has a flight time of six to eight minutes with a maximum transmission range of up to 100 meters. At this price range, you can't find a more durable drone to practice on.
Overall, the Hubsan H107 does everything a professional drone can do. It may be a low-cost drone, but beginners willing to put in the time can practice their skills on this machine.
What Is the Easiest Drone for Beginners?
The best drones for beginners are the ones that are easy to fly. Great examples of these are the DJI Mini 2 and Ryze Tello.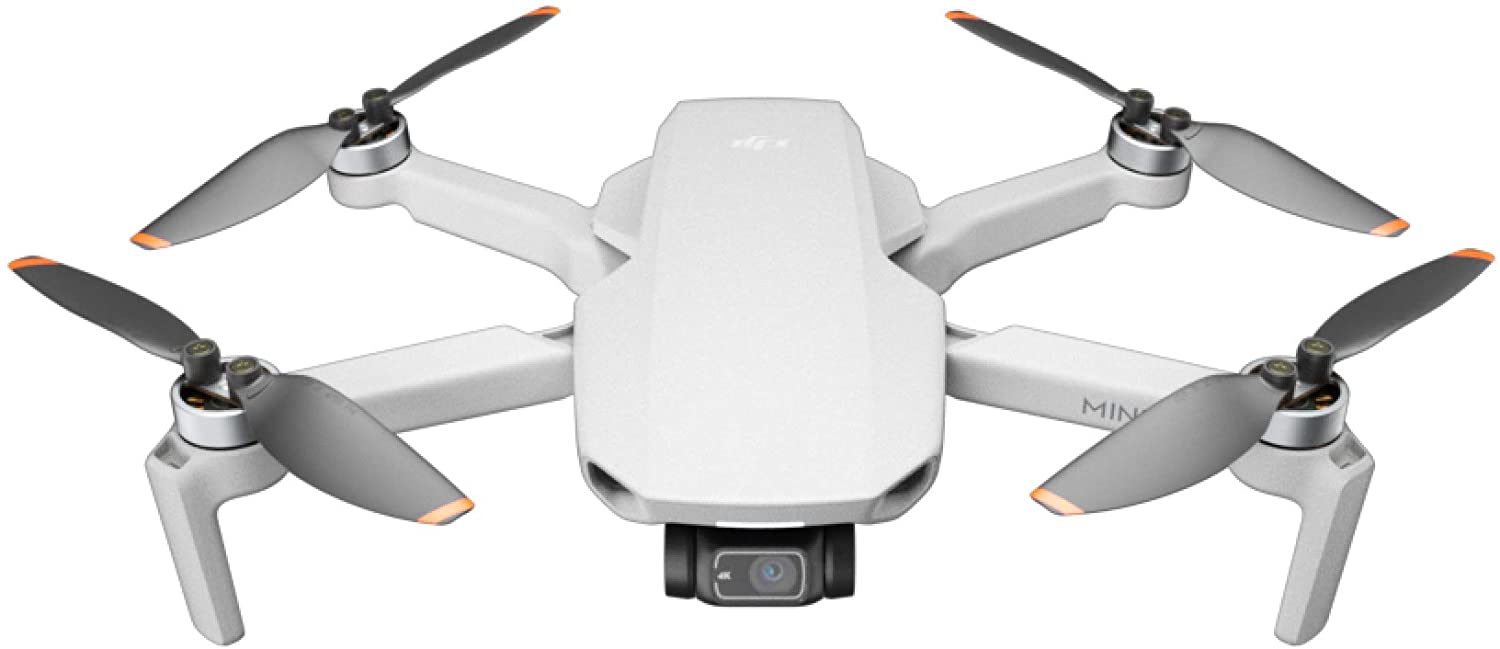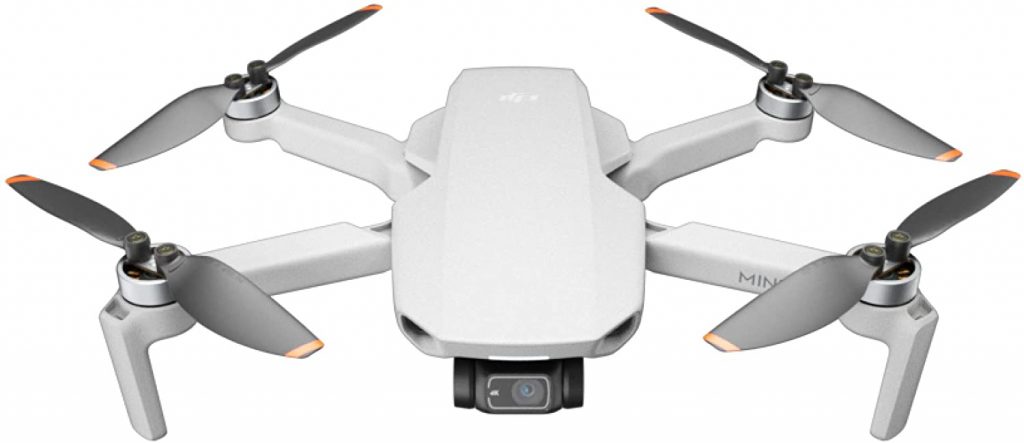 The DJI Mini 2 is a quadcopter that weighs less than a pound. It records videos in 4K HD resolution and has a 12-megapixel camera. The transmission range is up to ten kilometers with a flight time of up to 31 minutes and an impressive wind resistance of 38 kilometers an hour. This means that it can handle level five winds and take off at an altitude of 4,000 meters.
The DJI Mini 2 with its 360-degree propeller guards makes for a great flying experience in an obstacle-filled area. You also get stable footage with the three-axis motorized gimbal. The device comes well protected with downward sensors.. All these features make the DJI Mini 2 the best beginner drone with a camera and GPS. Its only drawback is its high price for an entry-level drone.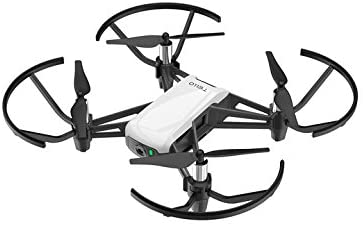 The downside to the Tello Quadcopter is its significantly shorter flight time. Each charge only allows you to fly it for around 13 minutes at a time. This drawback isn't an issue with the Ryze Tello, which has an affordable price tag while lightweight at only 0.5 pounds.
The quality of video resolution is midrange at 720p and 30fps with a camera resolution of 5 megapixels. The transmission range is also lower at only 100 meters. Additionally, the Tello comes with electronic image stabilization and an EZ Shots feature which gives you more excellent stability and clarity for capturing images and videos.
If you're wondering how to choose cheap but good toys for kids, the Ryze Tello may well be your answer. With its lower price tag and less advanced specifications, you won't mind letting your child play and experiment with this drone.
What Is the Best Drone for Indoor Flying?
You might be wondering how an indoor drone is different from a regular one. Shouldn't you be able to fly a drone indoors and outdoors? Well, there are a few differences when buying an indoor drone.
About Indoor Drones
Indoor drones or micro drones are cheaper (typically less than $100) and smaller than outdoor ones while having propeller guards for safety. They're also light enough (usually less than a pound), so they don't hurt anyone.
Microdrones are usually classified as toy drones, professional drones, and indoor racing drones. Toy drones are suitable for most hobbyists. You'll notice that toy drones generally don't have cameras and have shorter battery lives (between 5 to 15 minutes).
To determine if a drone is made for indoor use, you can refer to the owner's manual or look at the drone. If it seems too big to fly indoors, then it's probably an outdoor drone.
Why Get Indoor Drones?
The reasons for flying a drone outside are apparent, but the case for indoor drones may not be as clear. Indoor drones can be used for fun, practice, drone racing, and professional applications such as reaching hard-to-access and/or hazardous areas.
Let's take a look at some of the best drones for indoor flying.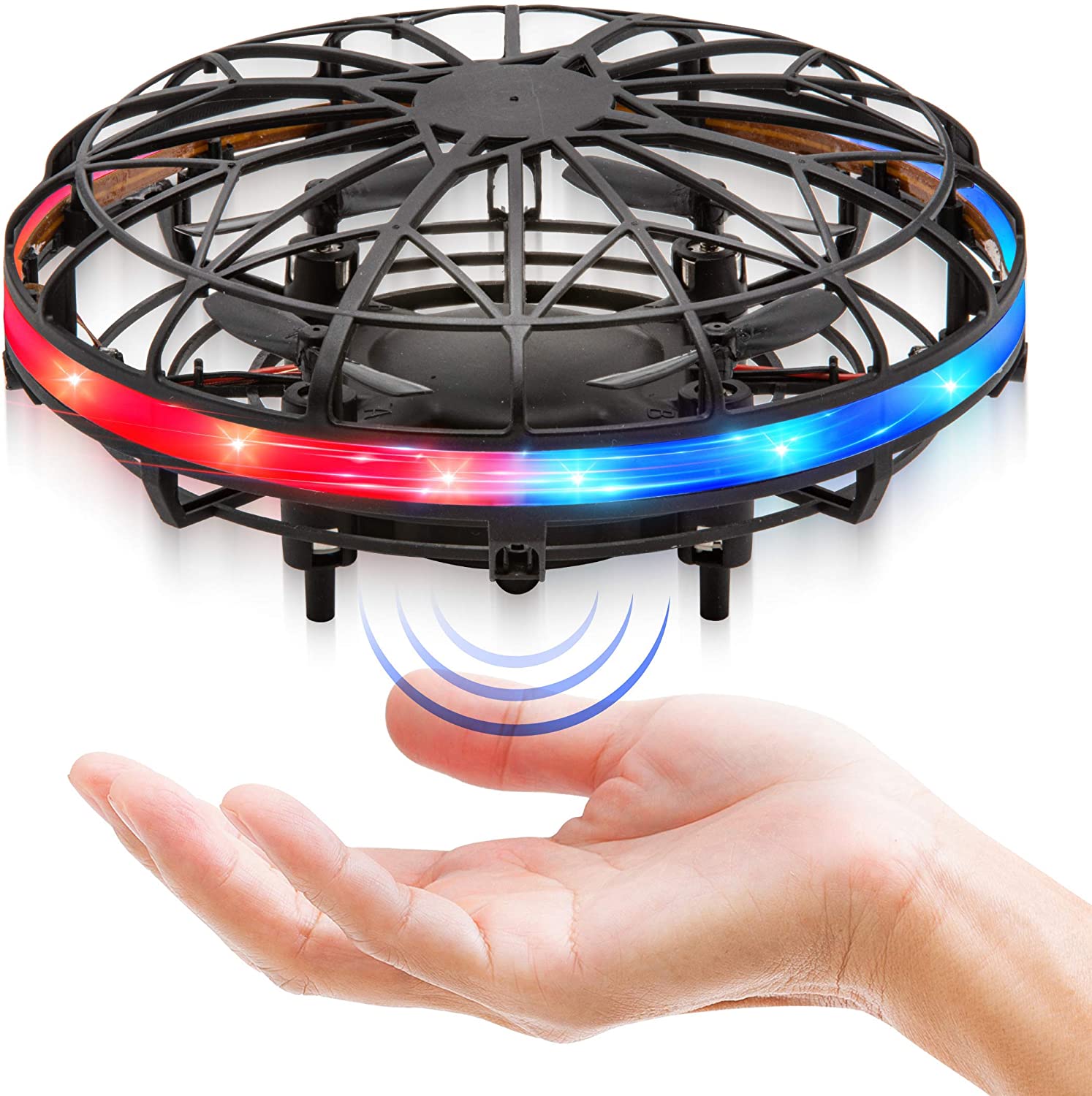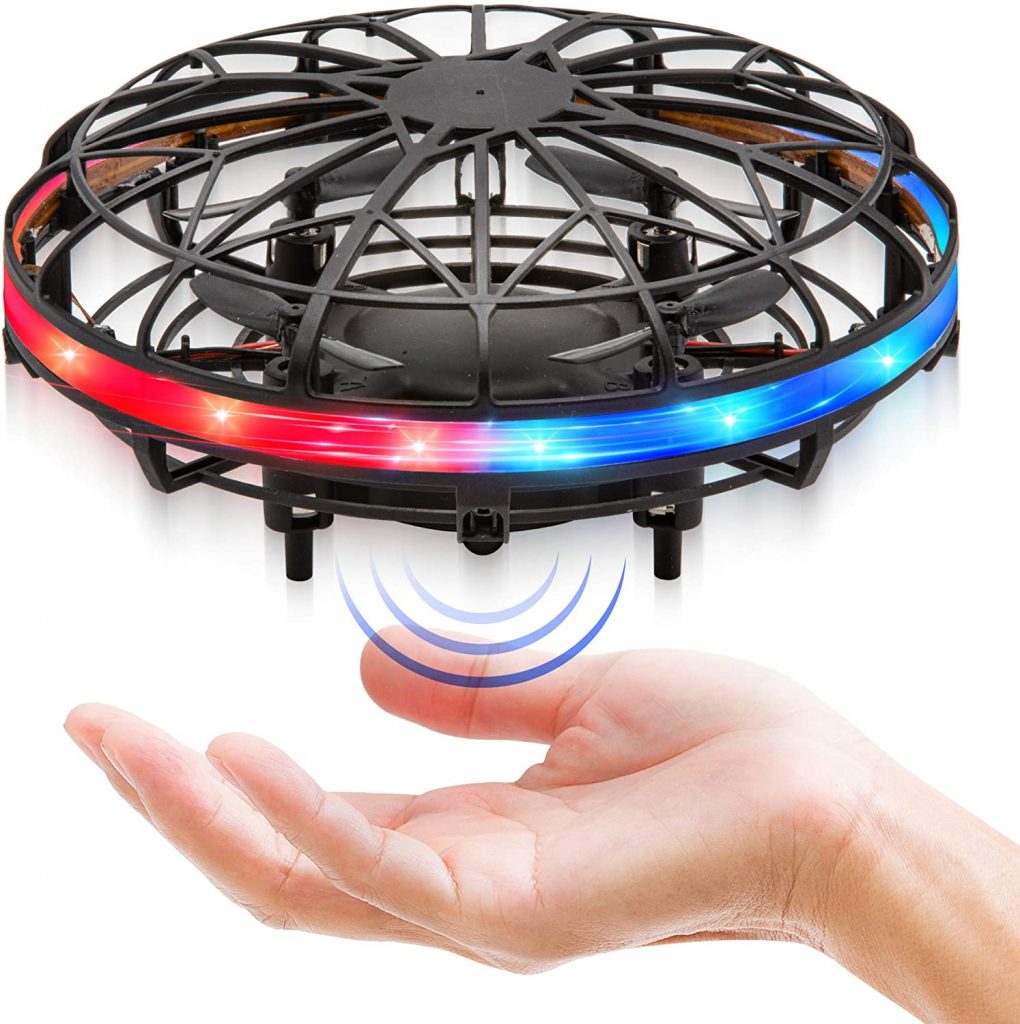 The Force 1 Scoot Drone tops our list of indoor drones. Operating this drone is super easy since it has 350-degree motion sensors. It measures 4.75 inches and comes with a red, blue, and white LED strip that makes it fun to operate in the dark.
You can toss it, push it, flip it or stop it with hand gestures. Its infrared sensors on both sides detect obstructions. To launch it, you only need to toss it into the air. It also has a webbed cage to protect the rotors from accidental damage. This protects people, children, and pets from accidentally hurting themselves while it's in use.
If you've been wondering how to choose the best toy drone for kids, the Scoot Hand-Operated Drone is one of the best mini drones for kids. It's light, easy to operate, and comes in a protective casing that adds to its safety and durability. The Scoot's LED lights and 360-degree flips don't hurt either.
However, one thing to take note of is that the drone only runs for around eight minutes for an hour of charging. Despite the short flight time, it's still a good bargain for the price.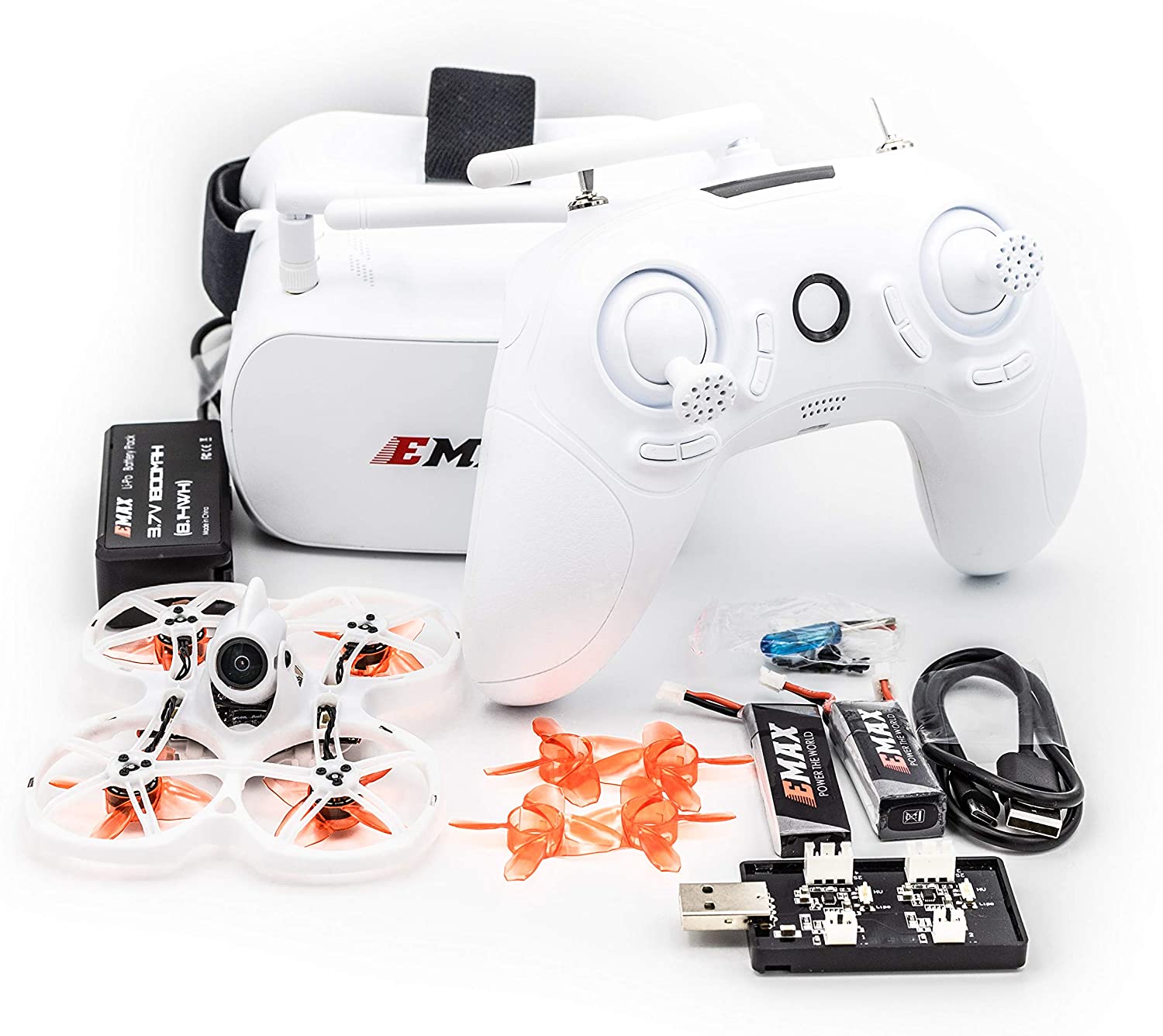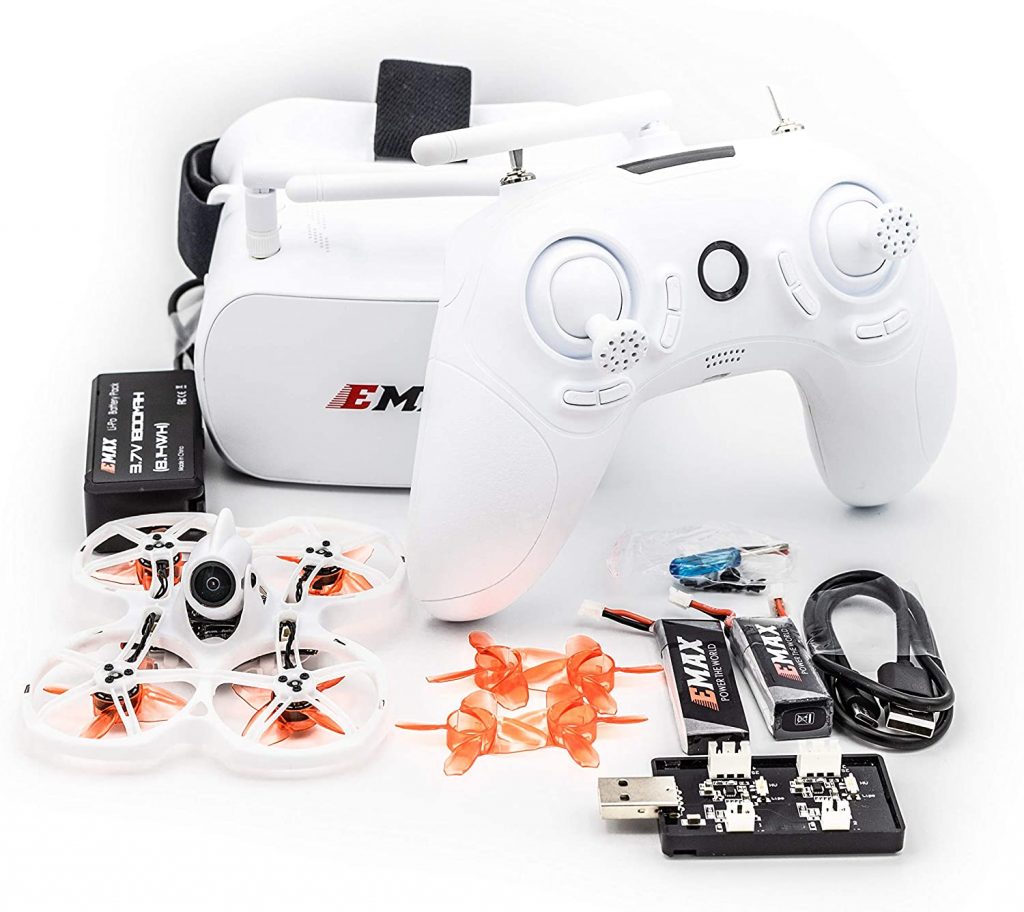 Another drone that makes it to our list of favorites is the EMAX TinyHawk II RTF. This EMAX drone is designed for FPV racing.
This is a ready-to-fly drone requiring zero setup and assembly. It has a camera with an angle-tilt option available. This helps keep the camera level even when the drone is moving at high speeds — a good thing since the TinyHawk II's brushless motors enable speeds of up to 34.8 miles per hour.
Perhaps it's due to the speed that the drone only has four minutes of flight time with every charge.
In terms of operation, this drone is hard to learn and not beginner-friendly. However, if you're an FPV racer, this is a solid choice. Additionally, the TinyHawk II has a strong radio and is durable enough to take a few hits.
Because it sells for over $200 and it's more geared towards experienced FPV racers, this isn't among the best toy drones for kids. However, if you're new to drone-racing and like the EMAX brand, the manufacturer also sells the EZ Pilot Beginner Indoor FPV Racing Drone at half the price.
Best Drones For Beginners Buying Guide
When shopping for a drone, you should think about what you need it to do, your experience with drones, and how you plan to use it.
Will your children use it as a toy?
Are you a hobbyist?
Do you want to race drones?
Will you be using it indoors or outdoors?
Are you buying one for a specific job-related task?
Apart from functionality, here are the details to look at when picking out a drone:
Ease of Use
Unless you're a seasoned FPV pilot, get a drone that's ready to fly (RTF). You only need to charge your drone before using it.
Safety Features
Safety sensors, return-to-home, and low battery warnings are essential features in drones. These help ensure that you get your drone back without damage.
Camera
If you work with videos, you'll want to look for the more advanced image and video capturing capabilities.
Cinematic Features
Today, drones come pre-programmed with aerial maneuvers. These come in handy if you plan to shoot a short film or YouTube video for your channel.
Stabilization: Electronic or Physical
Are you looking to shoot stable landscape videos? It's easier to achieve aerial footage stability with a physical three-axis gimbal instead of an electronic one.
Controller
A poorly designed and low-quality remote control is a hassle to use. As the driver, you need one that's easy to handle. A good controller means a good flying experience.
Transmission Range
Get a drone with the best transmission range. There's no debating the fact that you want your drone to cover as much area as possible. The Federal Aviation Administration mandates keeping the drone within your line of sight at all times. However, this also depends on visibility. To get the best from your drone, buy one with a maximum transmission range of up to a hundred feet.
First Person View
FPV cameras use video transmitters to send real-time footage to the receiver. This means you can see what your drone sees. A lot of FPV cameras also support streaming footage to virtual reality goggles.
Tracking
Tracking buses, cars, or vehicles for surveillance and videography is a common practice. Some drones come with a tracking feature to facilitate this.
Portability
Fixed-wing drones are heavy and difficult to carry, but there are collapsible drones that you can easily store and take anywhere.
Build
There's no way to prevent a drone from crashing, but there is a way to ensure the damage isn't too expensive. Purchasing a sturdy drone that can take a few hits is an obvious choice, but you can also get a drone with replaceable parts or shields to protect it from accidents.
Battery Life
The average minutes per charge varies from 10 to 30 minutes. Even with interchangeable batteries, there should be enough minutes on the battery. You want a drone you can set up and use within that timeframe.
Cheaper toy drones generally have fewer minutes. Still, more expensive drones don't automatically have long flight times either, so you should make an effort to check the battery life of the drone you're considering.
Wind Resistance
A good wind resistance rating minimizes the risk of accidents to your drone. You should look for one with a wind resistance between 10 and 30 miles per hour.
The current best drones for wind resistance are the DJI Mavic Pro and the DJI Phantom 4 Pro.
Other Features
GPS, compass, and night vision are additional features that make your drone more customized for particular uses. If you're looking for a drone with a specific purpose in mind, look for the features that best support it.
Final Thought
Drone technology is continuously evolving. We hope this guide has given you an idea of drones' most common types, features, and specifications.
Now that you know what to look for and have a list of suggested models, it's time to purchase one and get flying! Let us know how your experience went in the comments below.
Using WordPress and want to get Envira Gallery free?
Envira Gallery helps photographers create beautiful photo and video galleries in just a few clicks so that they can showcase and sell their work.