Envira Gallery Documentation
Documentation, Reference Materials and Tutorials for Envira Gallery
The Fullscreen Addon for Envira Gallery will allow you to give your users a fullscreen view of your lightbox images automatically or by a click of a button. We'll walk you through the steps on how to create a fullscreen lightbox view for your gallery images using Envira's Fullscreen Addon.
---
Requirements
Installation
Please follow our instructions on how to install and activate addons.
In this instance, you'll be activating the Envira Fullscreen Addon.
Setup
Step 1 – Create or edit your gallery
Your first step is to create a new gallery or edit an existing one. You can follow along with our documentation for creating your first gallery.
Step 2 – Set up your fullscreen settings
Navigate to the Lightbox tab and choose the settings that you want for your gallery. You can choose to show the lightbox image fullscreen on open or give the your visitors control by having them click a button.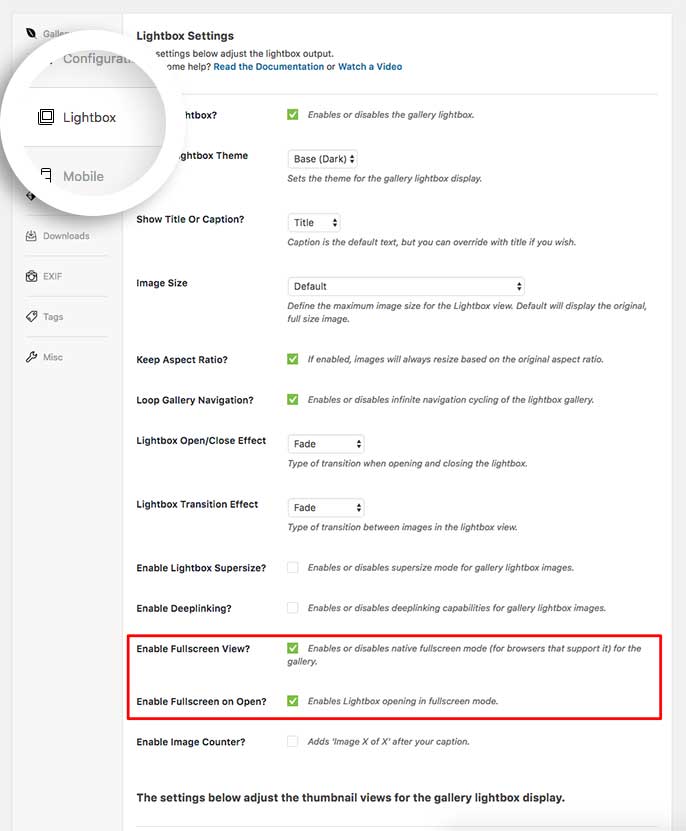 Step 3 – Publish or Update your gallery
Finally, click Publish or Update on your gallery to save the changes.
If you're using either of the Base lightbox themes, you'll see the fullscreen icon in the top toolbar.
Any other lightbox themes will need to have the gallery toolbar enabled in order to show a button to open the image fullscreen.
If you'd like to play with the lightbox further, take a look at our tutorial on How to Display Lightbox Nav Arrows Inside/Outside of Image.
---
FAQs
Q: How can I display images Fullscreen without selecting the toolbar button?
A: You may be looking for the functionality provided by our Supersize Lightbox Images Feature instead.
---
Q: Where is the Enable Gallery Toolbar? option?
A: If you are using the Base (Dark) or Base (Light) lightbox themes, the toolbar is automatically enabled.
All other lightbox themes will need to have the toolbar enabled manually in the gallery settings from the Lightbox tab and Mobile tab.
To do this, edit your gallery and click on the Lightbox tab. Select the checkbox to Enable Gallery Toolbar?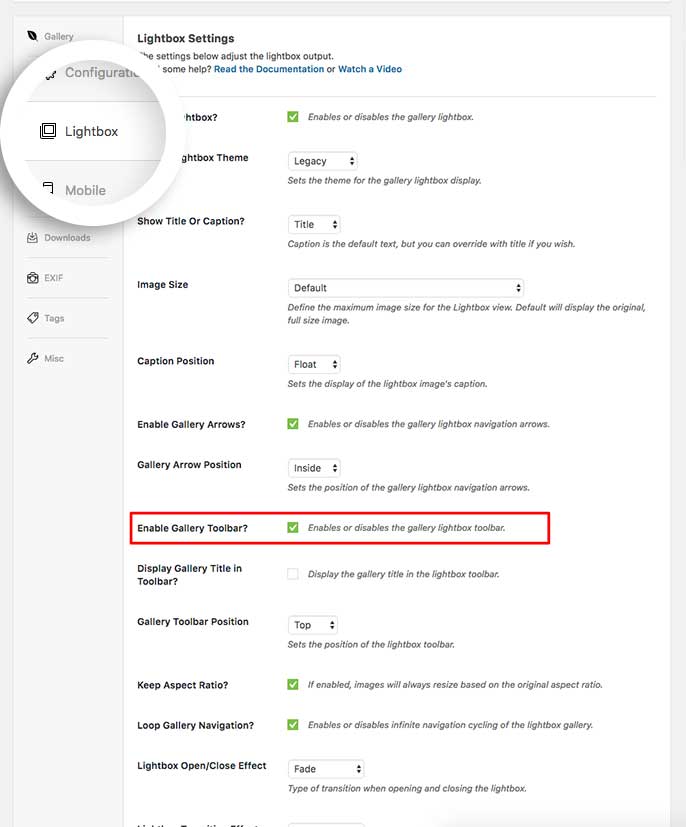 ---
Q: Why isn't fullscreen working on mobile devices? option?
A: Most mobile browsers are already at fullscreen so this setting isn't supported or needed.
---
Q: My lightbox isn't showing fullscreen? option?
A: Please check you're on the latest version of your browser. Not all browsers will support this functionality.
Changelog
1.2.5 (05-11-2023)
1.2.4 (07-23-2020)
Fix: Resolved issue with fullscreen not appearing with certain pagination settings active.
1.2.3 (02-05-2020)
Fix: Plugin updater revised.
1.2.2 (06-05-2019)
Fix: Code clean up, minor bug fixes, enhanced security.
1.2.1 (08-22-2018)
Enhancement: French translations updated.
Fix: Galleries still fullscreen when plugin deactivated.
Fix: Minor bug fixes.
1.2.0 (04-10-2018)
Added: Fancybox3 support.
Fix: Minor bug fixes.
1.1.0 (10-18-2017)
1.0.7 (04-13-2017)
1.0.6.1 (2016-11-03)
1.0.6 (2016-02-25)
Updated: Spanish Translations
1.0.5 (2015-12-10)
Added: Spanish Translation
1.0.4 (2014-09-17)
Added: Albums Support
Added: Plugin restructure per other Addons
1.0.3
Fix: Prevent fullscreen open event from firing when close button pressed (fixes issue with closing fullscreen not working in Safari)
1.0.2
Full localization support with .pot files.
1.0.1
Updated addon to reflect new namespacing.
1.0.0
Initial release of the addon.