Envira Gallery Documentation
Documentation, Reference Materials and Tutorials for Envira Gallery
How to Preview External Galleries
Ever wonder how to preview your Featured Content or Instagram Galleries? Envira Gallery makes it easy to preview your external galleries. Follow this guide to learn how!
---
Requirements
WordPress 4.4+
Envira Gallery 1.5.2+
Featured Content or Instagram Addon
---
Setup
Step 1 – Create an External Gallery
First, create a Featured Content or Instagram Gallery. You can do this using the Featured Content Addon or the Instagram Addon documentation. Once you've configured the gallery, you can save it as a Draft or simply continue, following this guide to preview your gallery.
---
Step 2 – Previewing Your External Galleries
Envira makes it easy to preview. Once all of your changes and configurations are completed, simply click the Preview button. Your external gallery preview will open in a new tab for viewing before publishing.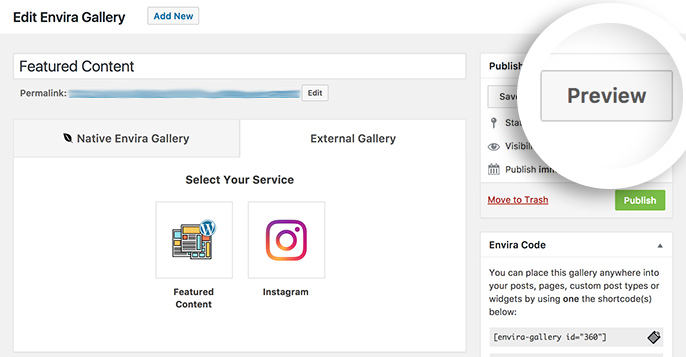 That's it, you've successfully previewed the changes to your external gallery! Next, you can read more about how to bulk edit your gallery images.
---