Envira Gallery Documentation
Documentation, Reference Materials and Tutorials for Envira Gallery
How to Verify Your Envira License
Congratulations on purchasing your Envira Gallery license! Now that you've purchased your Envira Gallery subscription, you'll need to verify your license to take advantage of everything the plugin has to offer. Verifying your license lets you access all the functionality of the paid Envira Gallery plugin, including automatic updates and access to the library of gallery Addons.
We'll walk you through those steps on how to verify your Envira license key!
---
Step 1: Get Your Envira Gallery License Key
Every purchase of Envira Gallery comes with a license that verifies your copy of the plugin as a paid version. When you purchased Envira Gallery, you should have created a user account. Log in to that account: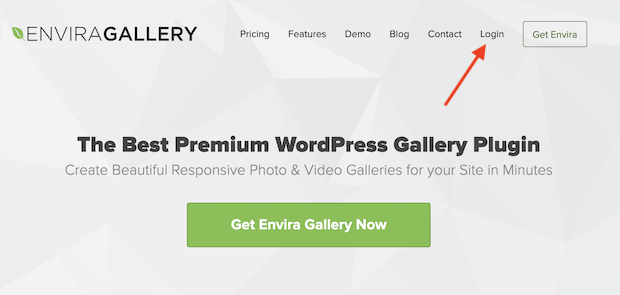 Choose the Overview tab and click View Licenses. Here, you'll see your plan information.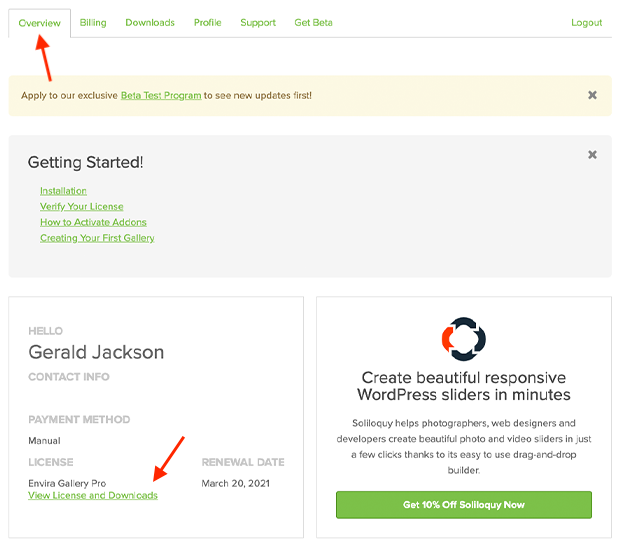 Click the Key icon to display your key, then copy that license key:

Step 2: Install and Activate the Envira Gallery Plugin
Now login to your WordPress Dashboard. If you haven't installed the Envira Gallery plugin, click on Plugins > Add New. Search for the Envira Gallery plugin, then click the Install Now button. Click the button again when it switches to Activate: 

Refresh your page. You should see the Envira Gallery in your menu bar.
If you were previously using Envira Gallery Lite, you'll want to follow our guide for a walk-through of how to upgrade from Envira Gallery Lite to a paid license.
Step 3: Go to the Key Verification Screen in the WordPress Dashboard
Click on Envira Gallery » Settings.

You'll see the Envira License Key text box near the top:

Paste the license key you copied in Step 1 into the box and click Verify Key. Click Save Settings.
Now that you've verified your license key, you can get started creating your first Envira Gallery or installing Addons.
---
FAQ
Can I supply a license key manually?
A: Yes. If you are managing multiple WordPress installations and want to use the same key across all your sites, you can define the Envira Gallery license to the wp-config.php file by adding the following function:
 
define( 'ENVIRA_LICENSE_KEY', 'your_license_key' ); 

Where 'license_key' is the same key that you copied and pasted in the guide above.
If the license key field in the WordPress Admin » Envira Gallery » Settings screen is left empty, Envira will check for the above wp-config.php constant.
---
Why do I get an installation error when I try to Install Addons?
A: This is most likely an issue with the cache. 
Click on Envira Gallery » Tools, then click the Flush All Envira Cache and Clear ALL Transients buttons:

Then refresh your browser.
---
Why aren't addons showing up after I've verified my license?
A: This is also most likely a caching issue. Follow the above steps to clear your cache to see if your Addons show up as they should.
---
If these steps do not solve your issue, please reach out to support or check out our guide to common Envira Errors to further address your issues.