Envira Gallery Documentation
Documentation, Reference Materials and Tutorials for Envira Gallery
The Zoom Addon for Envira Gallery will easily allow you to give your lightbox images a zoom effect on hover or by a simple click from your users. We'll walk you through how to set up your gallery lightbox images to allow the zoom on hover (or by click) when your visitors view your lightbox images.
---
Requirements
Installation
Please follow our instructions on how to install and activate addons.
In this instance, you'll be activating the Envira Zoom Addon.
---
Setup
Step 1 – Create or edit your gallery
Your first step is to create a new gallery or edit an existing one. You can follow along with our documentation for creating your first gallery.
Step 2 – Configure the zoom options
Next, navigate to the Zoom tab and check the box to Enable Gallery Zoom Functionality?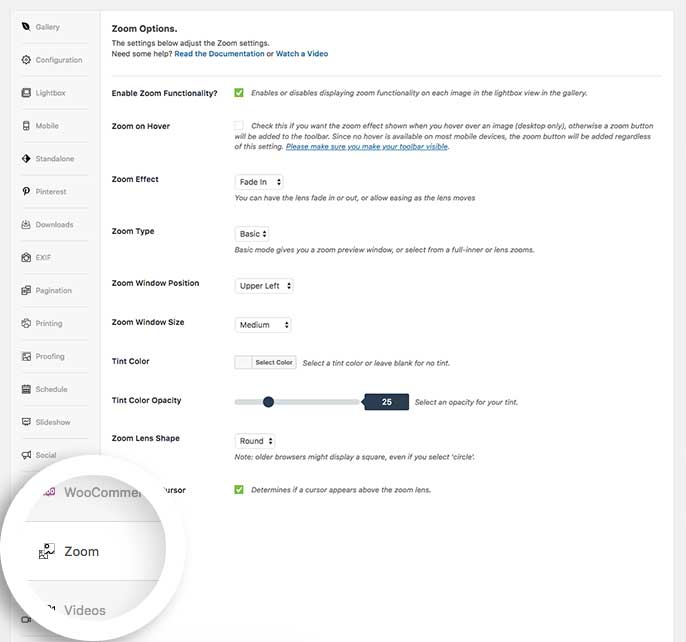 Then continue to set up the remaining options for your zoom settings.
Step 3 – Publish or Update your gallery
Finally, click Publish or Update on your gallery to save the changes.
Would you like to add the zoom effect on your gallery images? Take a look at our CSS tutorial on How to Zoom Thumbnail Images on Hover.
---
FAQs
Q: Why isn't the zoom effect very noticeable for my images?
A: The original image size must be large enough to support zoom.
For example, if the image is displayed at 500 x 500 pixels in lightbox view and the original image uploaded is 500 x 500 pixels, when using zoom there will be no noticeable zoom effect on the image.
However, if the image is displayed at 500 x 500 pixels in lightbox view and the original image uploaded is 1000 x 1000 pixels, when using zoom the image will be magnified by 2x.
These same principles are applied if zoom is enabled for the gallery view.
---
Changelog
1.3.8 (11-05-2020)
Fix: Tweaks related to new lightbox designs.
1.3.7 (02-05-2020)
Fix: Plugin updater revised.
1.3.6 (06-05-2019)
Fix: Code clean up, minor bug fixes, enhanced security.
1.3.5 (01-16-2019)
1.3.4 (12-19-2018)
Fix: Resolved issue where cursor disappears behind image in certain scenarios.
1.3.3 (10-16-2018)
Enhancement: New "Remove Cursor On Hover" option
Fix: Social icons can now be clicked in Lightbox with Zoom activated
Fix: Better compatability with FullScreen Addon
1.3.2 (08-22-2018)
Enhancement: French translations updated.
Fix: Compataiblity with Fullscreen Addon.
Fix: Minor bug fixes.
1.3.1 (05-30-2018)
1.3.0 (04-10-2018)
Added: Fancybox3 support.
Fix: Minor bug fixes.
1.2.0 (10-18-2017)
Fix: Compatibility with Albums
Fix: Mousewheel causing double zoom
Fix: Minor bug fixes
1.1.0 (08-11-2017)
1.0.9 (05-16-2017)
1.0.8 (04-13-2017)
1.0.7 (03-08-2017)
1.0.6 (02-15-2017)
1.0.5 (2016-12-08)
Fix: Issue conflicting with supersize
1.0.4 (2016-11-07)
1.0.3 (2016-11-03)
Added: Album Support.
Fix support for other addons buttons over Lightbox.
Fix zoom activating when window is resized.
1.0.2 (2016-10-04)
Fix: Removing slight "jump" on certain images in lightbox.
1.0.1 (2016-07-26)
Fix: Lightbox Toolbar Now Visible With Addon Activated
1.0.0
Initial release of the addon.