15 Unique Wedding Photography Pose Ideas for Couples
by Alexandra Bateman on Sep 10, 2023
Need some inspiration for posing the bride and groom at your next wedding photography shoot? Creating the perfect wedding image for your happy couple is more than just choosing the right settings and lighting. It's also about selecting the best pose! In this article, we'll share 15 unique wedding poses for couples that will impress your clients.
Unique Wedding Photography Pose Ideas
1. "Blind Folded By Her" Wedding Photography Pose
It's an age-old tradition: the groom shouldn't see the bride in her dress before the wedding! To make your clients' wedding shoot fun and special, have the bride cover the groom's eyes just before the big reveal. This is a great starting pose for a wedding photoshoot, because it can help you create a story in the subsequent shots.
via Ashley Leslie Photography
2. The First Look
The first look is a big moment, and you have to be there to capture it. Make sure to shoot the groom's first look at his bride in her wedding gown! If the couple agrees to it, you can get this shot in private before the ceremony.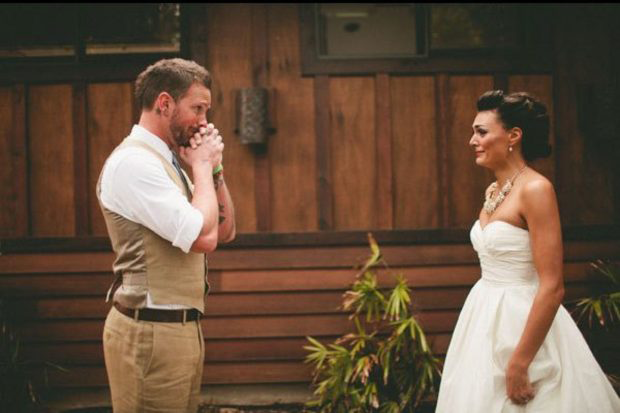 via The Huffington Post
3. "Lying in the Grass" Wedding Photography Pose
For a playful, unique shot at a spring or summer wedding, take a birds-eye shot of the couple lying in the grass. Pose your couple with their heads together, facing opposite directions with their eyes closed. For a sweet touch, ask the bride to place her hand on the groom's face.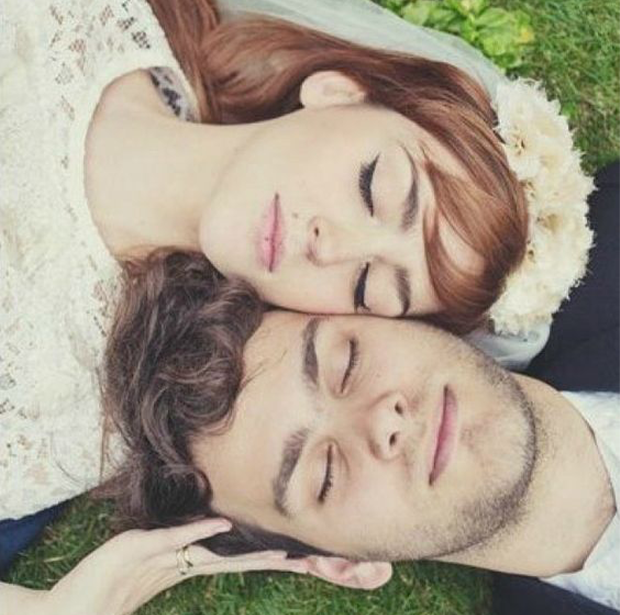 via The Huffington Post
4. First Dance Together
A couple's firsts are very important. Above all, you should capture as many "firsts" as you can!
Usually the couple's first dance happens at the reception, but you can also have your couple practice their first dance during their photo shoot. This sweet moment will make a perfect memory for their wedding photo album.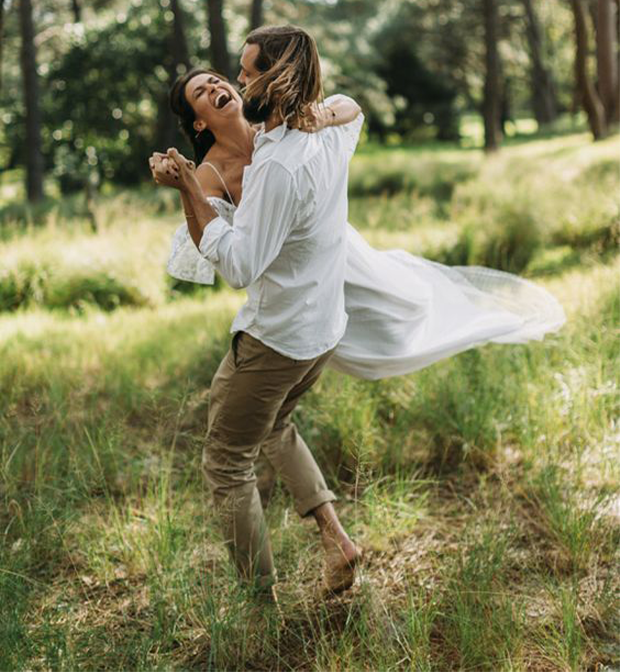 via The Vista
One of these beautiful, unique wedding photography pose ideas is to capture the moment from a balcony up above the couple, if the venue permits.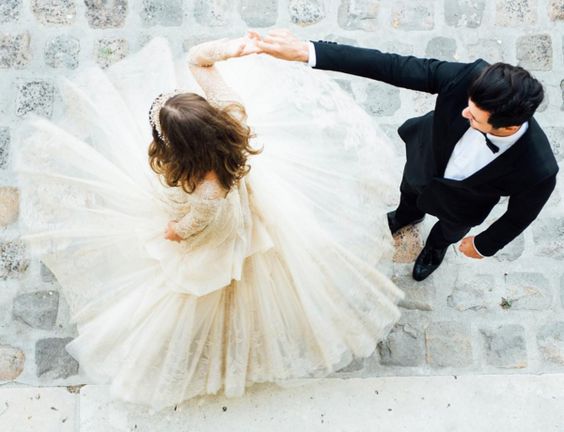 5. Wide Angle Drama
For a more dramatic shot, take the couple out into nature for a beautiful wide angle shot. Depending on where the couple lives, you could stage this photo in the woods, a beautiful field or even a desert.
Instruct your couple to stand facing one another and hold hands. Ask them to talk to each other, so they look natural and relaxed, then take your wide angle snapshot.
This shot looks better from a distance, so keep that in mind. And, remember to use the rule of thirds.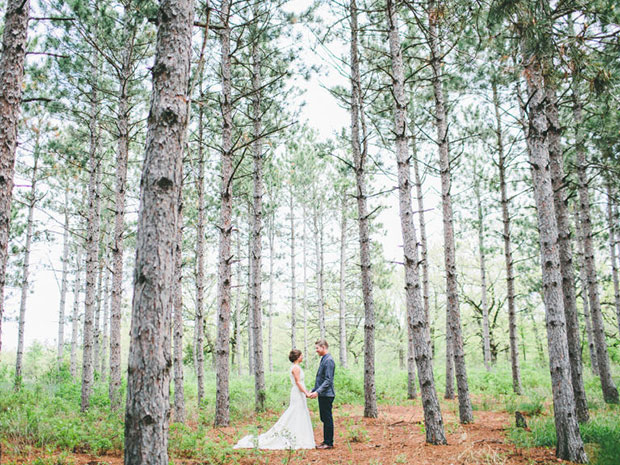 via Matt Lien
6. The Hand Kiss
For a sweet or fairytale-like shot, ask the groom to kiss the bride's hand. This loving gesture speaks volumes about the connection the couple shares, so it makes a great addition to any wedding album.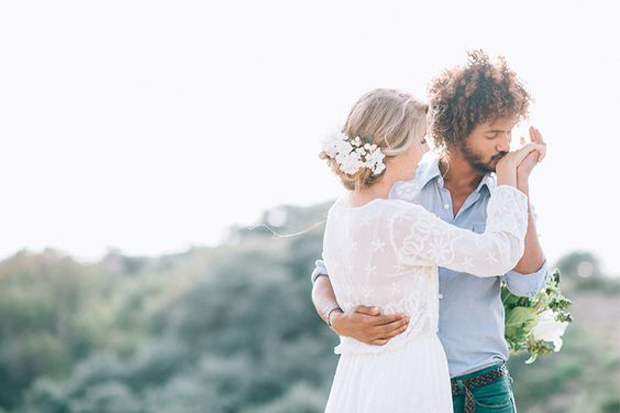 via Pinterest
7. The Forehead Kiss
If you're having trouble getting the couple to relax, this is a great go-to pose that will help them loosen up.
Like a kiss on the hand, a forehead kiss is sweet and will help your couple tap into their connection during their photo shoot. Ask the groom to wrap his arms around the bride from behind, then suggest that he kiss her temple.
This pose should result in a beautiful photo in which both the bride and groom are glowing and confident.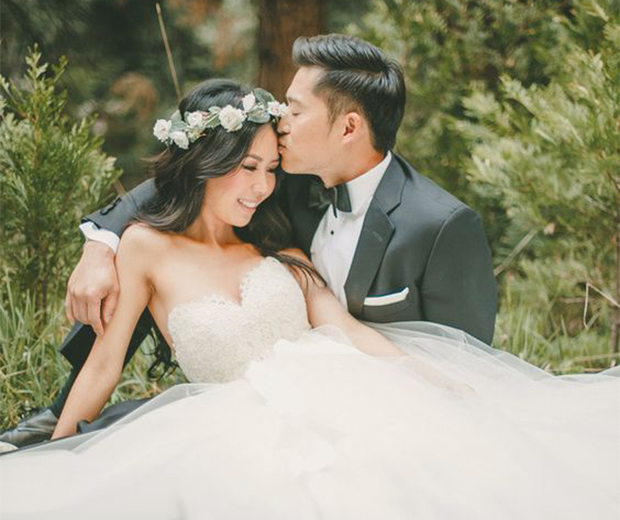 via Hey Wedding Lady
8. The Relaxed Gaze
The key to a great wedding photo shoot is being able to capture the bride and groom's intimacy on their big day. A photo that shows them enjoying a relaxed, natural gaze can help you do just that.
Have the couple sit down casually. You could ask the groom to rest his arm on one knee or stretch his feet out in front of him, and have the bride lean in close to him. Let them chat with each other or interact with some props while you photograph their loving expressions.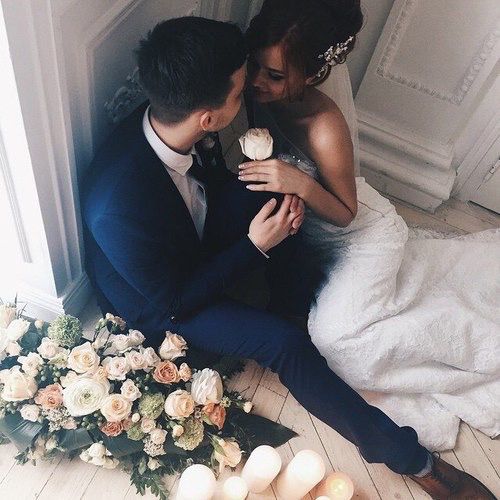 via Pinterest
9. "The Walk" Wedding Photography Pose
Adding movement can really help to make your wedding shoot look more natural and feel more comfortable to the couple. Make use of any natural and urban spaces around you that make good photo backdrops. These places include nearby beaches, rivers, or parks as well as urban spaces like city streets and bridges. Then, take your couple there and let them walk and talk as you photograph.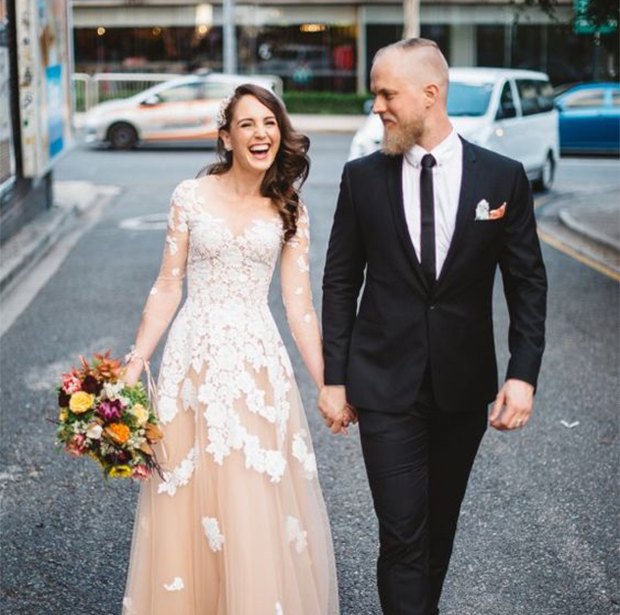 via Nouba
10. The Weather
Every photographer — and couple! — hopes for perfect weather on the big day. But we're not always so fortunate.
If it rains on your photo shoot, use the weather in your favor to create a unique photo. For instance, ask the groom to shield the bride from the rain with his jacket.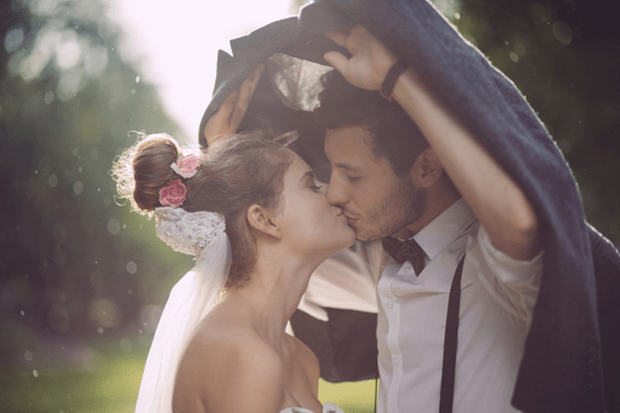 via BuzzFeed
11. Shadows in the Umbrella
Adding a prop like an umbrella can really add charm to an image. If you're shooting at night, ask the couple to hold the umbrella towards the camera and add a light behind it. This light will create a shadow of the couple inside the umbrella and produce a beautiful, memorable shot.
One of the most unique wedding photography pose ideas, a photo shot with this technique will surely impress your clients!
For help with the light, check out our complete guide on photography lighting.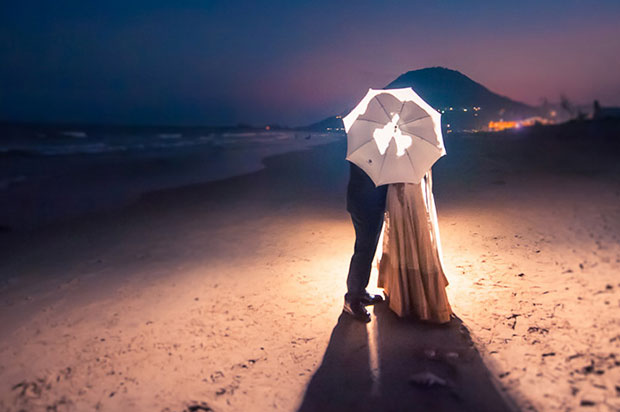 via Arjun Kartha Photography
12. Photo Frame
A photo frame can make another great prop. Have the couple hold the frame together, and capture multiple shots from different angles. You can also use windows or other structures in the vicinity as a frame for the photo.
via Pinterest
13. The Typography Prop
A typography prop is a quick and easy way to take a unique photo that shows your couple's personality. Get creative with this, and try different poses and different angles to find a fun look.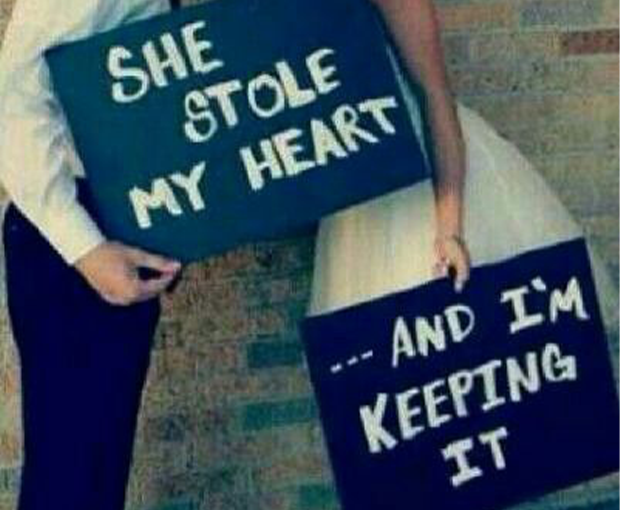 via Actitud Fem
14. "The Shoulder Rest" Wedding Photography Pose
Ask the bride to relax on the shoulder of the groom. If taking a wide-angle shot, make sure her train is stretched out behind her. Or, if you decide to take a close up, soften the look of the shot with backlighting from natural light.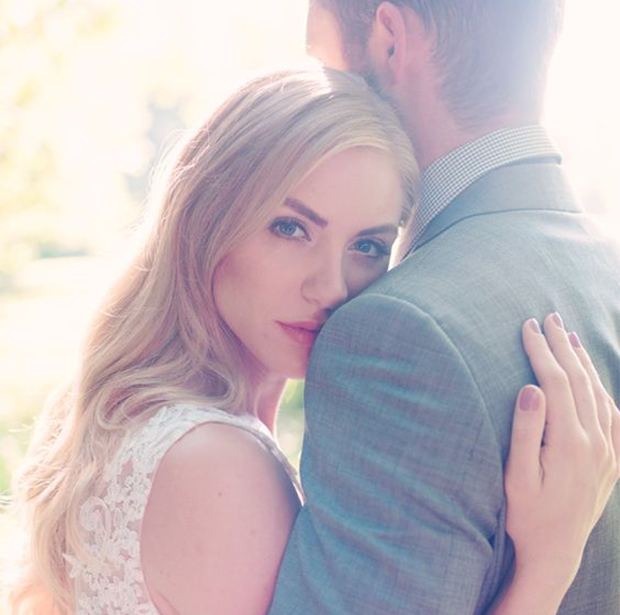 via Fab You Bliss
15. Finally, the Kiss
Once the couple is feeling at ease, ask them to kiss for the camera! This is an essential wedding photography pose for every wedding photographer.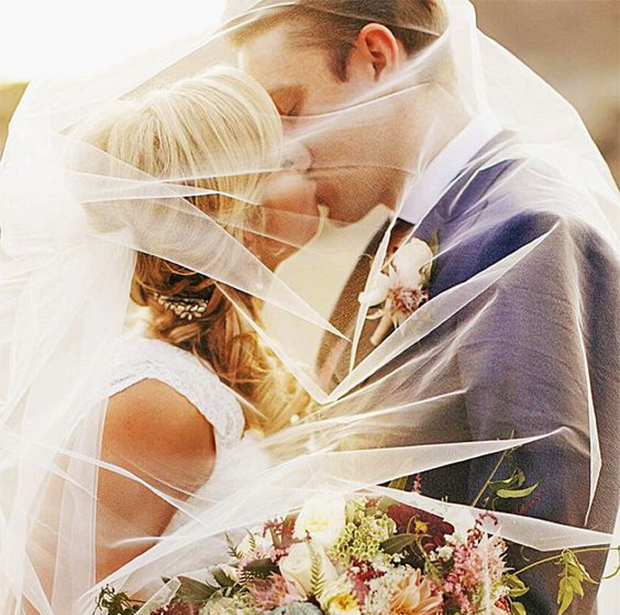 via Wedding Forward
We hope this article has given you 15 unique wedding photography pose ideas for couples. These poses are a great starting point for any wedding photographer on their first professional shoot. If you're a seasoned wedding photography professional, try integrating these unique poses in with your own on your next job.
When you're finished with your next wedding photography shoot, your clients will want to see their beautiful images in a wedding album! Luckily, Envira Gallery makes creating a stunning digital wedding album fast and easy.
Use the Albums Addon and the Password Protection Addon to create secure digital albums specifically for your wedding photography clients. Install the Watermarking Addon to give your password protected photos extra security from online photo theft.
Envira Gallery WordPress plugin is designed to make displaying your photos painless and fun.
You may also want to check out our other wedding photography guides:
If you like this article, then please follow us on Facebook and Twitter for more free photography tips.
Using WordPress and want to get Envira Gallery free?
Envira Gallery helps photographers create beautiful photo and video galleries in just a few clicks so that they can showcase and sell their work.