7 Best Free Photography Courses for 2022
by Alexandra Bateman on Feb 7, 2022
Is improving and broadening your photography skills at the top of your New Year's resolutions list? Whether you're a budding photographer looking to learn the ropes or a professional seeking to expand your skills, the best thing you can do for yourself is enroll in one of the best free photography courses. 
Photography courses can help beginners learn to navigate their camera's complicated settings, or teach seasoned photographers tricks of the trade in their photography niches, including landscape photography and portraiture. No matter your skill level as a photographer, these courses can make you more competitive in your field and attractive future clients by showing you how to maximize your talent.
Some of the best photography courses teach you basic concepts like how to work with light, shadow and composition, while others cover more complex ideas like shooting in darker spaces and achieving dramatic effects via camera filters and lighting.
So, which are the best free photography courses to consider as we start a new year?
Keep reading to discover:
Different types of photography courses
The benefits to taking photography courses
How to choose the best free photography courses for you
The best free online tutorials and courses for photographers
Let's begin!
Types of Photography Courses
Online courses for all sorts of disciplines are popping up constantly, and photography is no different. If you know where to look, you can find online photography courses for nearly every photography niche.
Introductory photography courses offer more general material about operating your digital camera, composing your shots, and working with light, shadows and accessory photography gear. Some of these intro courses are one-off classes, but many of them are offered as a series of videos that build off of one another.
Once you've mastered the basics of photography, you can choose to move on to other advanced photography courses or move onto niche-specific classes. Advanced online photography classes may cover basic photo editing and post-processing, as well as demonstrate how to use advanced photography gear like filters, light meters and more in the field.
Online photography course providers often offer a rather expansive catalog of niche courses for photographers looking to specialize in a field of photography. Here are some popular niches for which you can find a ton of online photography courses:
Landscape photography
Film photography
Portrait photography
Underwater photography
If you're unsure which niche you would like to work in but have a few in mind, these free courses are a great way to see which is the best fit for you. Take a free online course in one or several different niches, then make your final decision about where you'd like to focus your efforts.
Benefits of Taking Photography Courses
Though photography is a creative field, taking classes on how to photograph various subjects in different environments can give you a leg up in the industry. Here's some of the benefits of taking photography courses online:
Technical skills
Cameras are machines, and learning them can be tricky if you have little to no prior experience. Settings like shutter speed, aperture and white balance are of the utmost importance when taking photographs, because they can make or break your photo. What happens if your shutter speed or aperture are set incorrectly while photographing? Your photo simply won't come out!
Beginner online photography courses can help you learn how to adjust these and other basic camera settings. After all, without a strong foundational knowledge of how to operate your camera, you won't be able to take the photos you want to take.
Of course, you could begin your learning with online tutorials, like those on our blog for adjusting shutter speed, exposure and white balance. But, you may find that an online beginner's course in photography goes even more in-depth and can help you navigate particularly challenging environments.
Increased Job Opportunities
The more advanced your technical skills, the more photography jobs you'll be competitive for. These jobs could be side-gigs, full time commercial work or even opening your own photography studio or school.
Once you nail down the technical aspects of photography, you can start manipulating them to find your own creative style. And, it's that creative style that will ultimately set you apart from the competition and land you more photography jobs.
It all starts with building a base of knowledge, which online photography courses can help you do. And, many of these online courses are stepwise, so they progress in difficulty as your skills increase. So, there's almost always something you can learn from an online photography course, no matter your skill level!
Photo Editing Knowledge
For professional photographers, taking the photos themselves is only half the battle. The rest of the work comes in during the photo editing phase.
Photo editing is its own beast, and it all depends on which software you decide to work with. Programs in Adobe's Creative Suite like Photoshop and Lightroom, while popular, have a pretty steep learning curve. That's where online photography courses come into play.
Because photo editing is essential to the photography process, many popular online photography courses also include crash-courses in photo editing. Any photographer who wants to earn a living off their work should know how to edit photos, so these courses are a perfect opportunity to learn.
Once you've tackled the basics of both photography and photo editing, you can move onto program-specific courses and tutorials. These will show you how to get the most out of your editing software.
Unsure of which editing software is right for you given your photography experience? Our guide can help!
Introduction to New Types of Photography
As a field, photography encompasses a broad array of interests. You could ask ten different photographers what kind of photographer they are, and they may all have different answers!
What are the different kinds of photography? And how can you choose which type of photography is right for you?
Once again, online photography courses can help you out! These free courses allow you to dabble in a variety of photography niches without losing any money. That way, you can discover which ignites your passion before you invest any of your savings.
Maybe you're interested in wildlife photography, but find that waiting all day to snap a quick photo of an animal isn't your cup of tea. Instead, you take an online course in landscape photography and discover that's where you thrive! Without that online course, perhaps you wouldn't have ever considered being a landscape photographer.
Online photography courses afford you the freedom to explore your interests and learn new photography niches at no cost to you.
How to Choose the Right Free Photography Courses for You
There are a few things you'll need to consider before you choose the right free photography courses for you. Your experience level, interests and learning style all matter when you're looking for the perfect online photography course. Here's why:
Assess Your Skill Level
Your starting skill level is the most important aspect to consider when you're looking to enroll in a free online photography course. Be honest with yourself when assessing your strengths and weaknesses. Over- or underestimating your abilities will only mean that you can't get the most from your course!
You want to find a course designed for people at your skill level. If you're a beginner, search for beginner courses that focus on topics you don't already know.
Maybe you're brand new to photography, so you need a course that starts with the absolute basics. Or, maybe you've dabbled in photography, but you need a course that helps you get a better grasp on the technical aspects.
If you're a practicing photographer with a solid grasp of the foundational topics, you should look for intermediate or advanced courses. The idea is to find a course that challenges you, but that doesn't jump too far ahead of your starting skill level.
Decide Your Focus
If you're already familiar with your camera's settings and the basics of photography, it's time to consider which photography niche you'd like to explore. What speaks to you? What do you want to learn more about?
Taking a niche-specific online photography course can help you hone the skills you'll need to be successful in that arena. For example, if you want to be a portrait photographer, you'll need to know how to set up and manipulate lighting in studio shoots. If you're interested in architecture photography, you'll likely be dealing instead with natural light, so you'll want to focus on other skills instead.
Keep in mind that, because these online courses are free and accessible to anyone with a computer or smartphone, you can explore multiple different niches before settling on just one. Allow yourself to be creative, here. Who knows, maybe you'll surprise yourself!
Consider Your Learning Style
Everyone learns differently, and how you learn can impact which photography courses you should consider. Do you learn better in a group environment, or alone? Do you prefer to practice with exercises, or to watch demonstrations?
Spend some time getting to know (or remember) how you learn best. The internet is full of free photography courses taught in all manner of styles. Some are group classes that operate more like a traditional classroom, while others are presented as a series of video tutorials.
By learning how you prefer to take in information, you can learn to maximize your time by choosing the right course for you.
Best Free Online Tutorials and Courses for Photographers
Now that you know what things to consider when picking a free online photography course, you're ready to hear some options! These are some of the best free online tutorials and courses for photographers on the web right now:
1. The Basics of Photography: The Complete Guide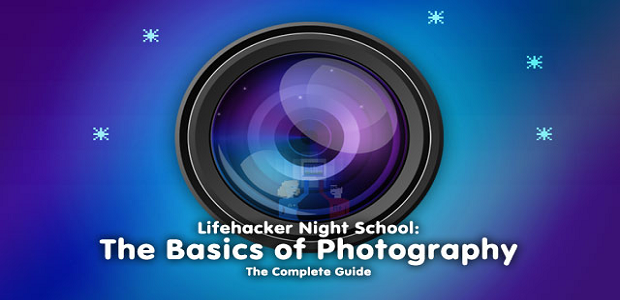 Level: Beginner
While you might not think of Lifehacker as the ultimate place to go for your photography education, this free guide contains everything you need to know to start making the most of your camera.
The three-stage tutorial covers everything from how a digital camera works, to the settings you'll need to work with and the compositional techniques professional photographers use. The guide also offers additional resources to help you learn more about each topic, including a few useful videos and helpful links.
One of the best things about this particular photography course is its format. Course writer Adam Dachis chose to offer the majority of the information as downloadable and printable PDFs. That means you can take this course with you anywhere you go without having to worry about video buffering speeds on the go!
2. Photography Basics and Beyond: From Smartphone to DSLR Specialization Certification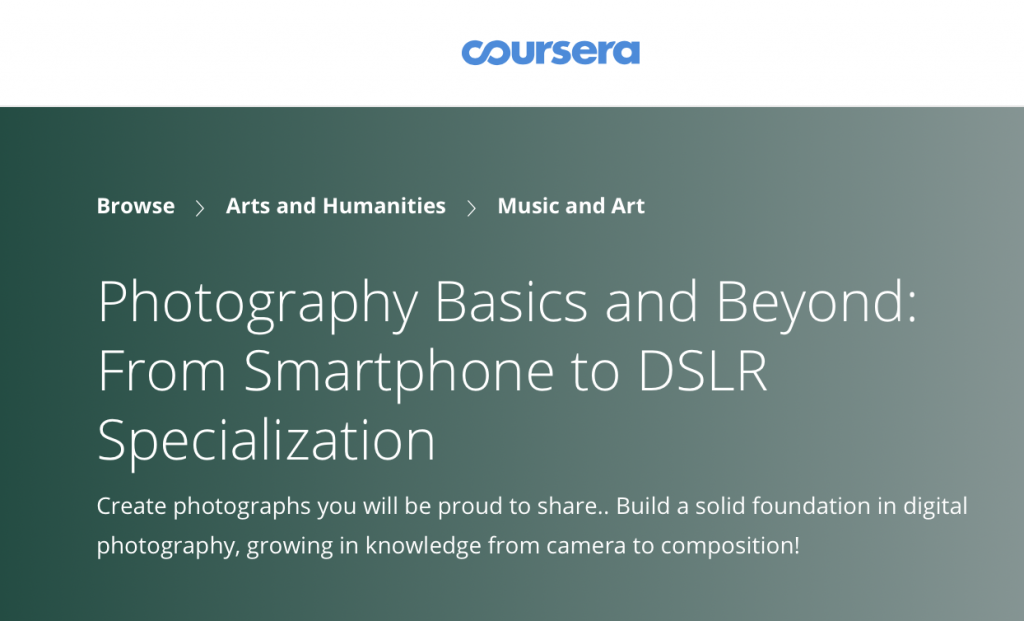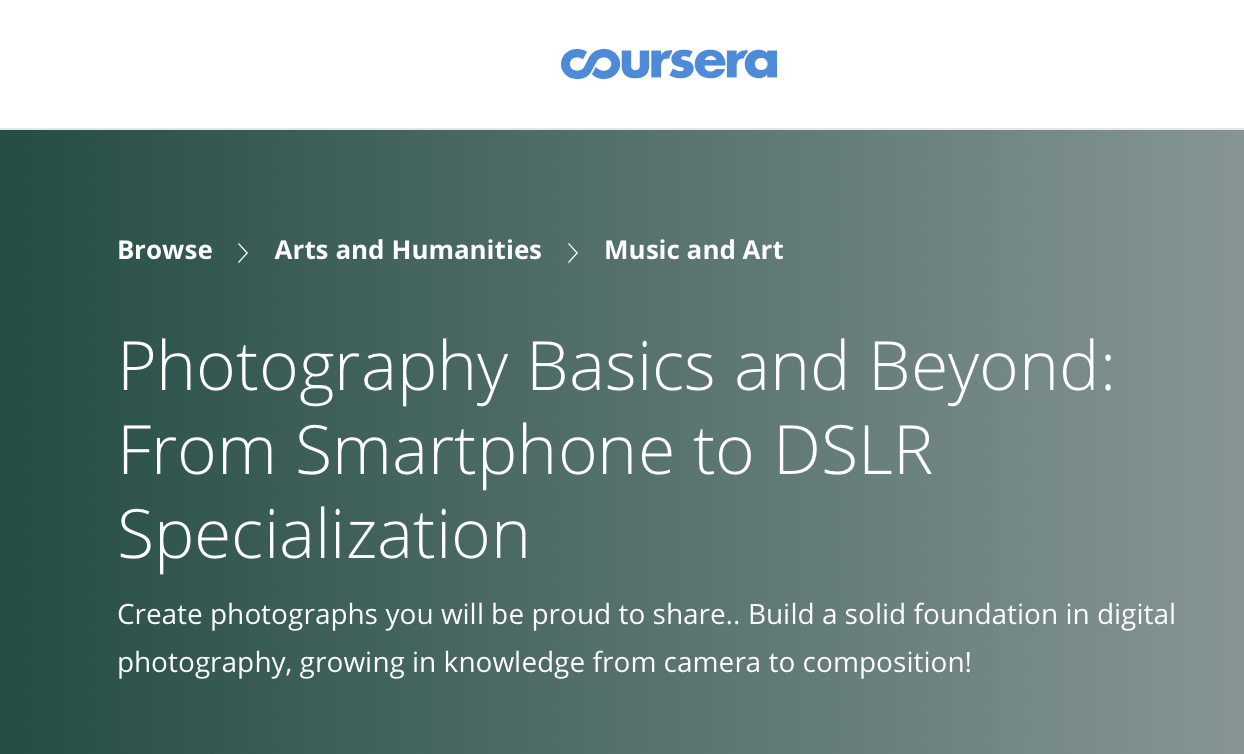 Level: Beginner
Looking to boost your credibility with clients by earning a photography certification? Michigan State's free online photography certification course may just be the perfect course for you!
This specialization covers the basics of photography including camera settings, composition and creativity, as well as pushes you to improve your photography each week.
Over the course of 7 months, you'll learn to photograph a variety of subjects in a wide array of different settings, each with variable conditions. In short: you'll learn how to be a photographer!
At the end of the course, you'll work on a Capstone project that relates to your personal photography goals, then exchange feedback with fellow classmates. After you complete the capstone, Michigan State will award you your certification, along with hefty discounts on gear and membership benefits from partnering companies and organizations.
Of course, the course is free and online, which means you can complete it on your own schedule. The only prerequisites? Owning a camera!
3. Photography Exposure Best Practices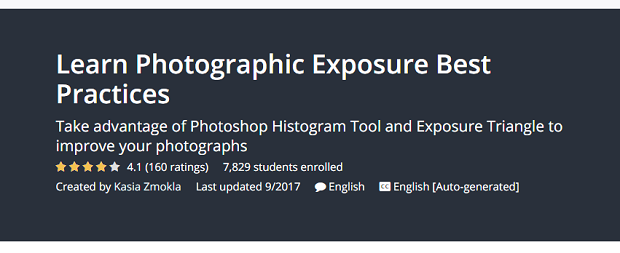 Level: Beginner
Exposure is one of the most essential components of great photography. If you want to capture an amazing image, then you need to make sure that you get the exposure just right. Both overexposure and underexposure will ruin your photo, sometimes to the point of no return!
Part of managing your camera's exposure means finding a space with the right lighting for your subject. And, if you can't find the right lighting, you may be able to create it. However, you'll also need to know how to use your camera settings and photo processing tools to your advantage to ensure a perfectly exposed photo.
With a 4.2-star average rating, this free course on the Udemy platform covers the best practices for working with exposure. You'll learn how to set your pictures up for better exposure and how you can boost your photography after you've captured your images.
Udemy does not list any prerequisites for taking the "Photography Exposure Best Practices" course, so photographers with little to no experience are welcome!
This course is geared toward learning the basic camera functions on any DSLR camera with a particular focus on achieving great exposure. Here, you'll learn how to manipulate exposure with three camera variables: ISO, shutter speed and aperture. If you don't recognize these terms, it's a good indication that you could benefit from this Udemy course!
4. The Fundamentals of Travel Photography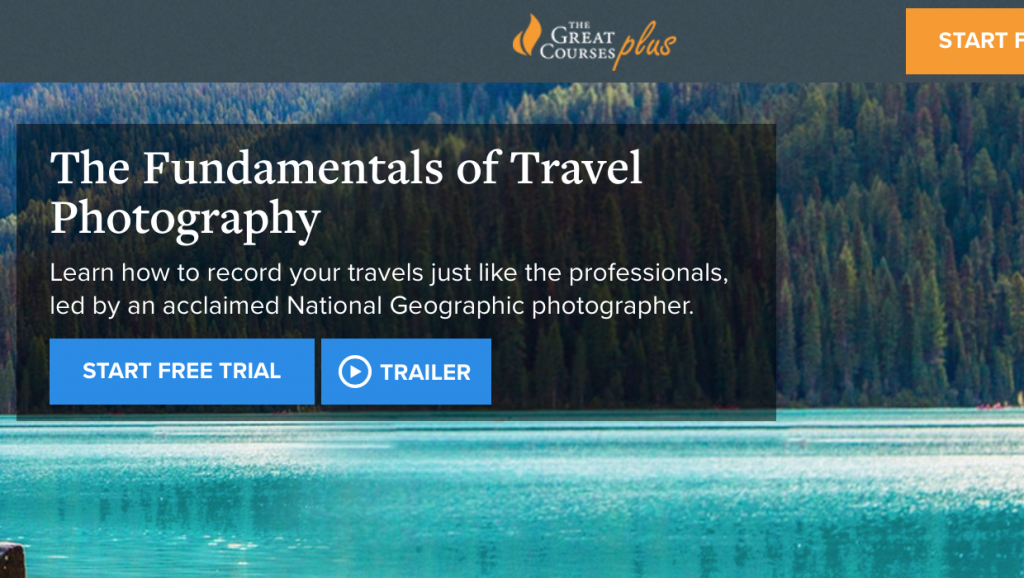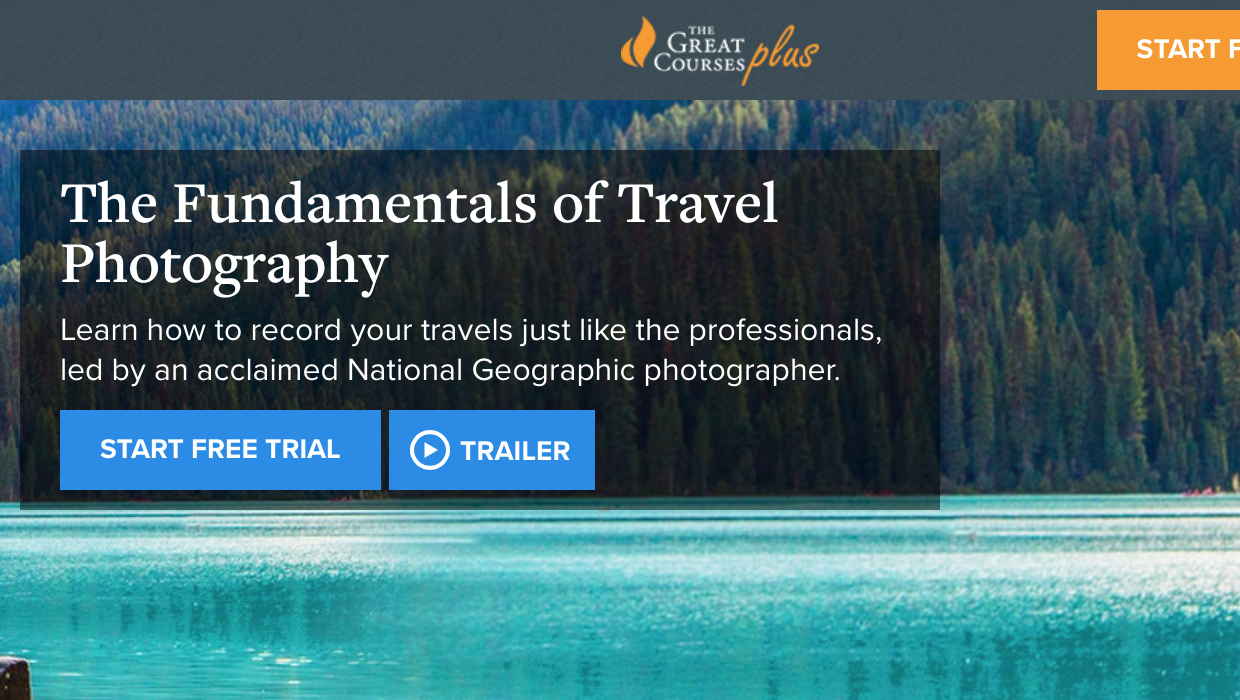 Level: Intermediate
Taught by Professor Bob Kriss, The Fundamentals of Travel Photography includes 24 lectures that focus on travel photography basics including light, composition and gear. Geared toward intermediate photographers, this tutorial series assumes you know basic camera settings and focuses instead on how to overcome the challenges of travel photography.
And, because this online course is divided into lectures, you can choose to follow the whole thing or pick and choose which lectures are relevant to you. Lectures include topics like "Capturing the Spirit of People," "Natural Light on Landscapes" and more.
Professor Kriss' photography course is hosted by The Great Courses Plus. Although this site is a paid tutorial site, they do offer a free trial period. I recommend trying this photography course under their free trial before committing to a subscription. You never know, you may decide it's worth the expense.
After you've taken a few beginner's courses, this is the perfect online course for getting familiar with travel photography!
5. Commercial Photography: Still and Moving Pictures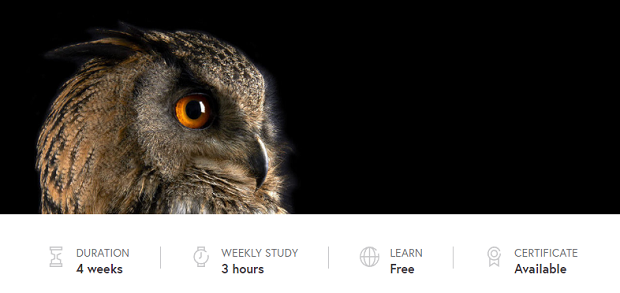 Level: Intermediate
You may think that wedding photography and portraits are the only lucrative, money-making niches of photography. But, you'll be happy to know that's not true! You can also consider taking up commercial photography to turn your hobby into a steady revenue stream.
This completely free FutureLearn course was made for aspiring photographers who want to develop their skills dealing with commercial images. In this course, you'll explore both moving and still photographs. This gives you a chance to think about going beyond standard photography and consider video and film-making, too.
This course is based on various elements of photography courses held at the Norwich University of Arts, so it's second-best to a classroom setting! And, this course provides a certification upon completion of the four week session, which can come in handy when applying for commercial gigs and full-time jobs.
6. Nightscapes: Landscape Astrophotography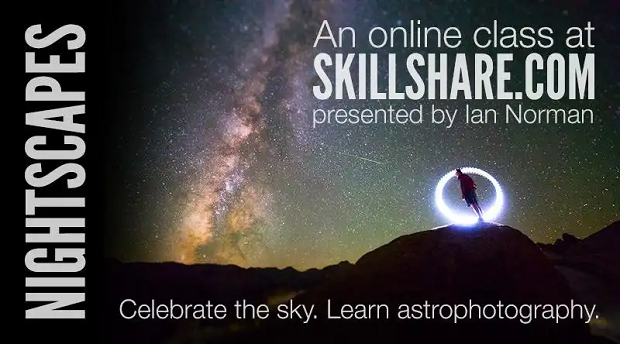 Level: Advanced
If you've been taking stunning photos for a while now and want to take your skills to the next level, you might be looking for more advanced free photography courses. The Nightscapes course by photographer Ian Norman will teach you to create astrophotography and night landscape images in situations with very little natural light.
This free online photography course for advanced artists will take you through the various steps involved in planning, shooting and processing amazing astrophotographs. The course contains 9 videos in total, which each cover a specific element of astrophotography.
The pictures that you'll learn to create are stunning, and a great way to become more competitive in your field. Some of the skills you'll learn in this series will also apply to other photography niches if you decide astrophotography isn't for you.
Unlike some of the other tutorials we've mentioned so far, the "Nightscapes" course is organized more as a classroom than as an independent tutorial. Along the way, you'll be working on a final class project, which consists of a collection of astrophotographs and a unique self-portrait using the Milky Way as a background! Then, you'll have the chance to share your photos in a classroom gallery where you can give feedback to fellow classmates.
While you could attempt this photography course as a beginner, keep in mind that working with light — and the lack thereof — is tricky. I'd recommend getting the hang of basic daytime photography before tackling night photography.
7. CreativeLive On-Air Classes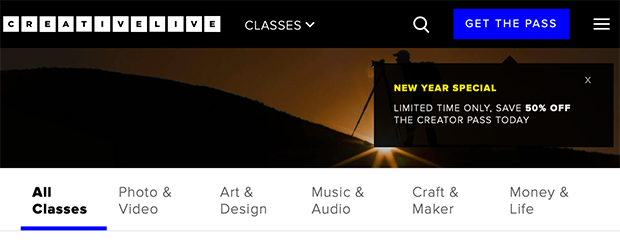 Level: All levels
Finally, if you're thinking of starting the new year with a commitment to constant learning and improvement, then you can't go wrong with a subscription to CreativeLive.
While this website mostly sells courses, it also offers a range of free classes that are available to watch live on a daily basis. You can use these incredible videos to learn everything from portrait photography basics, to image editing skills and more.
Start each week by checking out what kind of courses are available in the days to come, and decide whether you want to "RSVP" to any of the lessons. Make sure note of the days and times of the classes you wish to attend so that you don't miss them! CreativeLive offers more than one course per day.
Start Building Your Photography Skills for Free Online
There you have it! 7 fantastic free photography courses for you to check out this new year! Make this the year you step up your photography skills and push yourself to make the best images you can.
Need a place to display your stunning new photography? Check out our guide to making a photography portfolio website on WordPress, the internet's most-used website building platform. Envira Gallery can help you set up customized, seamless galleries that exhibit your photos in the best possible light.
For more help building up your photography skills, make sure to check us out on Facebook and Twitter.
Using WordPress and want to get Envira Gallery free?
Envira Gallery helps photographers create beautiful photo and video galleries in just a few clicks so that they can showcase and sell their work.