How to Easily Edit Images in WordPress
by Waseem Abbas on Oct 22, 2018
Do you want to quickly edit images for your blog posts or galleries? A lot of people don't know that WordPress actually comes with a basic image editor. There's not a lot you can do with it, but there are a few essential features. You can:
Crop images
Scale them up or down
Fix sideways images with rotation
Flip an upside-down photo
For advanced features like sharpening or adding effects, you'll need to use a program like Photoshop instead. But WordPress' editor will work fine for basic functions.
In this article, we will show you how to easily edit images in WordPress.
Why Edit Images In WordPress?
You may be wondering why you would ever want to edit images in WordPress when there are plenty of other photo editing software available.
The main reason is that you may not always have access to photo editing software. In those cases, WordPress image editing can be life saver.
Let's take a look at how to properly edit images in WordPress.
Editing Images in WordPress
First thing you need to do is upload your image to WordPress. You can either drag and drop the image on the visual editor or go to Media » Add New.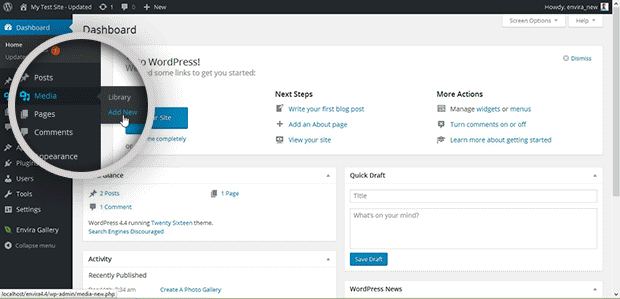 Next, you need to click on the image that you want to edit. A window will pop up, and you should see the Edit Image button under the photo.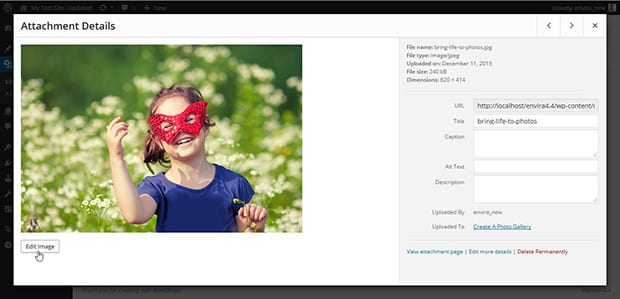 When you click on the Edit Image button, another window will appear where you will find simple photo editing options like crop, rotate, and flip.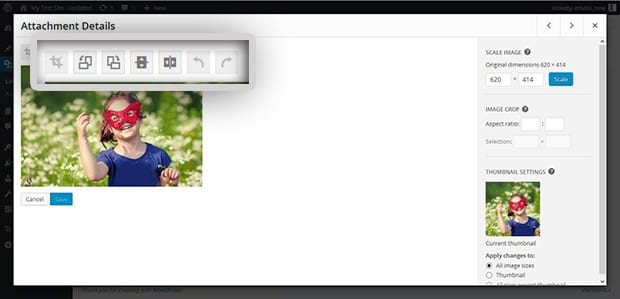 You can use any of these options to edit images inside your WordPress dashboard. To rotate or flip the image, just click on the respective icon.
You can scale the image by aspect ratio using the crop button.
It is very easy to crop the image. Simply select the area by clicking on the image and holding the mouse to select the part of the image you want to crop. See the gif below to learn how to crop images in WordPress.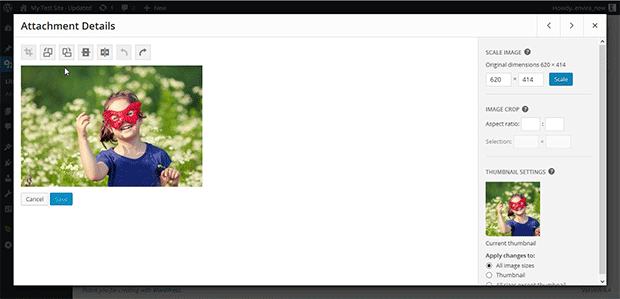 If you don't like the changes you made, then you can undo / redo at anytime. See the image below to learn how you can undo a change to an image.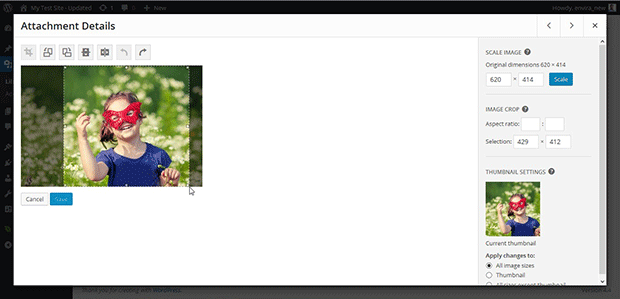 And that's WordPress' image editor. It may be simple, but it's perfect if you just need to make small changes on the fly. We hope this article helped you learn how to easily edit images in WordPress. You may also want to check out our guide on how to group photos and organize them in WordPress.
If you like this article, then please follow us on Facebook and Twitter for more photography tutorials.
Using WordPress and want to get Envira Gallery free?
Envira Gallery helps photographers create beautiful photo and video galleries in just a few clicks so that they can showcase and sell their work.