13 Best Photography Accessories Under $200
by [email protected] on May 4, 2021
In this article, you will see the best camera accessories under $200. This is part of a series where we provide advice as to what photography gear you can purchase for yourself or for a photographer as a gift. Each article will offer equipment we believe best fits the price level.
Why you should trust us
We are photographers and photography enthusiasts with decades of experience using various photography software and hardware for all types of photography scenarios.
Who this is for
Beginner photographers or professionals looking for the latest essentials under $200.
Before purchasing, consider your needs and do further research to ensure the product is an ideal choice for your situation.
How we picked
Each item in this article comes from our past experience, and each could be useful in various situations.
---
Photography Accessories Under $200
There are many cool tools, budget options, and camera accessories for photographers beneath or right at the sweet $200 price point. Some of these are great options that let you dip your toes in the water; whether it's your first time experiencing a specific genre, stylization, or creative effect. Other options on the list might be temporary solutions while you save up for that high-quality piece of gear, and the rest of the possibilities cater to other problems, ideas, solutions, or are just plain fun to have.
---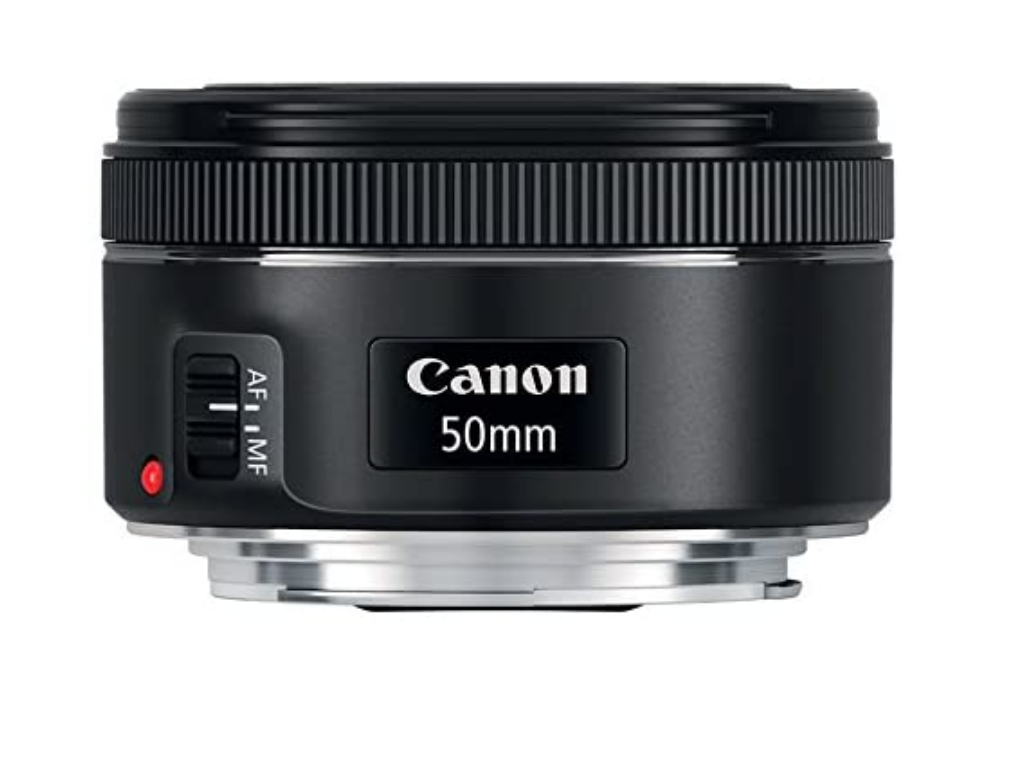 1. 50mm f/1.8 Lens
50mm Full Frame Focal Length | f/1.8 Widest Aperture | Smooth STM stepping motor | Metal lens mount | Compact form factor
---
The Canon 50mm f/1.8 STM lens is a favorite among a variety of photographers, and is often the first prime lens photographers will by. The 50mm focal length is great, serving for more documentary style imagery on a full-frame camera, or featuring light telephoto compression excellent for portraiture on a crop sensor camera.
The best part thing about the Nifty Fifty, other than its incredible price to performance offering, is how available it is for a variety of different cameras. Here are some other options for those who use other camera systems, although not all of them fall below the $200 price point:
This is a great lens if you're new to photography and want to try out different focal lengths, or are still using a lower-end kit zoom lens, especially if it's the one that came paired with an entry-level camera. Restricting yourself to a prime lens forces you to work more for a lot of images, and can start making you think more like a photographer!
---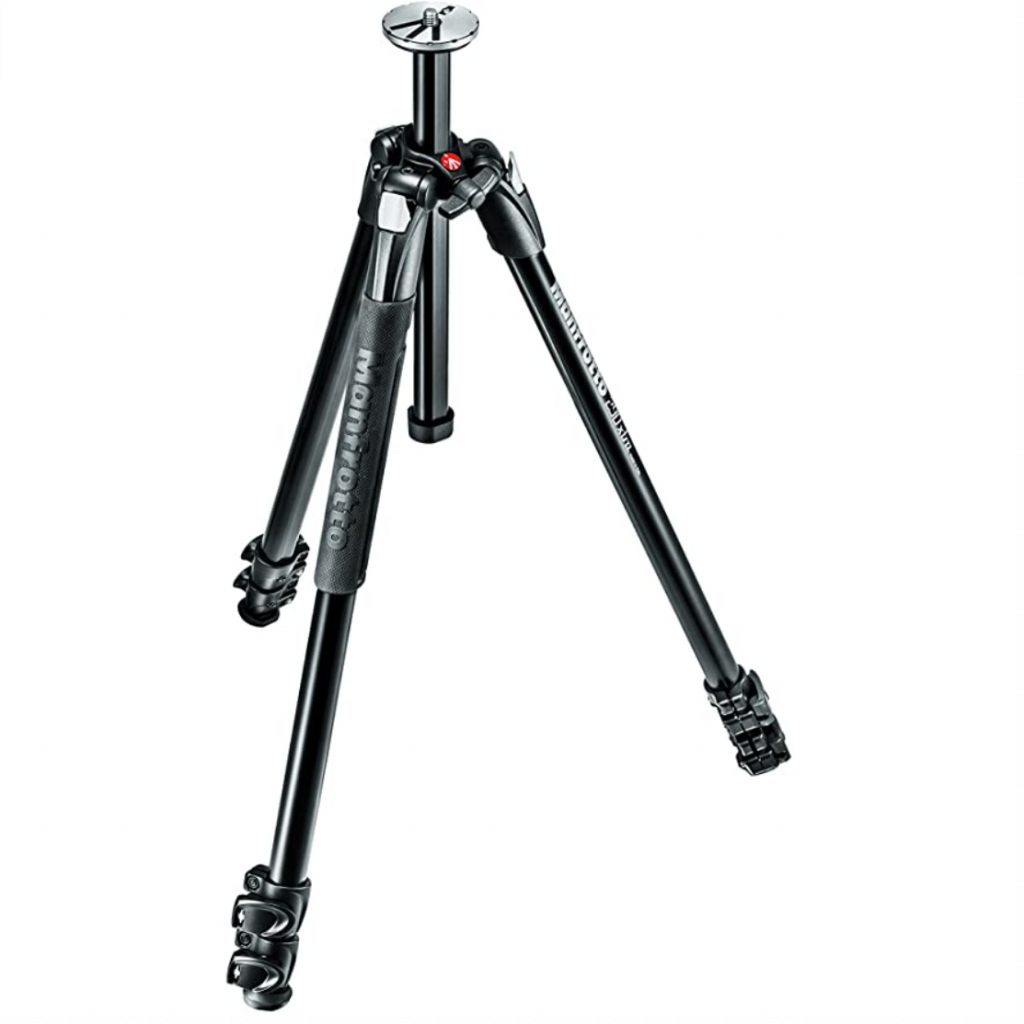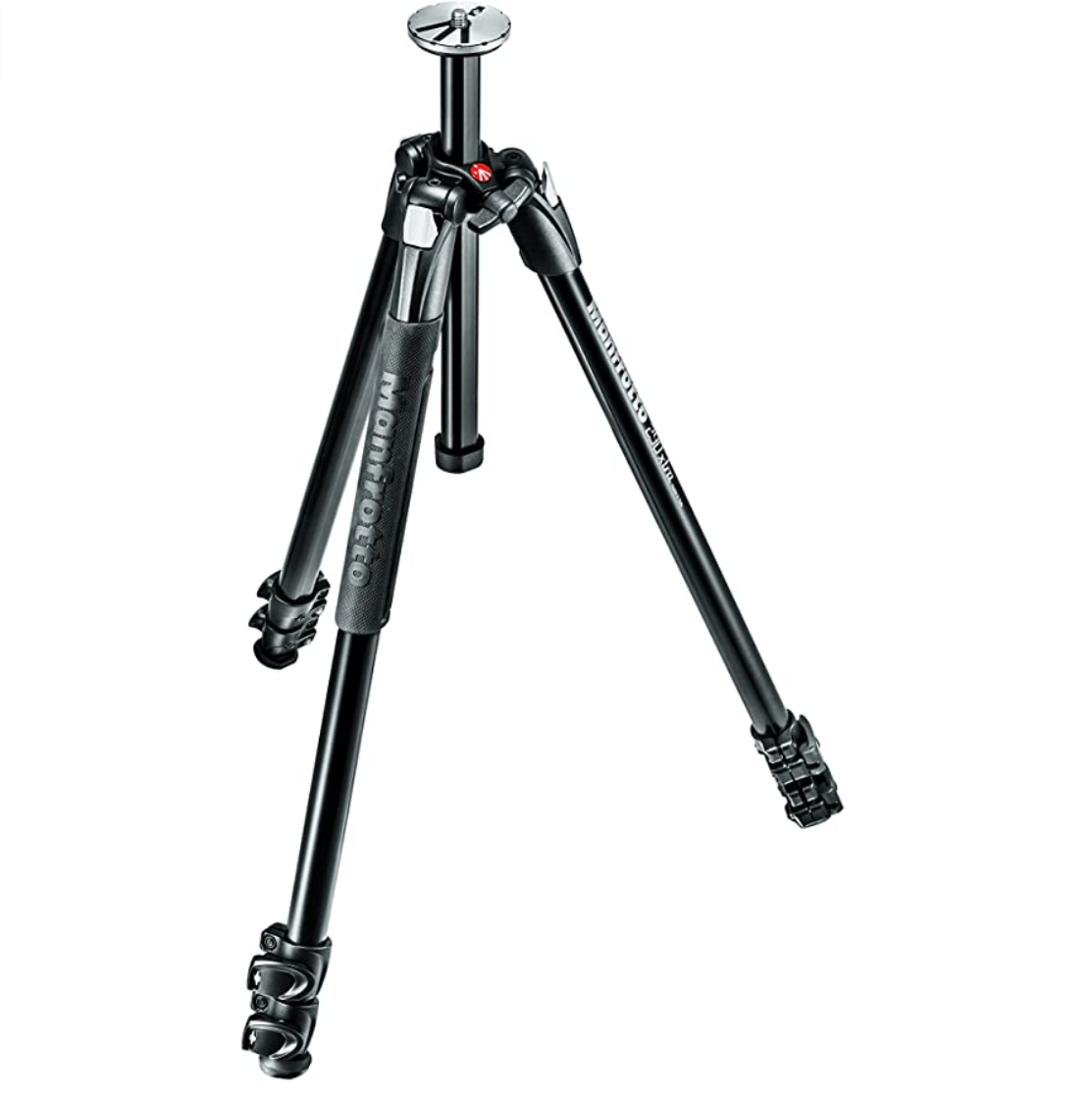 2. Manfrotto 290 Xtra Aluminum 3-Section Tripod
Triple extension section on legs | 63.2 inch maximum height (without head) | 23.4 inch folded length | Holds 11 pounds | Weighs 3.9 pounds
---
Manfrotto is a renowned maker of both tripods and tripod heads, so starting out with one of their lower-priced options is a great way to learn about using a tripod, without the headaches typically associated with cheaper tripods. This tripod is made of Aluminum, but if you want something sturdier with less shake, the carbon fiber option is just barely outside of our $200 limit.

This tripod has a lot of newer features built-in, such as adjustable angles for the legs, invertible mounting, and high general adjustability – including being able to have the legs basically parallel to the floor, for super-low angles. Manfrotto's tripods are of great quality, and there's no exception here. Like its pricier siblings, the 290X is made in Italy. If you are going to purchase this Tripod, you will also need some form of tripod head to go with it, so keep that in mind.
---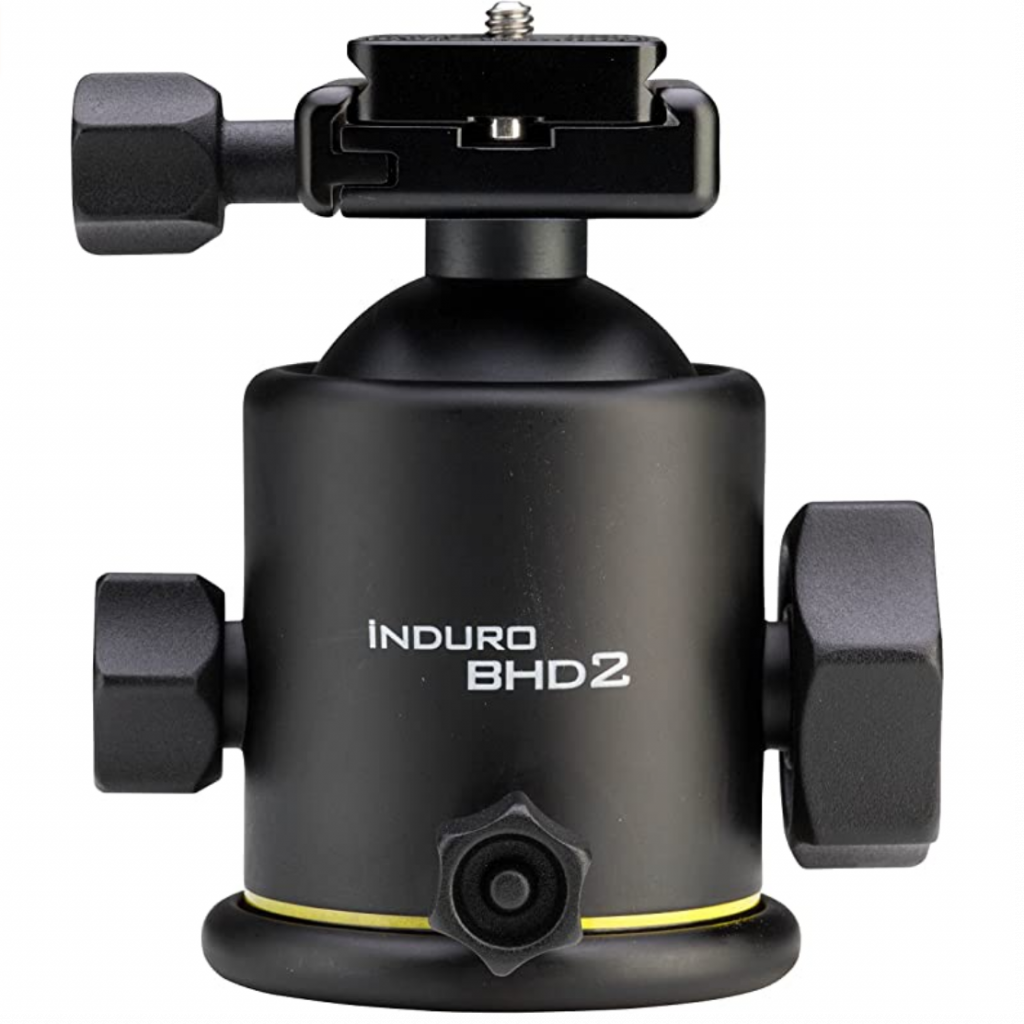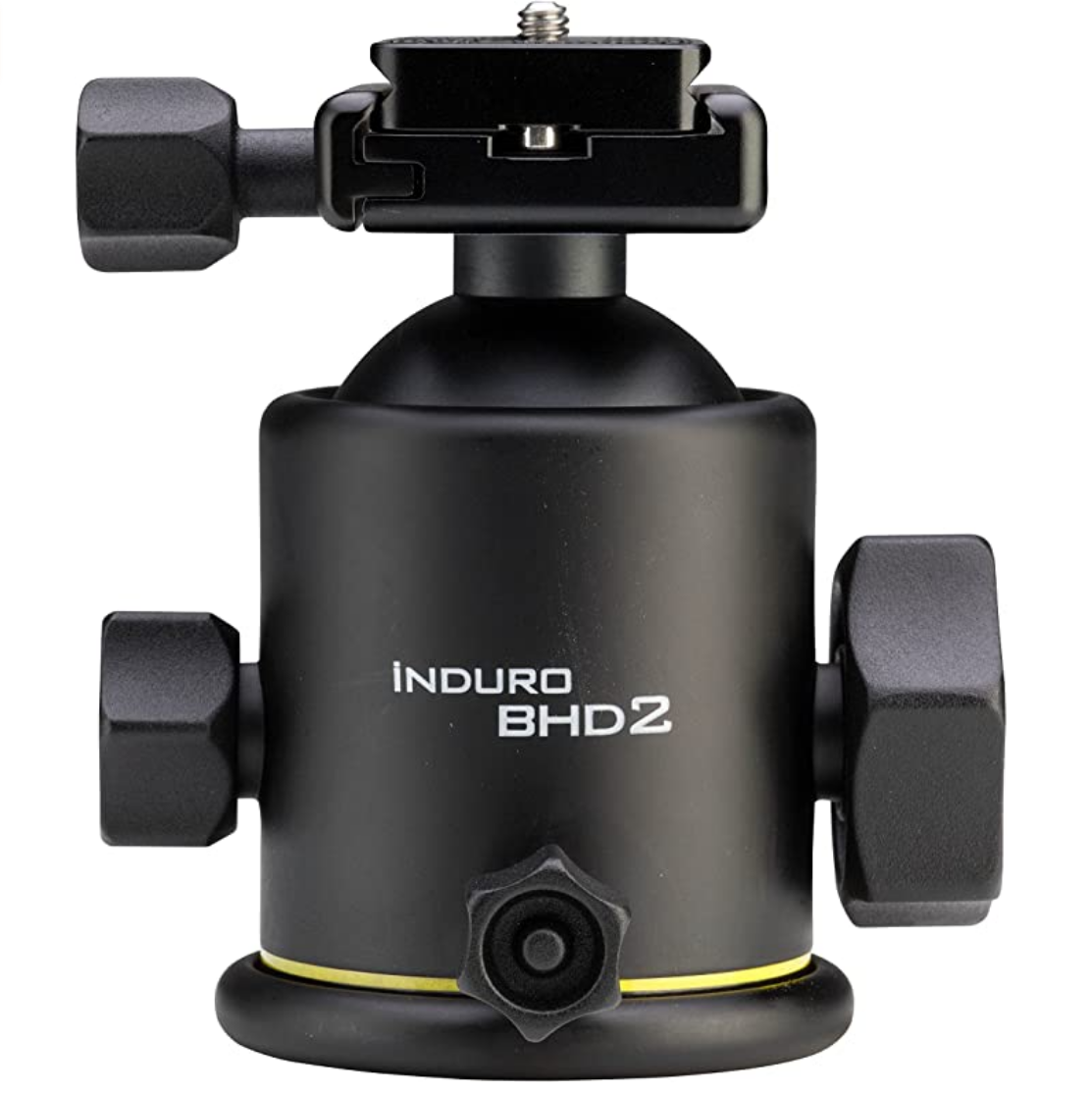 3. Induro's BHD2 Ballhead
Magnesium Alloy Construction | Fully independent pan control | Adjustable drag or tension control | Oversized and ergonomic knobs | Arca-Swiss mounting system compatible | Holds up to 39.6 pounds
---
Induro's tripod heads vary quite a bit in price, and at the lower end, you get some fantastic offerings like the BHD2. It's got everything you want in a ball head, especially if you're newer to tripod usage and don't need any special features that might require a non-ball-headed tripod. It comes with a five-year warranty, which extends to a full decade after registering the head. It comes with different screw sizes and adapters, just in case your legs use a different mounting thread, although nowadays it is generally standardized.

What makes this great is that it will hold your camera, it won't add wobble or shake to your system, and it will last a long time. Getting your first tripod system can be relatively expensive, but it gets pricier if you end up buying a cheap option, then getting frustrated with it and never using it until you get a nicer option. This tripod head is easy to use, and has all the features you need, as well as holding an incredible amount of weight safely.
---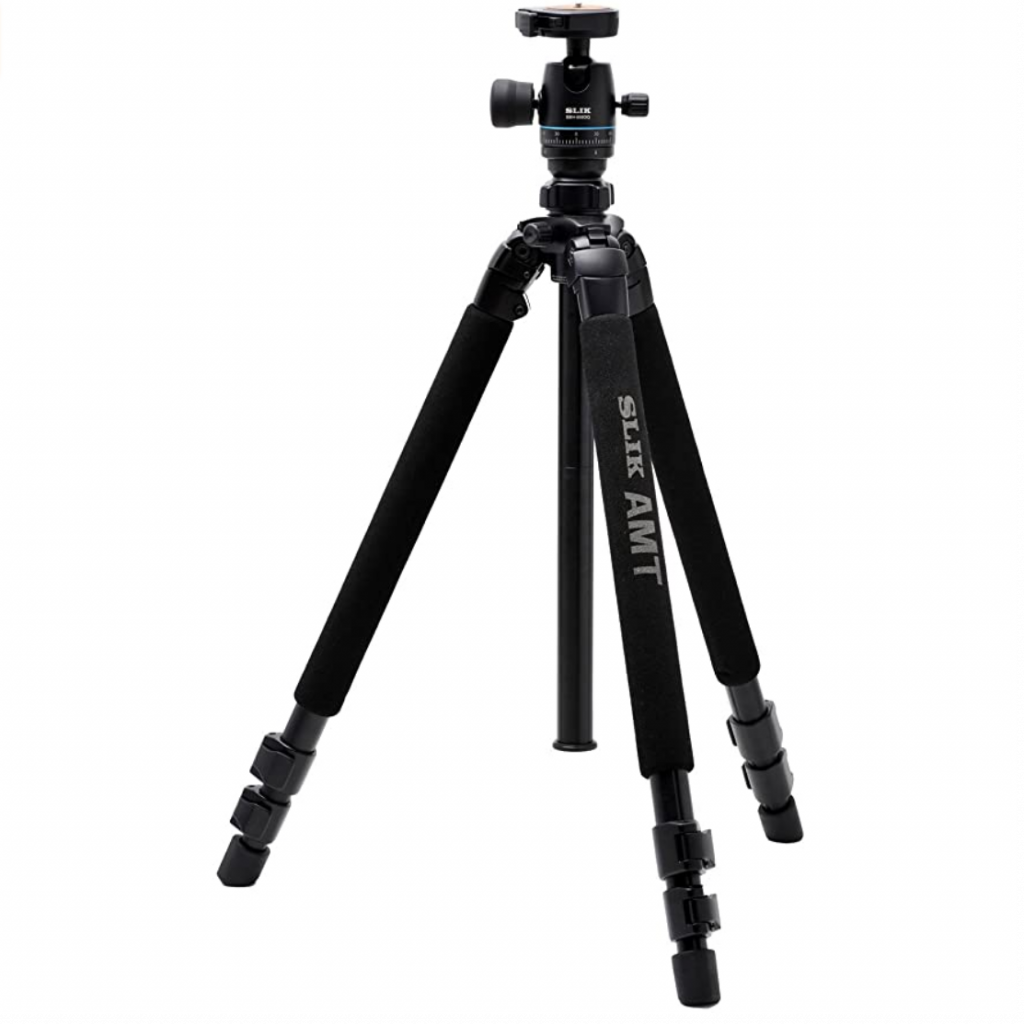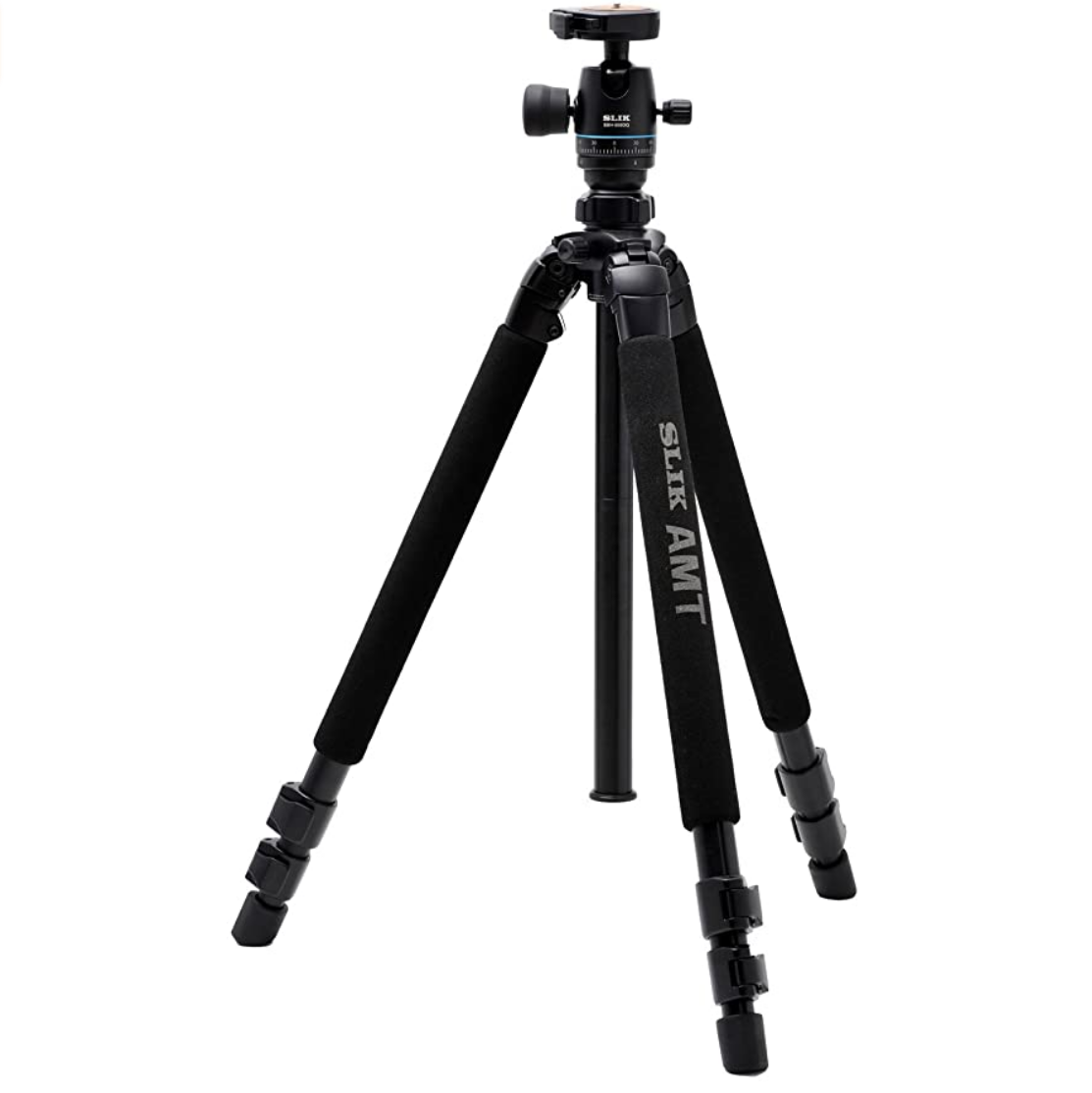 4. SLIK Pro 700 BHX AMT Tripod with SBH-808DQ Ball Head
Both Tripod legs and head are included | 3-Way ball head that can be shifted into portrait orientation | Independent spreadable extendable tripod legs | Reversible center column | Weighs 7.1 lbs | Measures 29.9″ folded | Supports 19.8 lbs | 76.8″ Max height
---
The SLIK Pro 700 BHX AMT is one of the best tripod and head combos you can find if you're looking to spend under $200 for both pieces of gear. SLIK's Pro products are heavy-duty, utilize high-quality materials such as their "AMT" alloy (which stands for Aluminum, Magnesium, and Titanium), and will support shooting long exposures with heavy lenses. This is a great first tripod because it won't cause any headaches, is incredibly simple and has some features that make it applicable to more use cases, without sacrificing build quality.
At this price point, many brands either make entry-level tripods, with the occasional standout. In terms of quality and usability, this tripod stands out from the general <200$ tripod and feels like it should come from a price bracket up when used. Whether you are new, looking to dabble in tripod use, or you just haven't had a tripod for a bit, this is a great place to start.
---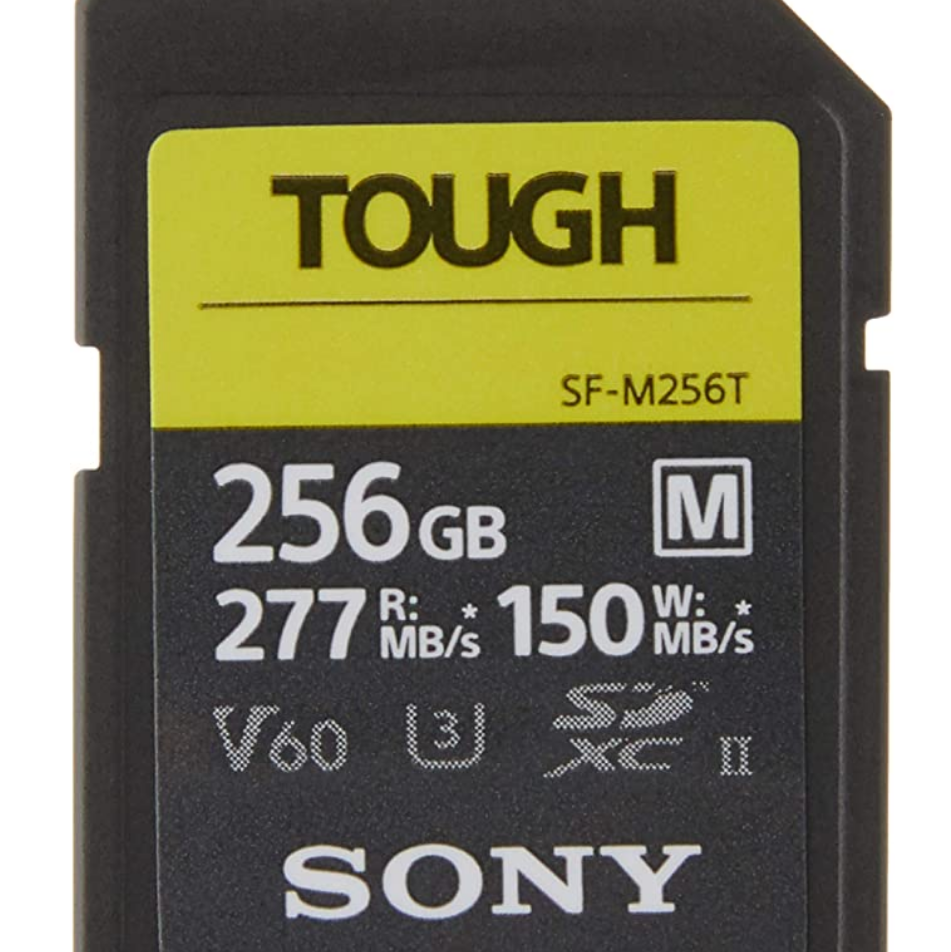 5. Sony's TOUGH UHS-II SD Cards
IPX8 Water Proofed | IPX6 Dust Proofed | 277 MB/s Read Speed | 150 MB/s Write Speed | Included five-year warranty | 256 GB Capacity
---
SD Cards are never something that you want to fail and are also something that, when we as photographers first buy a shiny new camera and set of lenses, we happen to skimp out on. If you're still using an older SD card, you might want to take a look at upgrading to one of the newer UHS-II cards if your camera supports it. UHS-II SD cards have more contact points on the back of the card, allowing for much higher usable read and write speeds, which means that the capacity of your camera's buffer can be used to its highest potential. The market for SD cards is so large, especially at the lower end, because many people buying SD cards don't realize the importance of more reliable faster storage. If you're still using an older SD card, you might be handicapping your own camera's modern equipment!

SD cards should be replaced frequently, relative to the rest of your photography equipment. A camera body can last years, lenses, filters, and tripods can last decades. SD cards should be changed out around once a year, although there is still a bit of leeway there, especially if you aren't simply using a single one. In the case that you are currently only using 1-2 SD cards for everything, consider investing in great, high-quality, larger-capacity pair of cards. They'll make both your camera and computer work more efficiently for you, which is a bonus when you think just about the risk reduction they bring to the table, too!
---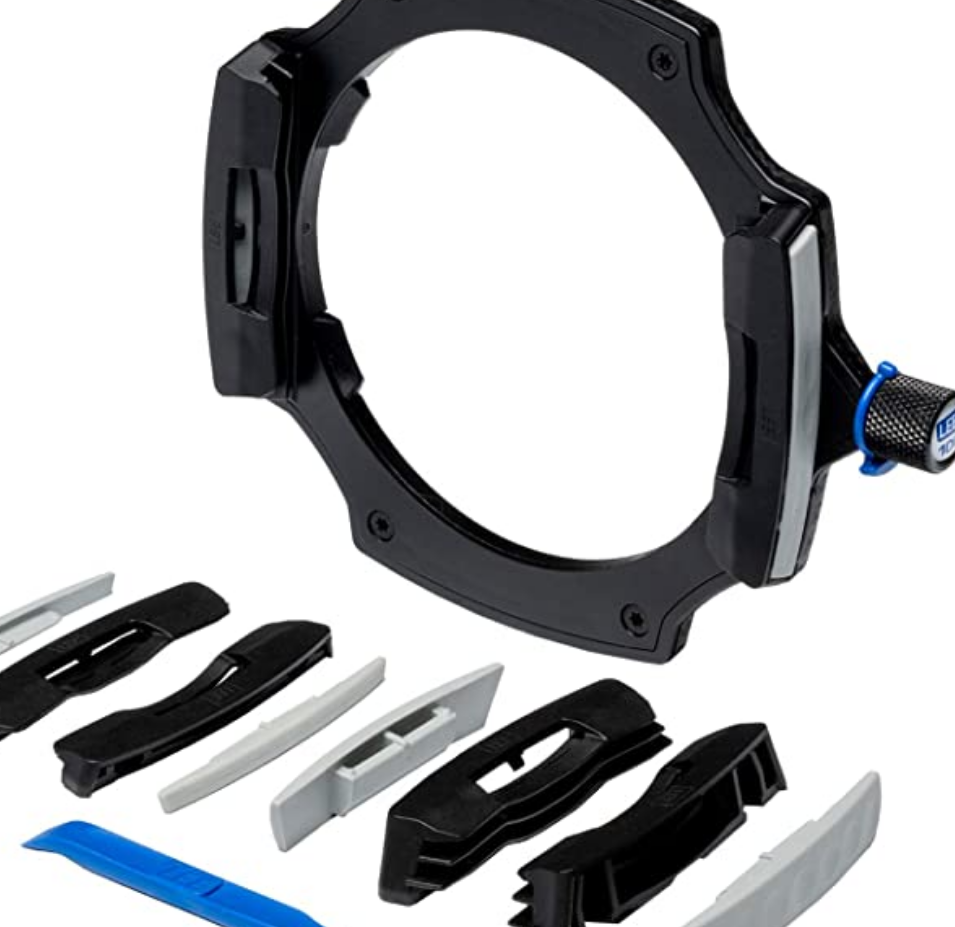 6. LEE Filter Holder
Lee 100 Series Filter Holder | Holds a variety of ND, Graduated ND, Polarizing, and other filters made by Lee | Incredible customer service | Snug fit | Use in combination with LEE filters
---
At this price point, you can either purchase an incredible ND or Polarizing filter or start working on getting a dedicated set of them for your long exposure photography. Lee is the golden standard of filter companies, and the filters and holders they make are some of the best that you will ever use.
Sadly, Lee's quality comes with a large compromise: price. The filter holder itself is nearly $100, which is the same price as many of the filters. Additionally, you will find yourself needing step-up rings to the 100mm sizing which this filter holder comes in, which Lee prices at around $57.00 on Amazon.
What you get for your money, however, is well worth it. Not only does Lee make fantastic products that won't fail on you, in the rarest instance where they do, but they also have a stellar reputation of no-holds-barred customer service, with great agents who just want you to be happy for having purchased a product from them.
---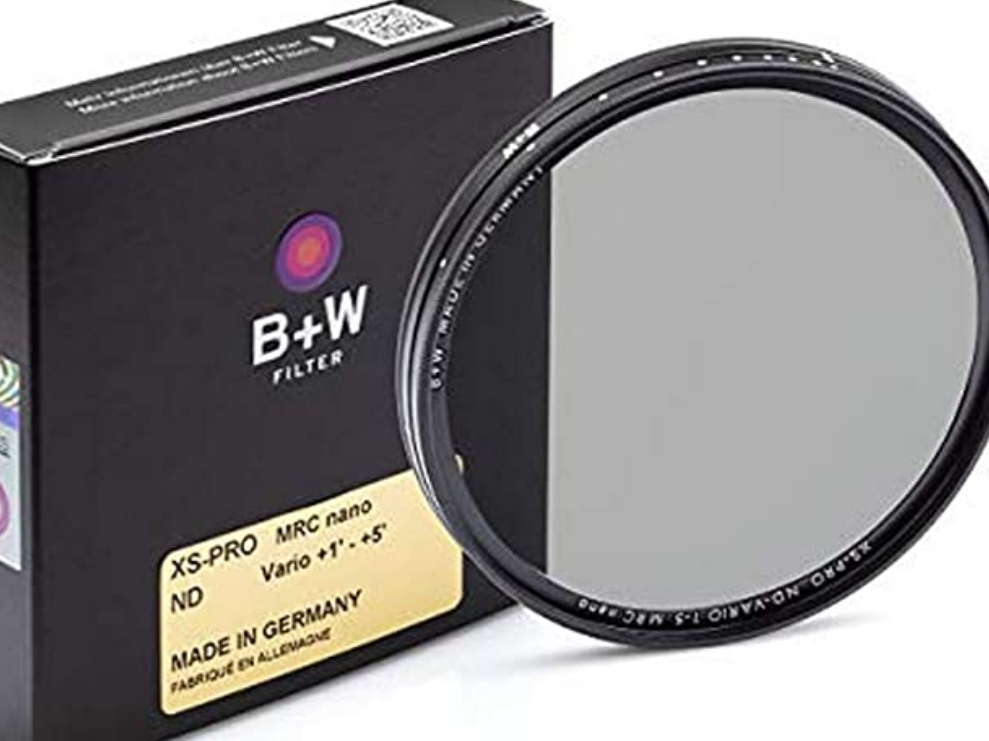 7. B+W Variable ND Filter
77mm Filter Thread | Variable between one and five stops of ND adjustability | Brass ring mount construction | Highly resistant "MRC"/multi-resistant coating | Can be used in tandem with fixed ND filters | Made in Germany
---
If you're not sold on the whole ND filter system with holder tech, you could always invest in a different, but still fantastic, option – a variable ND filter. While filter systems like the aforementioned one from Lee are amazing, they do have their shortcomings. The largest of which, for me personally at least, is how many pieces of glass you have to carry with you, especially if you're not sure exactly what light you are facing, or even what you are photographing.
In some senses, multiple filter setups afford you more flexibility, because they allow you to switch between so many options. In the opposite sense, the fact that you are limited by what exact filters you have can make them inflexible, or prohibitively expensive. That's where a variable filter comes in.
This filter is rather expensive for just one filter, but it isn't exactly just one filter. It allows you to change your ND gradation between one and five stops. That's the difference between letting half the light, and one thirty-second of the light hit your camera's sensor. And, everything in between.
Besides that flexibility, you're also paying for incredible optical quality, and the lack of a color cast from a professional grade, a high-quality company like B+W will provide. Just like with lenses, cameras, and tripods, it's definitely worth spending a bit more for a filter from a company that knows what it's doing and has been at it long enough to be well respected in the world of photography.
I recommend buying a filter that fits the largest lens filter thread you have, or if you're currently considering purchasing an even larger front element lens, filters that accommodate that size. Then, use step-up rings for the rest of your lenses. That's more economical than buying filters for all your lenses, although keep in mind that the larger area the filter has to cover, the more expensive it tends to be.
---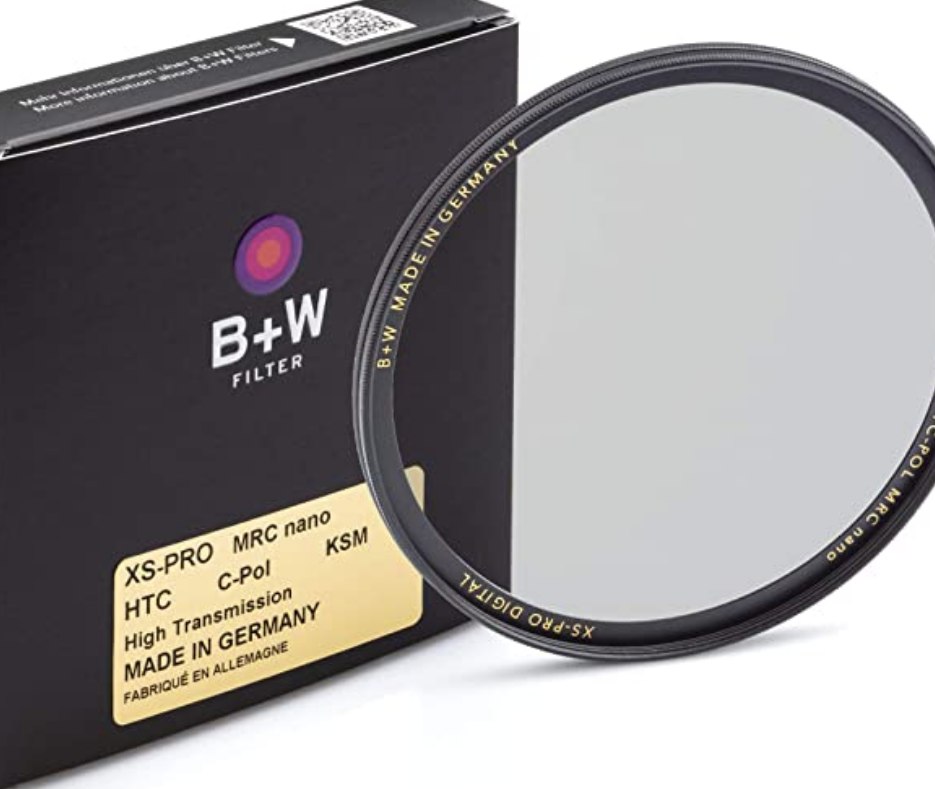 8. B+W Polarizing Filter
82mm Filter Thread | High Transmission (HTC) Polarizing film | Brass ring mount construction | Neutral color cast | Highly resistant "MRC"/multi-resistant coating | Special design makes adjustment easier | Extra thin/narrow XS-Pro Mount design | Made in Germany
---
Since we're on the topic, here's my sub-$200 recommendation for a polarizing filter. I specifically chose the XS-Pro variant here, because if you're going with any form of variable ND filter, you want to make sure that you aren't getting too thick with your filter stacking. This is especially true if you find yourself getting a less expensive variable ND filter, or filter set. Keeping the overall amount of filter glass, and filter volume, which you place in front of a lens low allows you the least impact on image quality.
If you're looking for a polarizing filter that can be used for commercial work, will last a long time, and is durable both in terms of being well built and coated (and, at the risk of sounding like a broken record), B+W filters are some of the best.
---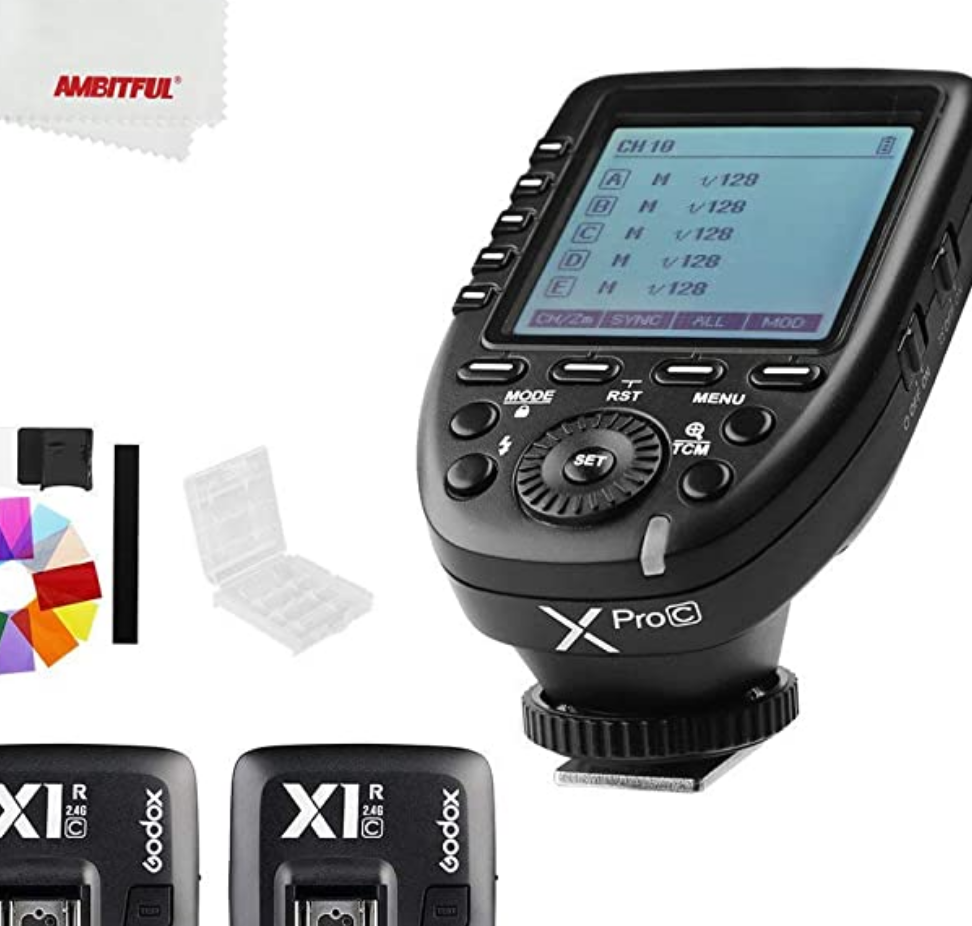 9. Godox XPro Remote Trigger System
Remote flash system compatible with any hot shoe flashes | Wireless 2.4G | Fully supports TTL-based flash | Multichannel and group support | Versions for all major camera manufacturers
---
Learning the basics of flash photography can get expensive fast, but it doesn't have to. Flashes from camera manufacturers are generally relatively overpriced, and mono light-based flash systems can make even those look cheap. At the low, introductory, end, however, there are companies that make dedicated lighting gear for fledgling flash photographers.
These Godox remotes are fantastic because they let you take basically any flash system and update it so that you can start learning off-camera flash, which is much more versatile and powerful than working with on-camera flash in the majority of cases. Take note of which system you are ordering, however, as these are not cross-compatible across manufacturers.
---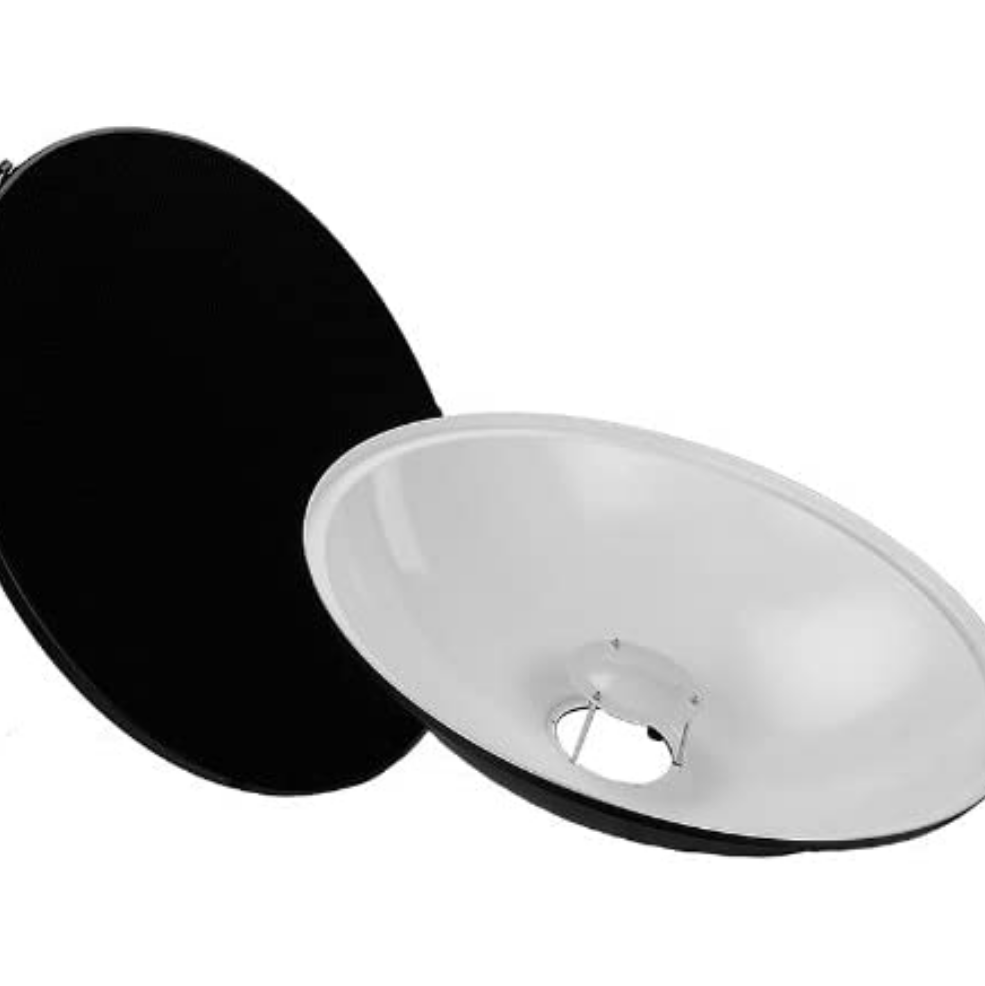 10. A Beauty Dish
Diffuses light to have moderate to high feathering | 28″, 80-degree reflector | Metal construction | Includes honeycomb grid and fabric diffuser | Two-year warranty
---
Lighting modifiers are some of the most important things to try out while learning off-camera flash. My go-to, and favorite, light modifier is a beauty dish. What's great about these is that, in addition to a reflector, you can take incredible portraits with just one light. Add in a second, and you're going to be hitting home runs.
Beauty dishes are designed in a way that makes them a great tool for high key portraits, but they also work fantastically if you want to take a flash out of the studio, and I particularly like to use them as fill on a sunny day, where they don't have to be the dominant light source.
The additional grid and diffusing fabric that come with this medium-sized dish mean that you can use it for several different types of lighting, and give you a lot of control over the light. If the only modifiers you've worked with are smaller, collapsible ones that possibly came with your first flashes, then this could be a great next step for you.
---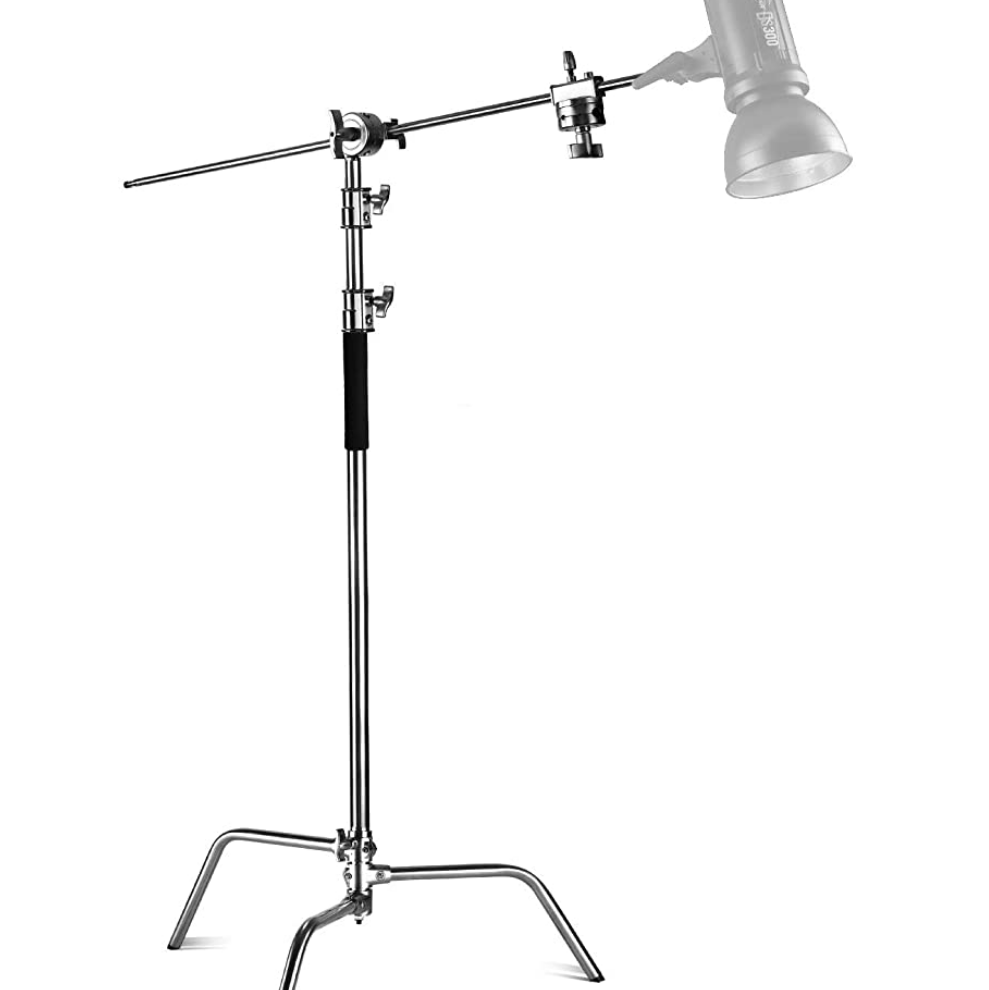 11. A C-Stand
100% Stainless Steel | Adjustable height | Built in extension arm | Turtle style base | 2 Metal grip heads
---
Have you had enough of shoddy light stands? Do you want to place your light above your camera, but don't have X-Ray vision built into your camera to shoot through the stand?
C-Stands are awesome. They use a boom arm so that you can position a light much more easily – be it because you need the light above yourself physically, or because you aren't tall enough to naturally get the 11 foot reach that a C-Stand like this one provides.
Further, C-Stands make it a lot easier to physically move a light incrementally. Rather than having to mess with height adjustment, you can simply use the large and high-quality pressure-based screw joints and swing the light around. The turtle-style base also means that it is really easy to throw sandbags, or other weights, onto the legs, and fold it flat for storage.
Whether you've finally started a studio, or are building one, even at-home, C-Stands are the first step up from hobbyist gear into real studio gear. They make off-camera artificial lighting so much easier to work with, and have the added benefit of doubling not only as mic booms but also as reflector-holders, should the need arise.
---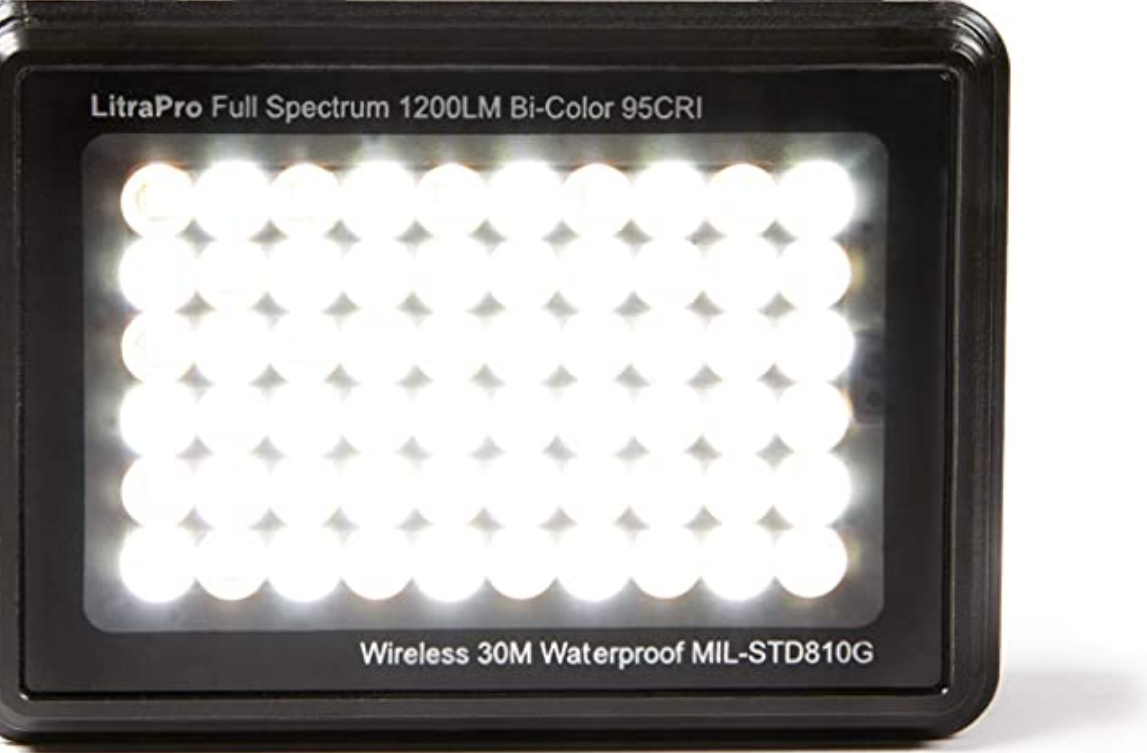 12. High-Quality Battery Powered LED
Small 3″ Size | Weighs only 6 ounces | 10+ hour runtime | 1200 Lumens of output | Included diffuser | Adjustable color temperature between 3000-6000K | Bluetooth control | 95+ CRI | Waterproof | Tripod mountable | OLED Display
---
This LED light is incredible. It's super small and portable, so you can take it with you anywhere. It becomes a pocketable extra light that you can use in any of those instances where you might need to add light that matches the temperature of the general lighting atmosphere. With the 1200 Lumen output, you can even use it as a key light in a pinch.
The CRI (Color Rendering Index) of this light means that the fact that it is adjustable between 3000K – 6000K, you actually have great control over the color temperature. At full output, however, the light will only run off of its battery for 45 minutes. At low power, you can get a full ten plus hours of use.
The light is app-controlled and has quite a few features. You can turn the light on and off, change the brightness and color temperature, strobe the light for interesting longer exposures (and even control the highs and lows of a strobe effect). Grab this light with some color gels, and you can get really creative with a really small package.
One of the greatest features, however, is when you get multiple of these. You can create groups or control them individually from the app, and create a full studio-style lighting setup that fits in a pair of cargo pants – or a backpack, for the more fashionably conscious.
---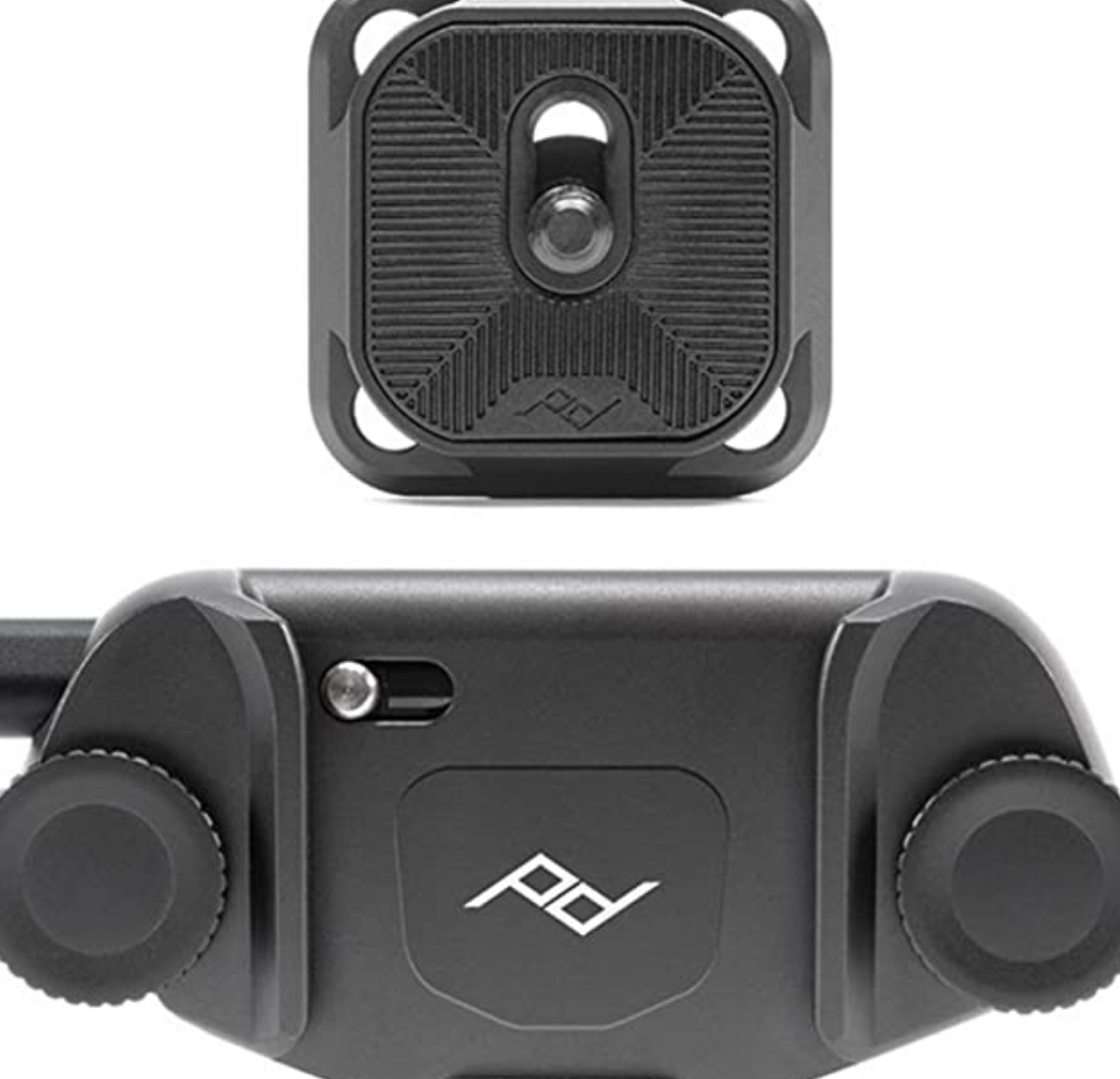 13. Peak Design Capture Clip(s)
Holds up to 200 lbs. | Lifetime guarantee | Carry cameras, lenses, GoPros, binoculars | Attaches to any belt/fabric up to 2.5″ wide and 0.6″ thick | Metal screw down clamping design
---
The Peak Design capture clip, which is currently in its third revision, is often my first recommendation to friends asking me how to best carry their camera around. It's fantastic because it gets rid of my least favorite accessory: the strap. While some people like the feeling of a strap, or the safety which it brings, it gets in the way often and can make taking photos from different angles and points of view rather bothersome.
This clip is also great if you want to carry an additional lens to easily switch off, or if you want to shoot on a tripod and really don't need the strap. Once you get used to the locking mechanism, you feel as if the camera is much more secure than other carrying methods, partially because others don't really know how to get it off of you.
---
We hope that you walked away with some ideas as camera gifts under $200, or some new camera accessories under $200 to take your photography career to new heights.
Want more?
Do you have your own suggestions to share? Leave a comment to share it with the Envira Gallery community.
Using WordPress and want to get Envira Gallery free?
Envira Gallery helps photographers create beautiful photo and video galleries in just a few clicks so that they can showcase and sell their work.