Best Tripods for Photographers
by Keren Dinkin on Sep 28, 2021
For the best results, you need to find the best tripod that suits your needs. When you're a professional photographer, you know how important it is to have a sturdy and reliable tripod that can help capture all the pictures you need.
On the other hand, if you're a casual photographer, you know how important it is to find a tripod that's easy to set up and use. Finding the best tripod for your needs is easier than ever with our selection of tripods.
There are tripods that are sturdy for professionals, as well as tripods that are lightweight and easy for casual photographers. When you're looking for tripods that are easy to use, there are models that are durable and can hold a lot of weight.
Luckily we created the ultimate guide for the best tripods for photographers at all levels.
Noise & Blur
The two things that plague professional and beginner-level photographers alike are noise and blur. In photography, noise and blur can affect the image, its brightness, and its sharpness, which is why it is nightmarish. However, there is a solution for it – a tripod!
A tripod is an accessory that's become a necessity in a photographer's kit. It brings stability, ease of use and significantly cuts down noise and blur. Whether you're looking for one for your mobile, travel, vlog, or personal photography assignments, there is a tripod for you.
Tripods are available at various price points, offering various functions, so ensure you carefully select a tripod that suits your needs. It should be noted that you don't have to buy the most expensive tripod to get great results.
So, keep reading to find out the top 5 tripods for all your needs.
---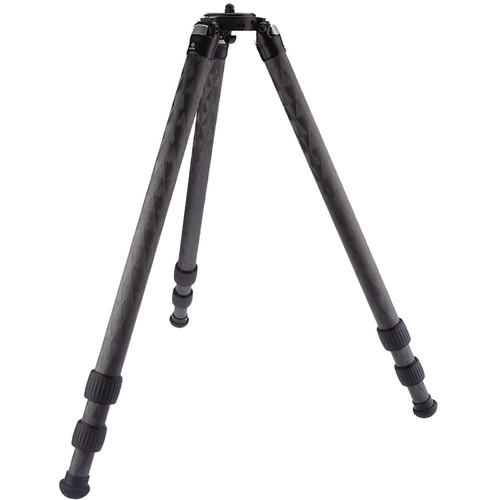 Really Right Stuff TVC-33 Versa Series 3 Mk2
Twist lock | Load capacity: 85 pounds capacity | 4.3 pounds | Carbon Fiber and Aluminum alloy | 3 leg sections | 25.6 inches folded | 4.1 feet min height | 58.6 inches max height
---
Best Tripod for Heavy Lenses and Cameras
The Versa series tripods are easy-to-use and comfortable for photographers across the board. The TVC-33 is a medium-weight tripod with a carbon fiber body that weighs only 4.3 pounds. It can support cameras and lenses weighing up to 85 pounds, making it a sturdy buy.
The TVC-33 legs will never fully touch the ground, thanks to its teardrop-shaped design. The leg joints offset the weight distribution. These attach the legs of the tripod to the collar. This mechanism gives the TVC-33 a high load capacity.
The collar and joints on the TVC-33 contain anodized aluminum. Aluminum tends to corrode less and can better withstand wear and tear. This tripod is an excellent choice if you're going to be shooting in extreme weather or terrain. The feet on the TVC-33 are fitted with rubber. This has the added benefit of safety if you're shooting out in the field, on a hike, or even in a studio. Metal spikes are available separately if you want to switch to them on specific shoots.
The three-leg joints on this tripod come with variable angle stops, allowing for flexibility. You can lock them into position when you fold the legs into the standard position. This tripod is also good for traveling since it folds down to a compact length of 25.6 inches. The twist locks on TVC-33 help reduce the time spent taking it and setting it up. You're only required to quarter rotate the twist to lock and unlock the legs on this tripod.
Want more features?
The twist locks on the legs of the TVC-33 come equipped with integrated wipers. These help keep the dirt out of the locking mechanism.
Pros
Angle stop locks on joints
High load capacity
Cons
---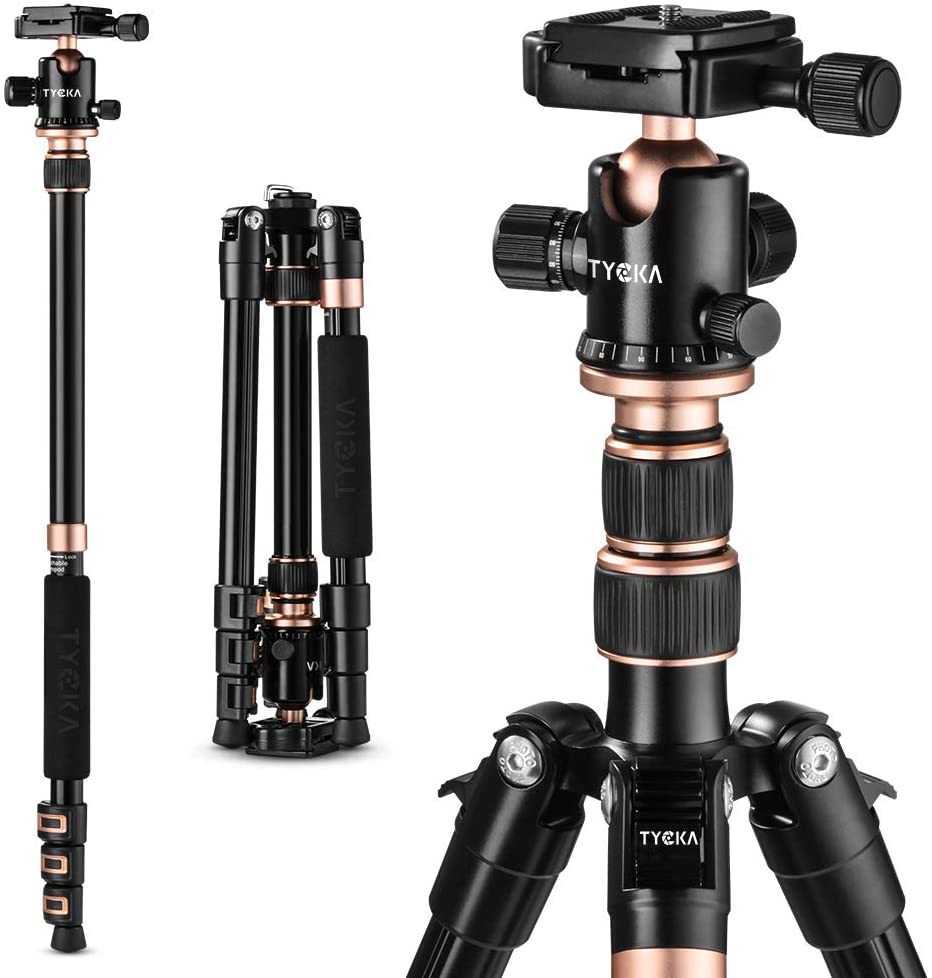 TYCKA Rangers 56"
Flip style locks | 26.5 pound capacity | 2.9 pounds | Aluminum | 4 leg sections | 14 inches folded | 15 inches min height. |56 inches max height
---
Best Budget-Friendly Tripod
This TYCKA Rangers is a tripod and a monopod. It is lightweight, durable, and a great option if you want something on a budget. That's not all. The CNC machining in crafting its tripod fork has earned this tripod a reputation for being the best DSLR tripods out there.
Its monopod leg has foam padding for added grip. This tripod can also get you that 360-degree panoramic shot. It has two independent control knobs to adjust the ball head.
The TYCKA Rangers tripod has also got an angle adjustment feature. This feature allows the user to extend the angle of individual legs and set them into position. However, the locks on this one are flip-style.
Are you interested in trying macro photography?
Turn the central pole upside down and shoot all the experimental stuff you've been keen on trying out. The TYCKA tripod also comes with an extra tube that allows you to shoot as low as 7.87 inches. This is also why the TYCKA tripod has earned a place as the most advanced tripod on our list.
It is compatible with most brands like Canon, Nikon, Sony, Leica, Fuji-Film, Pentax, Lumix, Olympus, etc.
While the tripod's looks hardly matter, this one comes with a sleek matte black body and rose gold details that are pretty appealing.
Pros
Sturdy and durable
High-density aluminum
Cons
---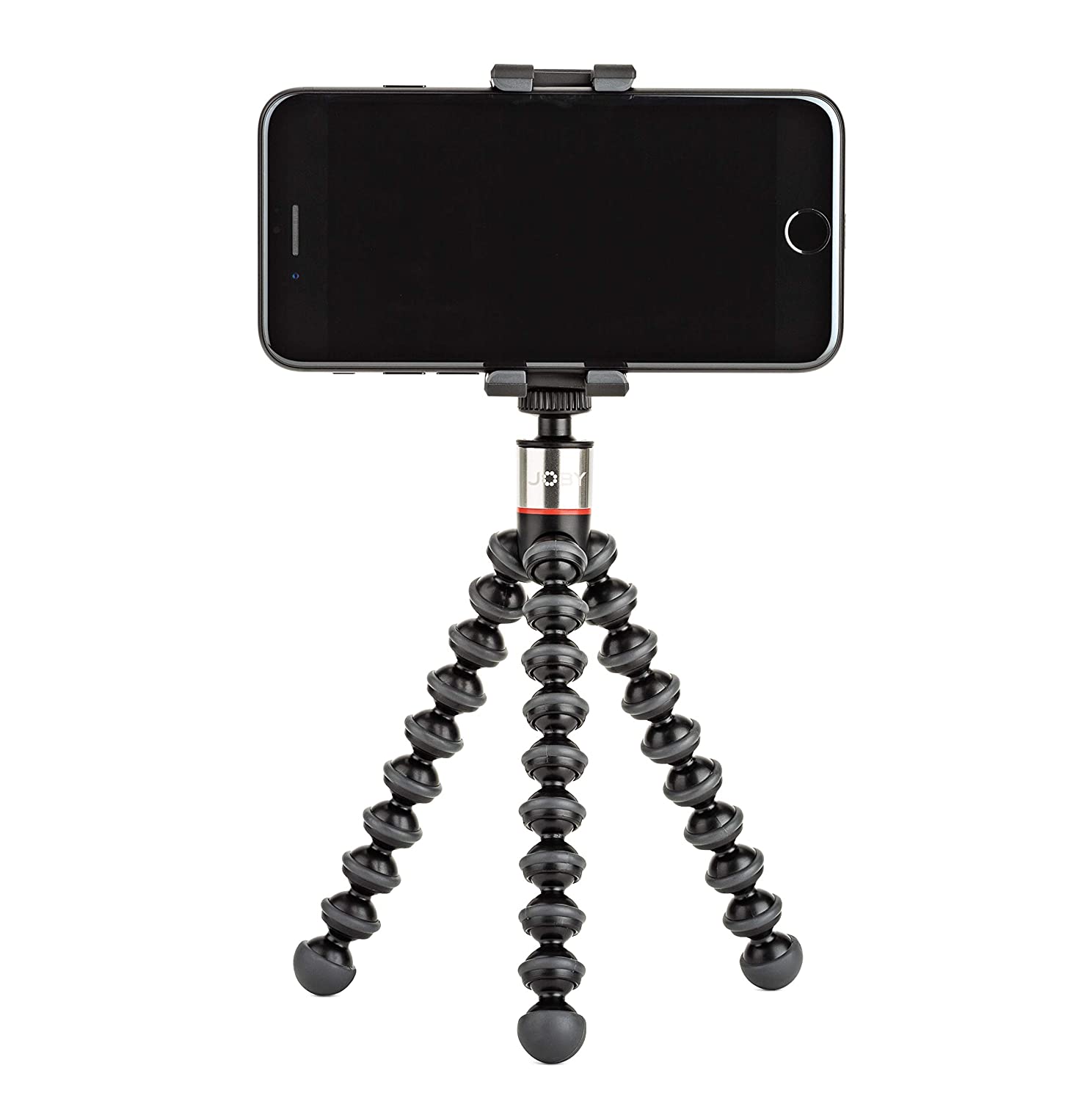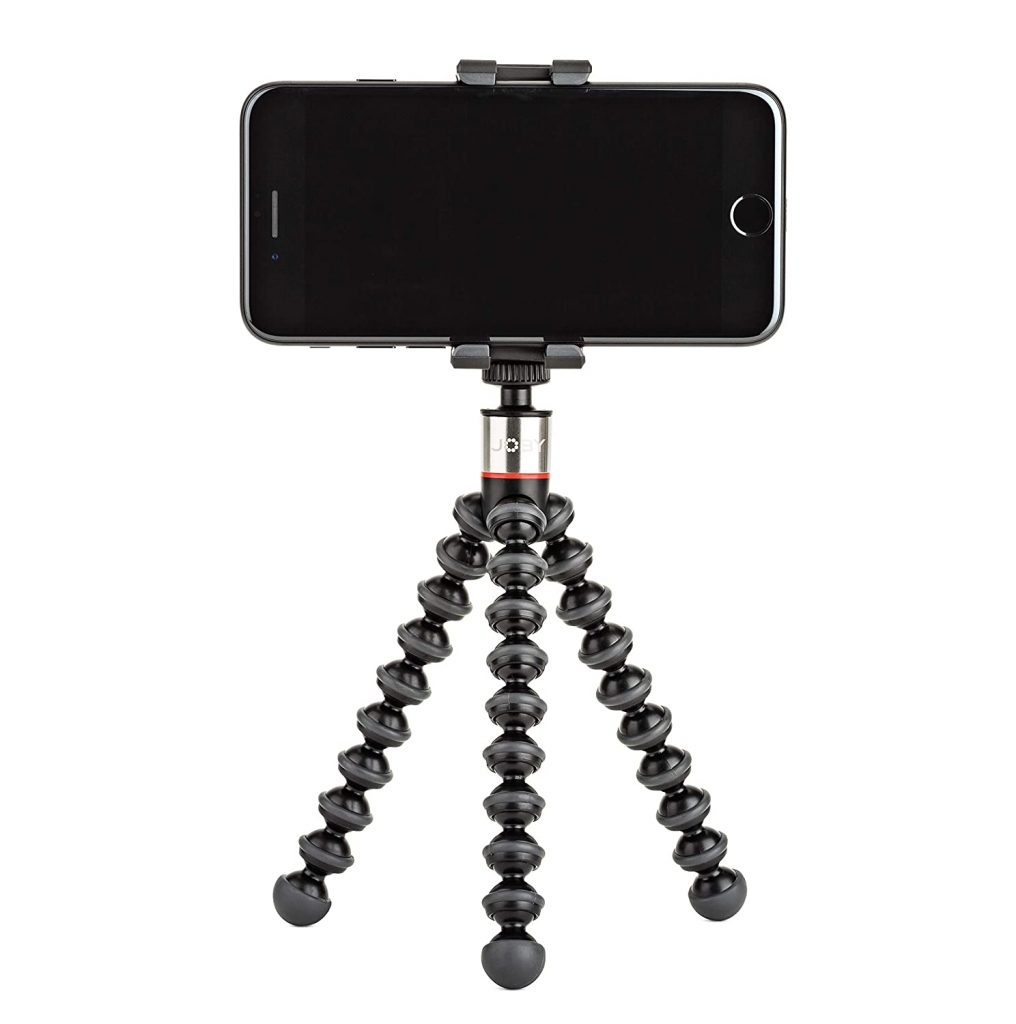 Joby GripTight ONE GorillaPod
Smartphone capacity: 2.2 to 3.6 inches wide phone | 11.5 ounces | plastic, Stainless steel, synthetic rubber | pocket size
---
Best Tripod for Mobile
It's the age of Instagram and Facebook which means that more people are looking for tripods that can help create high-quality mobile photography and videography. Smartphones now come equipped with high-resolution cameras, photography style options, and much more, leading to increasing demand for phone-friendly tripods. If you're looking to add more stability to your smartphone photography, the Joby GP Stand is a great option.
The Joby GP stand is the best beginner tripod on our list. If you're yet to buy a camera and want to start with your phone, this one is a must-buy. Plant it on any surface you want; Joby's rubber grip secures the tripod so you can continue shooting. It is compact and super light, so you can comfortably carry it anywhere you like. When folded, the tripod is so compact, it fits into your pocket!
This tripod comes with three flexible legs that can stand stable or be wrapped tightly around any object. The rubberized legs are ball-and-socket links. We found this feature very useful for vlogging. It's beneficial when you want to experiment with shot selections. It also has a spring-loaded quick-release feature that unfastens your phone quickly.
Are you shooting portraits? With Joby's 90-degree tilting ball head, you can achieve this orientation with ease. The stainless steel body makes it extra durable for relatively rough use. This tripod's use is not limited to your phone; you can even fit a camera or device compatible with a 1/4 – 20 inches mount on it.
Get access to endless composition options and scenes with the Joby JB01491-0WW Grip Tight ONE GP Stand.
Pros
Easy to wrap it around branches, benches, and poles
Compatible with iOS and Android smartphones
Stability
Durability
Cons
2.2 to 3.6 inches wide smartphones only
---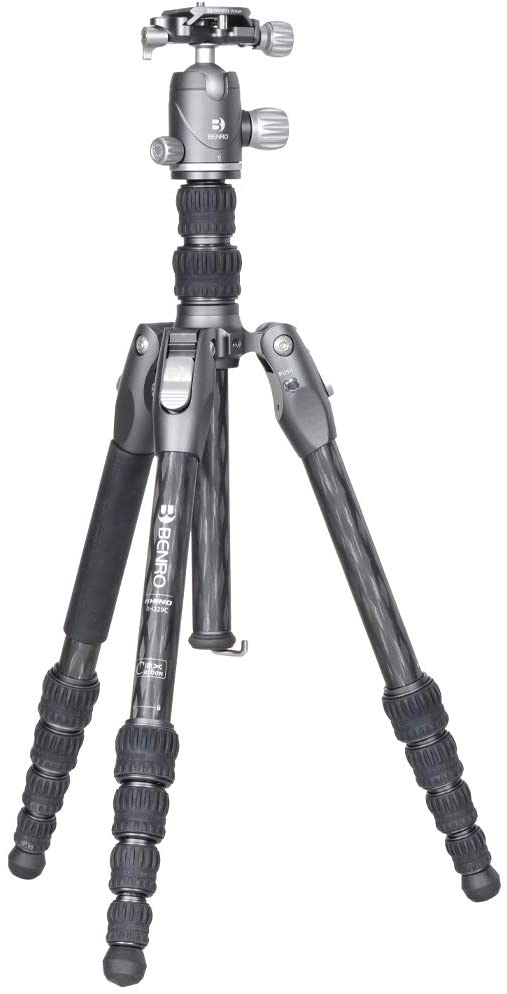 Benro Rhino Carbon Fiber Zero Series
Twist locks
22 pounds capacity | 2.73 pounds | Carbon fiber | 5 leg sections | 25.98 inches folded | 13.8 inches min height | 54.92 inches max height
---
Best Travel Tripod
Another compact tripod is the Benro Rhino VX20. Like the TYCKA and the Joby, this one also allows you to shoot those low-angle scenes with ease. It has a reverse folding design that fits easily in your storage space. You can even combine the legs and central column to use the Benro as a monopod.
It is easy to get the angle you want by adjusting this tripod's legs. It comes with an automatic angle adjustment feature that adjusts the angle on its legs with a button. This offers you tremendous flexibility as each leg can be adjusted individually. The legs also have three locking positions for a faster setup.
This tripod features the ACRA compatible QR plate, which releases quickly but also secures devices in place. A lock knob on its central column and a lengthened locking mechanism improves the tripod's stability.
The Benro comes with rubber feet which keep your camera steady on any rough surface. The manufacturer also provides spiked feet when you want to set up the camera on a smooth surface.
The Benro has our vote as a great lightweight tripod for travel. That said, the Benro also functions well indoors at studio shoots.
Pros
High-quality materials used
Automatic angle adjustment
Excellent rigidity at maximum height
Cons
---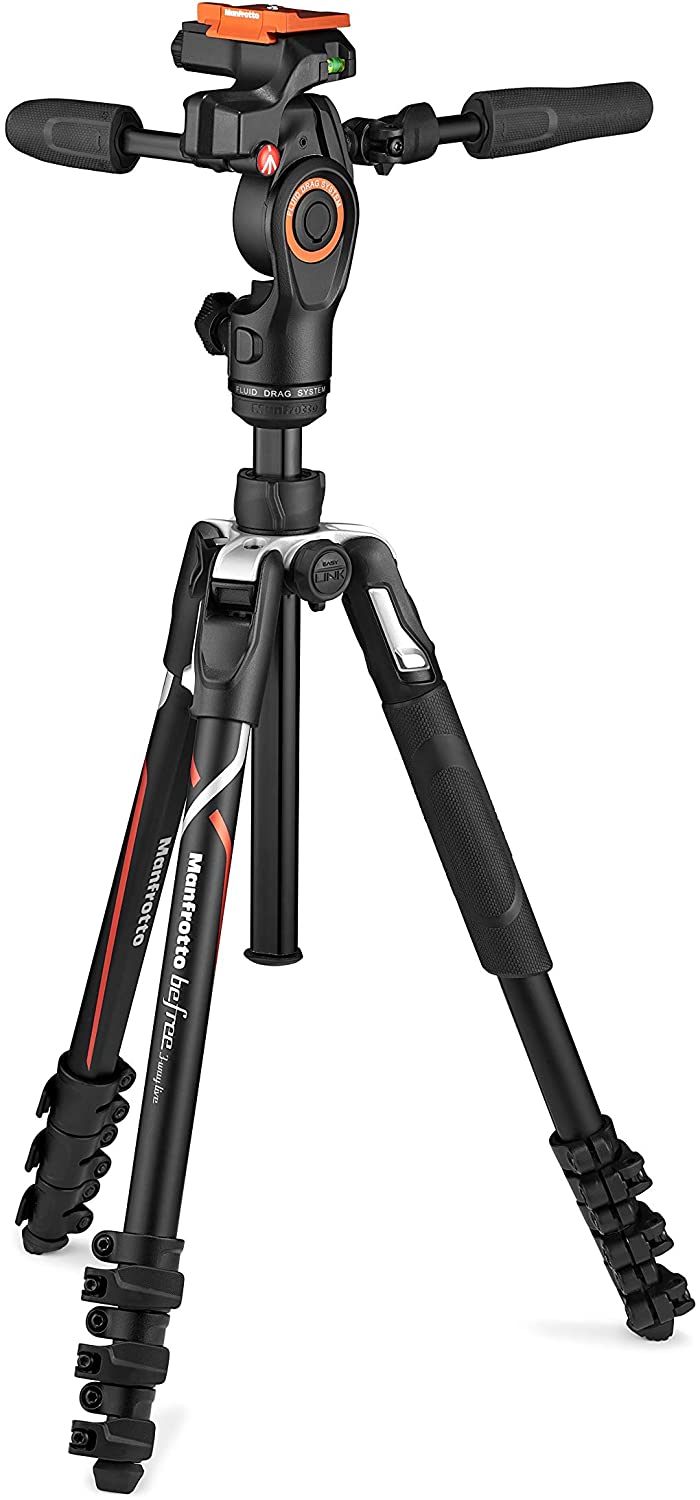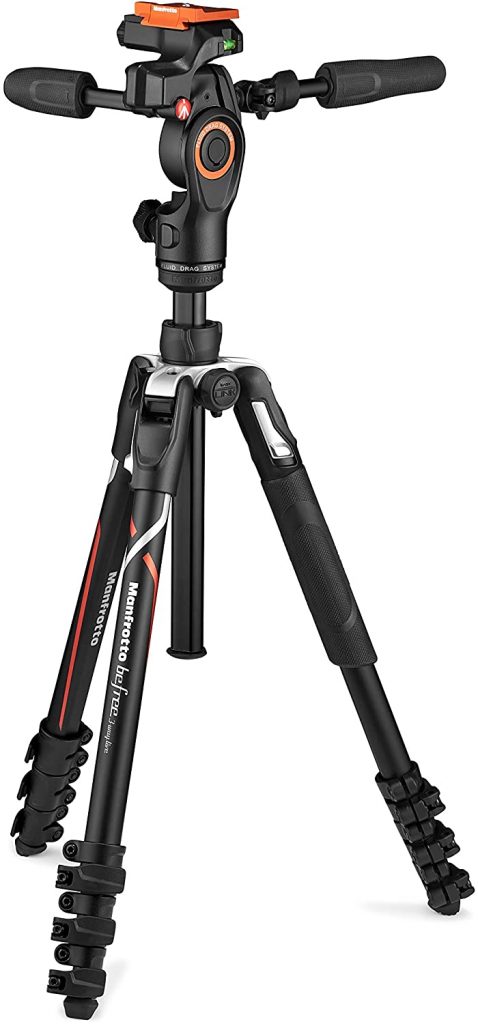 Manfrotto Befree 3-Way Live
Load capacity: 13.23 pounds capacity | 4.85 pounds | Aluminum | 4 leg sections | 15.75 inches folded | 16.5 inches min height | 59.4 inches max height
---
Best Tripod for Video
This Manfrotto tripod is specifically built to support stable video recording. Its three-way fluid head provides unique camera transitions that will impress the watcher. The smoothness of the pan and tilt movements vastly improve the shots, something you will notice immediately. The tripod comes with built-in resistance to vibration, a remarkable feature considering its low weight and aluminum build.
At 4.85 pounds, this one sits compact and light in your camera tool case. With its hybrid photo head, you can shoot film-quality videos and photos.
A side-pull selector helps you set up the tripod within minutes. The tripod has four sections to make it sit securely in the desired position on rough terrains. The legs on this tripod have rubberized feet for added stability.
This Manfrotto tripod comes equipped with three bubble levels to align the camera on all three planes. While we found its central column pretty useful, there isn't any way to use it independently. As a monopod, it's not user-friendly.
Pros
Three bubble levels
Sturdy
Smooth fluid drag systems
Cons
Low quality plastic knobs
---
How to Choose a Tripod?
The tripod is an under-appreciated but essential part of every photographer's kit. As a professional photographer, years of experience make buying a tripod a relatively more straightforward job for you. For beginners, it can be a daunting task.
If you're buying your first tripod, then the various options can overwhelm you. To ensure you make an informed decision, we've prepared a guide on tripods for you.
Setup
The first feature you want to check your tripod for is usability. Poorly built tripods may require several adjustments to height, locks, and stability, making even a basic setup feel like an uphill task. Take into account the feet, angle adjustments, locking mechanism, and build on the tripod. Research a few tripods for these features before making your purchase decision.
For beginners and professionals, a good tripod should allow you to set up at a shoot location quickly and dismantle with equal ease once you're done.
Leg Sections
Tripods usually come with three, four, and five-section options. The number of sections determines the portability, stability, and compactness of the tripod. More sections also mean the tripod is short. Extra sections on your tripod take more time to set up as well. It could also be unstable due to this.
You will also have to consider the shape and length of the legs when folded. This is especially important if you are going to travel with your tripod or pack it during transport.
Take into account leg angles as well. These help you adjust the angle when you need to be working on a sloping surface and add stability to your tripod.
Locks
Do you prefer twist-style or flip-style leg locks on your tripod?
As the name suggests, twist locks quickly slide into place using a twisting mechanism. Twist locks open in a single go when you're setting up the tripod.
Flip locks use a flip motion. Opening flip locks require you to flip them one by one, which can be time-consuming manually. However, they do offer extra stability.
Weight and Height
The weight of the tripod also matters. Will there be situations where you will be required to carry your tripod over long distances? In your line of work, how tall or short do you need your tripod to be?
Address these questions when you're planning to buy a tripod. Check the height without the column extended, if possible.
Center Column
Another feature to consider on your tripod is a center column. While it marginally affects the stability of your camera, the center column helps with angled boom and tabletop shots. We've also listed some tripods with detachable legs and can turn into a monopod instantly, which could be helpful if you need your tripod to multi-task.
Feet
Tripod feet can be fitted with metal, rubber, or both.
Your shoot location will largely determine what kind of feet your tripod should have. Metal spikes are generally excellent for uneven or soft ground. At the same time, rubber feet do the least damage and are suitable for carpets or wooden floors. Manufacturers do offer alternative tripod feet, so definitely check out that option.
Budget
Why should you invest in the best camera tripod for your needs?
A tripod, like a camera, is a big and significant purchase that significantly impacts the quality of your photographs. Most photographers don't buy new tripods very often. So, it's worth splurging a little if you don't plan to upgrade anytime soon.
Your budget can primarily be based on your requirements from the tripod. You may need it for stability during outdoor shoots, or perhaps you require one to offer superior shots while shooting videos; whatever it is that you need, a tripod can enhance the final output and is worth investing in.
Sturdiness
We are often asked, 'What's the Best Tripod Brand?'. There's no definitive answer because you have to buy a tripod that suits your needs. You may be a seasoned photographer or an amateur just starting. However, the one non-negotiable feature is that the tripod has to be sturdy. Your tripod of choice should be the one that can handle vibrations and shocks and yet deliver the perfect picture every time.
Build
In the current market, many tripods are built of carbon fiber. For photographers who travel extensively, these are an obvious choice. Carbon fiber is light and strong, but it is also more expensive. Carbon also absorbs vibration better than aluminum.
A tripod made of Aluminum is better suited for use by beginners. Since they are just starting, amateur photographers will find aluminum tripods more pocket-friendly. However, these do tend to be heavier.
Style of Shooting
If you are a wildlife or weather photographer, then an easy and fast setup is the key to getting good shots. For you, quick-release grips provide greater functionality than rubber twist leg locks.
Gear
Calculate the total camera weight you need your tripod to hold after you attach the biggest lens. That should give you an idea of what the load capacity of your tripod should be. Don't forget to add the weight of the other accessories to this number as well.
Final Thoughts
We hope that our comprehensive guide to buying a tripod covering various aspects was helpful to you. Now that you're armed with all this knowledge go ahead and buy your tripod and get started on your photography journey.
Did our article help you with your tripod hunt? What tripod did you buy?
Let us know your feedback in our comments section below!
Using WordPress and want to get Envira Gallery free?
Envira Gallery helps photographers create beautiful photo and video galleries in just a few clicks so that they can showcase and sell their work.