9 Best Photography Lights Under $1000
by Dawn Gilfillan on May 11, 2021
In this article, we'll look at the best photography lights for under $1000. This is part of an ongoing series where we offer advice on what photography lights you can buy for yourself or someone else within a specific budget. Each of the articles in this series shows a selection of equipment that we think best fits the price level.
Why you should trust us
We are photographers and photography enthusiasts with decades of experience using various photography software and hardware for all types of photography scenarios.
Who this is for
Beginner photographers or professionals looking for the latest photography lights under $1000.
Before purchasing, consider your needs and do further research to ensure the product is an ideal choice for your situation.
How we picked
Each item in this article comes from our past experience, and each could be useful in various situations.
---
Photography Lights Under $1000
There's a huge range of photography lights out there, from budget options to professional lighting systems that are beneath or right on the $1000 price point.
Some are great for those just starting in the world of photography lighting, and other options may be temporary solutions to use while you save up for the top-of-the-range lighting kit you've always dreamed of.
---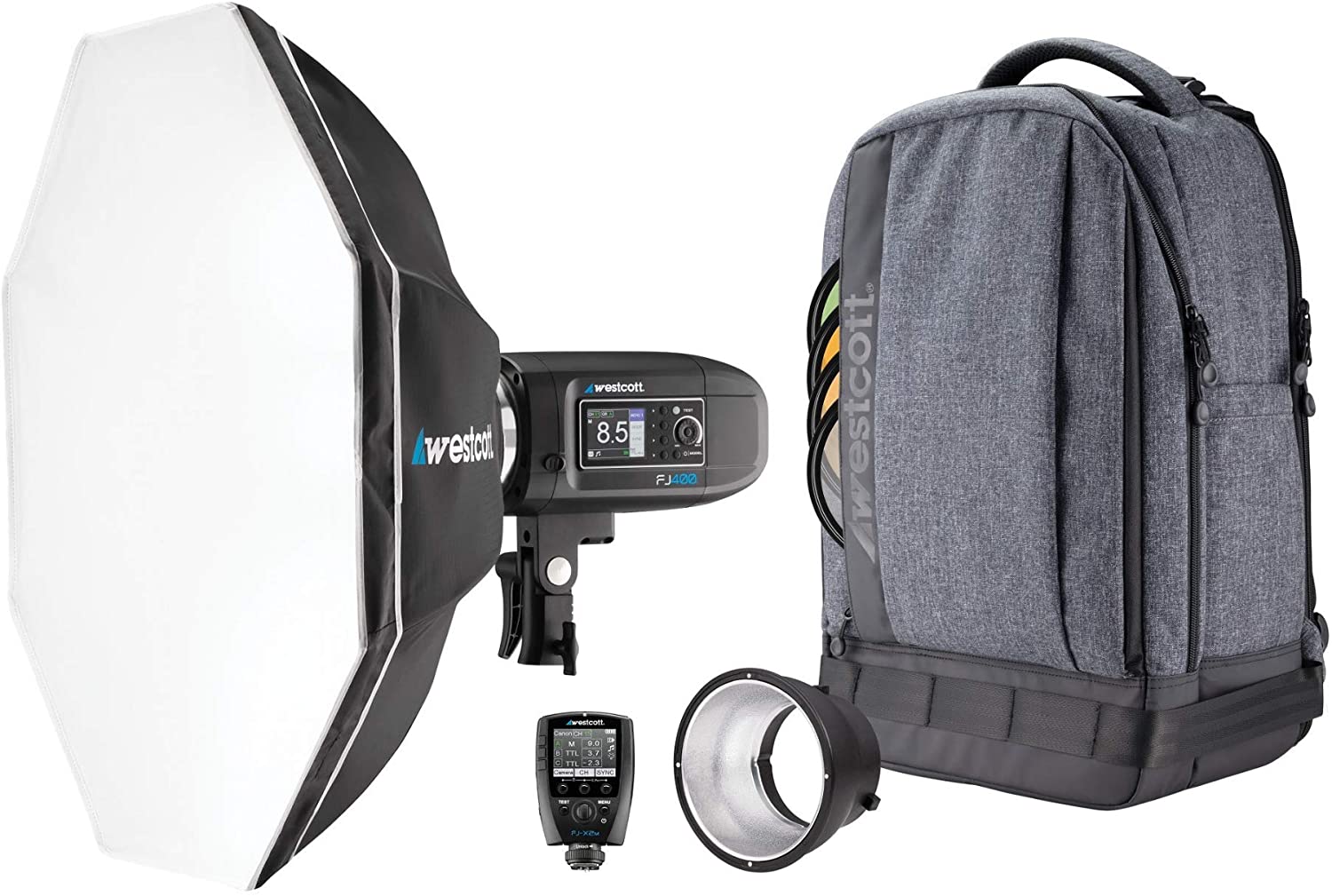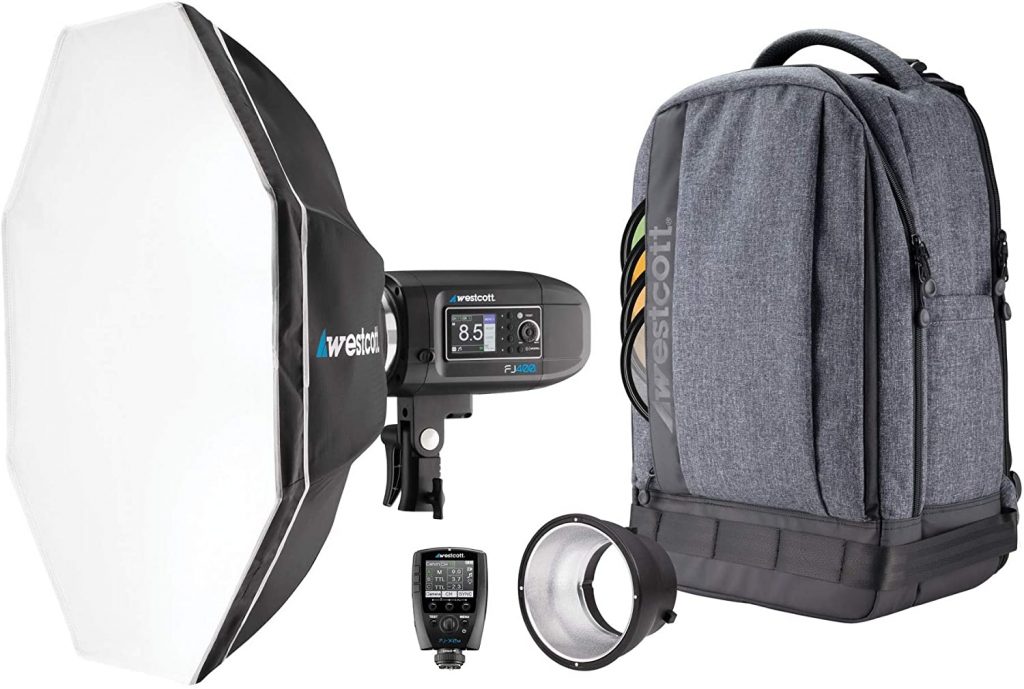 1. Westcott FJ400 Kit
TTL | HSS | FREEZE SYNC | 0.05-0.9 second recycle time
---
FJ400 Strobe with Bowens S-Type mount
AC/DC LiPo Battery
Diffusion Dome
Magnetic Reflector
Gel Set
FJ-X2m Universal Wireless Trigger
Rapid Box Switch Octa-S with Insert
Lite Traveler Backpack
This professional-spec strobe from Westcott does it all, and it also comes with its own backpack which makes traveling with it a breeze.
Often a lot of flash wireless triggers are brand-specific, meaning you have to get the one that goes with your camera, but the FJ-X2m is universal – it will fit Canon, Nikon, Sony (with adapter), Fuji, Panasonic Lumix, and Olympus cameras.
This strobe is powerful and comes with a diffusion dome, gel set, magnetic reflector, and the Rapid Box Switch Octa-S, which means you have a range of lighting modifier options. It's also Bowens-mount compatible, so if you've held on to any old Bowens light modifiers (or Godox ones), you can use them with the FJ400 too.
Westcott decided to go with a removable lithium-polymer battery for this strobe. It provides DC power for on-location and AC trickle-charge performance when the state of charge is above 25%. So you've got the best of both worlds when it comes to powering this strobe.
As for features, you will be spoilt for choice. The FJ400 has an intuitive menu system and LCD color display which makes it easy to use. There are Manual and TTL Flash Modes, High-Speed Sync (HSS) up to 1/8000s, Freeze Sync up to 1/19000s, Continuous Capture up to 20 fps, Mask Function, Delay Function, Automatic Memory Recall, Rear Curtain Sync, group/channel assignment, Group Exposure Compensation, and more. The firmware is also upgradeable via the included USB-C cable.
Yes, it does come at an eye-watering price for a single strobe, but when you look at what you get it's worth it. You can use this strobe in the studio or on location for every conceivable shooting scenario. Fashion, weddings, events, product, portrait, food – this strobe will readily adapt to whatever you throw at it.
---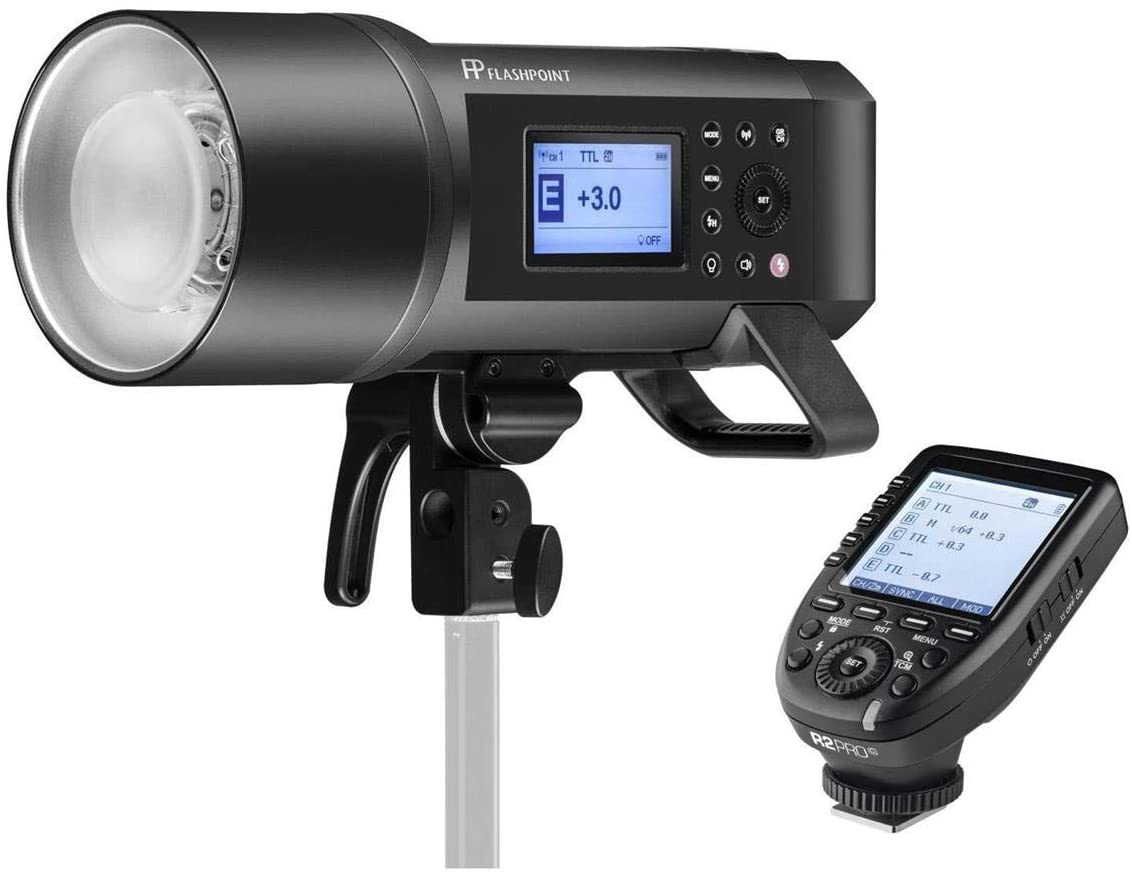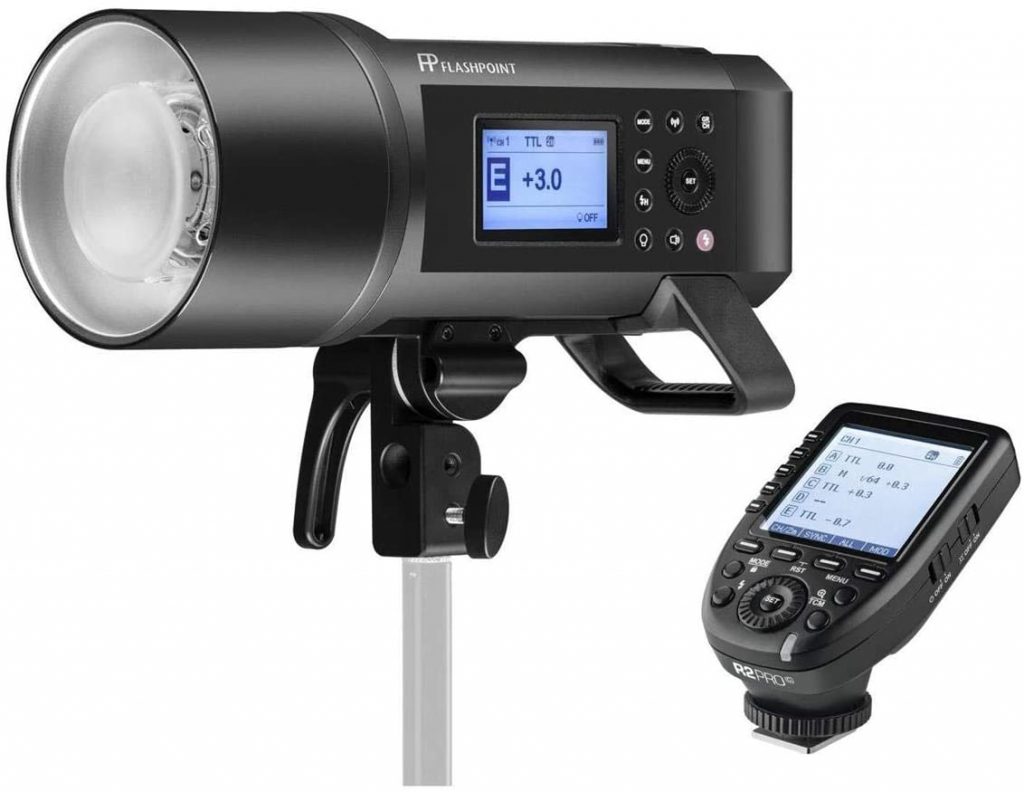 2. Flashpoint XPLOR 600PRO & Transmitter
TTL | Lithium battery or AC Power
---
Flashpoint XPLOR 600Pro TTL Monolight (Godox AD600Pro)
Flashtube
Lithium Battery, Charger, and Cord
Reflector and Cap
Compartment Case
Instruction Manual
Flashpoint 3 Year Warranty
Flashpoint R2 Pro Transmitter For Canon
If you need a portable battery-powered strobe with more power than the Westcott FJ400 above, then the Flashpoint XPLOR is a 600W TTL strobe. It's also known as the Godox AD600Pro which is a bit confusing, but Godox has made this particular strobe for the Flashpoint brand, and it comes with Flashpoint's 3 Year warranty.
This model comes with a Canon-fit R2 Pro Transmitter, but the innovative thing about this strobe is that it can spontaneously link to simultaneous multi-camera systems. For instance, you could shoot with Nikon and Canon cameras at the same time – the XPLOR will automatically sense this and respond accurately without the need to re-sync. This gives endless shooting options, and the R2 Radio System links Canon, Nikon, Sony, Fujifilm, and Olympus/Panasonic cameras seamlessly for a great remote solution.
The XPLOR also features a super-fast recycle time of 0.01-0.9 seconds and has a flash duration of 1/220 to 1/10100 seconds. It has a 1/8000 second High-Speed Sync feature too. A novel addition of something called TCM fusion takes TTL shooting to a new level. It does this by overcoming the exposure fluctuations that may occur in TTL – it saves the successful exposure value to Manual settings for repeat accuracy when shooting.
This flash head doesn't come with any light modifiers, but as it's a Bowens-fit mount it will take all Godox and Bowens-fit modifiers.
The XPLOR is not cheap by any means, but it will become a do-it-all solution for any professional photographer who needs a high-powered, portable strobe – particularly wedding, real estate, event, fashion, and product photographers.
---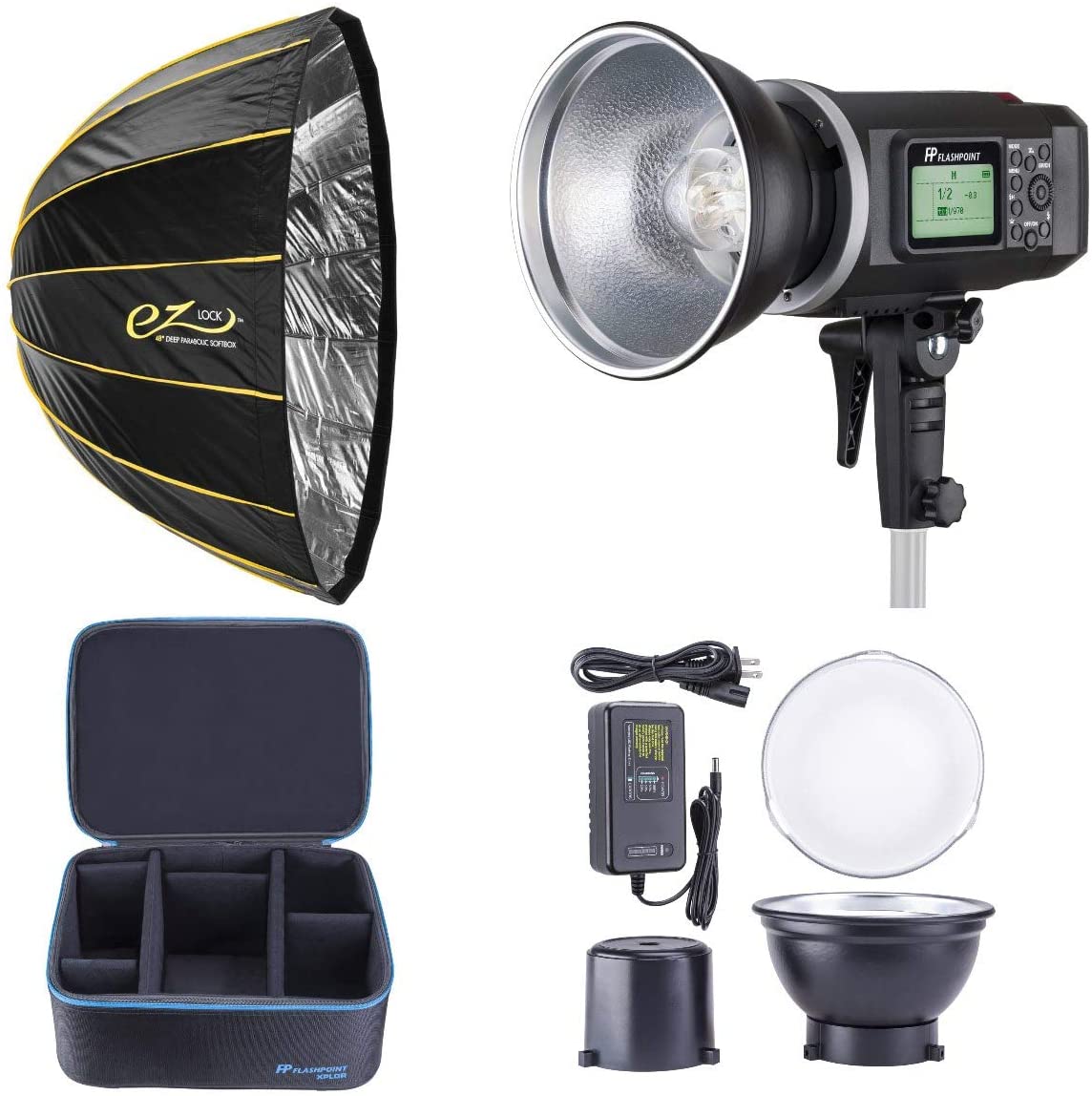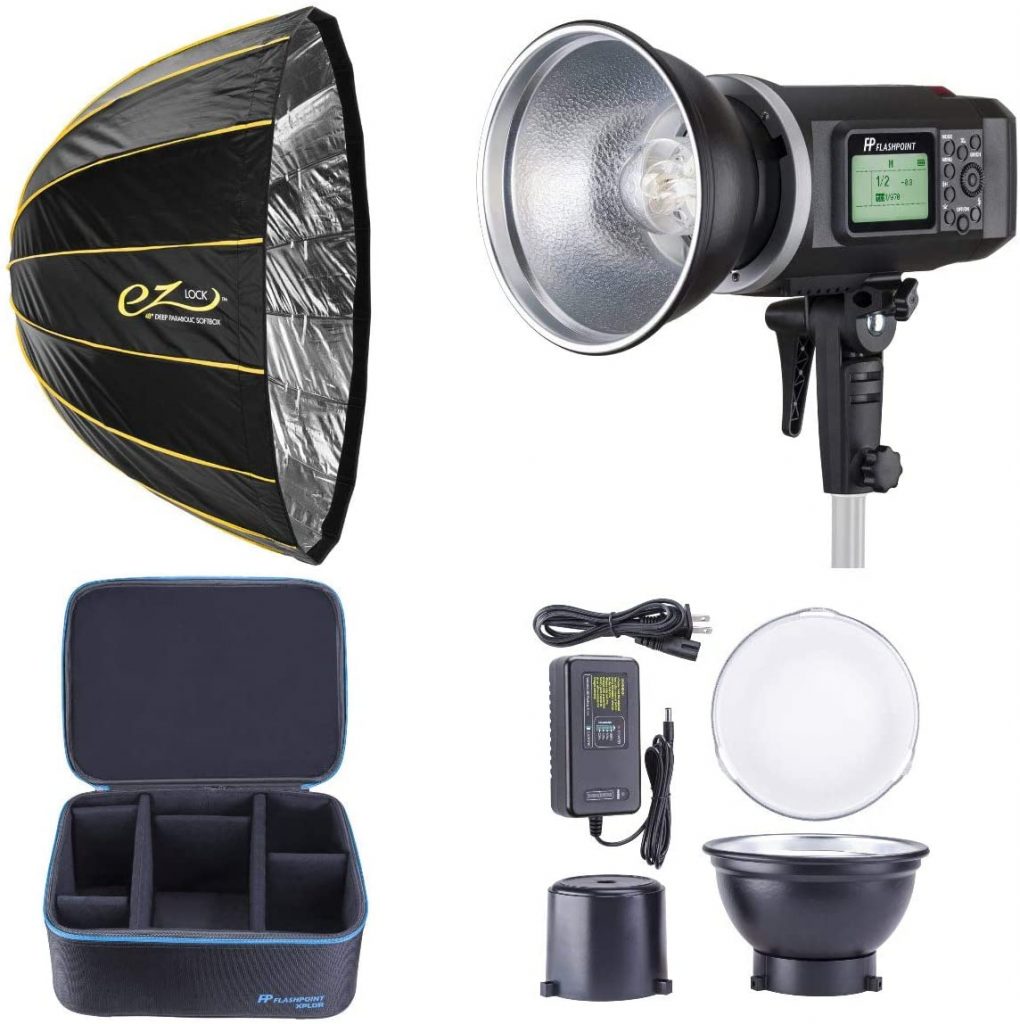 3. Flashpoint XPLOR 600 Kit
Bowens-fit | 2.4G R2 Radio | Lithium battery pack
---
Flashpoint XPLOR600 600ws Monolight
600ws Flashtube
Standard 7″ Reflector
Rechargeable Lithium Battery
AC Battery Charger Set
Compartment Case
Flashpoint 2-Year Full USA Warranty
Glow EZ Lock 48″ Deep Parabolic Softbox
External Diffuser
Internal Diffuser
Eggcrate Grid
Bowens Mount Speedring Adapter (Insert Size 150mm)
Reversible Deflection Cap Disk
Storage Bag
Glow 1-Year USA Warranty
This is another powerful 600W battery-powered flash from Flashpoint, but this one comes with the EZ Lock deep parabolic softbox, which is ideal for portraits, fashion, product, and food photography. The addition of the egg crate grid will give a harder-edged light, which is great for switching up your lighting style.
The XPLOR also comes with an internal and external diffuser to further soften your light. It's compatible with Bowens lighting modifiers too, which is great if you have any old Bowens or Godox modifiers in your collection.
This portable strobe may not have the fancy tech specs of the other XPLOR model mentioned above, but it comes at a cheaper price and with extras too.
---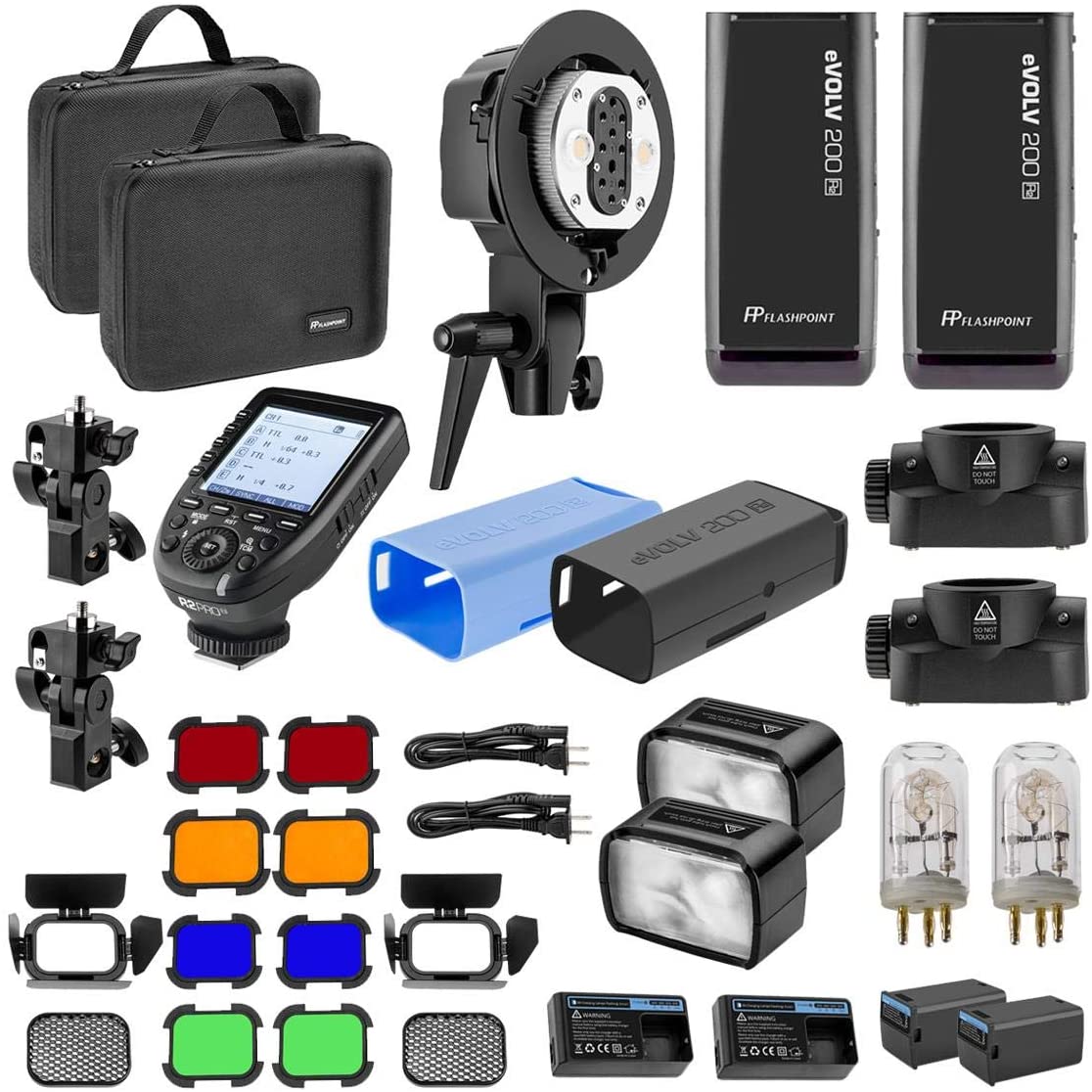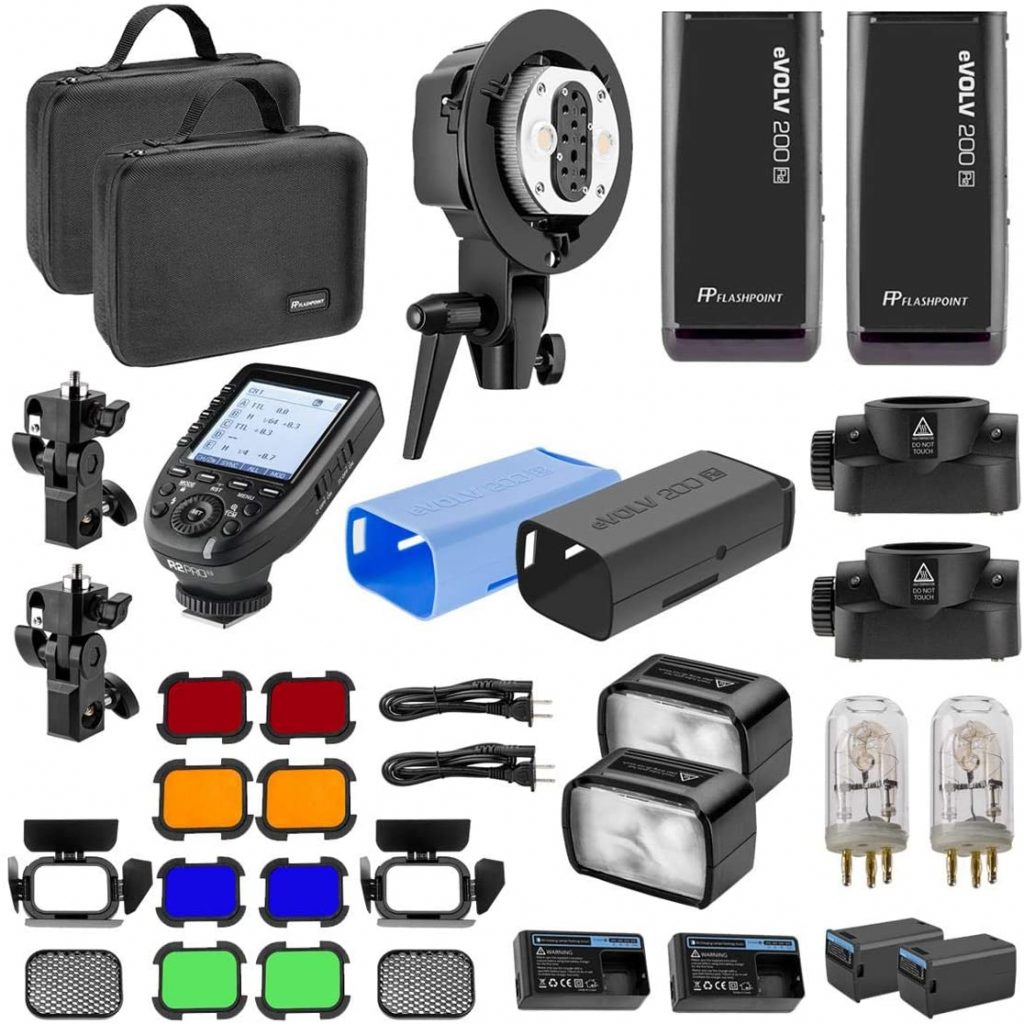 4. Flashpoint eVOLV 200 Kit
2.4 GHz X Wireless Radio | Max recycle time – under 2 seconds | Interchangeable flash heads | LED modeling light
---
2x AD200 TTL Pocket Flash Kits
2x H200 Speedlight Flash Heads
2x Bare Bulb Flash Heads
2x Flash Tubes
2x Lithium-Ion Battery Pack for AD200 Pocket Flash (14.4V. 2900mAh)
2x Charger and Cables
2x AD-E Holders (Stand Mount)
2x Barndoor Kit with 4 Color Gels for AD200 Speedlight Heads
1x eVOLV Twin Head
1x R2 ProN TTL Wireless Flash Trigger for Nikon Camera (XPro C)
2x Silicone Skin for eVOLV 200 Pocket Flash
I haven't included speedlight-type flash heads in this list, but I thought I would make an exception for this eVOLV TTL pocket flash kit. Each flash head is rated at 200W, so you get a total of 400W of lighting power. It may seem expensive, but you're getting a whole kit including barn doors, gels, interchangeable fresnel, and bare bulb flash heads.
You get two of each lighting modifier, and you can use the fresnel-style flash heads to give a traditional pocket flash look (GN170 ft) or use the bare bulbs to give a different lighting style ( GN196 ft). The barn doors, grids, and gels make even more creative use of the lights.
This kit is ideal for those who like to travel or shoot on location. It is a great and adaptable alternative to those who don't want to carry a big, battery-powered monolight around all day.
---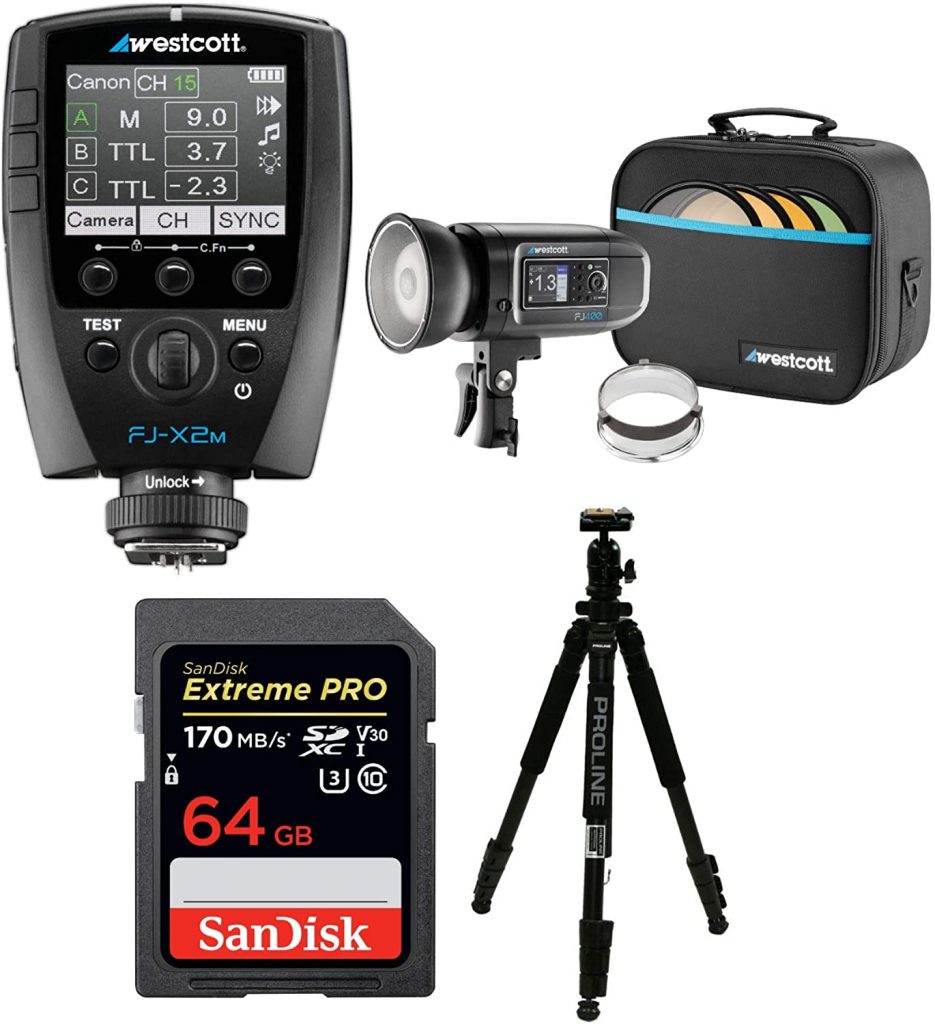 5. Westcott FJ400 400Ws Kit
Freeze Sync | TTL | LED modeling lamp | Fast recycling time
---
Westcott FJ400 400Ws Strobe with AC/DC Lithium Polymer Battery
Westcott FJ-X2m Universal Wireless Flash Trigger
Dolica AX620B 60-Inch Proline Tripod and Ball Head
SanDisk 64GB Extreme PRO 170 MB/s Memory Card
Diffusion Dome
AC Power Adapter and Cord
Magnetic Reflector Bowens, 5.5″
Magnetic Gel Set (3 Color Correction, 1 Diffusion)
USB-C to USB-A Cable
Rapid Box Switch Insert (Bowens)
Travel Case
Limited 1-Year Warranty
Westcott has a reputation for high-quality lighting, and this offering is definitely worth the money. The kit comes with a Dolica Proline tripod and ball head, and a SanDisk 64GB high-speed pro memory card for your camera. A diffusion dome and magnetic gel set complete the lineup.
The FJ400W strobe itself is the same one I mentioned earlier in this list, and the tech specs are the same. It's a great light for just about any type of photography and benefits from being compatible with Bowens and Godox lighting modifiers. This all-rounder strobe is particularly suited to weddings, events, location fashion, and portrait shoots. The addition of the tripod and memory card will benefit a lot of photography beginners, and I'm sure a lot of pros would love to add this versatile light to their collection.
---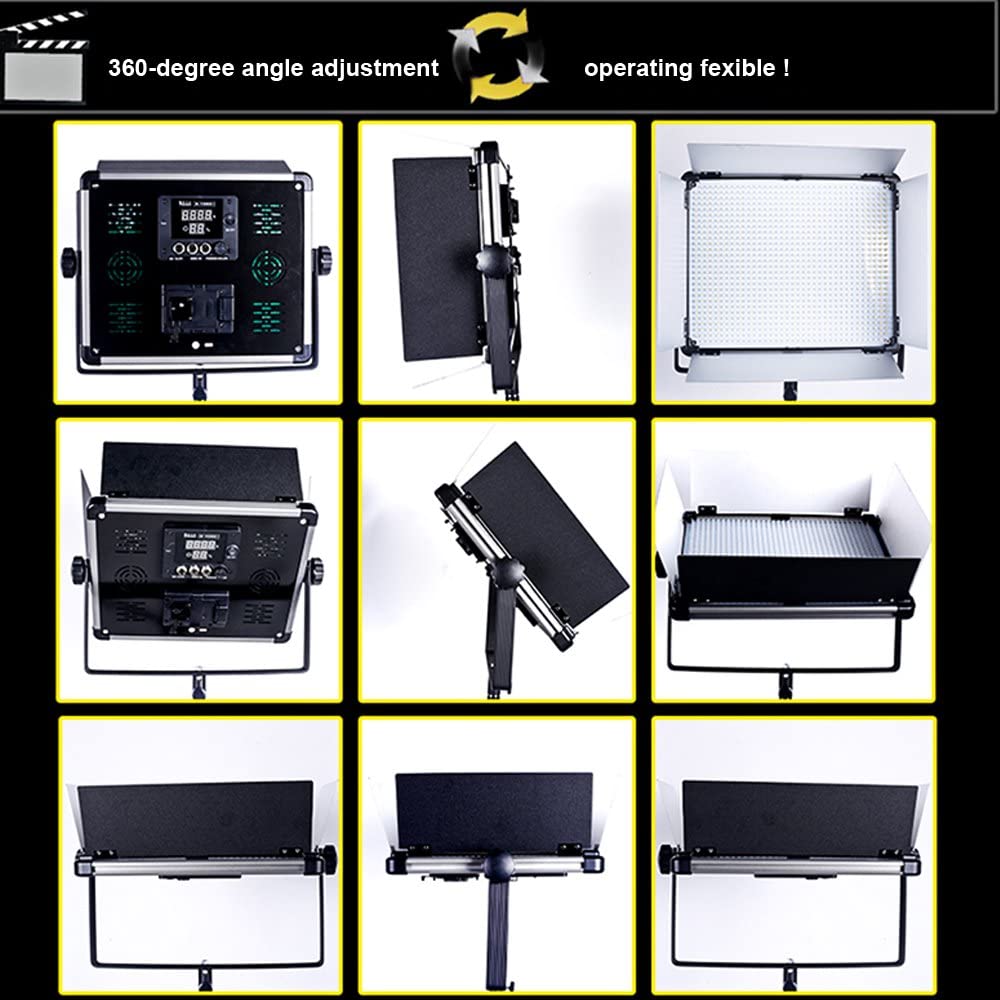 6. Yidoblo SMD E-2000II Kit
Adjustable color temperature | Brightness control | CRI value 96+ | Lumen: 11000 lux
---
3 X Bi-Color LED Studio Light E-2000II with Barndoors
Power cord with AC adapter
Long-range remote control
Diffusion Filter
3 X 280cm/9ft light stands
Instructions
Carrying bag to hold light panels
Carrying bag to hold tripods
This set of powerful LED continuous lights are ideal for both photography and videography. You get three lights, each with dimmable brightness and adjustable color temperature, which makes for a flexible studio lighting setup.
They are operated by remote control, and one of the great features of these lights is that there are two ways of powering them – the AC adapter power supply for indoor shooting and the V-mount battery supply for location shoots.
These LED lights are useful for a range of tasks, including most types of photography and video/film creation. You can also shoot using smart devices – something you can't do with flash heads.
---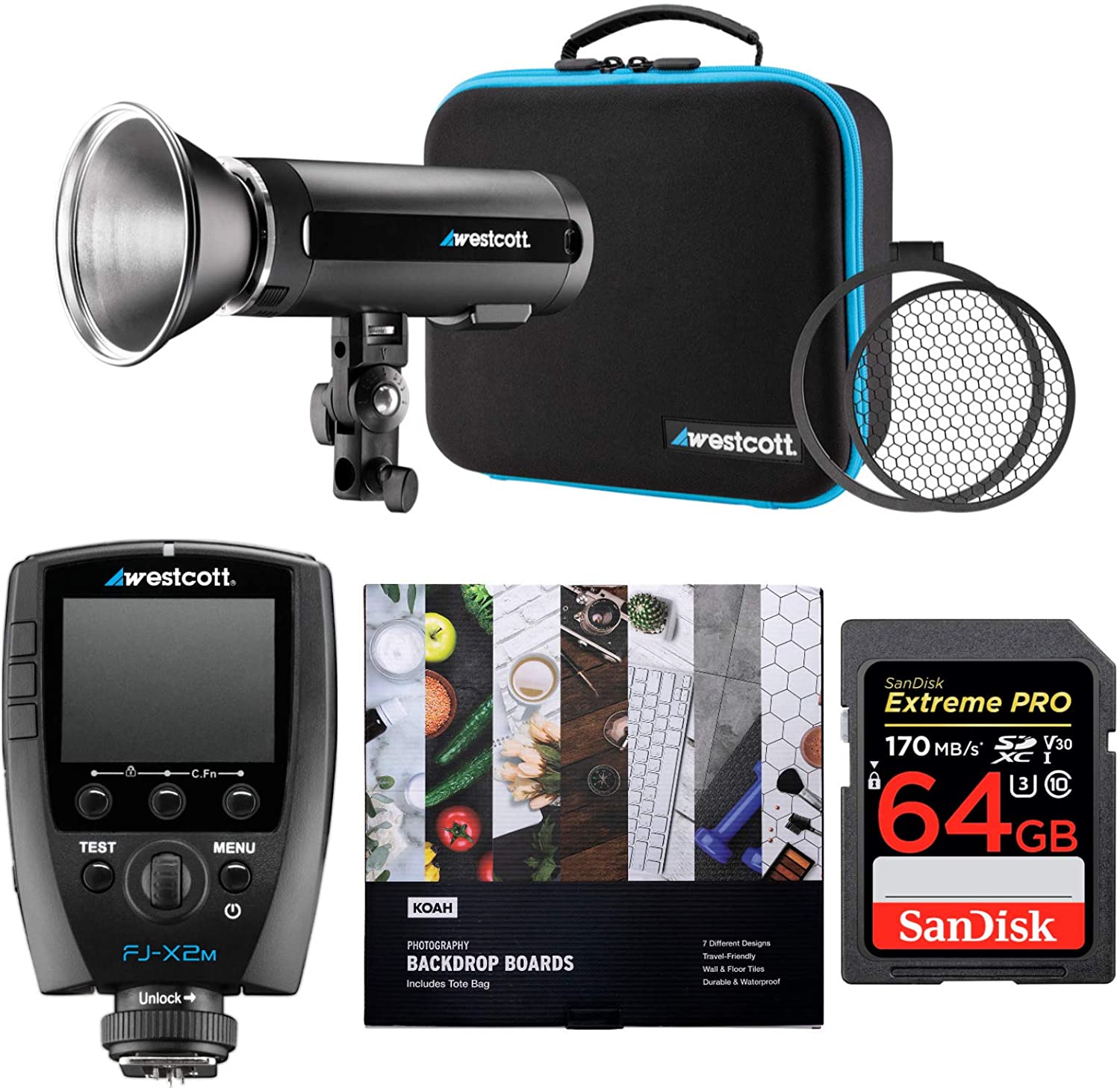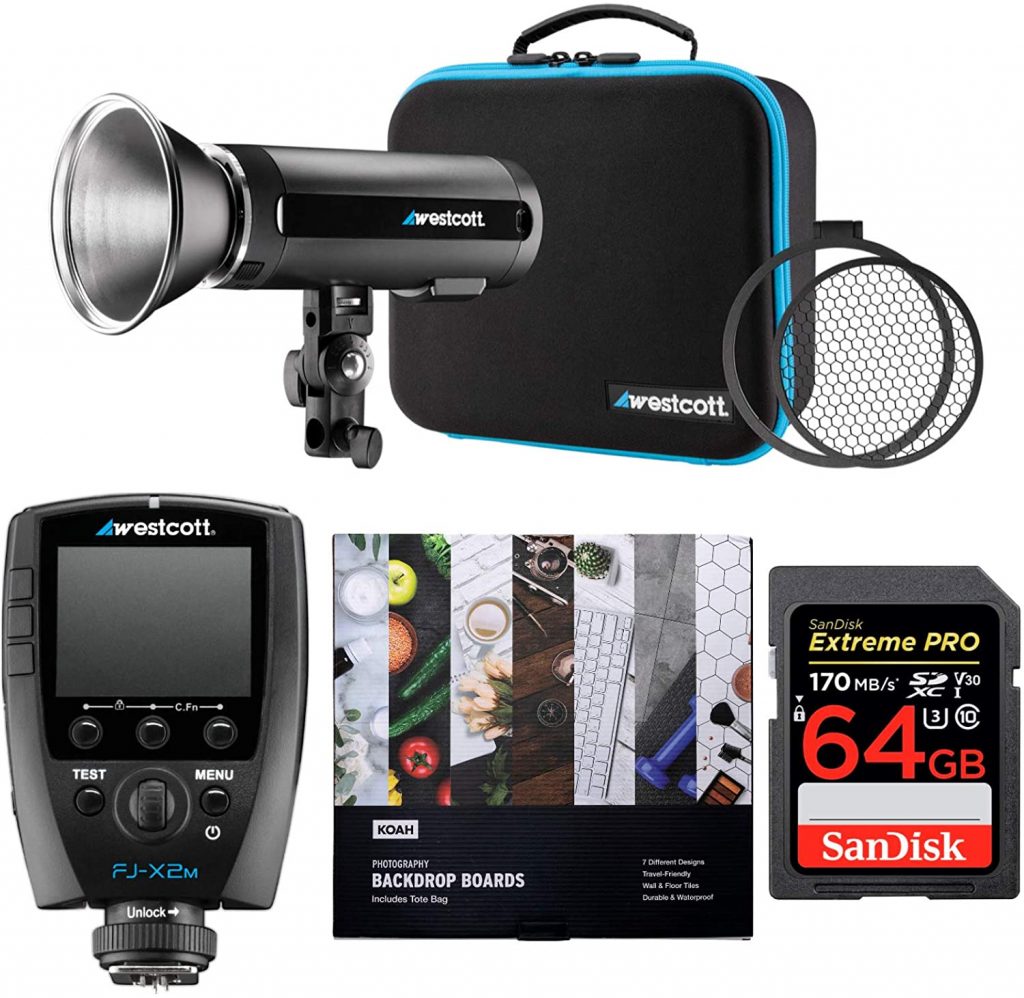 7. Westcott FJ200 200Ws Kit
0.05 to 1.3-second recycle time| Compact | Accurate color temperature stability | Reflector, grid, and gels included
---
Westcott FJ200 200Ws Strobe Light
Westcott FJ-X2m Universal Wireless Flash Trigger
Koah Photography Backdrop Boards with Tote Bag (13 x 13 Set with 7 Designs)
SanDisk 64GB Extreme PRO 170 MB/s UHS-I SDXC Memory Card
This Westcott 200 watts strobe is an ideal choice for food, product, social media, or e-commerce photographers. It comes with a reflector, grid, and gels as standard and this bundle also includes a 64GB high-speed memory card and 7 Koah backdrop boards to help you style your images.
While 200 watts isn't hugely powerful, this strobe is more than capable of giving good light. It's small enough to fit in the palm of your hand, which makes it the ideal choice for those who travel a lot or who don't have masses of space to set up a studio.
The FJ200 has an extended flash tube and round flash head like its big brother the FJ400. This gives superior light output compared to traditional flashes – it both improves light output and emits a more even light spread.
---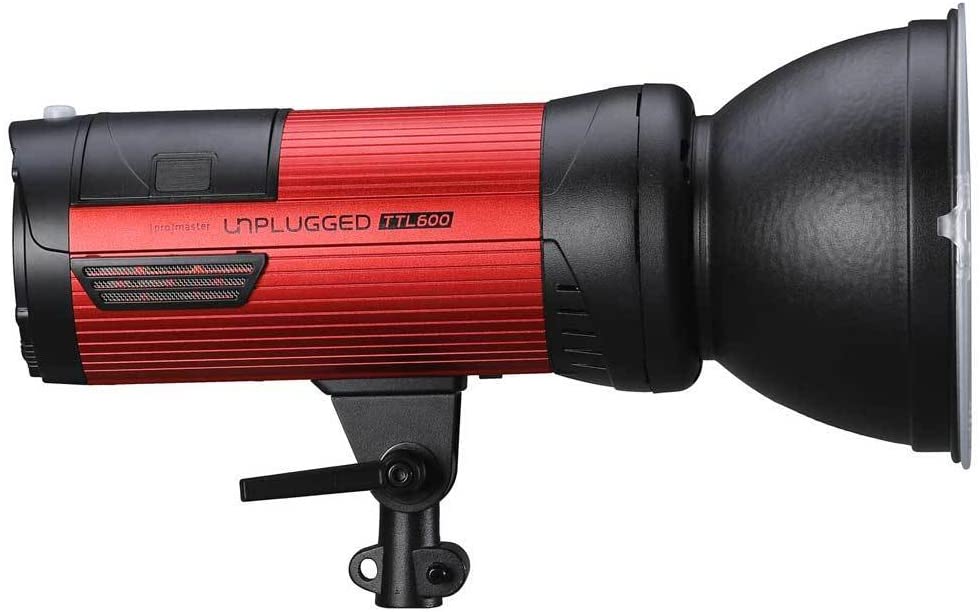 8. Promaster Unplugged TTL600
TTL | Recycling time: 0.1 – 2.5 seconds | 15 Channels with 99 IDs
---
If you're a beginner at using studio flash heads, or if you shoot a lot in constantly changing lighting conditions, then this powerful 600W battery-powered monolight strobe might suit you. It's ideal for wedding, event, real-estate, and other location photography as it features TTL capabilities – you don't need to constantly measure and change your flash output in different light conditions because it automatically changes with TTL as you change your camera's ISO/aperture/shutter speed.
The only gripe I have with the Promaster is that you need to buy both the battery and compatible Unplugged TTL Transmitter separately. For the price they are charging, I would have expected at least the battery to come as standard with this light.
---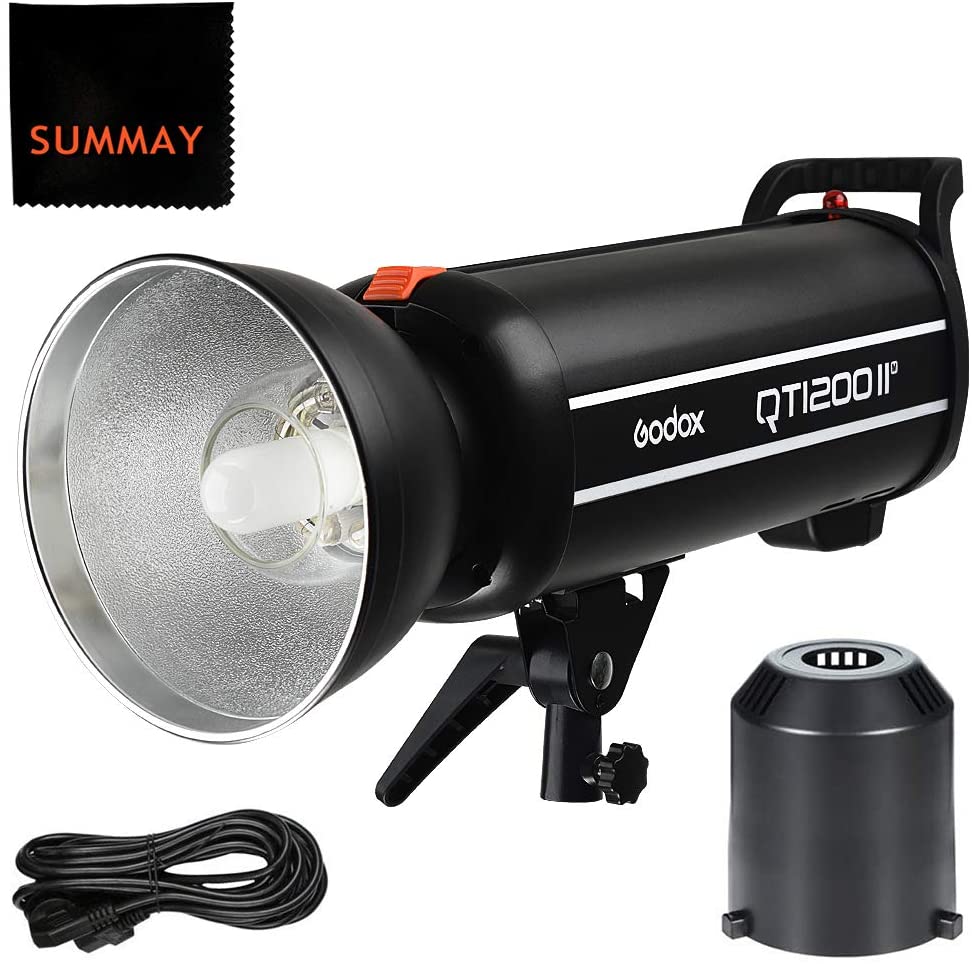 9. GODOX QT1200IIM
High-Speed Sync | 150W modeling lamp | 0.05-0.9s recycling time | 1200W
---
Godox QT1200IIM lamp
power cable
standard reflector
modeling lamp
flash tube cover
If you want power and speed, then the Godox QT1200IIM studio flash has it in spades! It provides a massive 1200W of power and a blisteringly fast recycle time.
This Bowens-compatible light has several flash modes for professional performance options. The Stable Color Mode ensures a precise 5600K color rendition. High-Speed Mode offers short 0.1 flash durations for ultra-sharp capture of moving objects, which is great for capturing dancers and athletes. Alternatively, you could use this mode for creative work, like freezing water movement. The QT1200IIM also supports High-Speed Sync enabling the use of shutter speeds as short as 1/8000 seconds.
This flash head will provide enough power to light up any situation, and is a great lighting choice for weddings, events, sports, fashion, creative product shots, and pretty much every other kind of photography.
---
We really hope you got some useful ideas on how to find the right kind of photography lighting for under $1000 or saw some handy gift ideas for the photographers or videographers in your life.
You don't have to spend a fortune to find the lighting solution to suit you!
Want more?
Do you have your own suggestions to share? Leave a comment to share it with the Envira Gallery community.
Using WordPress and want to get Envira Gallery free?
Envira Gallery helps photographers create beautiful photo and video galleries in just a few clicks so that they can showcase and sell their work.