9 Best Photography Lights Under $200
by chriscct7@awesomemotive.com on Apr 13, 2021
In this article, we'll look at the best photography lights under $200. This is part of an ongoing series where we offer advice on what photography lights you can buy within a specific budget. Each of the articles in this series shows a selection of equipment that best fits the price level.
Why you should trust us
We are photographers and photography enthusiasts with decades of experience. We use various photography software and hardware for all types of photography scenarios.
Who this is for
Beginner photographers or professionals looking for the latest photography lights under $200.
Before purchasing, consider your needs and do further research to ensure the product is an ideal choice for your situation.
How we picked
Each item in this article comes from our past experience, and each could be useful in various situations.
---
Photography Lights Under $200
There is a huge range of photography lights out there. From budget options to professional lighting systems that are beneath or right on the $200 price point.
Some options are great if you're just starting out in photography. Other options may be temporary solutions while you save up for that top-of-the-range lighting kit you've always dreamed of.
---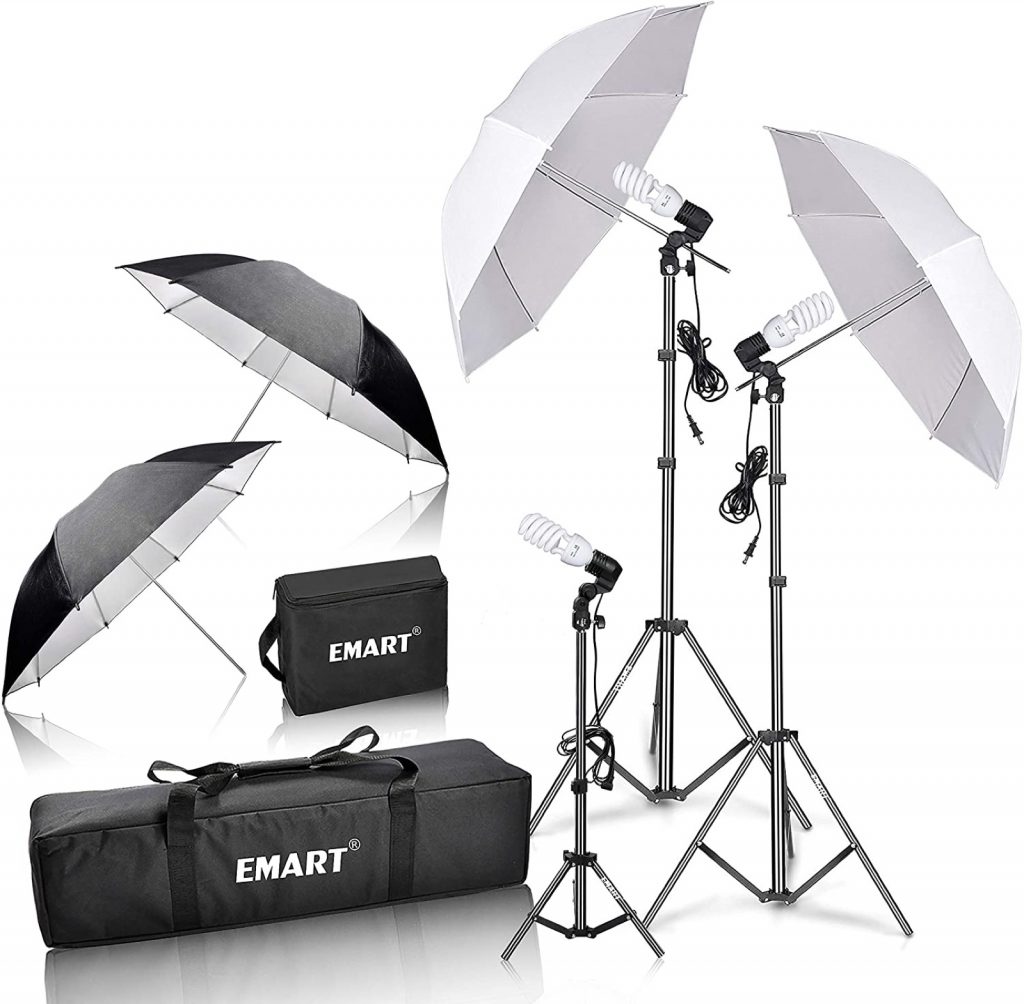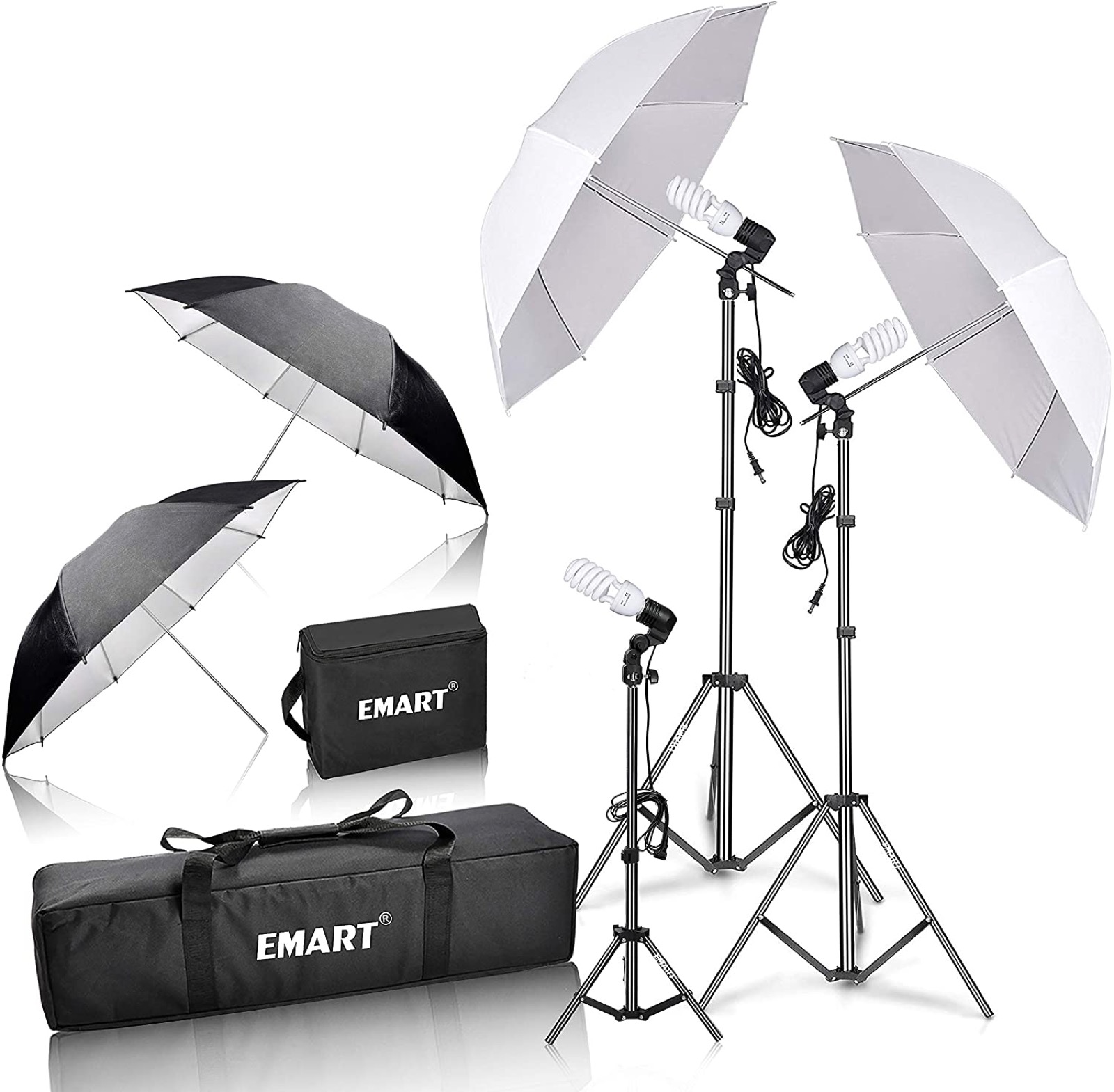 1. Emart 600W
45W | 5500K | CFL Bulbs | Umbrellas | Light Sands | Bags | Case
---
(3)x 45W 5500K Full Spectrum Energy Saving CFL Continuous Photo Bulb
(3)x Single Head Photo Light Holding Socket
(2)x 33 inch Black/Silver Reflector Umbrella
(2)x 33 inch Translucent White Soft Umbrella
(2)x 83 inch Photography Light Stand
(1)x 33 inch Photography Light Stand
(1)x Bulb Carry Case Bag
(1)x Heavy Duty Carry Case
I started my photography career with a continuous lighting kit. It helped me learn a lot about how light falls on the subject, which can be difficult to judge when you're using studio strobe flash.
Continuous lighting tends not to be as bright as strobe flash. I quickly found out that you need to use a tripod for your camera to get the best out of these lights. The reason being you will need to shoot at a slower shutter speed or use a wider aperture to get a well-lit photo with continuous lighting. That being said, these lights are great for portraiture or food photography.
These lights are daylight-balanced, so you won't get any unwanted color casts if you set your white balance on the camera to the daylight setting. The lighting modifiers are very versatile, with two white shoot-through umbrellas and two silver reflective ones.
Umbrellas are great for quick setup and takedown. They take up less space than clumsy softboxes, so this is a good kit to use if your space is limited and if you want to travel with your lighting kit.
As mentioned, continuous lighting kits like this don't pack the power of a studio strobe, and you will need to use a tripod to get the sharpest, well-exposed images. This kit is a good choice for a beginner on a budget and will serve as a good springboard to using other kinds of studio lights.
---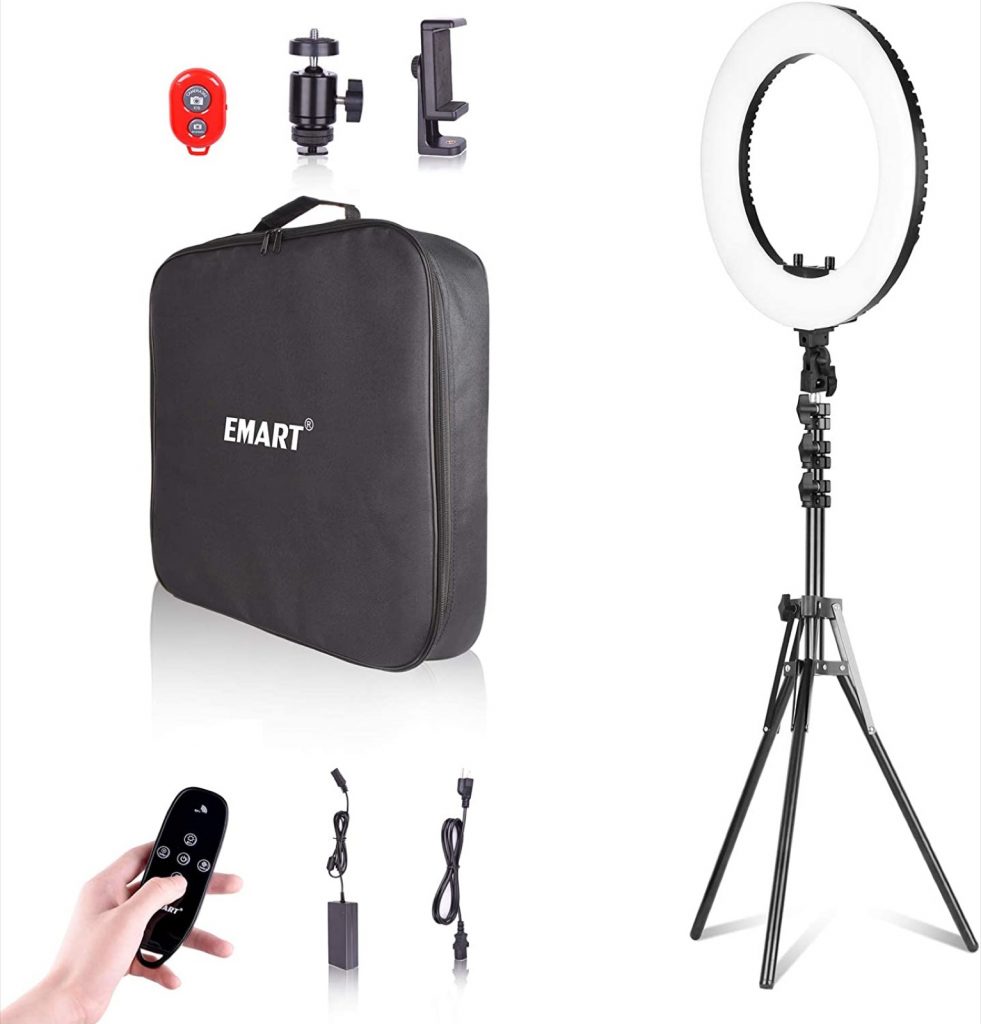 2. Emart 18-inch Ring Light
LED | Ball Head | Diffused | Remote
---
1 x 18 inch LED Ring Light
1 x Ring Light Stand
1 x Soft Tube
1 x Ball Head
1 x Cell Phone Clip Holder
1 x Bluetooth Shutter Remote
1 x IR Remote
1 x Power Adapter
12 Months warranty for manufacturing defects
Ring lights vary wildly in size and quality, and I would suggest you get as large a ring light as you can to give extra flexibility in use. This 18-inch ring light is an ideal size for portrait photography, as well as for video lighting.
The ring light is a favorite of portrait photographers, YouTubers, and beauty photographers. The reason is that the circular shape of the light casts a soft and even glow all over the subject, and it really does seem to minimize flaws and blemishes in the skin. It also gives the subject those beautiful circular catchlights in the eyes.
Another reason to choose a ring light is the portability. It's easy to pack away and travel with, and you can use both a smartphone and a DSLR with it. The hole in the center of the light often comes with a clamp to hold your phone or camera steady in the middle, which makes a ring light much easier to place and move around than a traditional softbox.
A ring light does have limitations, though. It's great for video, portrait, and beauty photography, but although some brands claim they're good for food and product photography, I don't find that's the case, in my opinion.
---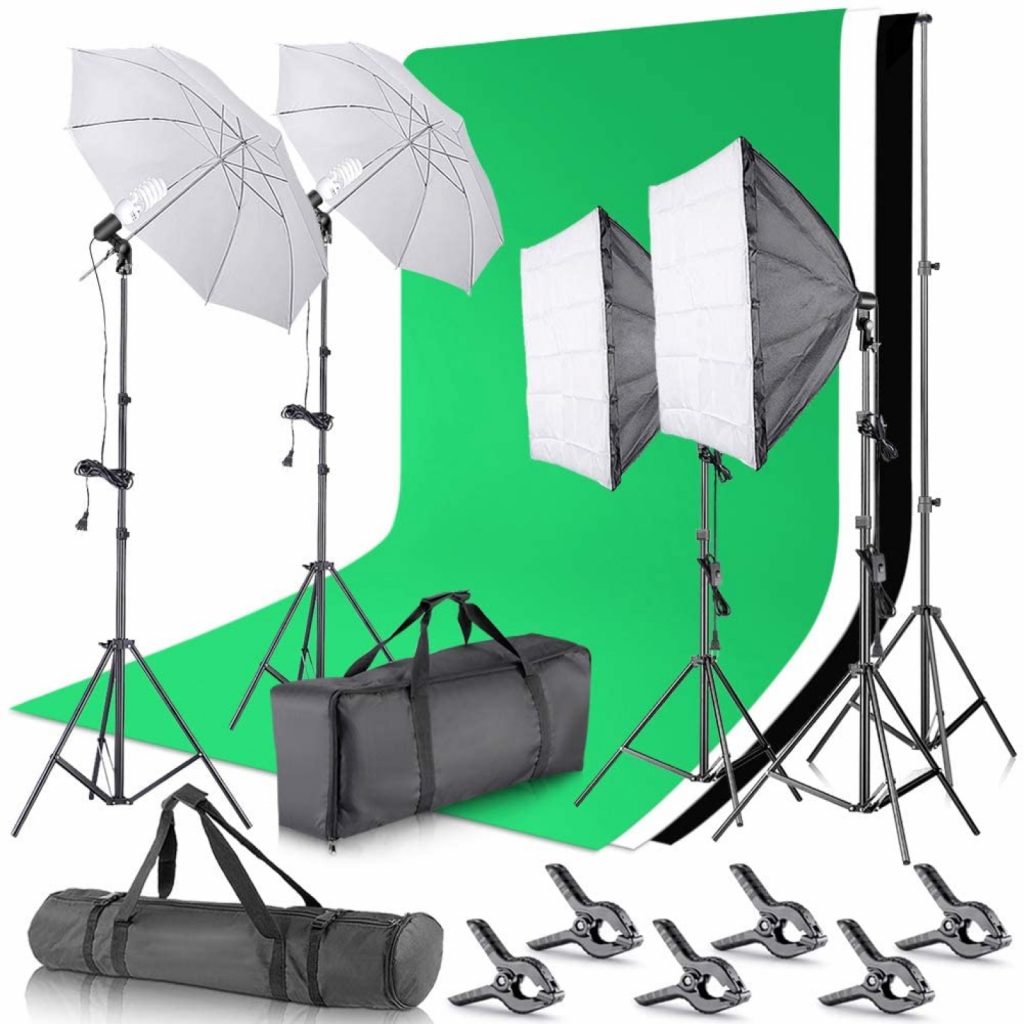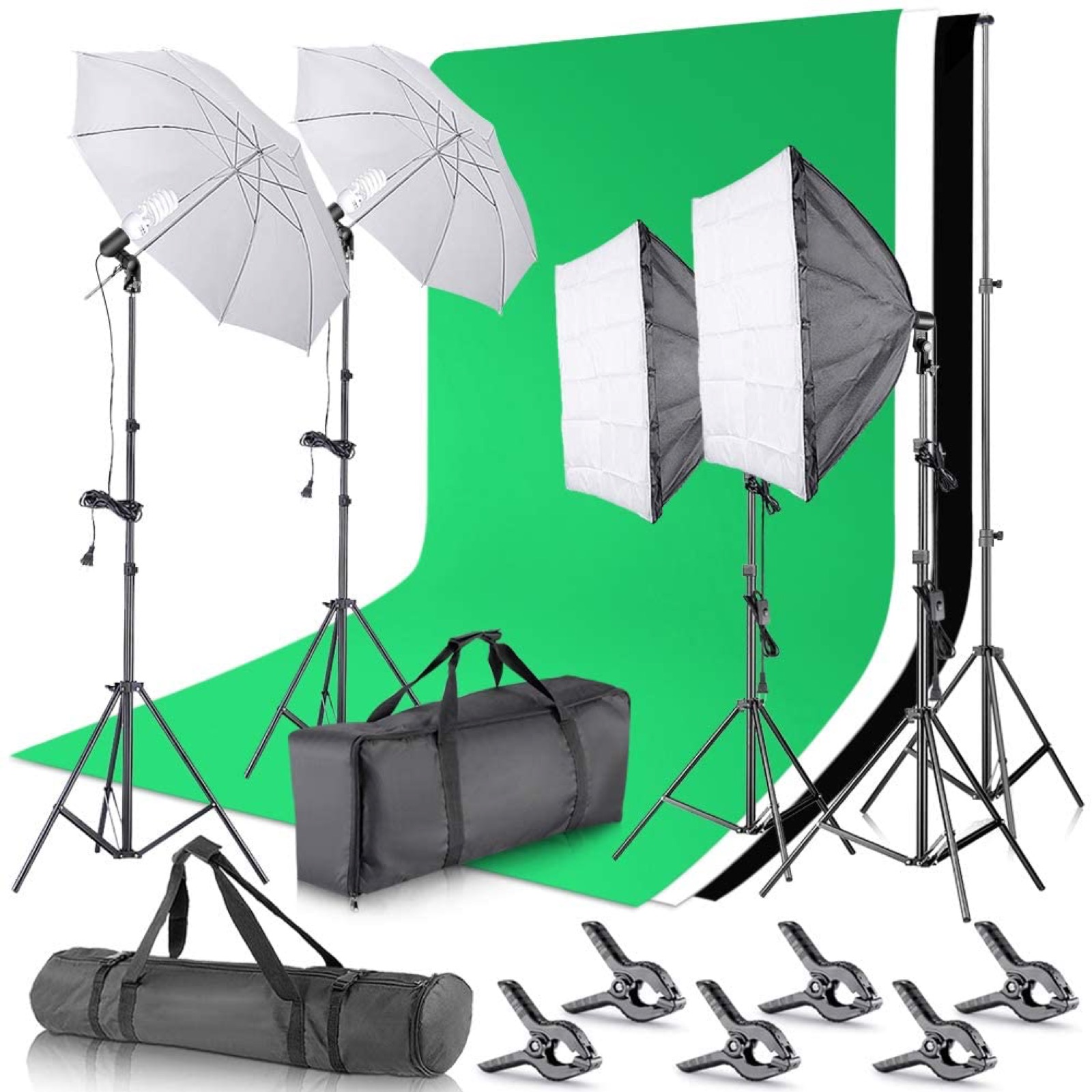 3. Neewer 800W Kit
Light Stands, CFL Bulbs, Umbrellas, Softboxes, Muslin Backdrop, Clamps, Background Stand, Bags
---
4)79″(7 Feet)/200cm Light Stand
(2)Single Head Light Holder
(4)45W CFL Daylight Bulb
(2)33″/84cm Umbrella
(2)24″x24″/60x60cm Softbox
(1)1.8 x 2.8M/6 x 9 ft Muslin Backdrop(Black, White, and Green)
(6)Backdrop Clamps
(1)2.6M x 3M/8.5ft x 10ft Background Stand Support System
(1)Carry Bag for Background Support System
(1)Carry bag
Lighting kits are a great way to get everything you need to start your home studio. This one features different colored backdrops, a backdrop stand, clamps, lights, softboxes, and umbrellas.
It's a continuous lighting kit so you will need a tripod. However, it's a great way to get everything you need as a beginner. When or if you decide to move onto strobe flashes, you will still find the backdrops and stands useful.
Another great thing about continuous lighting kits is you don't need to mess around with light triggering systems as you do with strobe flashes. Just set up your lights, turn them on, and start shooting without worrying about transmitters and receivers.
This makes continuous lights great for shooting videos or using a smartphone or DSLR for still photography.
---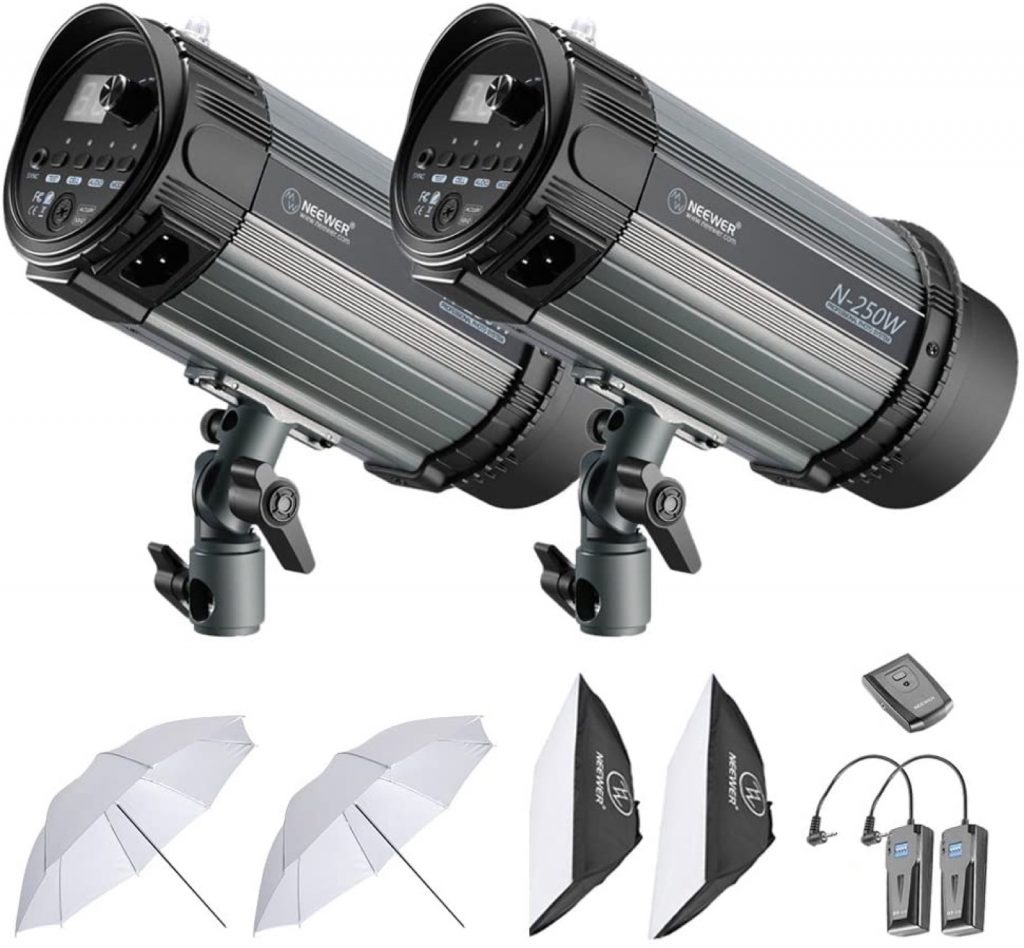 4. Neewer 500W Strobe Kit
250W | 5600K | Strobe | 75W Modeling Light | Wireless Transmitter and Receiver | Umbrellas | Softbox
---
(2)250W 5600K Strobe Flash with 75W Modeling Lamp
(1)20×28 inches/50×70 centimeters Softbox
(1)RT-16 Wireless Trigger
(1)RT-16 Wireless Receiver
(2)33 inches/84 centimeters Translucent Umbrella
Right on the line of our $200 budget comes this 500W studio strobe flash lighting kit. Strobe kits tend to be more expensive than continuous lighting because of the extra technology involved, but if you want a kit that's versatile and powerful, then studio flash heads are the way to go.
500W is plenty powerful for any kind of photography, from portrait to product and everything in between. The great thing about studio flash heads is that you can control the power output on each specific flash head, so you can fine-tune the lighting in any way you wish. Flash heads will also take a range of lighting modifiers, from barn doors to octaboxes, so you can further shape your light.
This kit is great for those dipping their toes into the waters of studio photography. It comes with its own wireless trigger and receiver, as well as two umbrellas and a softbox.
The only limitation with studio strobe flash is that they can't be used with a smartphone or for recording video – they are purely for camera photography.
---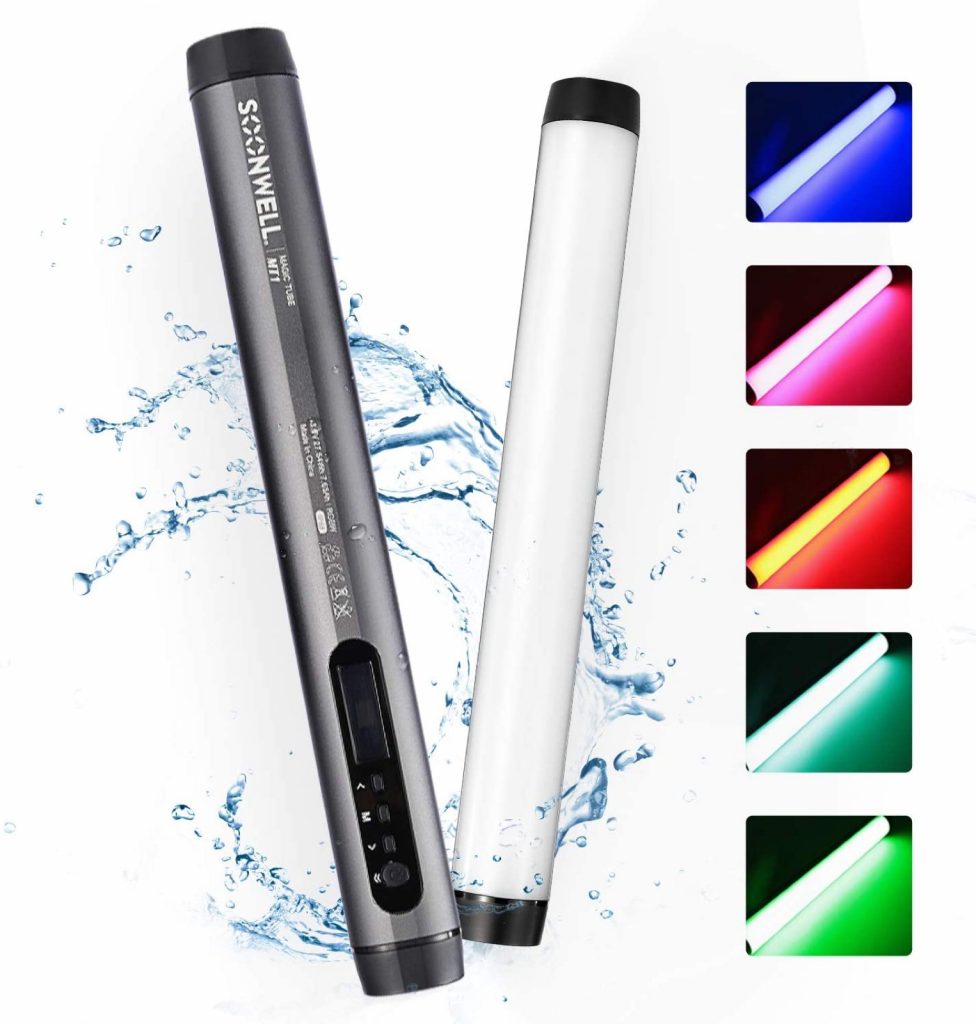 5. Soonwell RGB LED Tube
RGB LEDs | Tripod | Strap | AC Adapter
---
1 X SOONWELL Magic RGB LED Tube
1 X Strap
1 X Thread Adapter
1 X Mini Tripod
1 X AC Cable
1 X Manual
While a light wand may make you think of a Jedi warrior, these LED tube lights are great for creative photography and for shooting videos with different special effects.
They are obviously a very niche type of lighting, so if you're looking for an all-round lighting solution, then light wands are not for you. However, if you are looking for a light to get your creative juices flowing, a light like this offers a lot of versatility – as well as being a lot of fun to use!
They offer a vast range of colors across the RGB spectrum, so you can use whatever color suits the mood of your shoot. They are handheld, portable, and with this model can be used underwater to a depth of 16 feet.
You can shoot using a smartphone, DSLR, or video camera. Many light wands come with a range of built-in special lighting effects for those who are into filmmaking. This one features CCT Flash, Hue Flash, Storm, Police Car, TV, Fire, Disco, Bad Bulb, Fireworks, and more.
It's also magnetic, so you can attach it safely to a metal surface while you shoot or use the mini tripod that comes with it.
It's not a light that will suit everyone but would make a great gift, a good light to use on location, or a useful addition to a studio lighting setup.
---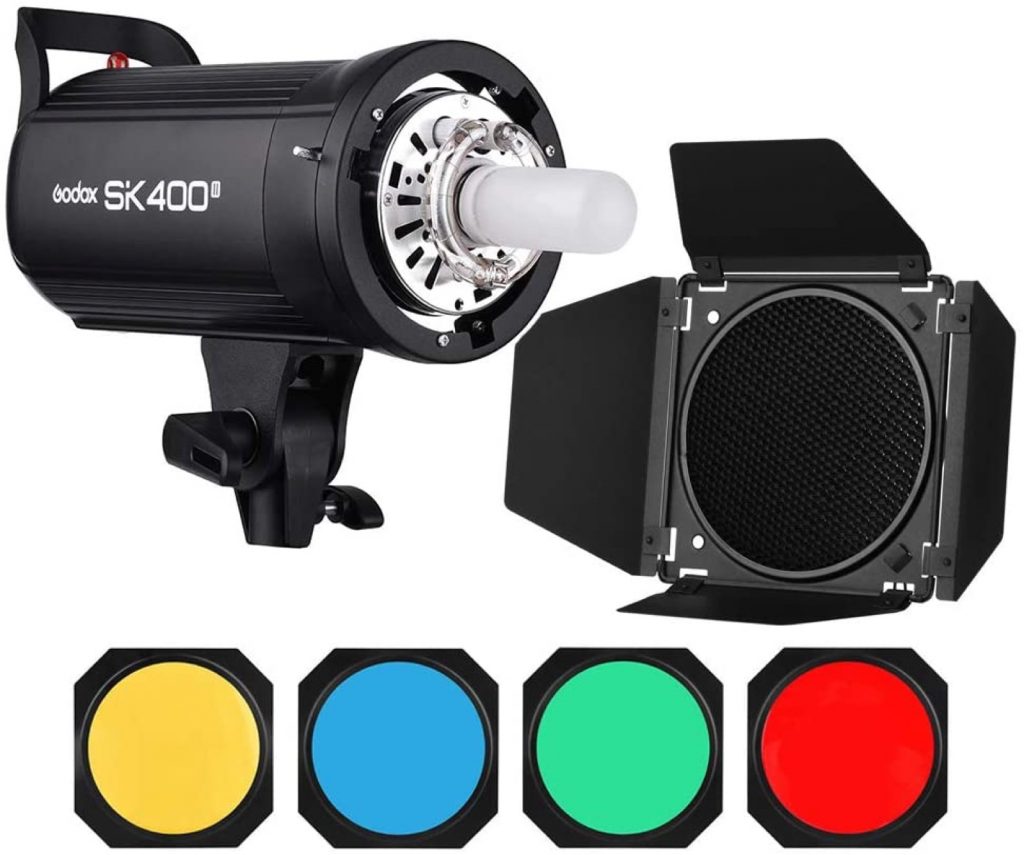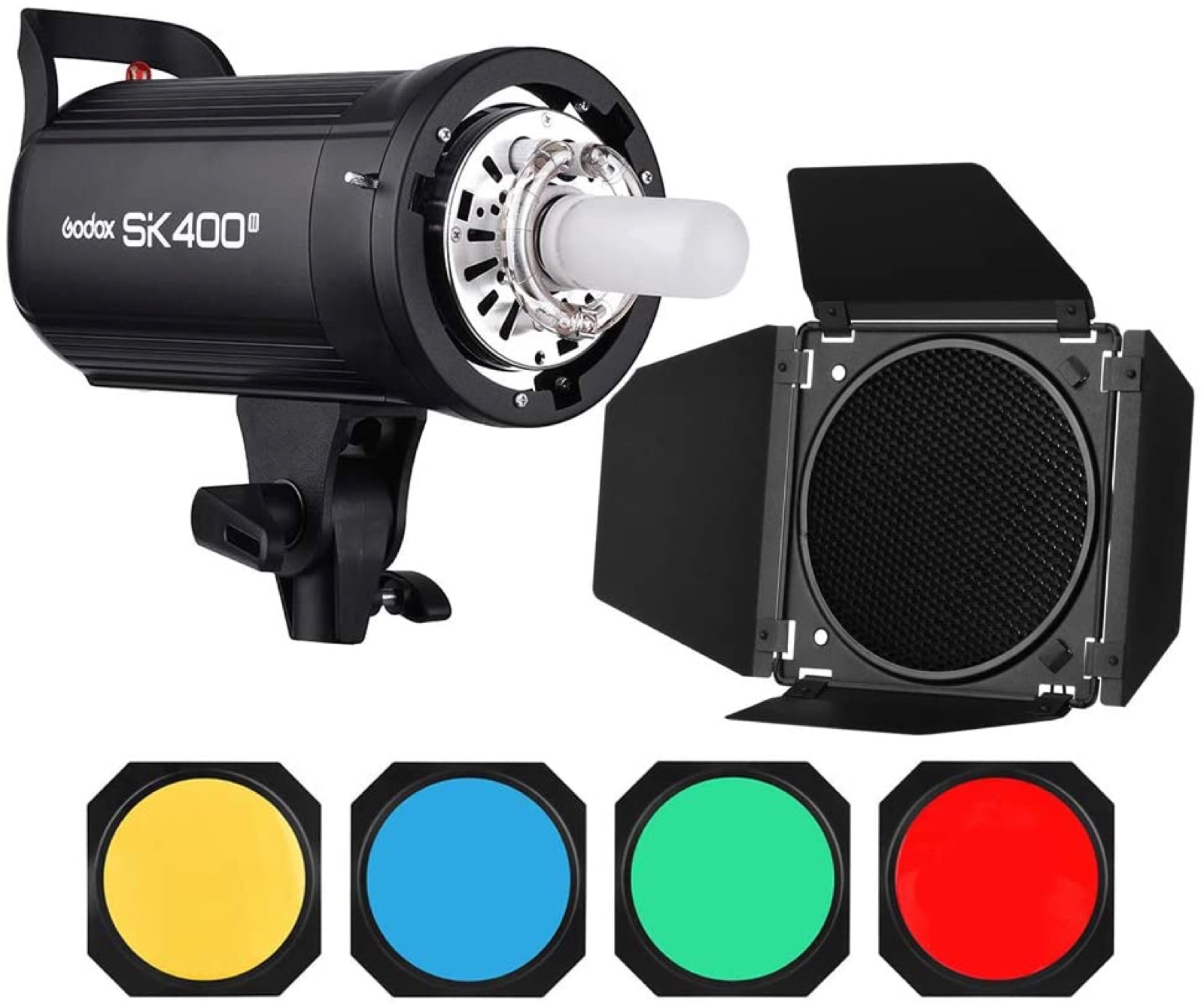 6. Godox SK400II Strobe Kit
Wireless built-in | 5600K | 150W Modeling Light | Barndoors | Gels
---
1 * Godox SK400II studio flash
1 * Power cable
1 * Lamp cover
1 * Modeling lamp
2 * Fuse
1 * User manual (English & Chinese)
1 * Godox Barn Door Barndoor Kit
This flash head is a powerful studio light with a built-in Godox Wireless X triggering system, and a barndoor kit.
Barndoors are a lighting modifier that gives a harsher, more directional light than a softbox or umbrella. You control how much light comes out by closing the barndoors (metal flaps on hinges) or opening them wide.
This barndoor kit comes with four colored gels – red, yellow, blue, and green to give you different colored lighting options. A strobe and barndoor kit like this is a great addition to your ordinary strobe setup. You can use the colored gels to light your background in different colors while you use other strobes to light your subject, or you can light your subject in your color of choice.
The strobe can also be used as an ordinary studio flash head. Godox compatibility with Bowens-mount lighting modifiers means that you can use a wide variety of modifiers on this strobe.
---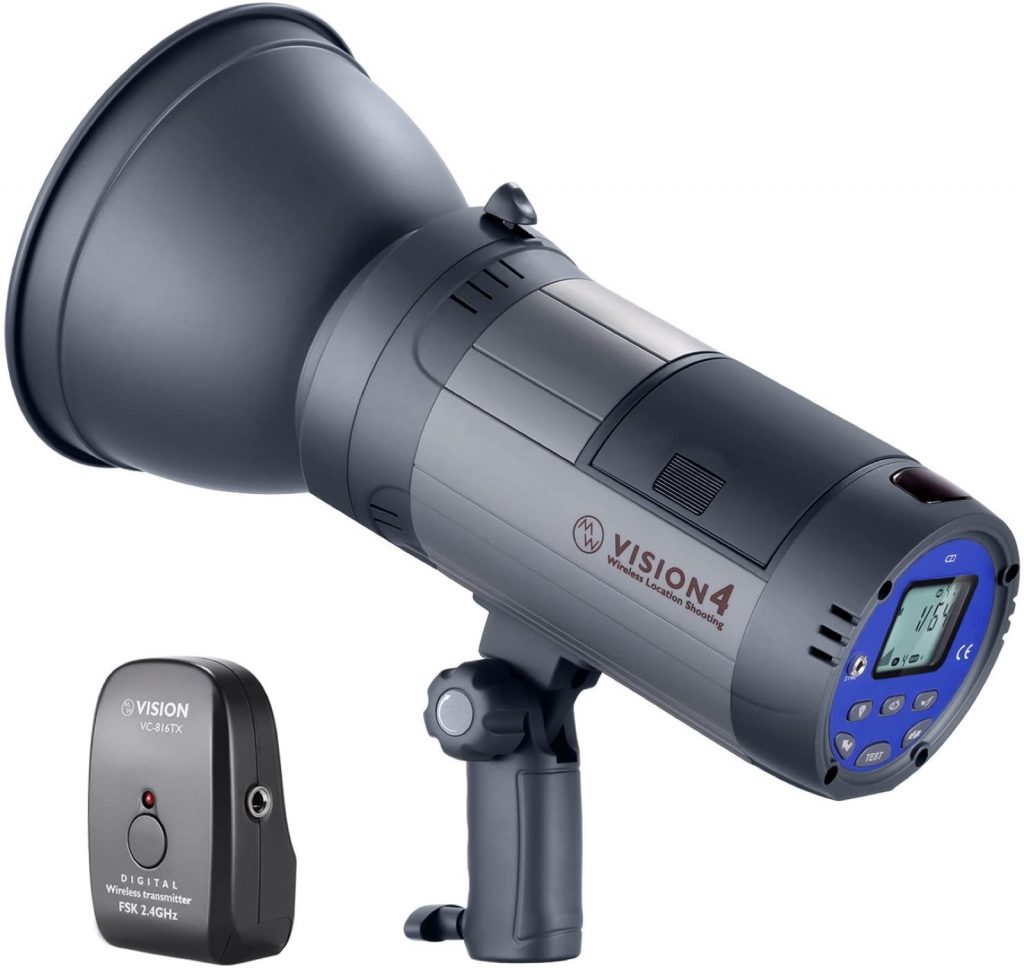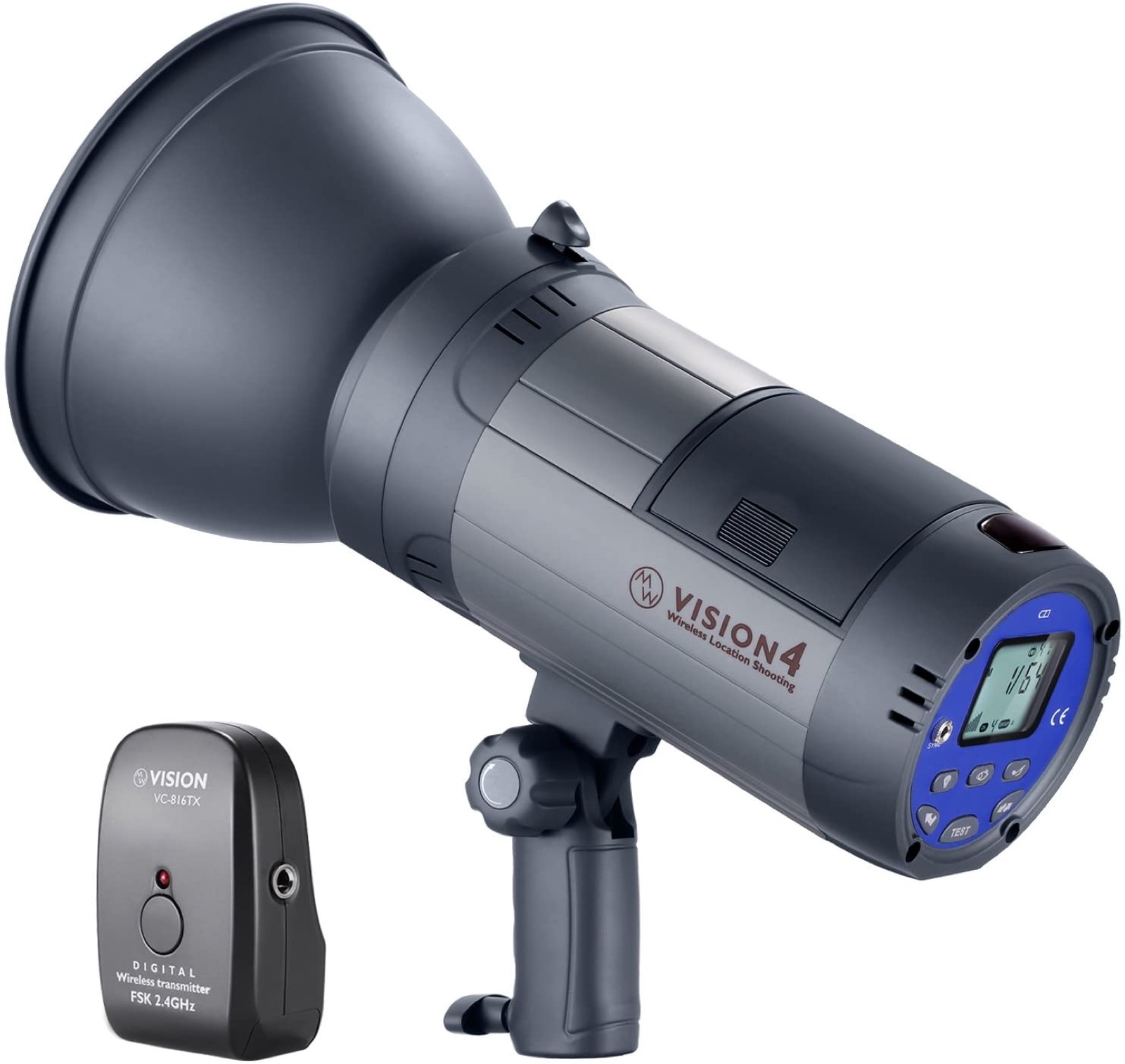 7. Neewer Vision 4 300W
300W | LED Modeling Light | Wireless Transmitter | Battery
---
1 x Neweer Vision4 studio flash
1 x lithium battery (included in the flash)
1 x LED modeling lamp (included in the flash)
1 x 110-130v AC chargers
Standard reflectors
Protective cover
1 x 4-meter 3. 5mm sync cord
1 x Wireless Trigger (battery included)
Okay, so this strobe is nine dollars over the budget limit, but I had to include it because it's not just a versatile studio strobe but also a great outdoor flash head.
Cordless outdoor strobes like this one are powered by a battery. They can go literally anywhere with you to give you the power and controllability of a studio flash head – even if you're halfway up a mountain. This one gives you around 700 full-power flashes on one battery charge and has a decent flash recycle time.
Cordless strobes are also great for shooting indoors. There's no need for finding power outlets or having cables lying around for people to trip over. They are the ultimate go-anywhere flash head, and they take all the usual lighting modifiers too.
---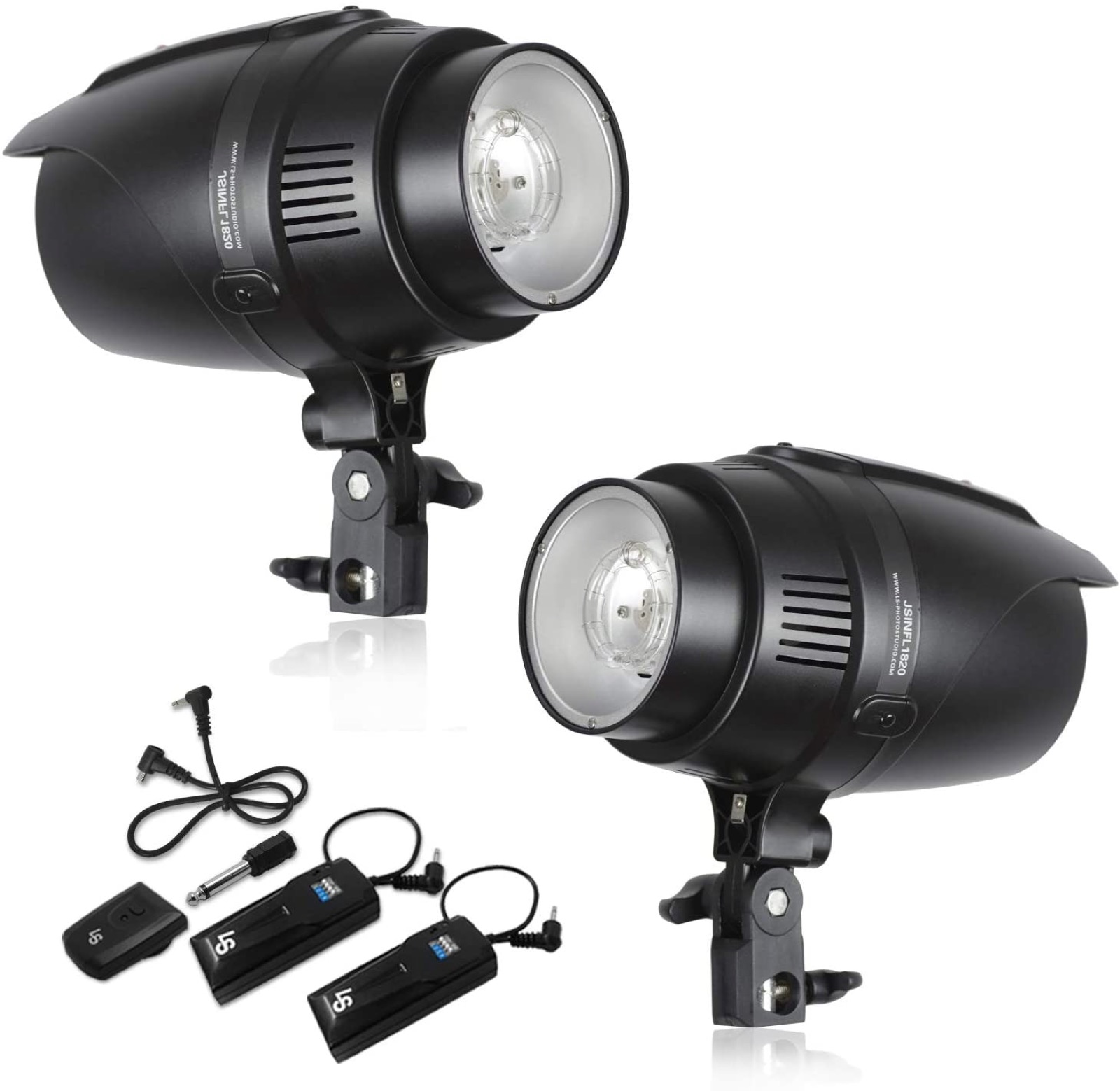 8. LimoStudio 200W Kit
200W | Transmitter & Receivers
---
[2 x] 200 Watt Digital Strobe Flash Light
[1 x] Wireless Remote Trigger with Receiver
[1 x] 4-Channel Radio Receiver
If you really want studio strobes instead of continuous lighting but are working with a very tight budget, these 200W monolight flash strobes may just fit the bill.
At 200W, they aren't massively powerful but will still give you that studio strobe versatility for all kinds of photography. Unfortunately, they don't come with any lighting modifiers. Still, you can actually create your own by using a diffuser cloth or diffuser reflector on a stand in front of the light. This will give you a softbox effect and blunt any harsh shadows.
A kit like this will work for a beginner to the world of studio flash and for those who are on a very tight budget.
---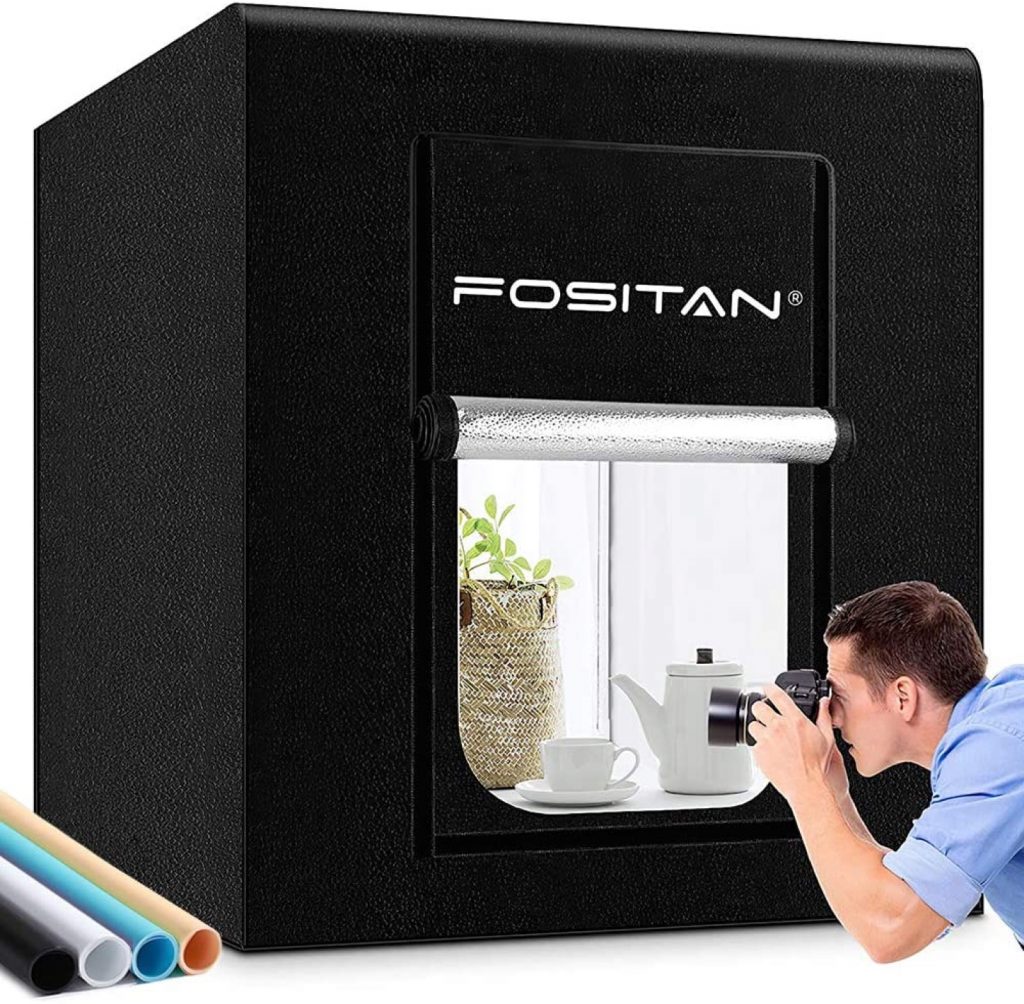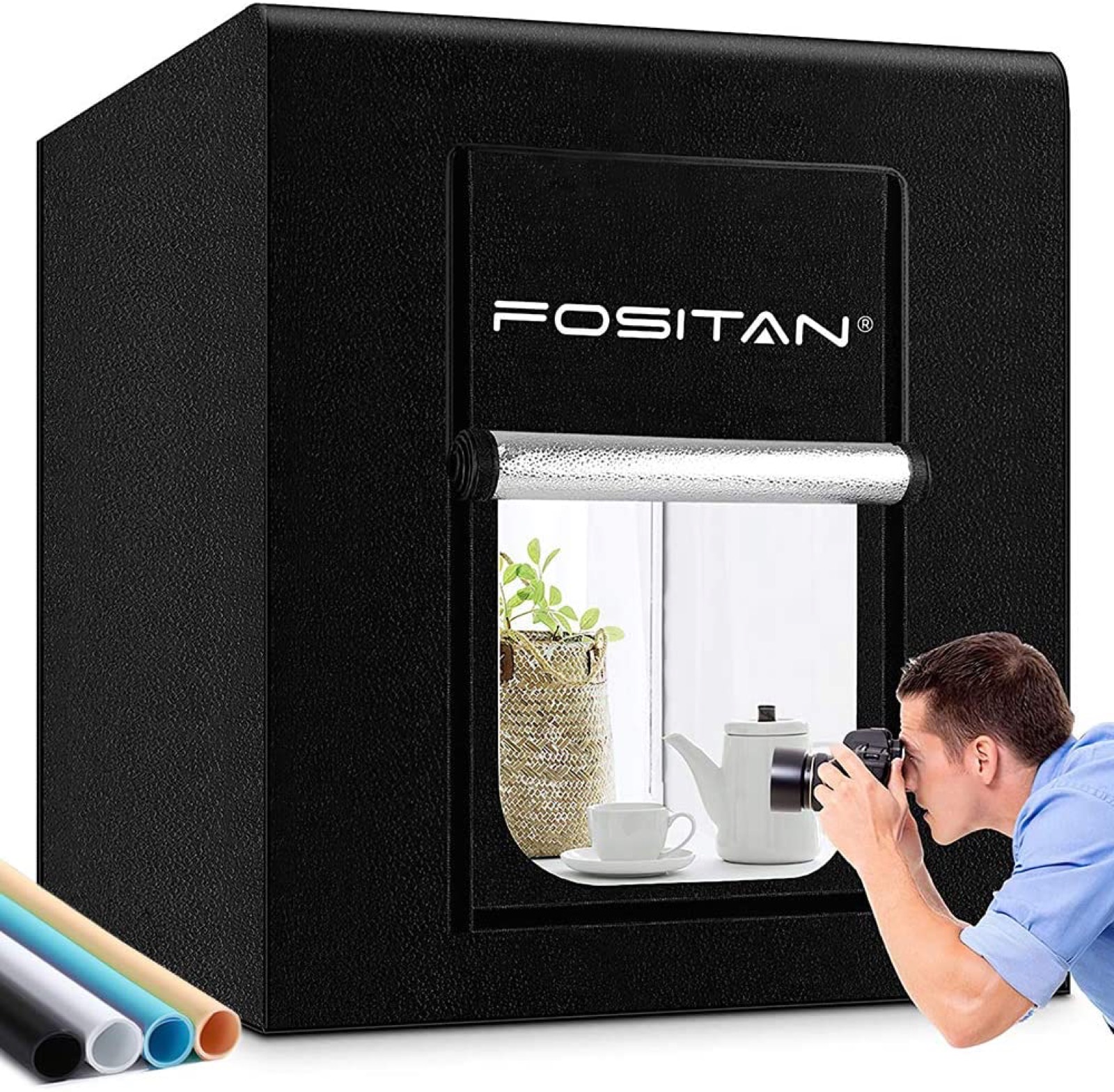 9. Fositan Light Studio Box
LED Lights | Dimmable | Stores Easily
---
1x 90x90x90cm Photo studio
1x Carry Bag, 8x Corner Pieces
12 x Frame Tube, 4x backgrounds (Black, White, Black, Orange )
2x LED lighting band (126 LEDs each)
1x Line Dimmer, 1x Soft Cloth
1x Power adapter
1x Power adapter cable
1x Manual.
FOSITAN worry-free 12 months warranty and lifetime quality warranty.
I had to include a light tent in this list because serious photographers often overlook them, but they are useful in their own way.
I have used a light tent in the past to successfully photograph various products, from silverware to handbags. They are a great budget alternative to studio strobes and large backgrounds for product photographers and are fabulous if your shooting space is limited.
Because they are lit with built-in LED light strips, light tents like this one can be used with a smartphone or tablet for photography as well as a DSLR. The different colored backdrops let you show off your products, and the white background is great for those shooting for e-commerce websites like Amazon, where the rules for photography insist on a white background.
This light tent is a generous 90x90x90cm, which gives you plenty of room to work, and it's foldable, which means it's easy to pack up and transport. If you're starting with product photography, a good-quality light tent like this one will give you a solid foundation to build your skills with.
---
We really hope you got some useful ideas on how to find the right kind of photography lighting for under $200 or saw some handy gift ideas for the photographers or videographers in your life.
You don't have to spend a fortune to find the lighting solution to suit you!
Want more?
Best photography lights under $1000
Do you have your own suggestions to share? Leave a comment to share it with the Envira Gallery community.
Using WordPress and want to get Envira Gallery free?
Envira Gallery helps photographers create beautiful photo and video galleries in just a few clicks so that they can showcase and sell their work.