9 Best Photography Lights Under $500
by chriscct7@awesomemotive.com on Apr 27, 2021
In this article, we'll look at the best photography lights under $500. This is part of an ongoing series where we offer advice on what photography lights you can buy within a specific budget. Each of the articles in this series shows a selection of equipment we think best fits the price level.
Why you should trust us
We are photographers and photography enthusiasts with decades of experience using various photography software and hardware for all types of photography scenarios.
Who this is for
Beginner photographers or professionals looking for the latest photography lights under $500.
Before purchasing, consider your needs and do further research to ensure the product is an ideal choice for your situation.
How we picked
Each item in this article comes from our past experience, and could be useful in various situations.
---
Photography Lights Under $500
There's a huge range of photography lights out there, from budget options to professional lighting systems that are beneath or right on the $500 price point.
Some are great for those just starting in the world of photography lighting, and other options may be temporary solutions to use while you save up for the top-of-the-range lighting kit you've always dreamed of.
---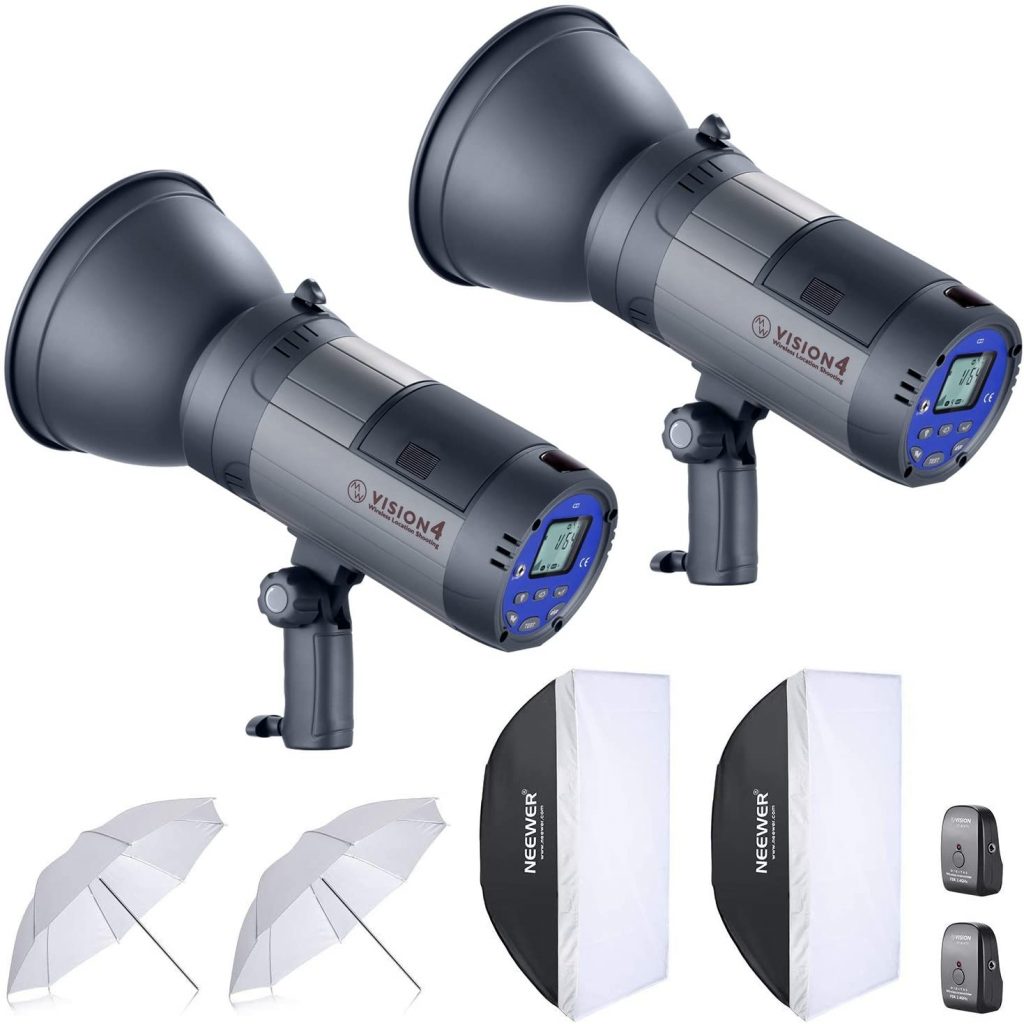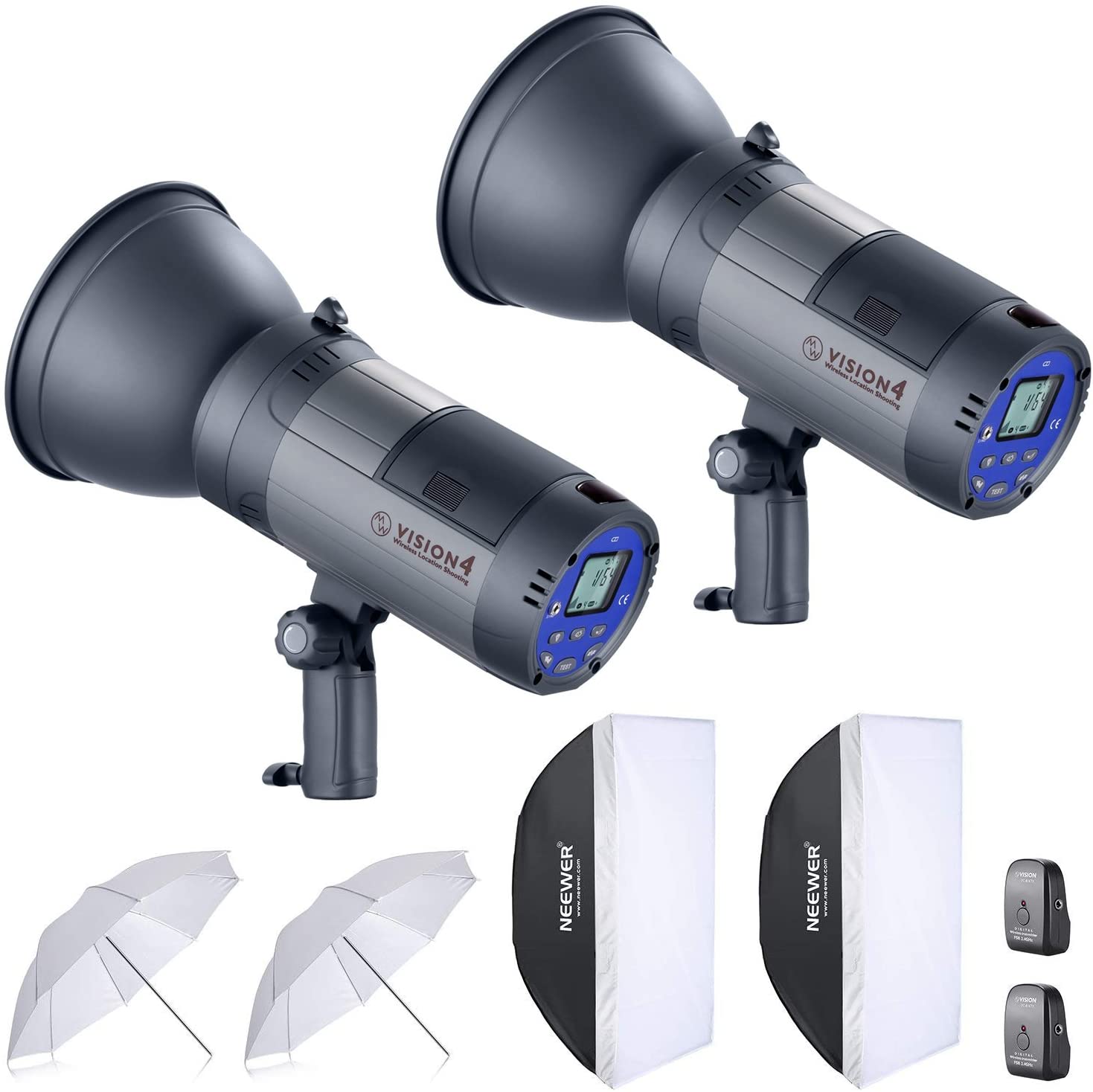 1. Neewer 600W Battery Powered Outdoor Studio Flash Strobe Lighting Kit
GN60 | 300W | Built-in 2.4G Receiver with 8 Channels |1/1000 to 1/10000 seconds flash duration |Fast recycle time( 0.01-2.5 seconds)
---
2 x Lithium Battery (Included in the flash)
2 x Vision4 Studio Flash
2 x LED modeling Lamp (Included in the flash)
2 x 110-130V AC Charger
2 x Standard Reflector
2 x Protective Cover
2 x 4-meter 3.5mm Sync Cord
2 x Wireless Trigger(Battery Included)
2 x Rectangular Softbox
2 x Translucent Umbrella
If you're looking for a portable, yet powerful, studio strobe kit then this one might fit the bill for you. The beauty of battery-powered strobes is that you can take them literally anywhere on location and don't need to find a power outlet. They are more powerful than speedlights, and can take a range of lighting modifiers. There's also no cables to trip over!
These two 300W strobes give around 700 full-powered flashes on one lithium battery charge, and they have a fast recycle time. Another great feature is the controllable fast flash duration – from 1/1000 of a second to 1/10000 of a second.
This kit comes with two rectangular softboxes (standard size Bowens speed mount) and two translucent umbrellas. You can shoot through the umbrellas or use them to bounce light, which adds to their versatility.
This lighting kit is suitable for any type of photography, and for both beginners and professional photographers.
---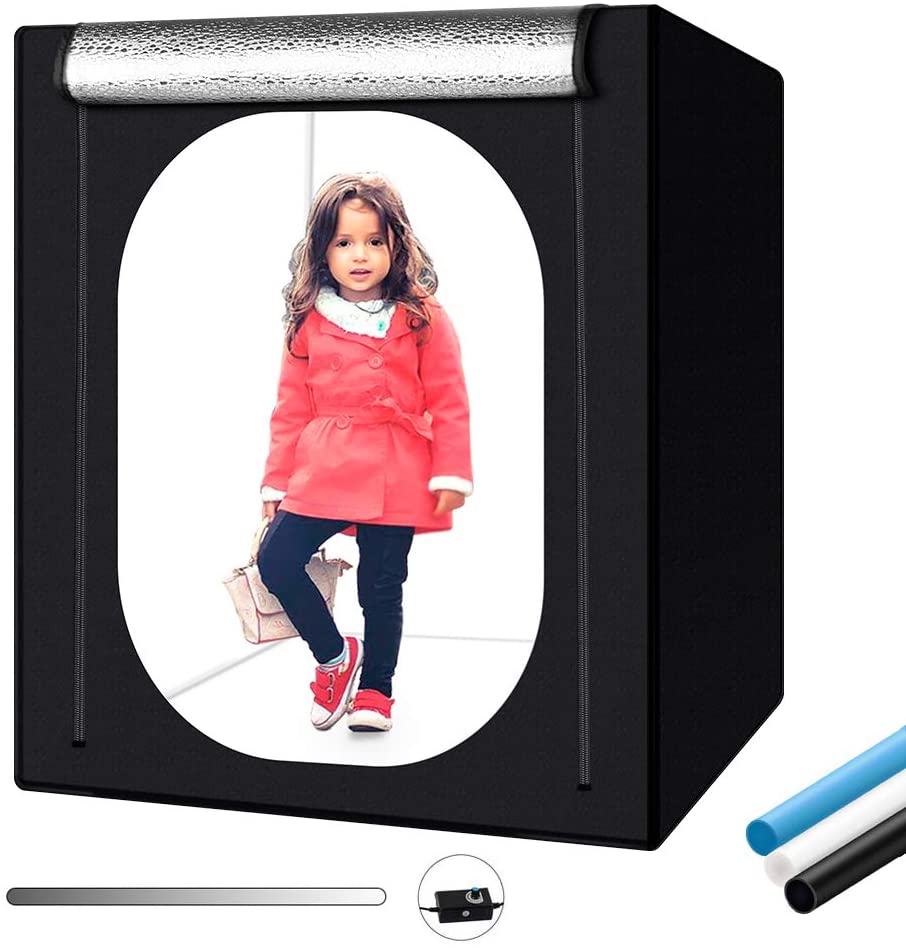 2. Heorryn Professional Photo Light Box
140*120*100CM Large Size Light Box| 576 dimmable LED lamps in 6 light panels |18570 lumens |Flexible Shooting Angles |Color temperature: 5500K
---
1 Studio Tent
6 LED light Panel
3 Backdrop(White/Black/Blue)
6 Power dimmer
1 Diffuser Cloth
1 Manual
The problem with most light boxes is that they just aren't large enough or bright enough to shoot larger products. This light box is big enough to fit a small child in, which would also make it a good choice for child or baby photography.
It comes with three different backdrop colors (white, black, and blue) to give you more styling choices. The LED lights are flicker-free, and because they are continuous they are great for shooting with smartphones or tablets as well as DSLR cameras.
There is a shooting hole in the top as well as at the front, so you can get top-down shots easily – important for product and food photography.
---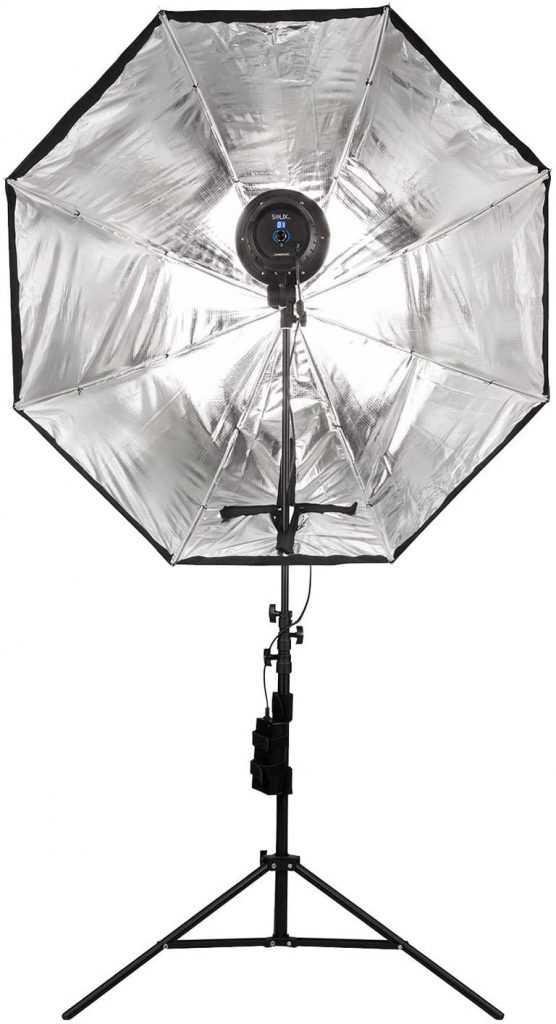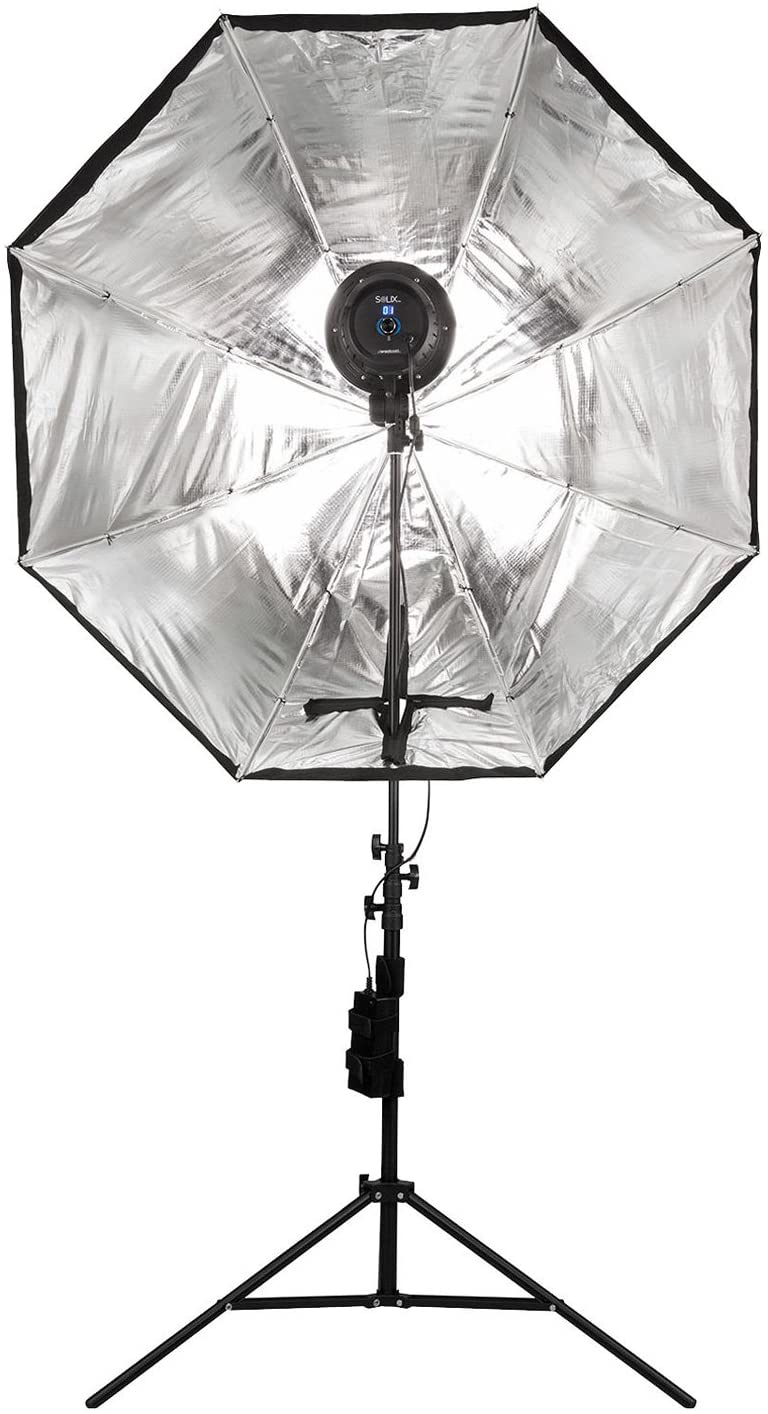 3. Westcott Solix Apollo Orb 1-Light LED Kit
|Rating: CRI: 96 |Color Temperature: 5600K +/- 200K |Dimming up to 2,125 lux at 1 meter |Magnetic mounting system
---
Westcott Solix LED Light Head
Solix Frosted Diffusion Cap
Solix Barndoors
Solix Power Cord
PowerStrap by Tether Tools
Solix Travel Case
43″ Apollo Orb Octabox
8″ Light Stand
Compact Soft Sided 2-Light Carry Case
Westcott 1 Year Limited Warranty
Westcott are a brand known for their high-quality and innovative lighting systems, and the Solix LED light is certainly worth the money. It comes with a frosted diffusion cap, barndoors, and a large octabox to give you a wide range of lighting styles.
This LED light kit is bright, and a dual-purpose control works for both power and dimming. It's an ideal professional photography or video lighting system, and because it's continuous you can use it with a smartphone. It also removes the need for wireless triggers, and pairs with any standard D-Tap/PowerTap 14.8v battery and D-Tap cable.
Designed with high-quality, color balanced LED lights, this kit is durable and should last for many years.
---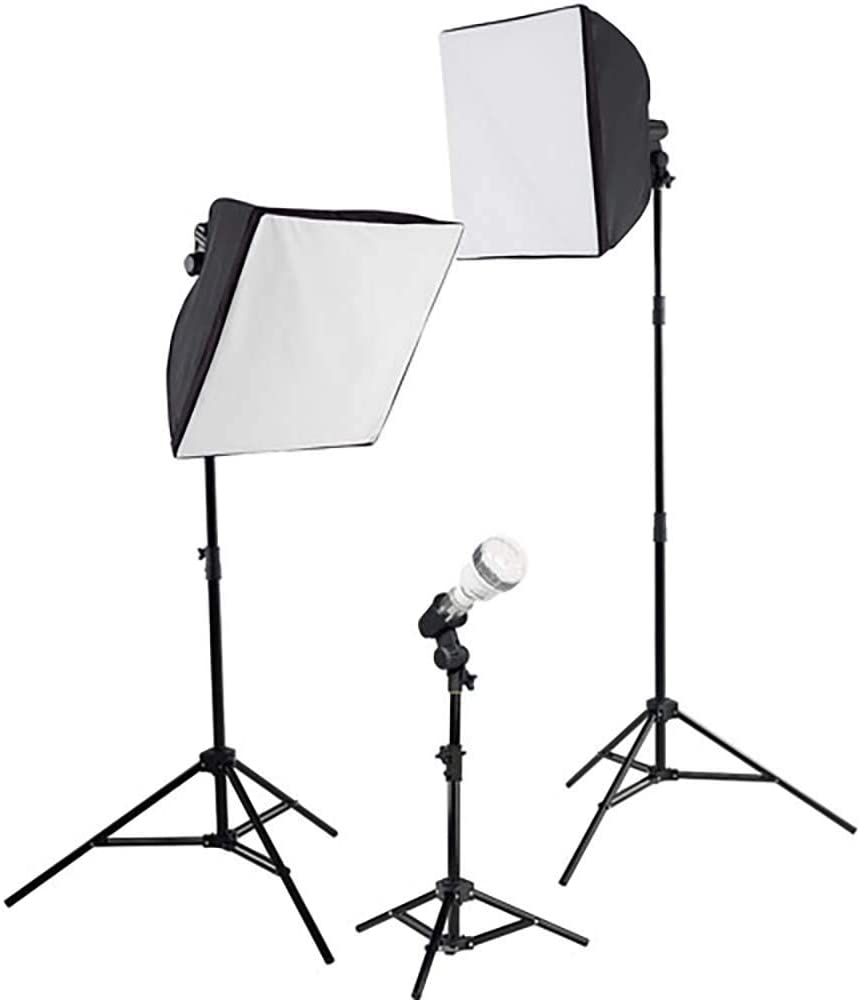 4. Westcott uLite LED 3-Light Collapsible Softbox Kit
Quick and Easy Setup | CE and C-UL-US certified for safety | 1370 lux at 1 meter | CRI rating of up to 93 | Rated for over 20,000 hours of use
---
3x uLite 500W Edison-Style Fixtures
3x Daylight 5600K LED Bulbs, 45W
2x uLite Collapsible Softbox, 20 x 20″
3x Tungsten Cap for Warmer Output
Includes Westcott Dimmer Remote for 45W Dimmable LED Bulb
This continuous LED lighting kit from Westcott is ideal for all types of photography and videography. It's also CE and C-UL-US certified for safety, which makes it an ideal lighting kit for baby, child, and pet photography.
Named a Hot One award winner by Professional Photographer magazine, this kit is made with a nylon-polycarbonate base and features a built-in tilter bracket. It's durable and very heat resistant and is compatible with Edison-style LED, compact fluorescent, and incandescent bulbs
One of the great things about this lighting kit is the easy setup and takedown. Traditional softboxes can be a pain to set up, and once up, you don't want to take them down again because of the hassle. These uLite modifiers literally set up in seconds. All you do is push the center bracket, and the softbox assembles and locks into place. This makes these lights ideal for traveling with.
Each LED bulb also comes with a removable tungsten hard gel cap that instantly converts the daylight-balanced output to a warmer tungsten balance to give you flexibility over the white balance of the lighting. The dimmer remote features 4 channels, with the ability to group multiple bulbs to each channel. It has an impressive control range of up to 200' (61m) unobstructed.
---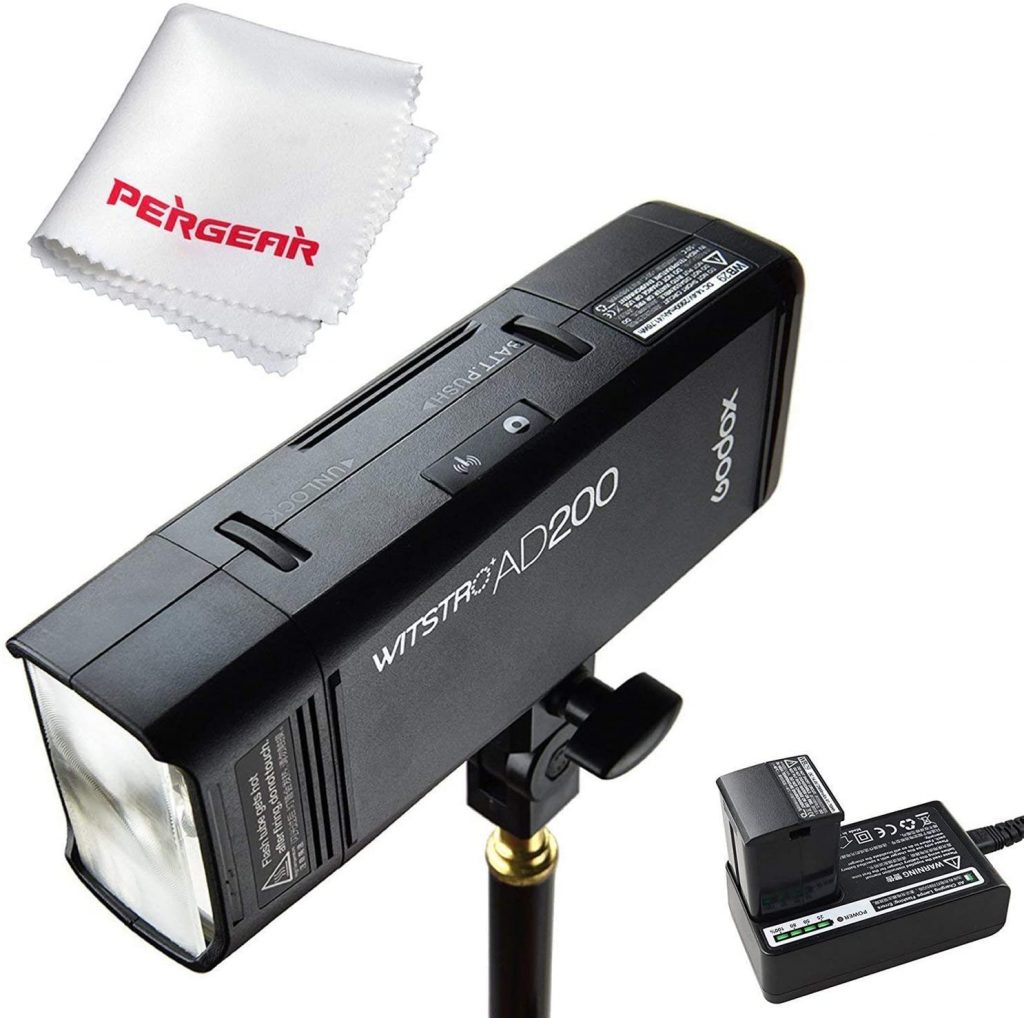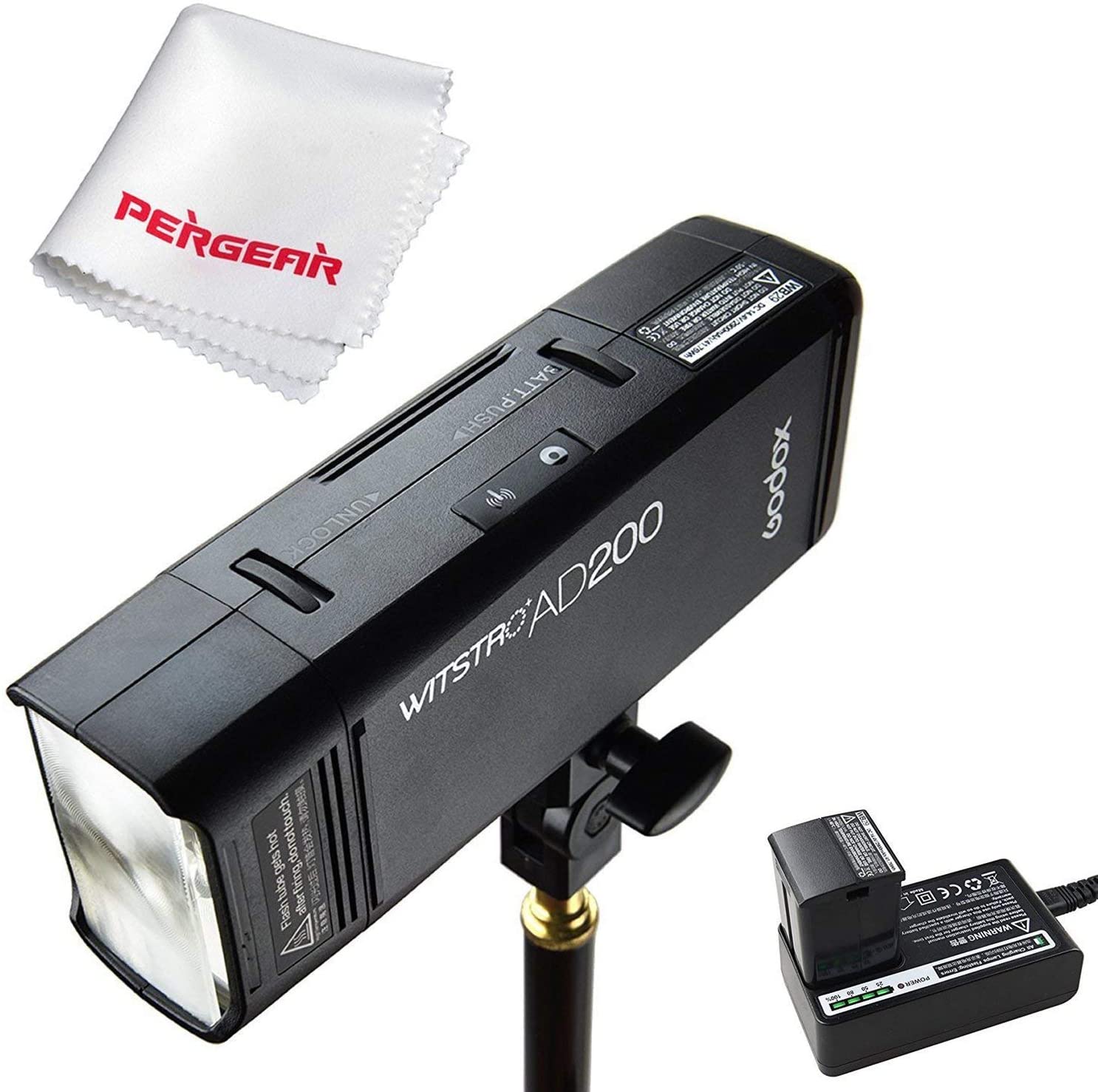 5. Godox AD200 200Ws 2.4G TTL Flash Strobe
500 Full Power Shots from one charge | Recycles in 0.01-2.1 Sec | Bare Bulb/Speedlite Fresnel Flash Head | Manual/TTL/Multi Flash Modes | 1/8000s High Speed Sync
---
1 AD200 Flash Body
1 Speedlite Head & Bare Bulb Head & Flash Tube
1 * 14.4V 2900mAh Battery & Battery Charger & Power Cable
1 * Carry Case
This light gives you the option of using interchangeable flash heads. It enables you to switch between the Speedlight-styled Fresnel head and the bare-bulb head (which can be modified using umbrellas, beauty dishes, softboxes, etc.) It's a smart choice for those who want the flexibility of a strobe with the portability of a speedlight.
The AD200 gives around 500 full-power shots from one charge. The big feature of this light is not just that it's more compact and lighter than a traditional strobe, but it also works like a speedlight. It offers TTL flash that automatically adjusts in power to the aperture, ISO, and shutter speed you choose on your camera.
This makes TTL flash a good choice for beginners and those who shoot in rapidly changing light conditions, as it automatically gives the correct exposure every time. Real estate photographers love this flash, and it's easy to see why. It supports Nikon, Canon, Sony, Olympus, Panasonic, and Fuji TTL. It can also be used with Godox TTL camera flashes and TTL outdoor flashes on the Master & Slave function.
---


6. Elgato Ring Light
2500-lumen output | Dimmable | Adjustable color temperature: 2900 – 7000 K | Flicker-free premium OSRAM LEDs | App Control on Mac, Windows, iPhone, and Android
---
Ring Light
Master Mount S
Camera Ball Mount
Power Supply
Quick Start Guide
Ring lights are the ideal choice for beauty and portrait photographers, YouTubers or video interviewers. One reason they're so popular is because they are portable and cast a flattering, blemish-reducing circular light on the subject. They also give those amazing round catchlights in the subject's eyes.
Many cheaper ring lights aren't big enough or bright enough to do the job well, but this Elgato ring light is a big 17 inches with a bright 2500-lumen output and features high-quality, flicker-free Osram LEDs.
One of the problems with a lot of other ring lights is that they only offer manual control on the light itself, which is a nuisance if you don't have an assistant to dim the light for you. The Elgato ring light offers a solution to that problem by providing an app-based control option – you can use Windows, Mac, iOS, or Android devices to adjust the brightness and color temperature without having to walk over to the ring light.
It does offer the usual onboard controls too, but the app is such a convenient way of controlling the light that you'll probably hardly ever use them.
---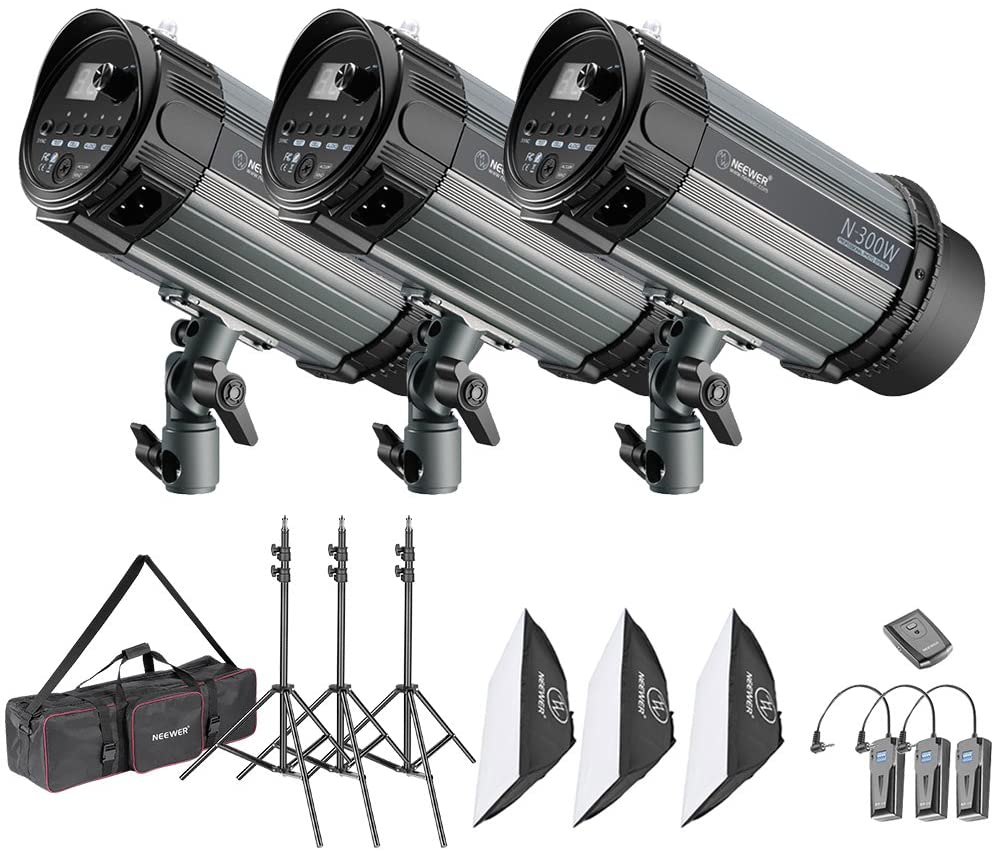 7. Neewer 900W Studio Strobe Flash Photography Lighting Kit
Guide Number GN48| Flash Duration:1/2000s | Recharging time: 0.3-
1.8s | Color Temperature: 5600K +/- 200K | 3x 300W Strobe Flash Light
---
3x 300W Strobe Flash Light
3x 75W Modeling Lamp
3x Power Cord
3x Sync Cord
3x Softbox
3x Light Stand
1x Trigger
2x Receiver
1x Bag for Studio Kit
If you're looking to start a professional photography studio on a budget, then a three-light set like this one might fit the bill.
It comes with light stands, softboxes, and wireless triggers, and with three lights you can build more creative lighting setups. Three lights can be used in a variety of ways, from one key light with a hair light and background light, to two key lights and a background light – three lights give you a lot of lighting options.
This kit would suit a beginner or more advanced photographer and will help you learn about shaping and modifying light from several different sources.
---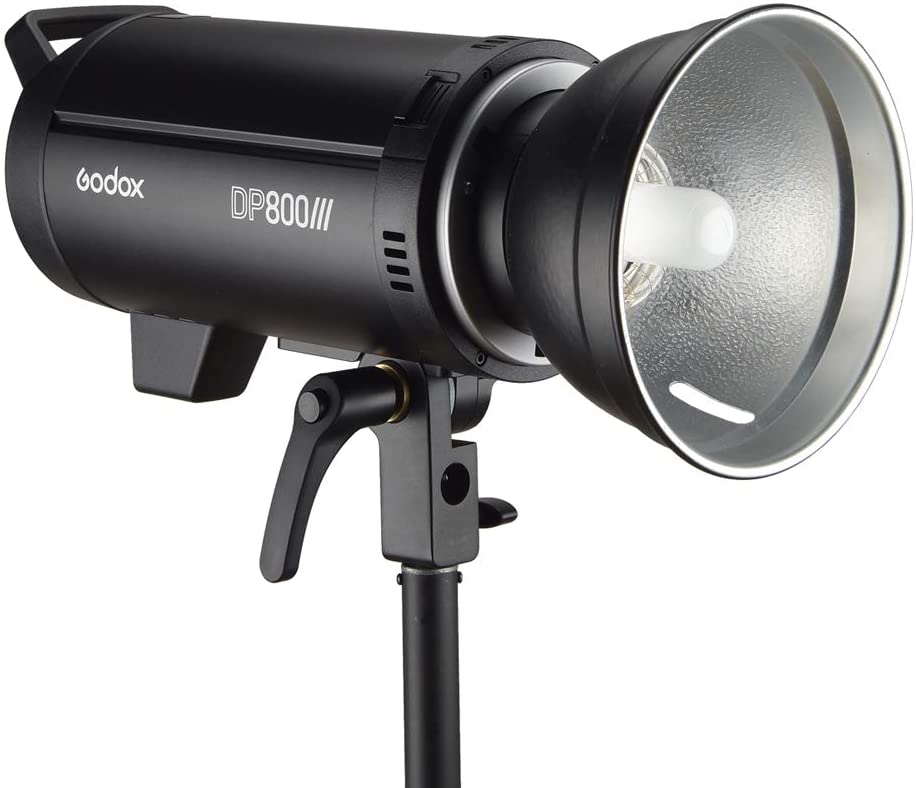 8. Godox DP800III Professional Studio Flash Strobe
Triggering options: M / S1 / S2 / Slave | Flash duration: 1/800 – 1/2000 | Colour Temperature (K): +/- 200K 5600 | Fitting type: Bowens | Power: 800W
---
Godox DP800III Flash
Power Cable
Flash tube Cover
Modeling light Bulb
If heavy-duty power is what you are looking for, then this 800W flash head certainly has it. It doesn't come with a stand or any softboxes, but most professionals will have those already.
It's not a light that's aimed at beginners, but for the experienced studio photographer who is looking to add to their collection. It has a fast recharging time of 1 second at full power, and the 150W modeling light can be set to a percentage or proportion of the flash power, so you can preview the lighting for your shot accurately.
Flash durations range from 1/800 to a motion-freezing 1/2000 second, which allows for a much wider range than traditional flash heads. All of the functions on this flash head can be operated manually on the light itself, or wirelessly by the built-in Wireless X System receiver. To do this, you will also need to buy a separate transmitter – it's compatible with the Godox XT2, XPro, XT32, and FT-16.
This light is ideal for professional wedding, fashion, portrait, and product photographers.
---

9. Westcott Ice Light 2
Built-in Bluetooth with USB connectivity | Digital power display with 18-step dimming | CRI 97 | 50% brighter than the original Ice Light | flicker-free output and stable light consistency.
---
1 × Ice Light 2 Body
1 x Rechargeable Battery For Ice Light 2
1 x Ice Light Battery Charger/Power Cord
1 x Ice Light Gel Clips
1 x Ice Light 2 Carry Case
The Westcott Ice Light 2 wand isn't a conventional studio light by any means. What it does boast is extreme portability with LED lighting featuring a built-in diffuser that removes the need for a separate lighting modifier. This soft, daylight-balanced light allows you to get great location photos or videos.
Westcott took the success of the original Ice Light and refined it. It's not only brighter than its predecessor, it also features a removable Lithium-ion battery. You get 60+ minutes of full-power lighting for a 2.5-hour charge, and you can charge a separate battery for backup.
The handle has also been redesigned. There's an 18-step range of flicker-free lighting and a light output memory that remembers your last power setting. The beauty of this light is that you can hand-hold it or put it on a stand. Both ends of the Ice Light 2 come with 1/4″ threads to enable you to mount it to a light stand, tripod, or tilt bracket.
It comes with built-in Bluetooth with USB connectivity for use with smart devices. It's also compatible with existing Ice Light accessories, including barn doors, gels, two-way connectors, and more.
The Ice Light 2 isn't for everyone but is a great choice for professional and highly portable location lighting for photography or video.
---
We really hope you got some useful ideas on how to find the right kind of photography lighting for under $500 or saw some handy gift ideas for the photographers or videographers in your life.
You don't have to spend a fortune to find the lighting solution right for you!
Want more?
Best photography lights under $1000
Do you have your own suggestions to share? Leave a comment to share it with the Envira Gallery community.
Using WordPress and want to get Envira Gallery free?
Envira Gallery helps photographers create beautiful photo and video galleries in just a few clicks so that they can showcase and sell their work.