What is the Best Image Gallery for Visual Composer?
by Brenda Barron on Jul 2, 2019
Are you looking for the best image gallery for Visual Composer? Visual Composer was the first plugin to appear on WordPress, specifically designed to build pages and support plugins or extensions.
Ever since it was created back in 2011, Visual Composer has been growing rapidly in popularity, earning the attention of designers, photographers, and everyday website builders alike. After all, to make your business really stand out online, what could be better than a visual solution that allows you to build the perfect galleries, portfolios, and pages from scratch?
Though Visual Composer is a premium plugin, the price is well worth it for anyone who wants to boost their WordPress presence and achieve a new look. The up-to-date system delivers a consistently great experience across devices, allowing you to test your designs against different smartphones, browsers, and tablets to get the best all-around experience from your WordPress website.
What Can Visual Composer Do for You?
Before we begin looking for the best image gallery for Visual Composer, we should see what all it can do. First of all, it's worth noting that this is a WordPress plugin, so its easy to use. All you need to do is install it to start taking advantage of its incredible features right away.
Once it's up and running, Visual Composer will provide you with complete control over the layout of your pages. You can simply add a new page and new buttons will emerge that allow you to toggle between "classic" and "builder" modes.
The simple user interface on Visual Composer is great for people who aren't exactly familiar with the WordPress experience. Visual Composer can make it easier to build appealing and engaging websites with its template saving and helpful support.
Of course, to really make the most of Visual Composer, you'll need to tap into the thousands of extensions that make it so compelling. For photographers and design-focused experts, the best plugins are always ones that help show off your work in style. Today, we'll take a look at just some of the contenders for the best image gallery for Visual Composer, and what makes each one so special.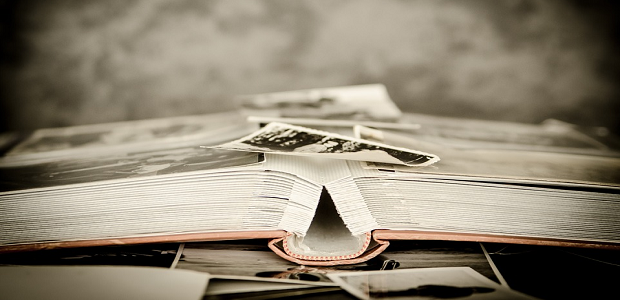 1.   Envira Gallery
In our opinion (and the opinion of our customers) you really can't get a better image gallery for Visual Composer than Envira Gallery. With Envira, you can use Visual Composer to create stunning and responsive WordPress galleries designed to draw in new customers and delight your existing ones. It's optimized for the best server and website performance, with high-speed and great functionality.
Along with being wonderfully mobile friendly, the Envira gallery also comes with a handy drag and drop gallery building mode. This makes it as easy as possible for you to start building WordPress galleries from scratch. You can simply add social media solutions into the mix if you feel like improving your brand awareness too!
More than just a Visual Composer add-on, Envira gallery comes with everything you need to create a beautiful WordPress site. From amazing slideshows to password-protected galleries, watermarked images, and more.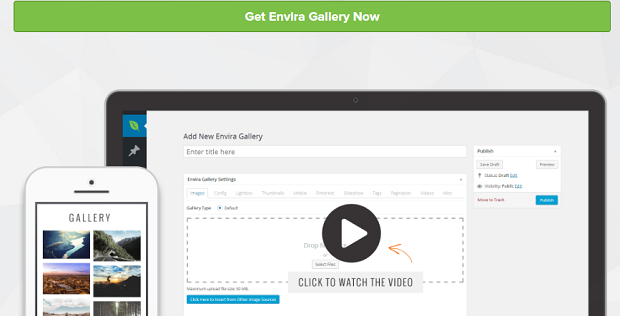 2.     Visual Composer Kit (VCKit)
For a simple and all-in-one approach to boosting your Visual Composer experience, why not check out a full selection of add-ons to bring into your application? The Visual Composer Kit is basically an amalgamation of different things that you might need to boost your WordPress appearance. Although this selection isn't focused on galleries, there are many options provided to help improve the look and feel of your portfolios.
Within the Visual Composer Kit, you get access to more than forty different elements and more advanced features too. There's no coding required to get started, and there are plenty of ways to develop the eCommerce side of your gallery if you're trying to sell your photos online.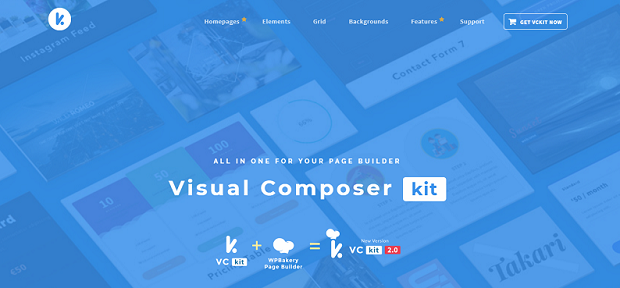 3.     Ultimate Addons for Visual Composer
Another helpful combo of solutions for Visual Composer, the Ultimate Addons application comes with a host of things to improve your VC creations. It might not be the most comprehensive option available, but it will definitely help you get more out of your WordPress site. The Ultimate Add-on system is one of the best-selling and highest-rated additions to Visual Composer. It has a great range of powerful design and development features.
This is a plugin that likes to stay ahead of the curve. You can expect it to stay up-to-date for as long as you use it, with new features appearing all the time. You can even use this system to make your own video backgrounds and parallax scrolling themes.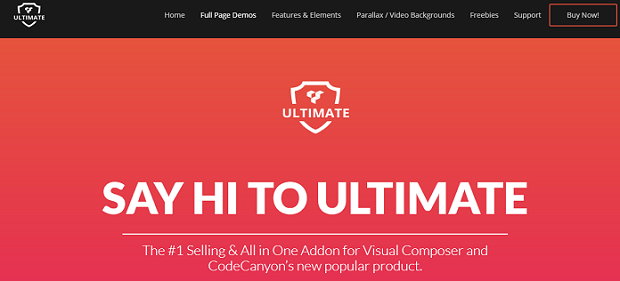 How do you make the most out of Visual Composer? Let us know in the comments below, or follow us on Twitter or Facebook for more insights into the world of WordPress.