Best iPhone Photo Printers for Anyone
by Keren Dinkin on Jun 22, 2021
We live in a world that is continuously making technological advancements. Almost all of our time is spent on our laptops or mobile phones. And this involves the habit of constantly clicking pictures, especially if one is active on social media.
Whether you're constantly Snapchatting your friends or trying to maintain your feed on Instagram, you probably spend a lot of your time clicking pictures with your iPhone.
Sometimes, you may want to keep those memories as more than just pixels in your phone and print them instead. But, with so many photo printers available on the market, which one do you choose? Let's learn more about all of the different photo printers to help you make the best choice. 
Why Should You Print Your Phone Photos?
While you might be taking a thousand pictures a day, there will always be a few that stand out and catch your attention. These handful of pictures are worth saving and printing. 
Before we begin to find the best possible iPhone photo printers, let us first try to understand why we need to print the photos in the first place.
JPEG Files' Quality Degrades Over Time
This is something most people are not aware of. The best possible quality of an image will be the first time you're opening it after saving it. Every time you open it, the JPEG images faintly deteriorate. Moreover, most software automatically compresses the image when you click on the "save" button, ruining the quality a little.
You Might Lose Them Over Time
While it is true that once you upload something over the internet it stays there forever, we don't always know how to access these files. Over time, you might lose your favorite photos. You could end up accidentally deleting them or the cloud could crash. Yes, the deleted pictures do end up in the trash folder but there's no way to get them back once they are deleted from there as well. 
You're More Likely To Look At Them When Printed
Life's all about making memories and preserving them so that the next time nostalgia hits you, you can crack open your set of pictures and reminisce. However, if you're being honest with yourself, how likely are you to keep browsing the photos on your phone? Scrounging through the other thousands of pictures? But if you print your favorite pictures, you can make separate albums to mark special occasions and they'll always be right in front of your eyes.
Your Elders Would Appreciate the Effort
Not everyone is tech-savvy. Especially not your parents' or grandparents' generation. They have a hard time trying to understand how to use their phones. In such a case, if you print out the photos, it will be so much easier for them to access them.
Factors to Consider Before Choosing a Printer
Requirements
Buy the printer that matches all your required specifications. While all-in-one printers are quite common, they have a huge drawback. The quality of the pictures that they print out isn't up to the mark. If you want to print pictures in high quality, look for printers that can do exactly that.
Portability
Another thing to consider is whether the photo printer can be moved around. If you're a professional photographer or a blogger or just someone in love with nature, being able to print pictures on the spot and not having to wait till you return home can be a major advantage. Look for printers that are portable and small in size so that you can easily carry them around. 
Ink
For printing out high-quality pictures, the ink you use must be of high quality. What's the point of printing out pictures if the ink starts fading away within a few years? Depending on the cost, inks have varied life spans ranging from 20 to 100 years.
Other than the above-mentioned points, if you're still confused about how to choose a printer, make a list. It should consist of all the things you want along with what you don't want. What's important to you and what isn't. Don't forget to consider the amount of paper you'll be printing and how often you'll be using the printer.
What You Should Know About Choosing a Photo Printer
Before you start looking at the wide range of photo printers available, be clear of what you need. Do you want the pictures to be of high quality? Do you want them to last long? Or do you want the printer to work fast? 
Creating a list of the things that you want in a photo printer will make choosing a good photo printer so much easier. The most important point being, the photo printer should particularly be compatible with your iPhone.
The Best iPhone Photo Printers
To make things easier for you, here's the lowdown on some of the best photo printers for iPhone prints.
1. Brother with AirPrint
This is a free application that lets you easily print and scan your documents and images. It has advanced image processing features that include auto deskew and color drop. It also lets you create a PDF file through its optical character recognition.
2. HP Sprocket Plus
Convenient to use, this printer lets you print and scan your photos in an instant. Its excellent features include being very thin, almost as big as a smartphone, and portable enough that it can be carried anywhere. On top of that, it has Bluetooth.
In case you want to edit your pictures before printing them, its app also lets you do that. You can also use coloring in your pictures. However, if you're looking for the best 4″ x 6″ photo printers under $100, check out the HP Sprocket studio.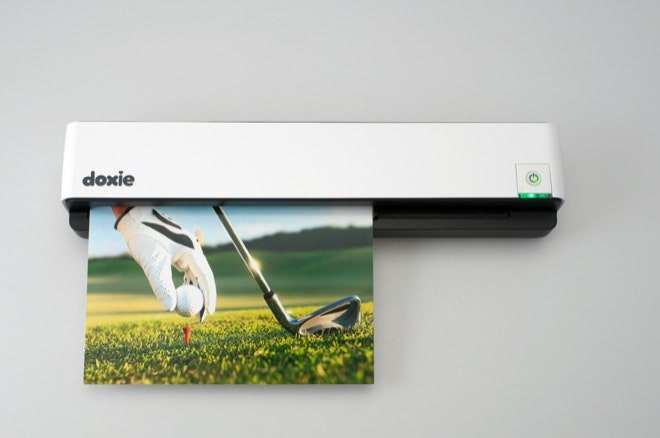 3. Doxie Go
Whatever you've dreamed of when it comes to modern scanning has been made true by this portable scanner that comes with a rechargeable battery. You do not even need a computer with this scanner. Its tiny size is another eye-catching feature as it is just about the size of a rolled-up magazine. You can store up to 4000 pages on its cloud storage before needing to sync it.
4. Polaroid ZIP Mobile Printer
This wireless, polaroid printer prints all your pictures instantly using Bluetooth. All you need to do is connect your iPhone to the app and soon you'll not only be able to print but also edit your pictures, add texts to them, make stickers out of them, among several other features.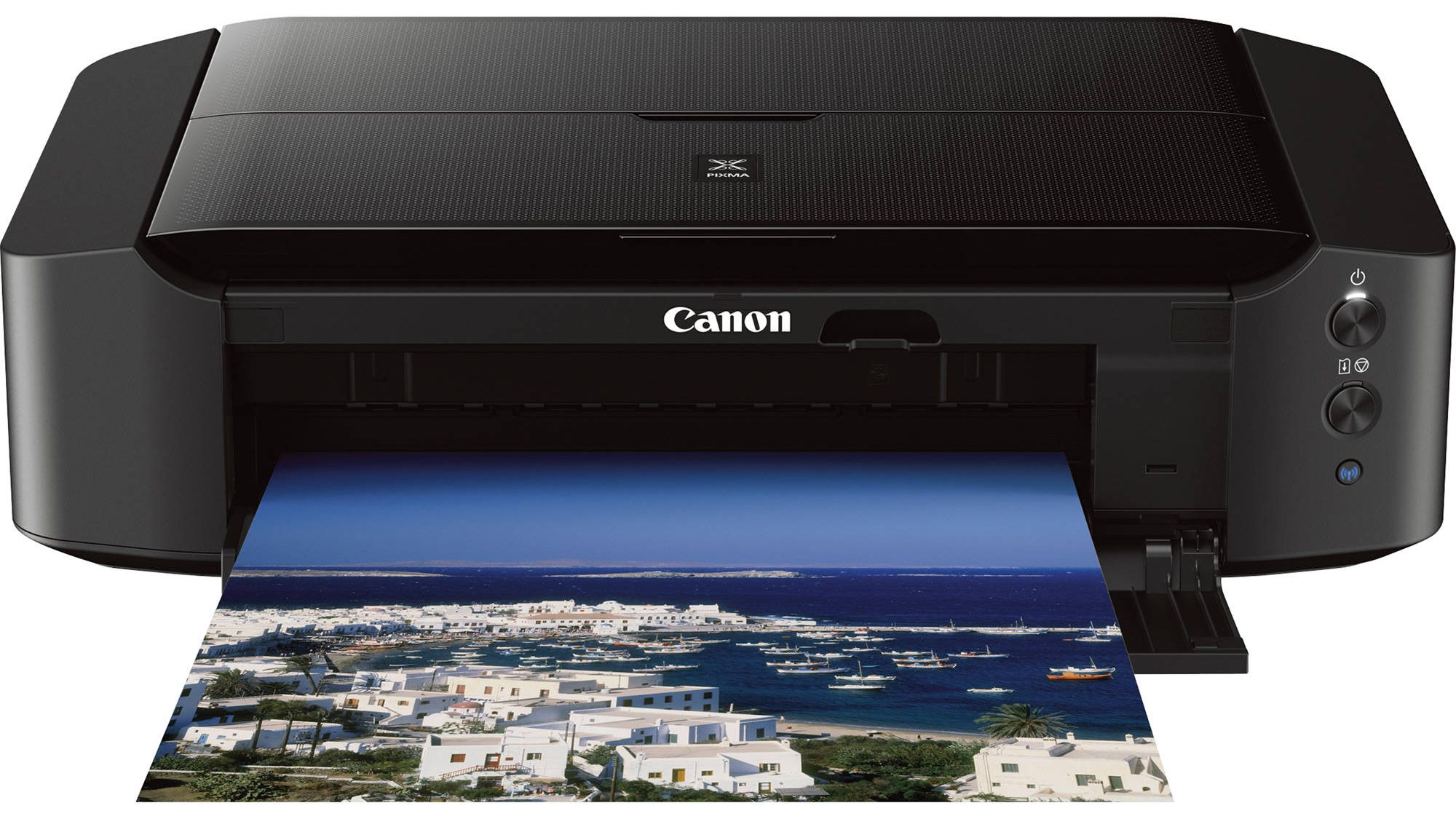 5. Canon PIXMA iP8720
One for the more serious photography enthusiasts, this printer is a budget-friendly choice that offers a lot for the price. It features wireless connectivity and does not compromise on quality. The Canon PIXMA is a good choice for someone wanting above-average photo quality without having to shell out a pretty penny.
6. HP DeskJet 3630
This easy-to-install, all-in-one printer is also wireless. The best part about it is that it is compatible with Alexa. Undoubtedly the best 4 x 6 in photo printer for under $250, as it also prints a good variety of sizes. The printer comes with a USB cable and works best with wi-fi. You can finish all your work on time as it lets you scan, print, and copy your pictures with ease.
7. Epson Connect
With Epson Connect, you can easily print your pictures using three methods. You can either email your pictures to a unique email address and the printer will automatically print out your photos. Or, you can download the mobile app and share your pictures with it. The third option is to scan your pictures and upload them to the cloud. The cloud's servers are accessible from both your mobile app and the printer's control panel.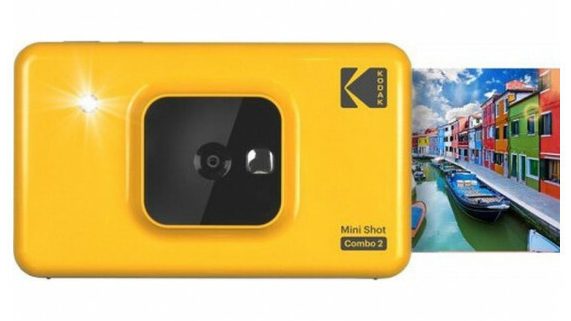 8. Kodak Mini
Using patented printing technology, Kodak Mini is compatible with both iPhone and Android devices. This mini smartphone printer doesn't require any cables to be attached or buttons to be pushed. You can wirelessly connect your iPhone to your printer and start printing high-quality photographs.
If you want the best 4″ x 6″ photo printers under $450, the Kodak Mini will work great but you can also check out the Kodak Dock photo printer that comes with additional features.
9. HP Wireless Mobile Printer
This small portable printer is a handy tool for all photography aficionados. You don't even need to connect to a network as this enables you to directly print from your iPhone. Featuring a long-lasting battery, the printer manages to work throughout the day without dying on you.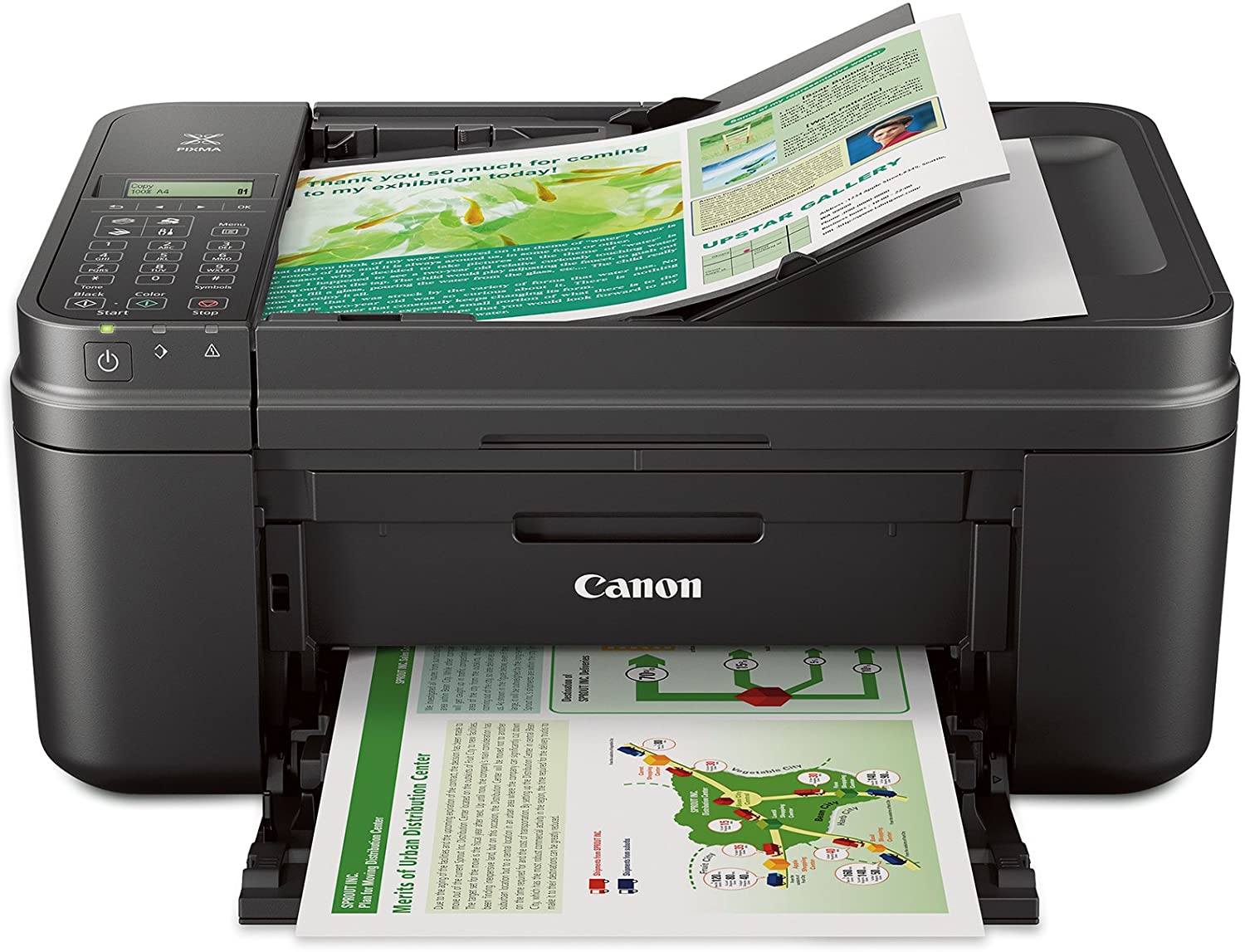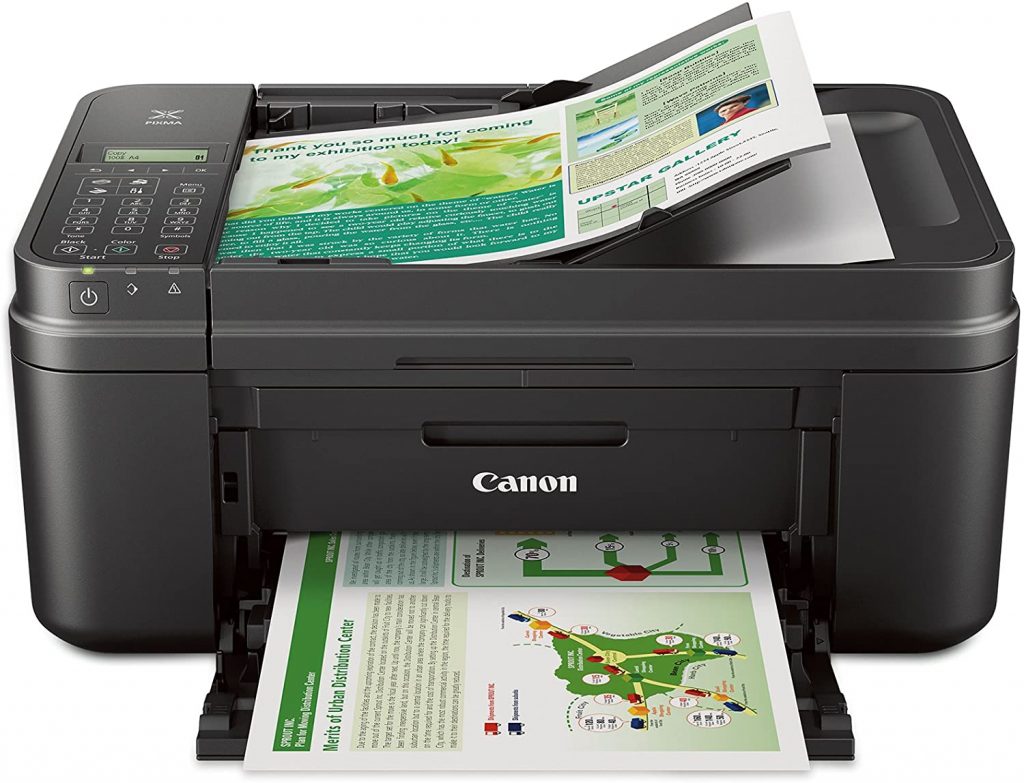 10. Canon PIXMA MX492
With this printer, you can print effortlessly and efficiently with the help of your iPhone without having to require drivers. This small, all-in-one printer can fit anywhere in your house so storage is also not an issue. Using WiFi to connect, it can print envelopes, plain papers, glossy sheets, etc. This, however, does not include a USB cable.
How To Print Using an iPhone Printer
Now that you have a review of the top 10 printers and can narrow it down to the one that best fits your needs, let's go over how to use an iPhone printer. You can use a photo printer on your iPhone, either by air printing it or not. The AirPrint feature on your iPhone allows it to directly sync up with the photo printer.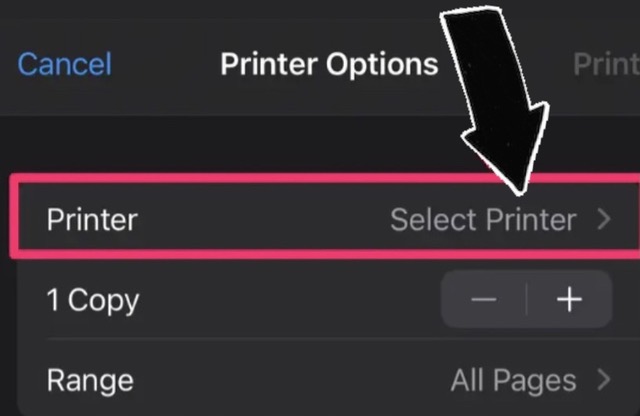 With AirPrint
Open the picture that you want to print.
Click on "share."
A pop-up will open, scroll down till you come across the "print" option, and click on it.
Select the name of the photo printer you want to use. And that's it.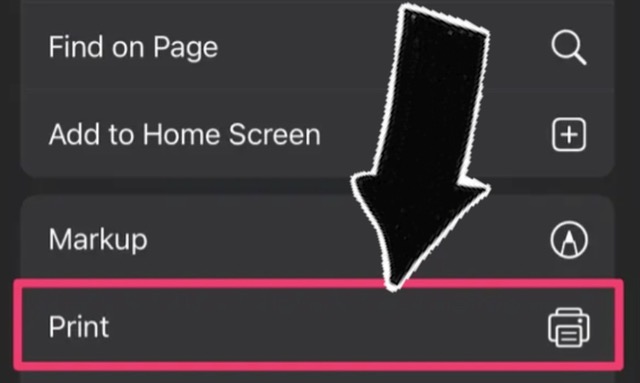 Without AirPrint
Download the printer's app from the app store.
Turn on the WiFi of your printer as well as your iPhone.
Go to Settings, then WiFi connections, and click on "other networks." You need to connect with your WiFi.
Open the picture you want to be printed.
Click on "share."
Connect to the printer and then print.
In case your printer does not have WiFi, you can still use a USB cable to print your photos.
Summary
It is possible to print high-quality photos from your phone, it just takes a little searching and a bit of research to find the best iPhone photo printers available.
Using WordPress and want to get Envira Gallery free?
Envira Gallery helps photographers create beautiful photo and video galleries in just a few clicks so that they can showcase and sell their work.