How to Create a Responsive Lightbox Gallery on Your WordPress Site
by Brenda Barron on Jun 18, 2018
Do you need to create a Lightbox for your WordPress website? As a photographer, you want to be sure to make the most of the images on your website. After all, your photos aren't just for attracting visitors and keeping them around for as long as possible; they're also a crucial insight into the standard and quality of your work.
Lightboxes are just one of the tools available for businesses and individuals who want to draw more focus and attention to their photos. Presenting your media inside of a well-designed Lightbox can help to make your content more engaging and provide a smoother image experience for your visitors. The question is, how do you create a responsive Lightbox gallery for your WordPress site?
Step 1: Choose your Lightbox Plugin
There are plenty of different Lightbox plugins that can work well with a WordPress based gallery. In simple terms, this technology allows visitors on your website to click on a smaller version of an image, and expand it to view the picture in front of your other content. It's basically like pulling an image out of an album. Every Lightbox plugin works differently, and there are countless options to choose from, including the Lightbox which comes with Envira Gallery Pro.
The Envira Gallery Pro plugin includes many different features and options to choose from for creating stunning and responsive image galleries. You can access seamless drag and drop functionality to make creation easier, as well as pagination features, image proofing, and a range of column management options.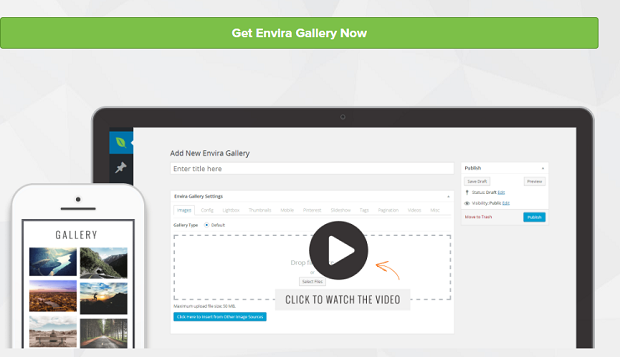 Step 2: Install your Lightbox Plugin
Once you've chosen your Lightbox plugin (we'll go through some additional standalone options below), you can go into your WordPress dashboard and to the "Plugin" section. Here, click on "Add new" and type the name of the plugin you chose into the search field. Click on "install now," and hit the "ok" button when asked. You can then "Activate" the plugin.
Each Lightbox plugin will come with its own range of settings for you to adjust as you see fit. This means that you can set how your Lightbox will appear. For instance, you might want to set your images to dynamically re-size themselves to fit perfectly into your browser window. Or you might want to use a pre-set gallery template.
Step 3: Upload the Images into Your Gallery
Once your responsive Lightbox gallery is activated, you can simply go to the post or page where you'd like the gallery to appear and click on the "add image" icon. You can drag and drop pictures around the page, or simply shift-click on them to upload a group at once. You can then head over to the "edit" page and choose exactly how many columns you want to display, and what your gallery should look like on the page.
Don't forget to add text descriptions for each picture to improve your SEO ranking. This will help draw more organic traffic to your website, even when you're not publishing keyword-rich articles or blog posts.
You can learn more by checking out our article on How to Optimize Your WordPress Galleries for SEO.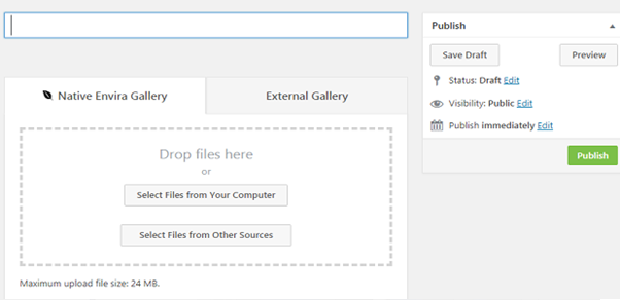 5 of the Best Standalone Lightbox Plugins for WordPress
While we think our responsive Lightbox gallery tool is pretty great, we know all you may need is a standalone Lightbox. You're going to want plenty of options to choose from when it comes to building your own Lightbox experience. With that in mind, we thought we'd list some of the other top contenders in the responsive Lightbox gallery space.
1.     The dFactory Responsive Lightbox
The Responsive Lightbox plugin by DFactory is probably one of the most well-known and popular lightbox plugins on the market today. This lightbox offers many features that standard plugins don't, such as a wide range of unique styles to choose between. The ability to change your template means that you don't have to offer the same experience as all your competitors online.
The dFactory responsive lightbox is great because you can install it quickly and easily from the "Add Plugins" section of WordPress, and automatically add a lightbox to all of your image galleries – no awkward coding needed. There's also a host of extensions available if you want to customize the experience for your customers even further. Features include:
Highly customizable settings for five different scripts
Option to show single posts as a gallery
Option to trigger lightbox on custom events
Filter hook for embedding a range of scripts
Option to modify native WP gallery links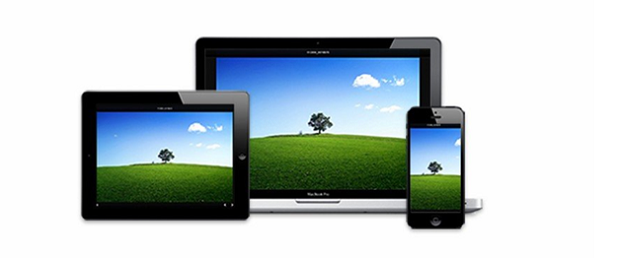 2.     Responsive Lightbox
A nifty little Lightbox plugin designed to make managing your image galleries simple, Responsive Lightbox is a great addition to any WordPress website. It comes with fantastic functionality for media, such as videos, as well as other forms of HTML content. The Responsive Lightbox plugin offers a modern and stress-free experience, with an admin interface that allows you to change and adapt your lightbox however you want.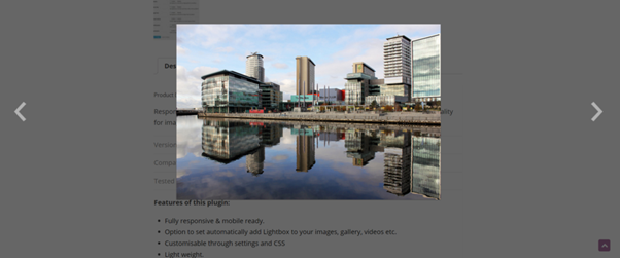 If you want to feature Google-focused map of your site, then this plugin will allow people to see a larger version of your lightbox for simpler viewing. Quick and easy to use – this plugin makes creating your own responsive lightbox gallery a snap. Features include:
Lightweight and responsive
Automatically add lightbox into galleries and images
Customizable settings
Convert links automatically
3.     The Simple Lightbox
Sometimes, when you're trying to create an incredible experience for your WordPress visitors, the simplest options are the best. The Simple Lightbox plugin is another popular choice for the WordPress community, with a strong review rating. When it comes to creating a responsive lightbox gallery, this option is great for people who don't have a lot of coding experience, because you can automatically activate all of your media to support lightbox functionality.
The truly incredible thing about Simple Lightbox is that there are endless customization options available thanks to a wide gallery of available add-ons. You can also see and edit the meta-data on your galleries for SEO purposes. Features include:
Easy installation and management with no manual coding
Customizable animations
Customizable themes
Additional features through add-ons
Widget support
4.     The Ari Fancy Lightbox
A more recent addition to the responsive lightbox gallery market, the Ari Fancy Lightbox supports a range of features like zoom, pan, tap, pinch, and more. It's great for showing off your fully-responsive image content, and you can attach it automatically to your WordPress and Jetpack galleries to save yourself a lot of time.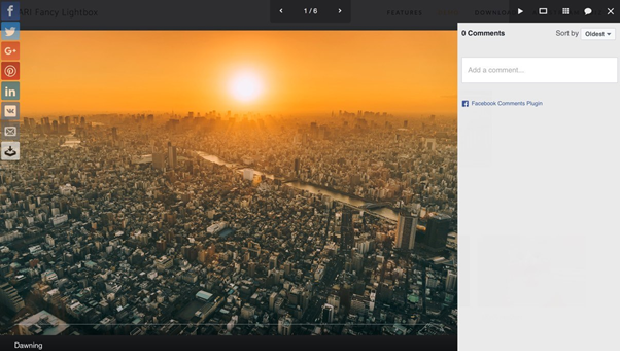 ARI comes in both free and premium versions. The pro option offers many additional features to love, including share buttons to make your content easier to spread over social media. You can even integrate the Facebook comment plugin if you like. Features include:
Perfect for mobile
No manual coding
Plenty of customization options
Built-in social features
5.     The Circle Image Slider
Don't get caught up on the "Slider" title. There's more to this plugin than meets the eye. The Circle Image Slider plugin has started to earn a lot of popularity in recent months, as photography companies and WordPress sites in search of prettier images look for something that's not only attractive and easy to use, but great for SEO too.
As a fully responsive solution for your WordPress gallery, the Circle slider can help you build stronger connections with your customers on any device. You can also choose exactly how you want your lightbox to perform, with options to adjust how many images display at once and whether they have specific descriptions to accompany them. Features include:

Quick installation
Create unique circular images
Cycle through unlimited pictures in sliders
SEO support
Lightbox feature can be toggled on and off
You may also be interested in the following Lightbox related articles:
How to Create a Responsive Lightbox Gallery on Your WordPress Site
How to Display a Video Lightbox in WordPress
How to Enable Lightbox for Photo Albums in WordPress
How to Enable/Disable Lightbox for Individual Galleries in WordPress Albums
How to Create a Fullscreen WordPress Lightbox Image by using Envira Gallery
Are you ready to launch your own responsive lightbox gallery? Which plugin do you like the best? Let us know in the comments below, or follow us on Twitter or Facebook to get plenty of updates and insights into building your WordPress site.
Using WordPress and want to get Envira Gallery free?
Envira Gallery helps photographers create beautiful photo and video galleries in just a few clicks so that they can showcase and sell their work.