The Best Camera Settings for Weddings
by Brenda Barron on Dec 13, 2018
Wedding photography is one of the most popular specialties in the photography world.
There will always be love-struck couples out there that need an expert to help them capture the most critical moments of their big day.
While there are many things that can make or break the success of your wedding photography business, there are few things more important than knowing which kind of settings to use when you're taking your shots. If your camera isn't prepared to capture the best images, then no amount of editing after the fact will save them.
So, how do you choose the best camera settings for weddings?
Here, we'll take you through:
Basic tips for better shots
Autofocus areas
Aperture modes
ISO and shutter speeds
Let's begin.
Basic Tips for Better Shots
When you're choosing the best camera settings for weddings, you'll find that different venues require different settings. For instance, a night-time wedding will need a greater focus on lighting, while pictures of larger groups need greater depth of field. Some of the basic things to consider when you're setting up include:
Flash: Every camera will have a basic flash option you can use to add light to your images, but we recommend avoiding the flash if you can. Natural lighting is not as harsh, and less likely to harm your photos.
White balance: Most wedding photographers will use automatic white balance settings for their cameras. If you shoot in RAW, white balance adjustments can be made in Lightroom, which means that you have one less thing to worry about on the day.
Lens choice: Remember that you'll need to choose the right lens to enhance your images. There are many different lenses to choose from depending on the kind of pictures you're shooting.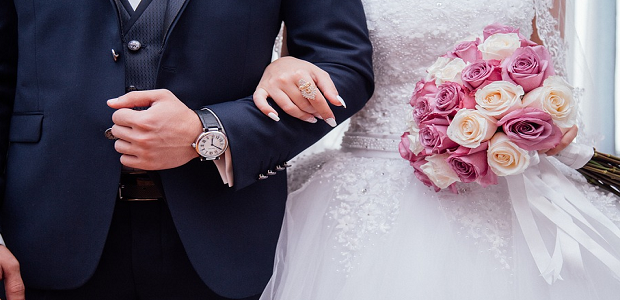 Here are a few options to be aware of:
Focus Areas and Focus Length
Many modern cameras come equipped with sophisticated technology that helps you to choose the best focal point for your shot. If you have a camera with autofocus, this will help you to select the best camera settings for weddings. Remember, when you're getting up close to an item for a picture, you may need to turn autofocus off it's concentrating on items in the image that aren't your primary subject.
For general focal length shots, it's best to stick to around 35mm when you're attempting to fit the whole wedding party or venue into an image. Depending on the size of the wedding party, you might need to adjust this. For portraits of guests and members of the wedding party, upgrade to 85mm, and for macro details like rings and shoes, start with 100mm and adjust as necessary.
Manual Mode or Aperture Priority Mode?
If you're shooting a wedding with a modern camera, you'll probably take the majority of your pictures in Aperture priority mode. Ultimately, a wedding day can move so quickly that leaving the camera in AV mode is one of the best ways to make sure that you get the right shots at the right time. The only time you should consider switching to manual mode is during times when the light is consistent.
In tricky lighting situations where you may need to adjust the elements of Av mode, you can simply move the exposure compensation settings on your camera up and down. When you are setting your aperture settings, remember that F/4.0 is the most popular setting when taking close-up shots. For small group shots, F/7.1 is more common, while F/8.0 is best for larger groups and pictures of the venue.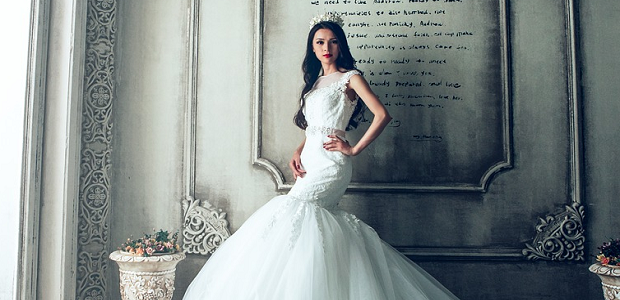 ISO Speed and Shutter Settings
When it comes to choosing the best camera settings for weddings, ISO settings and shutter speed can be two of the most challenging things to master. Starting with ISO, you'll need to consider the atmosphere that you're shooting in. For instance, when you're indoors with mostly natural light, you should be able to shoot at around ISO 400 all day. When you're in a very bright setting, an ISO 100 setting is more appropriate.
For night-time receptions and dimly lit churches, you'll need to turn the lighting up to around 800 and above. It's important not to go too high if you can manage it. However, there are plenty of Lightroom and Photoshop plugins that can help to eliminate grain in the editing process.
For shutter speed, there's no one-size-fits-all strategy. The key to success is focusing on keeping your camera steady during your shots. Try to use a tripod during most wedding ceremonies, as this will help to eliminate blur regardless of your shutter speed choices.
There you have it! Our top tips for choosing the best camera settings for weddings. Do you have any advice you'd like to share from your experiences? Let us know in the comments, and remember to follow us on Facebook and Twitter for more photography tips.
Using WordPress and want to get Envira Gallery free?
Envira Gallery helps photographers create beautiful photo and video galleries in just a few clicks so that they can showcase and sell their work.