Which Lens is Best for Wedding Photography
by Waseem Abbas on Feb 2, 2017
Are you wondering what camera lens to buy for your upcoming wedding shoot? With all of the choices out there, you may be wondering what the best wedding photography lenses are. In this guide, we will share which lens is best for wedding photography.
When it comes to lenses, you will find a long list of different options available. Lenses also differ with camera brands. However, the features and technology are nearly the same, so don't worry too much about the particular brand.
When choosing a lens, the most important thing to consider is the focal length and aperture, and how that will work for your photography style. One size doesn't fit all… in fact, for wedding photography you will usually need at least a couple different lenses: one for shooting close-ups, and one for shooting wide shots.
Here is a list of the best lenses for wedding photography. Have a look:
1. 70-200mm f/2.8 Lens
70-200mm lens is our favorite lens for wedding photographers. It produces sharpness in photos at a wide variety of focal lengths. This means you can zoom up to 200mm and still capture beautiful, crisp photos.
This lens is really handy for capturing intimate moments from a long distance, without disturbing the couple. Here's an example shot during the ceremony, captured from far away: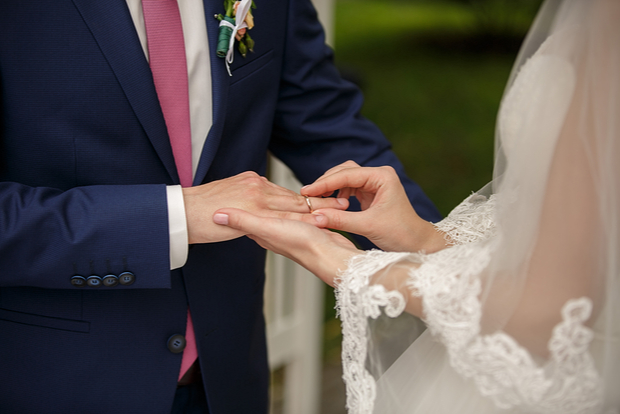 2. 50mm f/1.2 Lens
Our next choice after 70-200mm is a 50mm f/1.2 lens. This lens works great in low light. This also means you can take great photos without using flash, so the end result is soft and natural.
The other great part of having a low aperture is that you can capture beautiful portraits with shallow depth of field (where the background is blurred out).
3. 24-70mm f/2.8
24-70mm lens is another lens that you'll need for wedding photography, for taking wide-angle shots. Whip this lens out at the arrival of the couple with groomsmen & bridesmaids, to capture ceremony decorations, guests, the venue, and more.
Here's an example photo from the 24-70mm lens: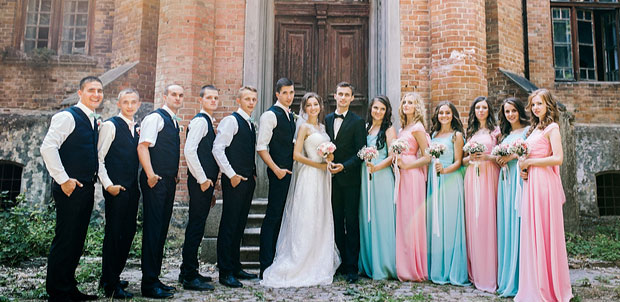 4. 85mm Prime Lens
85mm prime lens is best for portrait shots of the bride & groom, bridesmaids & groomsmen, guests in small groups, etc. It is a fixed lens, so you will need to back up and move yourself around to get the right composition. The advantage to a prime lens, however, is a higher quality shot, making it the lens of choice for many portrait photographers.
You can also use this lens in low light and get amazing results. Since it's a small lens, you can carry it easily.
5. 35mm Prime Lens
35mm prime lens is a fixed lens for wide-angle shots. You can use this lens to capture the bride & groom when they are getting ready, their preparations, accessories, interactions, and portraits with the bridesmaid and groomsmen.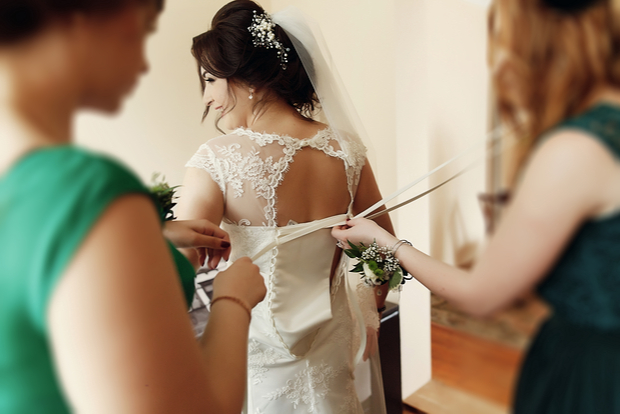 This lens is high quality, won't distort your images, and fits easily inside your camera bag.
6. Pancake Lens
Pancake lens is a very basic lens that we recommend carrying as a backup. In case your lens of choice has any problems, then carrying this lens will save the day. Or, you can give it to your assistant photographer to capture additional wedding shots.
That's all. We hope this guide has helped you to learn which lens is best for wedding photography. You may also want to check out our guide on how to light wedding photography without a flash.
If you enjoyed this guide, then please follow us on Facebook and Twitter for more free tips and resources.
Using WordPress and want to get Envira Gallery free?
Envira Gallery helps photographers create beautiful photo and video galleries in just a few clicks so that they can showcase and sell their work.