7 Best WordPress Carousel Plugins
by [email protected] on Nov 17, 2020
Welcoming your visitors with a great visual impact is an effective strategy to win them over in a split second. But sometimes, a static image isn't enough. That's why it's worth installing a WordPress carousel plugin on your website.
A carousel, also known as a slider or slideshow, is a set of sliding images, texts, videos, or animations on a webpage.
Whether it features photos of new arrivals on your e-Commerce store or previews of the latest articles you've published, a carousel serves multiple purposes. First, it allows you to create image sequences that are not only beautiful but also useful. Second, they can help you fill in potentially awkward space on your pages, or provide a visual break.
Now that you know how carousels can improve your website, let's learn how to create them. After reading this article, you will be able to:
Choose a carousel plugin for your website
Discover how and where you can use carousels
Understand the best practices to design carousels
Know how to choose a carousel plugin for WordPress
Top 6 WordPress Carousel Plugins
Thankfully, creating a WordPress slider is super easy, as long as you have the right plugin to help. You'll just install one of the best carousel plugins, drag and drop to create your carousel slides, then paste the shortcode onto your WordPress website where you want the carousel to appear.
Of course, you can do a lot more with more advanced carousel features. Many carousel plugins offer a variety of advanced features affecting speed, ease of use, and pricing.
We've done the heavy-lifting for you and found the best six WordPress carousel plugins on the market. Let's take a look at each of them:
1. Soliloquy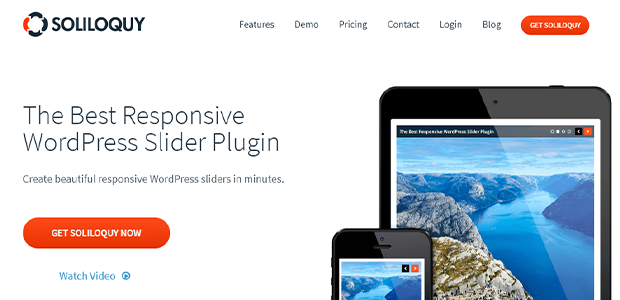 Soliloquy is one of the best WordPress carousel plugins. It is user-friendly and easy to set up. Because Soliloquy is a drag-and-drop carousel builder, you can quickly select the photos and videos you want to include, then simply insert them into the carousel.
Then, you can change the order of your carousel items by clicking on an element and dragging it to your desired position. The result is a responsive slideshow that works on screens of all sizes.
Because the slider is well-structured in HTML and loads quickly, it is also SEO-friendly. It also includes several design templates, which you can conveniently select from a drop-down menu.
In addition to the free Soliloquy Lite, the developers offer this carousel plugin as a paid version. The Pro version offers additional functions, like PDF file conversion and slideshow presentation. It also allows you to add thumbnails of individual images as navigation, integrate Instagram and Pinterest posts, or create multiple galleries for your products in your online shop.
Try Soliloquy Lite for free, or download your own copy of the Soliloquy plugin for as little as $17/year.
2. Master Slider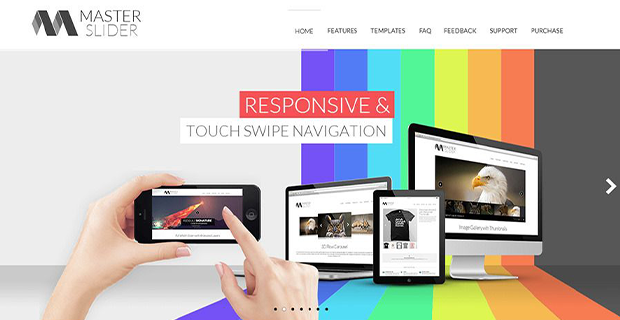 Master Slider is a free plugin that you can use with WordPress 4.6 or higher. Like Soliloquy, Master Slider's carousels are responsive and mobile-friendly. Users can navigate comfortably between slides in the carousel by swiping through their touchscreens.
This carousel plugin allows several customization options. For example, you can set the carousel to autoplay and choose how long to display each slide. Master Slider also employs a drag-and-drop mechanism to help you design your ideal carousels, so it's perfect for even WordPress beginners.
The paid version of this plugin includes additional functions such as full-screen mode, integration of Facebook images in the slider, animations, and HD video backgrounds.
Try the Master Slider free plugin or download the paid version for $24.
3. Responsive Slider by MotoPress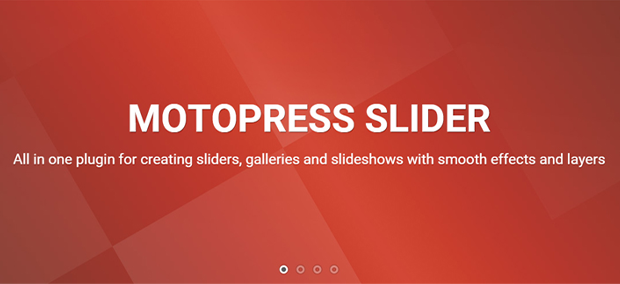 In addition to the classic image and video slider, the MotoPress carousel plugin offers two interesting options.
The Posts Slider lets you automatically integrate your latest blog post or news articles into your slideshow. This type of MotoPress slider gives you the ability to create sliders of images based on categories or tags, too.
Another type of MotoPress slider, the WooCommerce Slider, helps you sell your products by generating a carousel of all of the products from your e-commerce store. This feature encourages users to click on your store, thereby increasing traffic and sales.
While MotoPress does offer a free plugin, the Pro version adds even more interesting features, including animated layers that enable photo and video pop-ups. This element makes your WordPress carousel look particularly dynamic.
If you plan to include videos in your slider, MotoPress allows you to integrate them three ways — via YouTube, Vimeo, or by hosting them directly on your website.
Get MotoPress for $29, and start building your carousels today.
4. LayerSlider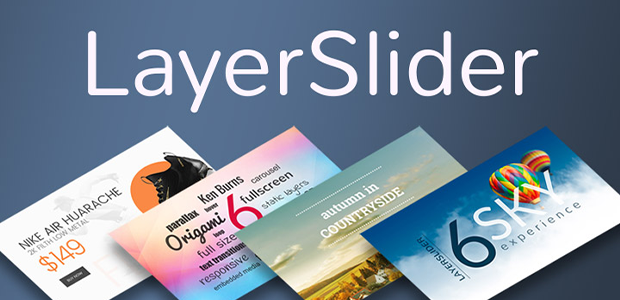 LayerSlider offers over 200 animations, 3D effects, and filters – much more than you probably even care to look at. And, at LayerSlider, developers are continuously adding new templates that are free for commercial use. But, if you don't want to confuse yourself, you can choose one of the ready-made templates to get started on your carousel.
LayerSlider also includes an image editor from Adobe Creative Cloud is part of the WordPress plugin. It helps you to edit your images directly via a user interface similar to Photoshop. The image editor opens in a pop-up, so you don't have to leave your current window in the editor.
The only noteworthy downside of LayerSlide is that there is no free version. By purchasing a license, you get six months of support from the developer, Kreatura. If you would like longer support, you can extend it by twelve months for an additional fee.
Get LayerSlider for as little as $25.
5. Smart Slider 3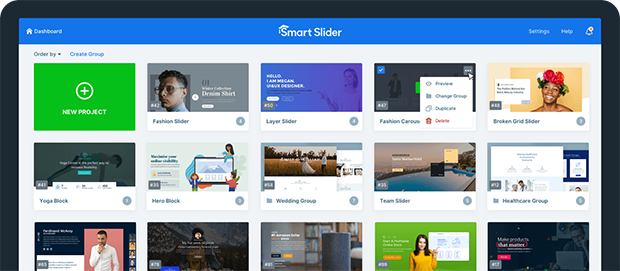 The live preview in Smart Slider 3 allows you to simulate different screen sizes to see how your slider appears on all devices. You can set the navigation of the sliders via the editor by using arrows, thumbnails, or dots. Then, you can choose whether you want to publish the slideshow in autoplay mode. Smart Slider 3's dashboard allows you to view and manage all of your sliders from a central location.
Smart Slider 3 also offers an extensive library containing images, backgrounds, vector graphics, icons, and slide templates. The plugin also contains a built-in image editor for editing your photos.
The free version of Smart Slider 3 lets you display content only from your WordPress page in the carousel. However, the Pro version helps you create sliders from your social media posts, WooCommerce store, and various external event plugins. It also offers many more slide templates, layer types, additional background animations, and setting options.
Try Smart Slider 3 free today, or download the premium version for $35.
6. MetaSlider

With almost a million active users, MetaSlider is one of the most popular carousel plugins for WordPress. Once installed and activated, it only takes a few minutes to create your first carousel, which you can insert both within a widget and in pages and blog posts.
Choose between eleven themes and four types of slideshows with different effects, three of which are responsive. To populate the slider, simply browse the free photo database Unsplash directly via the editor, or upload your own images and videos.
MetaSlider allows you to choose between four types of sliders: Flex Slider, Nivo Slider, Responsive Slider, and Coin Slider. Among these, the Nivo Slider is the one that gives you the most transition effects to choose from.
With the paid version, you have the option of integrating YouTube and Vimeo videos into your slides, creating HTML slides, integrating CSS3 animations into individual layers, and much more. You can also design your themes and integrate thumbnail navigation.
While the support with the free version only assists you with the installation and conflicts between the plugin and your WordPress theme, with the pro version you get comprehensive premium support.
Try MetaSlider Pro on up to two websites for $39.
7. Slider Revolution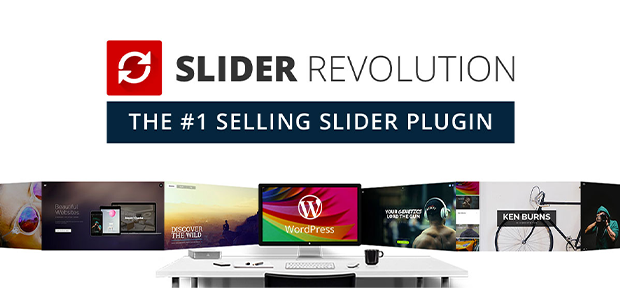 Slider Revolution is more than just a slider plugin. Besides carousels, you can create captivating hero blocks, content templates, and even full web pages.
A strong and intuitive visual editor makes building sliders easier, even for a WordPress newbie. Not only can you choose from a large selection of images, but you can also add parallax and 3D effects that animate the screen depending on how a user moves the mouse or scrolls the page.
Its control panel enables you to monitor the load of the plugin on your website in real-time — a useful metric for those who pay special attention to page speed.
Compared to some other plugins on the list, Slider Revolution's pricing is pretty competitive. Take advantage of Slider Revolution's unique features for as low as $29/year.
Best Uses of Carousels
How can you use image and video carousels on your website? Carousels serve several purposes and fill the gaps left by traditional design elements. By using carousels on your WordPress site, you can:
Squeeze a lot of information into a small space: Consider your website space as valuable as real estate in Manhattan. What does Manhattan do to make the best use of its space? It builds high-rises to stack layers of living and working areas. Similarly, carousels stack layers of information without taking up much space.
Save visitors from scrolling: Studies show that website visitors spend around four-fifths of their time viewing website content above the page fold. Many of them leave the webpage without even scrolling if they don't find what they are looking for. Carousels can autoplay to provide the information your visitors need without having to scroll.
Help users compare: Listing the items vertically doesn't allow effective comparison. Often, if you have multiple items and list them side-by-side, it might be difficult to fit them on the screen. Carousels come in handy when you need to compare different products or services side-by-side with similar features.
Show recommended products on your online store: Providing more options to your buyers helps them in their decision-making process. You might even up-sell them. You can use the carousels to recommend similar products to what they are browsing. See how Amazon uses it:

4 Best Practices for Carousel Design
Carousels have a bad reputation among web designers. However, a lot depends on how you use them. Here are some things you should consider while designing a carousel:
1. Give users the power to control
Nothing is more annoying than a carousel you can't control. Give your users the ability to skip, revert, or pause a slide. Not all your users have the same speed of reading and processing information, so using arrows or dots in your carousel design to make it easily navigable helps boost user experience.
2. Don't move slides too fast or slow
Having the slides move too fast prevents users from processing the information on each slide completely. On the other hand, programming them too slowly causes them to loses momentum. The optimum time for each slide depends on the kind and amount information on each slide and how much attention it needs. Usually, the safe range is 3-5 seconds.
3. Have a user-centric approach
The reason carousels have gotten a bad rep is because some designers treat them as a medium to display advertisements. Before using a carousel, ask yourself if it really makes it easier for your users to navigate through your website and get the information they need. Don't cram all your product features and buying recommendations into one slider.
4. Enable swiping
With the boom in mobile browsing, you will also find a rise in swiping features in almost all industries — from dating apps to cat food marketplaces to photography websites. Consider making your mobile carousels touch-friendly, because swiping is much more intuitive on touchscreens than tapping.
How to Choose a WordPress Carousel Plugin
With the number of carousel plugins available, it can be a daunting task to select the right one. Here are three things that you should consider before choosing a plugin:
Speed
Poorly-coded carousel plugins can affect your website performance by increasing the page loading time. A slow speed not only makes it likelier for visitors to click away, but it also negatively impacts on search engine optimization.
WPbeginner tested top carousel plugins by comparing page speed with the same images and settings for each. They found that Soliloquy is the fastest followed by MetaSlider. Soliloquy loads and displays the cover slide before loading the rest of the slides, giving it an edge over others.
Ease of use
Due to technical subtleties, using a carousel plugin might be difficult to understand, especially for WordPress beginners. When choosing a tool, make sure it has a drag-and-drop feature so you can track your changes in real-time and build your carousel visually. Most plugins offer a free version or a free trial, which allows you to use them and see if you can easily navigate through different features.
Features and Pricing
If you want to create simple carousels, you can go for a free plugin that is fast, user-friendly, and gets the job done. Except for LayerSlider and Revolution Slider, every plugin in our list offers a free version.
However, if you're looking for more than a simple image slider, investing in a paid version might be worth it. Soliloquy, MetaSlider, and Revolution Slider are packed with features. Some of these features include responsive design, video slides, transitions, animations, add ons, inbuilt photo editor, social media integration, and premium support.
Conclusion
Most of the debates on using carousels revolve around whether you should use them at all. But it's worth noting that leading brands like Apple and Amazon use carousels effectively on their websites. They prove that image carousels can be a great tool, as long as you know how to use them.
We hope this article helped you understand the use of carousels and best practices while designing them. No matter which carousel plugin you choose, make sure to test your performance to know how it affects your users' activities and your conversion rates.
Looking for more WordPress guides? Try these articles next:
If you find this article helpful, follow us on Facebook and Twitter for more WordPress guides.
Using WordPress and want to get Envira Gallery free?
Envira Gallery helps photographers create beautiful photo and video galleries in just a few clicks so that they can showcase and sell their work.