5 Inspiring New Year's Resolutions for Photographers (2019)
by Brenda Barron on Jan 24, 2019
Do you feel like 2018 flew by? Or that you spent all of last year waiting for a fresh start? Well, the new year has now arrived, and it's time to take advantage of 2019.
A new year brings with it countless opportunities to develop your skills as a photographer, explore new landscapes, and even take your business brand to the next level. The question is, where do you get started?
If you need a little inspiration to make sure that 2019 is "your year," then you've come to the right place. Here, we're going to ask the question "Which are the best new years resolutions for photographers?" and show you how you can develop your art by the time we reach 2020. Options for your resolution include:
Choosing the right format
Spending more time in the field
Taking more risks
Upgrading your gear
Branding yourself with an online gallery
1.     I Will… Start Shooting in Raw Format
If you haven't been shooting your pictures in raw format up until now, then 2019 could be the perfect time to get started. As one of the most fundamental new year's resolutions for photographers, learning how to shoot in Raw is something you'll see being recommended by virtually every photography magazine and expert.
Raw format photos give you so much more flexibility when it comes to dealing with exposure, white balance and focus. Although the files will take up more space on your hard drive, you'll find that it's easier to improve your chances of getting the perfect shot when you use Raw. Just go to your camera's menu settings and choose "Raw & JPEG." That way, you can shoot in both file formats at once.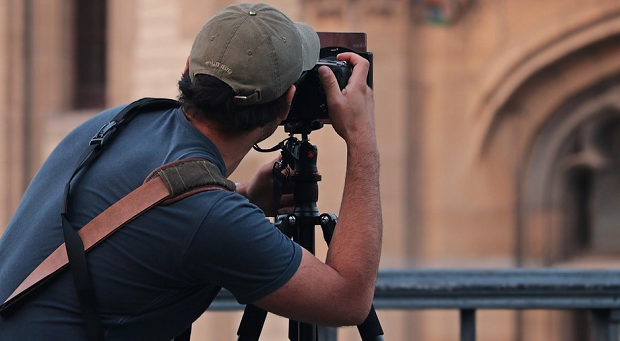 2.     I Will… Spend More Time in the Field
While there are plenty of photography and editing courses out there that can teach you how to make the most of your skills, few things are more effective at building your talent than practice. Ultimately, you need to find the time to get out into the field and take as many photos as you can – even if they're not of your preferred subject.
For instance, if you want to be a wedding photographer, you don't necessarily have to shoot nothing but wedding-based images. Practicing your portrait and landscape shots will also help when it comes to capturing the ideal moments for your loving couples. Spend at least one day a month where you do nothing but practice your photography skills.
3.     I Will… Take More Risks
Speaking of practicing your skills, remember that in today's increasingly competitive world, it's important to take risks from time to time. Although you might get by with a traditional wedding photography business for a while, it helps to show potential clients that you can think outside of the box too.
For instance, you can try playing with new brushes and filters on Photoshop to see what kind of new aesthetics you can create. On the other hand, you could try collaborating with other photographers in your space, or even seeing what you can accomplish with drone photography.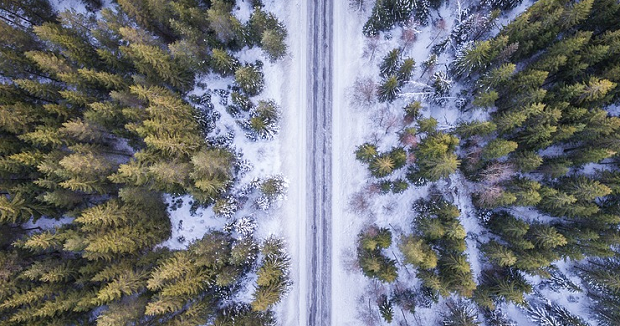 4.     I Will… Upgrade my Gear
Sometimes, the best new years resolutions for photographers are the ones that convince you to invest in yourself. It can be difficult to take yourself seriously when you're first getting started as a professional artist, but if you don't -then no-one else will either.
If you've decided that now is the year to start printing out your business cards and exploring new opportunities as a full-time photographer, then you're going to need the right gear on-hand. This could mean that you spend some serious cash on upgrading your camera, or it could simply mean downloading new software for post-production. Decide what you need to take your business to the next level this year and invest in it.
5.     I Will… Create a Gallery Website
Finally, if you want to accomplish something incredible with your photography skills this year, then you're going to need a website where you can showcase your talent. The good news is that CMS solutions like WordPress make it easier for even complete beginners to build their own website from scratch. All you need is a domain name, hosting, and a theme to get started with.
Once you're ready, use a tool like Envira Gallery to post stunning galleries of your work online, complete with watermarks to protect them from being stolen. Your galleries will give you somewhere to direct organic online traffic that you bring to your site, as well as potential clients who ask about your services. Envira even comes with the option to build-in eCommerce tools later, if you decide to sell your photos as prints.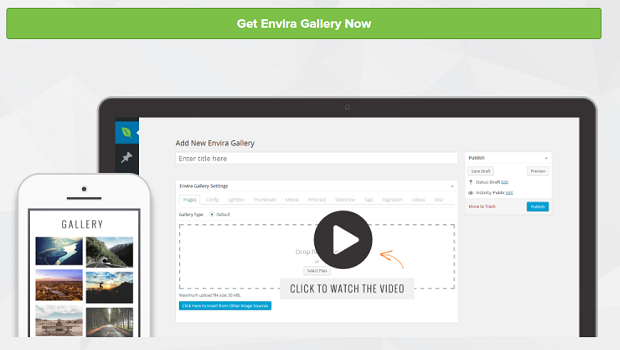 There you go! 5 amazing new years resolutions for photographers to help you achieve amazing things throughout 2019. Remember to follow us on Facebook and Twitter for more tips and insights.
Using WordPress and want to get Envira Gallery free?
Envira Gallery helps photographers create beautiful photo and video galleries in just a few clicks so that they can showcase and sell their work.