Want to know if Envira Gallery is the right WordPress plugin for you? This article will show you what the plugin can do for you and your business, and look at its features and cost.
By the end of this article, you'll see how Envira Gallery can benefit you and make your WordPress site more visually appealing. We'll cover:
Features and benefits of Envira Gallery
What the Envira Gallery plugin can do for your site
How Envira Gallery measures up against other WordPress plugins
How to decide if Envira Gallery is right for you
Costs of Envira Gallery
Features and Benefits of Envira Gallery
The main purpose of the Envira Gallery plugin is to create responsive, good-looking photo or video galleries for your WordPress site. Having your photos and videos load quickly, be responsive on various devices and also look good is more important than ever in today's high-speed world of social media and e-commerce.
Research shows that most users will click to another website if your site doesn't load within 3 seconds. And, Google uses page load time as a factor in its site rankings.
For example, Google penalizes slower-loading pages by assigning them lower search engine rankings. On the other hand, it bolsters faster loading pages and boost their rankings. Having a large photo or video gallery can reduce your page load speed if the gallery and its images aren't optimized.
The Envira Gallery plugin was created to be powerful and fast on-site and yet easy to use. That way, you can upload your images without having to watch hours of tutorials ahead of time.
With Envira Gallery, you get these amazing features:
1. Drag and Drop Builder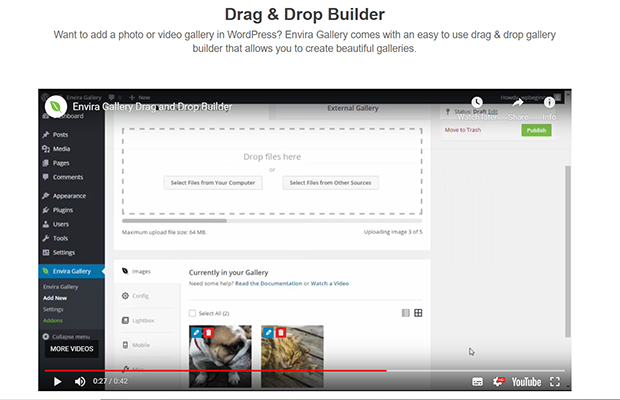 Building an image or video gallery in WordPress by yourself can be frustrating and complicated, but Envira Gallery makes it easy. The plugin features a simple, drag-and-drop builder to make the process of creating your gallery much smoother.
The drag-and-drop gallery builder allows you to upload your media quickly and to rearrange the images to create the perfect installation. Envira Gallery has made this process so intuitive that you can create a WordPress gallery in less than 5 minutes!
2. Gallery Templates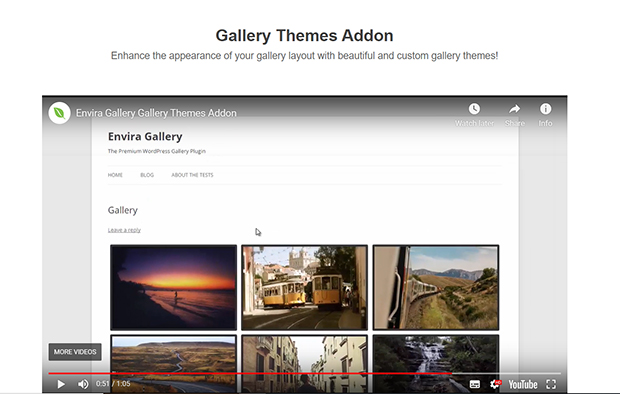 If you don't like the default WordPress photo gallery layout, Envira offers pre-made gallery templates, designed to present your images in the best possible format.
With Envira Gallery, you get a degree of control over your image gallery that WordPress alone simply can't give you. Envira allows you to customize your image grids and galleries so that your site looks exactly how you want.
3. Responsive and Mobile-Friendly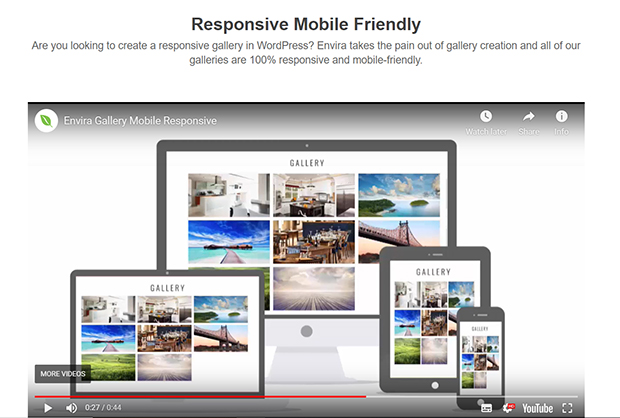 It is important that your image galleries load at the correct size on a variety of device screens. Though you may opt to build your WordPress site on a desktop computer, many of your site visitors will browse your images from a mobile device! So, your images must be sharp, crisp and clear on screens of all sizes.
This is where responsive images come in. Responsive images automatically resize to display properly on different screen sizes.
In the past, making images responsive meant that you had to add lines of CSS code to your WordPress theme. That's fine if you know how to code, but if you don't, it could be a problem. Either you'd spend hours learning how to do it yourself, or you'd have to pay someone to do it for you.
Instead, Envira Gallery has a system that adapts to the display settings you select and generates a dynamic, mobile-friendly gallery layout for users on any device. That way, no one ever sees pixelated, distorted versions of your beautiful photos!
And, best of all, you don't have to add any code to achieve it.
4. Standalone Galleries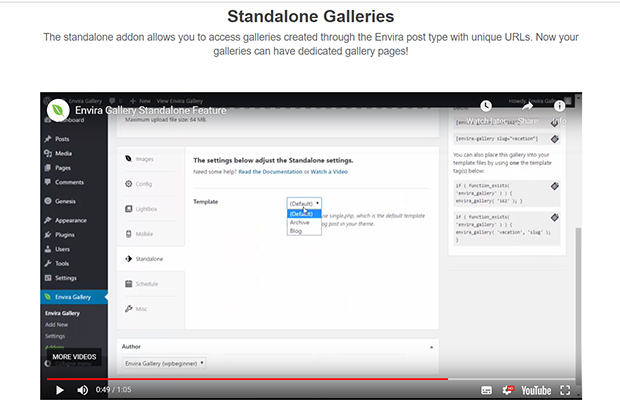 Unfortunately for creatives, WordPress doesn't allow image galleries on pages. In fact, WordPress only lets you create galleries inside of blog posts. For some, the gallery restrictions aren't a hinderance.
But, for others like photographers, photo galleries are an essential portion of their site. They'll likely want an image gallery on their home page and other pages, too.
The Envira Gallery plugin helps photographers and others in creative fields get around WordPress' gallery limitations. The plugin features a Standalone addon that allows you to assign your galleries their own URLs. This means that you can share your galleries directly, link them on your social media sites and even embed them in your site pages.
To access this feature, you'll only need to enable the standalone option. From there, it makes all the adjustments and automatically generates unique URLs for your galleries.
5. Supersize Lightbox Images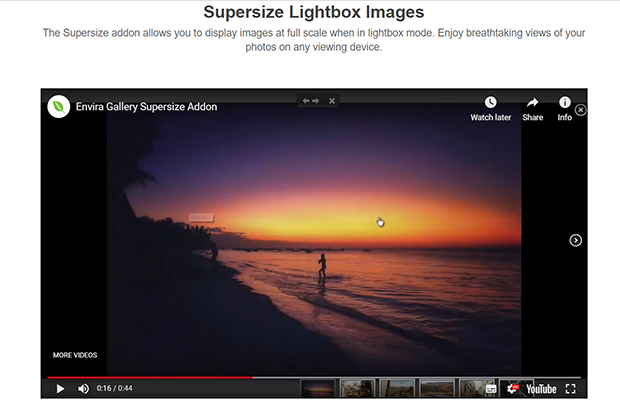 With Envira Gallery's Supersize feature, you can display full-size RAW photos in your photo gallery. For photographers, this feature is especially valuable. Without it, WordPress will automatically resize you photos, which can result in distortion and pixelation.
Envira Gallery can help you ensure that your photos display as accurately as possible on any display.
6. Envira Gallery Addons
In addition to its main features, Envira Gallery has an impressive number of addons to make your media galleries function seamlessly and look professional. Here's a quick run down of some of the plugin's main addons:
Albums Addon
The Albums addon allows you to organize your galleries, choose cover photos and more.
Social Sharing Addon
Share photos via email, Facebook, Twitter, Pinterest, LinkedIn and WhatsApp with the Envira's Social Sharing addon. This addon gives you the power to increase your reach and promote your work, without the extra trouble of posting individually to each of your social sites.
Videos Addon
While Envira is great for creating image galleries, it doesn't work on images alone. Envira allows you to embed self-hosted and other videos in each of your galleries! These video galleries are compatible with YouTube, Vimeo, Wistia, DailyMotion, Facebook, Instagram, Twitch and VideoPress.
Watermarking Addon
Image theft is a serious problem to consider if you post your photography online. Luckily, Envira can help you protect yourself from having your images stolen. The plugin's Watermarking addon adds watermarks to your image galleries to keep them secure!
Slideshow Addon
Automatic slideshow galleries can help you showcase your images to your site visitors without any extra effort on their part. If you want to make sure visitors see all your site images, try using Envira Gallery's Slideshow addon.
Deeplinking Addon
If you operate a photography web store as part of your website, you likely spend quite a bit of time working on SEO and improving your site's rankings. The Deeplinking addon in the Envira Gallery allows you to optimize your image galleries and link to images with deeplinking.
Lightroom Addon
If you're a photographer who uses Adobe Lightroom as part of your editing workflow, you'll love Envira Gallery's Lightroom addon. With this feature, you can automatically create and sync photo galleries from Adobe Lightroom hassle-free!
Other Envira Gallery addons include:
WooCommerce
Proofing
Pagination
Tags
Password Protection
EXIF data
Featured Content
Dropbox Importer
NextGEN Importer
Fullscreen
ZIP Importer
Printing
Protection
And more!
Envira Gallery Demo
Although Envira Gallery is a plugin that's easy to use, there are some very helpful demos on how to get the most out of its various features. The most requested demos include Albums, Lightbox Gallery, Masonry Gallery, Mosaic Gallery, Videos, Gallery Themes, Featured Content, Slideshow, Thumbnail Gallery, Pagination, Deeplinking and Lazy Loading demos.
Envira Gallery Versus Other WordPress Plugins
What sets Envira Gallery apart from other WordPress plugins? Let's take a look!
Speed and Performance
As mentioned earlier, page loading speed is a huge factor in a website's search rankings and overall success. Envira Gallery's page loading speed is faster than other, similar WordPress plugins like FooGallery and NextGEN.
Isitwp.com did their own tests on page load speed using different WordPress plugins and found that Envira Gallery's page loaded in 1.08 seconds, compared to the second fastest FooGallery plugin which did it in 1.89 seconds.
When it comes to page loading speeds, every nanosecond counts! And, Envira Gallery beat out FooGallery and NextGEN despite having a page size nearly double than that of the other two plugins.
Streamlined Features
Most WordPress gallery plugins are bloated with extra features that most users will never use. Why make plugins more complicated than they have to be?
Envira Gallery is different in that it contains only the most essential features in the core plugin. Other, addon features are available as separate additions if you wish to use them. These addons can be installed and uninstalled as you see fit, and you only need to add the ones you will really use.
Very User-Friendly
Let's face it — some WordPress plugins (and WordPress itself) can be difficult for beginners to navigate.
Envira Galleries takes that frustration away. It is designed to be easy to use, even by those who have little experience with creating image galleries and layouts. It allows you to import your media, drag and drop images to create albums and choose a gallery template from a pre-made selection. And, what's more, is that Envira Gallery also supports many video integrations!
Of the WordPres gallery plugins available on today's market, Envira Gallery is one of the easiest user interfaces to master.
How to Decide if Envira Gallery is Right for You
Before you spend money on any apps or software, it's always wise to consider what you want the plugin to do for you, your skill level and your budget.
Envira Gallery does have a basic version, and if you are an occasional user or beginner to WordPress, albums and image galleries, this version may be enough for you. The basic version has all the core features you'll need to get started, like gallery templates, drag and drop image galleries and more, but it doesn't feature many of the addons.
For instance, the basic plan doesn't offer addons like Deeplinking, Fullscreen, WooCommerce, Lightroom and others. But, that might be alright! It all depends on what you need your site and your image gallery to achieve. And remember, you can always upgrade later.
Envira Gallery also has a pro version (Gallery Pro), as well as a Gallery Agency, which contains all of the addon features. Gallery Pro plan provides support for up to 25 sites, while Gallery Agency plan offers support to an unlimited number of sites.
With a range of plans available, Envira has options for both the beginner and the professional WordPress user. The speed and ease of use of the Envira Gallery plugin makes it suitable for everyone and every WordPress site.
Free WordPress Plugins
There are some free gallery plugins available, like the basic version of NextGEN, but the learning curve is a lot steeper than with Envira Gallery. Some of the things that premium WordPress plugins do, Envira Gallery can do as well. Creating a justified image grid for instance, is a breeze with Envira's tutorial. Stop wasting money on specialty WordPress plugins with limited uses because Envira can do it all!
There are many, many gallery plugins out there for WordPress, but you should research and compare features before you decide which one to use.
For instance: do you need to have some knowledge of code to use these plugins, or are they ready to go out of the box? Envira doesn't require programming knowledge, so it is a great option for those who just want to get started building galleries on their site.
Cost of Envira Gallery
Let's take a look at the cost of Envira Gallery. As we mentioned before, Envira comes with a variety of features at different price points. Here are Envira's different pricing tiers, which change depending on the package and its features:
Basic Gallery: $29 per year
Envira Gallery Plus: $69 per year
Gallery Pro: $99 per year
Gallery Agency: $299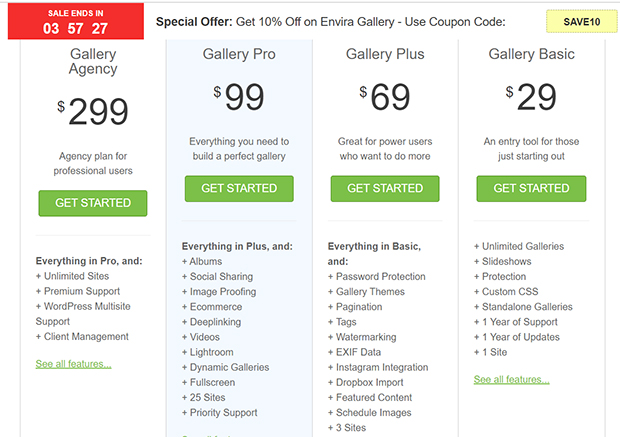 Unlike other plugins, Envira Gallery is not a subscription-based tool. Instead, the fee you pay when you sign up gives you lifetime use of the Envira Gallery plugin. The annual renewal fees give you access to updates, new addons and ongoing technical support. Those who purchase the pro plans receive even more added benefits, including priority support and client management.
Envira allows you to cancel your annual renewal or to change plans at any time. Even if you cancel, you'll still have access to the original Envira Gallery plugin your purchased. But, new addons, support and updates will disappear when your plan expires.
Envira Gallery Plans
For beginners, the Basic Gallery and Gallery Plus are probably best to start with, instead of the pro version. Gallery Plus allows you to do all the things that the basic plan does, like create image galleries and drag and drop, but it has 11 extra addons that you don't get with the Basic Gallery.
While you probably won't use all of those addons immediately, there are some useful ones in Gallery Plus that will make your life easier. These include Instagram and Pinterest addons for social sharing, Watermarking, Zoom, Schedule, Tags and more.
Gallery Pro is Envira Gallery's most popular pricing tier. At $99 per year, it gives you access to all of Envira's available addons, as well as priority support and service on up to 25 sites. So, for $30 a year more than the Gallery Plus tier, you get everything you could need to run your image gallery.
The Gallery Agency tier is for those who want to run an unlimited number of business websites with a great deal of photo and video galleries. Knowing what you'd like your site to accomplish and who your ideal audience is will help you decide which Envira Gallery plan is right for you!
Conclusion
After thinking about your business needs and budget, only you can decide if Envira Gallery is right for you. Hopefully this review has given you the information you need to make an informed decision.
Don't forget to check out the Envira Gallery online. The Demo pages are especially useful for you to see how the many different features work.
Once you create a perfect image gallery with the Envira Gallery photo gallery plugin, don't forget to backup your photos to a reliable cloud service!
If this article was useful to you, consider joining our email list for more in-depth articles straight to your inbox. Follow us on Facebook and Twitter too for more tips and tricks.
Using WordPress and want to get Envira Gallery free?
Envira Gallery helps photographers create beautiful photo and video galleries in just a few clicks so that they can showcase and sell their work.