Building a WordPress Photography Website? 3 Elements You Must Include
by Brenda Barron on Mar 29, 2018
As you grow your photography brand, you'll discover that you need more than just a business card and a Facebook page to earn customers.
A WordPress photography website is one of the most effective ways to showcase your photography skills online. The question is, how do you design a WordPress photo portfolio that delivers a measurable return on investment?
There's more to WordPress for photographers than simply setting up a WordPress account and loading all your recent snaps onto a gallery page. Your website needs to be clean, attractive, easy-to-use, and brimming with opportunities for brand growth.
Here are just 3 elements you'll need to include to create a successful online presence:
Element 1: The Right Responsive Theme
The first step in developing a powerful WordPress photography website is choosing the right theme. The theme acts as the foundation for your online presence, and it should be attractive and efficient enough to highlight your images, showcase your professional nature, and convince your customers that you're worth their time. As you look through themes, make sure that you keep an eye out for:
An attractive (customizable) layout: The theme you choose should be beautiful and elegant, with plenty of opportunities for customization.
Various gallery types: Having a range of gallery options to choose from means you can test different image displays.
Photography enhancing features: Look for themes that have, for example, a zoom feature. Visitors may want to zoom in on your pictures to get a greater insight into your skills.
Social media integrations: Expand your following and your sales with social sharing buttons. These buttons allow visitors to share your gallery photos to their social media.
Integration with e-commerce plugins: If you plan to sell prints online, you'll need a theme that can integrate with eCommerce plugins like WooCommerce.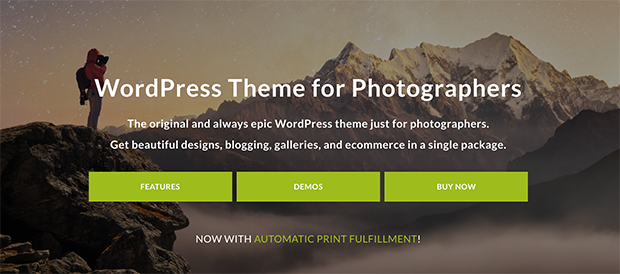 Themes like Photocrati have all of these features and more. With Photocrati, you can choose from over 90 customizable page templates, 12 gallery and blog templates, and flexible menus to create the perfect website for your photography. Learn more about Photocrati's eCommerce and proofing gallery features here.
Or, try one of Imagely's modern, minimalist photography themes. These themes display your images and image galleries on clean, well-built pages that put the emphasis on your photos — and your skills! All Imagely themes use the Genesis theme framework.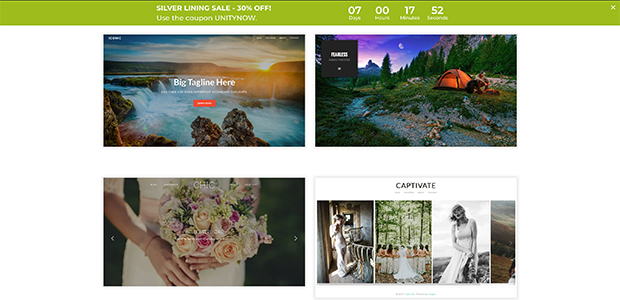 Try an Imagely theme to take your photography site to the next level.
Element 2: Image Optimization
You know that images are the heart of your WordPress website, but you might not know how to transform your site into a commercial advertisement for your business. First up, the images you showcase need to display in high-quality. The problem for many photographers building their WordPress photo portfolios is the need for high-resolution images, which can lead to slower loading times.
Since slow loading times can drive customers away, leading to higher bounce rates, it's important to find plugins you can use that keep your WordPress photography website running smoothly, without detracting from the quality of your pictures. For instance, the EWWW Image Optimizer plugin automatically upgrades every image you upload to your website.

Element 3: Purchasing Options for Revenue
Finally, depending on how you plan to run your photography business, it's important to make sure that you have methods available that allow customers to buy content from you. Sometimes, a WordPress photography website will be all about showing off your skills so that you can convince people to purchase your services for weddings and special events. In other cases, you might want to sell your prints online.
Selling your photographs can be a fantastic way to boost your income stream and improve your credibility. However, WordPress doesn't automatically support eCommerce functions, which means that you'll need to integrate this functionality using specific plugins.
While you're searching through possible shopping cart plugins, you should check out the Photography Management plugin for WordPress. This feature allows you to create private galleries that clients can access with a special password. This means customers look at additional pictures from their event to purchase additional copies.
Creating Your WordPress Photography Website
There's so much more to a fantastic WordPress photography website than showing off beautiful images. You'll need to think carefully about user experience. And, make sure that your website includes the features you need to make a profit. Fortunately, WordPress a great platform for photographers because you can expand its functions with plugins and themes like Envira Gallery.
Now we want to hear from you. What is the most important element for a successful photography website, in your opinion? And remember, you can always connect with us on Twitter and Facebook.
Using WordPress and want to get Envira Gallery free?
Envira Gallery helps photographers create beautiful photo and video galleries in just a few clicks so that they can showcase and sell their work.