8 Best Free Photo Editing Software
by chriscct7@awesomemotive.com on Jan 22, 2020
Choice is great, isn't it? But sometimes, having too many choices can be as frustrating as not having enough! Take free photo editing software, for example. There's a pretty big selection of free image editing programs out there… So how do you know which is best for you?
We'll help make your choice easier by teaching you about:
Different types of photo editing software
The major differences between the best free photo editing programs
Which free photo editing software are easiest to use
What factors you should consider when choosing editing apps
The best ways to buy photo editing software
Best free photo editing software on the market today
Types of Photo Editing Software Packages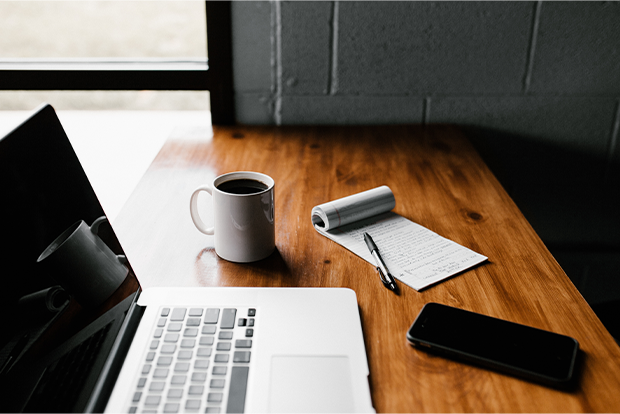 There are two types of photo editing software — free and paid. The ones you pay for include Adobe Photoshop and Lightroom, Skylum's Luminar and Aurora HDR, ON1 Photo RAW and others. These programs feature professional editing software tools to allow you to create complex photo retouching and editing. You can also use these programs' built-in presets, or download presets for them online.
You can purchase these paid editing apps either by paying a one-time fee or by enrolling in a monthly subscription plan. While paid programs do offer a ton of features for your money, they aren't the only route. You can still get a good image editor on a tight budget for free.
Free image editing apps come either as cloud-based software or free online photo editors. Others, you can download onto your computer like the paid professional photo editing software.
The best free photo editing programs allow you to do all your basic edits with tools that adjust white balance, color correction, cropping, exposure and more. If all this image editing terminology sounds mysterious and new, don't worry! You'll soon pick it up through the online tutorials you can read or watch to learn your new photo editing program.
How to Choose the Right Photo Editing Software for You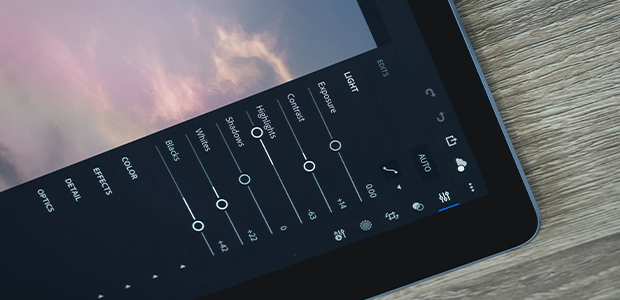 When it comes to deciding which photo editing app will best suit you and your image editing needs, you should take a few factors into account. How easy is the editing app to use? What kind of image editing do you want to do? And, does the photo editing software have all the editing tools that you will need?
Which Photo Editing Software Programs Are Easiest to Use?
Which photo editing software you find easiest to use very much depends on your photo editing skill level. Are you a complete beginner, or do you have experience using using editing tools?
If you're a beginner, you will want a program with a user-friendly interface, with plenty of one-click presets and filters, as well as plenty of instructions.
Good choices for beginning photo editors include Pixlr Editor, Canva, Ashampoo Photo Optimizer 2019, PhotoScape and Fotor. We'll look at some of these image editing apps in more detail later. They are easy to use, which makes them good choices to get started with.
For those who have a bit more experience using editing tools, programs like Inkscape or GIMP will give you access to the more advanced tools that professional photographers use in their image editing. Again, we'll look at these software options later in the article.
What Kind of Image Editing Do You Want to Do?
Are you looking for an editing app to touch up your images for social media? Or do you need something with layers, brushes and the tools to create composite images? Maybe, instead, you want to create your own infographics or banners.
The type of editing you want to do should be a primary factor in deciding which free image editor to work with. Some, like Fotor, Ashampoo Photo Optimizer 2019 and Pixlr Editor, are designed for fast and simple edits. Their easy-to-use filters and effects make photo editing as simple as a couple of clicks.
More heavy-duty image editing, of course, will require a more heavy-duty software. Something like Photo Pos Pro or GIMP — or even a competitively-priced photo editor like ON1 Photo RAW or Luminar — is plenty strong to do the trick.
For those who want to use simple graphic design elements in their image editing, Canva and Fotor are a good choice.
Consider what kind of editing you'd like to do and what kind of editing you're likely to do in the future. As you can see, the answer to that question alone will help you narrow down your software options considerably!
Does the Image Editor Have the Tools You Need?
After you've decided what kinds of edits you'd like to make in your photographs, you can start looking for software that offer the tools to complete those edits. For example, if you know you want to use lots of filters and presets, check that the editing software you're considering has those editing tools!
Do you need to do color correction, cropping, white balance adjustments or sharpening? Will you need to use layers and blending modes? Do you want to add type or graphics to your images?
Check the features of the image editing app to make sure it has what you want — and all you may want in the future! You can always use two or more free editing apps, depending on your workflow, to get the exact tools you need.
Some free image editors don't allow you to batch process images, so if you want to process multiple images at once, you'll need to consider a desktop-based free image editor. Some free apps also limit the size of the images you can import and export unless you purchase the premium version. All caveats to keep in mind!
Best Way to Buy Photo Editing Software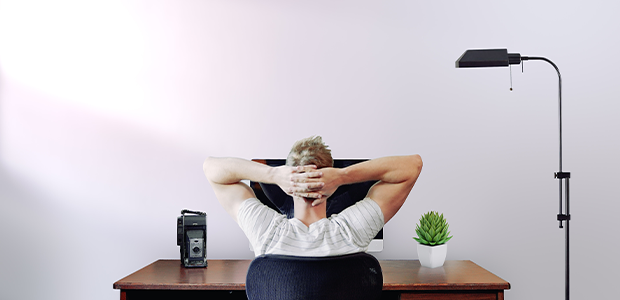 Although we're looking more closely at the best free photo editing software, professional image editing apps are worth a mention.
If you're going to do a lot of image editing, you may be better off buying your software. Then, you can work with industry standard software that's reliable and has an advanced range of editing tools that you can utilize.
Remember, most paid editing programs offer two payment modes — a one-time fee and a subscription service. Subscription-based photo editing programs include Adobe Photoshop, Lightroom and Capture One. You pay a monthly subscription, which allows you access to the latest software updates.
Subscription prices for these software options usually aren't too expensive. For example, you can purchase Adobe's Creative Cloud Plan for only $9.99/month and gain access to two versions of Adobe Lightroom and Adobe Photoshop. Still, a monthly subscription can add up if you're on a tight budget.
Flat-fee image editing software includes Luminar, ON1 Photo RAW, Serif Affinity Photo and DxO PhotoLab 2. With these photo editing programs, you pay a one-time fee to download the software. Of course, that means no monthly subscriptions. And, these programs still have a range of sophisticated editing tools like the Clone Tool, layers, dodge & burn, gradients and more.
A couple of years ago, Adobe Photoshop and Lightroom, as well as Capture One were considered to be the only advanced image editing software on the market. These image editors are still considered industry standard, but the amount of new, flat-fee image editing apps with editing tools that rival those in Adobe and Phase One programs has grown tremendously.
That is to say, Photoshop, Lightroom and Capture One aren't the only sophisticated image editors anymore. That means you're not forced to buy into Adobe's monthly subscription to get high-quality, professional photo editing software. In fact, there are plenty of good alternatives out there for available for a flat fee.
Best Free Photo Editing Software Packages
In this section, we'll take a more in-depth look at the most popular free photo editing software packages, as well as the pros and cons of each one. We'll also look at the best one-off payment photo editing apps, too.
Here are some of the best free photo editing software packages:
1. GIMP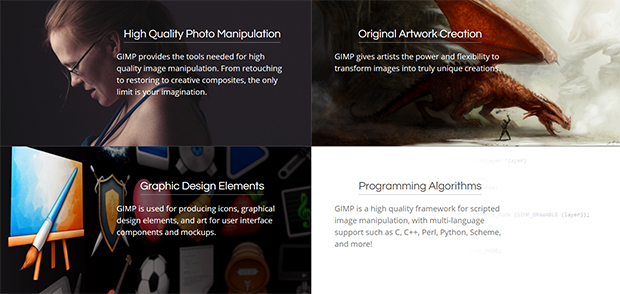 GIMP stands for "GNU Image Manipulation Program," and it has been around for decades. This open source, free photo editor has a strong community of users dedicated to improving the software with extra plugins and enhancements. That means it's always current, and it's been essentially self-developed by photographers to fit their needs.
It stands as one of the best free photo editors around — and for good reason. GIMP's photo retouching and editing tools are the same as those you would find in professional, paid image editing software.
GIMP users have access to masks, layers, curves, levels, cloning and healing tools, smart selection tools and custom brushes, along with over 40 export formats for their images. The program also features an animation package, which even some paid editors omit!
While GIMP is ad-free, it doesn't necessarily have a user-friendly interface for beginners. If you are used to Photoshop-style workspaces, then you'll have no problem getting up and running with GIMP. However, if you're a complete beginner, you may struggle with the sheer amount of editing tools and options available with GIMP.
But, it's still worth a shot. GIMP's online community has developed a host of tutorials that will help you get the lay of the land.
GIMP runs on Windows, macOS and Linux so you can use this software on virtually any household device.
2. Ashampoo Photo Optimizer 2019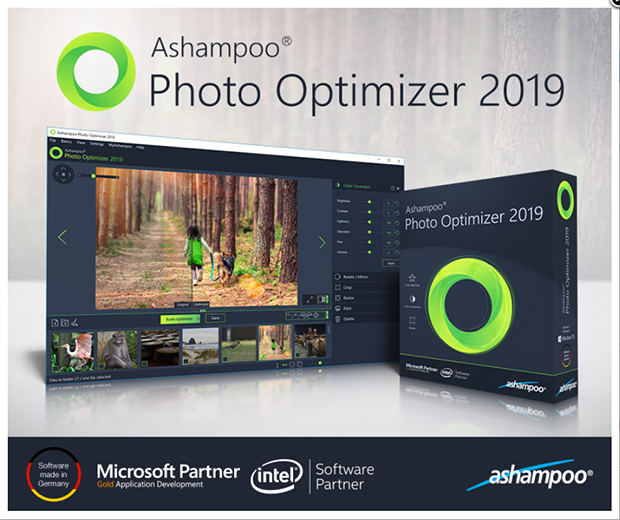 Ashampoo Photo Optimizer 2019 is perhaps a lesser-known photo editor, but it's still a great choice for editing a lot of photos quickly.
This ad-free software features a clear and streamlined user interface, allowing for a speedy editing workflow. And all you have to do to use it is request a licence key by submitting your email address! Ashampoo don't share this with any other third parties, so you won't have to worry about your inbox filling up with spam, either.
With Ashampoo, it's easy to import photos to edit, and you can rotate or mirror a selection of photos in batches. Batch processing makes editing a lot faster if you have many images to get through, because it allows you to adjust them all at once. If you frequently have multiple images to edit at a time, make sure the free software you choose has batch processing capabilities.
Ashampoo is also great at letting you make manual corrections to metrics like color and exposure. But, sadly, you can't apply these changes to a selection of multiple photos at once.
Still, what is lacks in batch editing, it makes up for in export formats. Ashampoo Photo Optimizer 2019 allows you to export in a variety of file formats, including JPG, PNG, BMP and TIFF.
This software also features one-click image optimization. This Auto Optimize tool analyzes your photo and automatically applies changes to improve the look of the image. This may mean automatically adjusting sharpness, color and exposure, or other metrics. As with a lot of AI-auto optimizing tools, results can vary according to the details of the photo you're editing.
As of right now, Ashampoo Photo Optimizer 2019 only runs on Windows. If you work on a PC, Ashampoo should be at the top of your free image editing software list!
Of course, if you find that you need even more capabilities than the free version offers, you can buy a premium version — Ashampoo Photo Optimizer 7 — for access to enhanced image editing tools.
3. Canva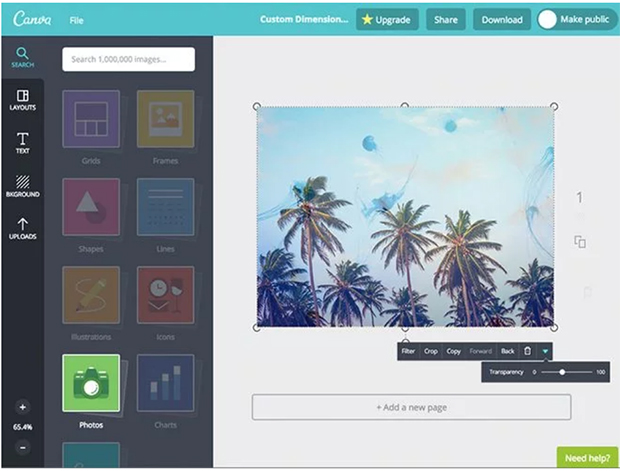 Canva offers photo editing and graphic design tools right from your web browser! This web-based editor works great for turning your photos into social media posts, invitations, cards or posters.
Canva's tiered software is available at 3 levels: Free, Pro and Enterprise. The Pro and Enterprise versions are meant for professional users and businesses, while the Free tier is great for home users. It's super simple to use, so even photo editing beginners can find their way around the user interface.
To start using Canva, you just have to sign up with your email address. When you sign up, as an added bonus, you'll get 1GB of free cloud storage for your work, as well as access to over 8,000 free templates and over 100 design types. These design types range from letters and social media posts to presentations and more. With Canva, you'll have the option to turn your photo into just about anything!
You'll also get access to thousands of free stock photos and graphics to use in the creation of your work.
Canva doesn't have advanced photo editing tools such as layers or healing brushes, but it does have options for editing using sliders. With these sliders, you can add tints and adjustments to your images before you add text and other design elements.
When you're finished editing in Canva, you can export your images in JPG, PNG or PDF file formats. And, because Canva works on Windows, macOS, Linux, Android, iOS and iPadOS platforms, you'll never have to be without it!
4. Fotor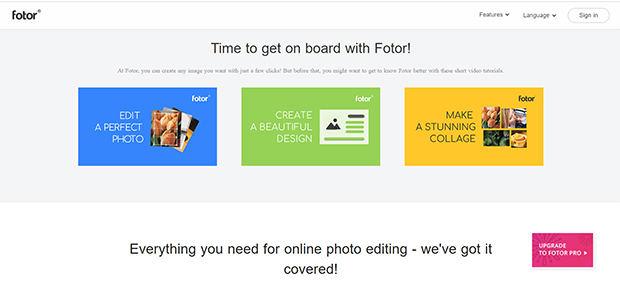 Fotor is another web-based photo editing app, like Canva, but it offers a unique feature that's often lacking in free photo editors — batch processing.
If you just need a fast and simple online photo editing tool, Fotor has a huge amount of high-quality filters that will make your easy edits even easier. It's also very easy to use, and it gives you the option to add different special effects, frames and borders to your photos. It also lets you convert RAW files, which is important in any photo editing program.
The latest version of Fotor lets you create collages with a custom aspect ratio and has an improved tilt-shift filter. With Fotor, you can rest assured that you'll see significant improvements and more capabilities with each update.
Fotor is probably not for you if you need to make complex edits since it does lack some more advanced tools. But, it's perfect for making your photos look great in a short amount of time. While it's not ad-free, the ads aren't too intrusive, nor do they obscure your workspace. And, you can upgrade to Fotor Pro at any time to remove ads and gain access to more editing options.
Like other software in this list, Fotor exports images in either JPG, PNG or PDF files, and it works with Windows, macOS and Linux operating systems.
5. Pixlr X Editor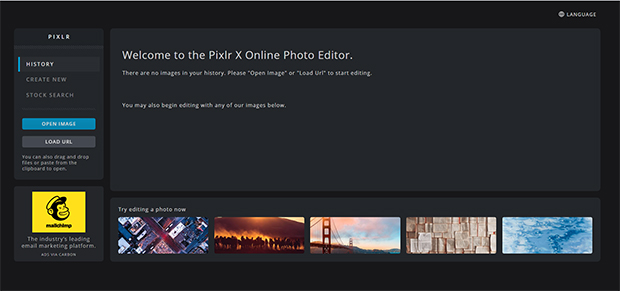 The Pixlr X Editor replaced Pixlr Editor and now features some new improvements over the original software.
Pixlr X Editor runs in any modern browser, because it is based on HTML5 instead of Flash. It's easy to use, with a user interface that you can customize with either a dark or light color scheme.
Some of Pixlr X's editing tools (like the healing brush) are still in beta testing, but it's regularly updated and can only improve.
While many free online photo editors let you crop and resize images, Pixlr X also offers a range of cutting tools like shape, drag, lasso and magic that let you create compositions from several images.
Pixlr X also includes sliders for adjusting contrast, brightness and saturation, as well as vibrance, highlights and shadows. Their extensive range of filters is adjustable so that you can control the strength of the effect on your edit.
Unlike some other free software, Pixlr X features a layers panel like Photoshop, which means that you can create image, text or drawing layers for more complex editing jobs. Then, you can rearrange and edit the layers themselves so that your final image looks perfect.
When you're done, you can export your images in JPG or PNG format, although the max image size is 3,840 pixels. The software works on Windows, macOS, and Linux (in browser).
6. Photo Pos Pro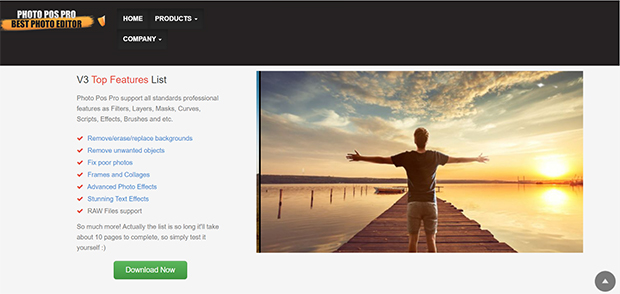 You may not have heard of Photo Pos Pro, but it's still a good-quality image editing app. Photo Pos Pro offers plenty of advanced photo editing tools to help you elevate your images.
It is easier to find your way around this app than GIMP, because it features both beginner and advanced modes. For those who are just starting out, the beginner layout is more like Fotor's, with an emphasis on filters.
For those who want to use more complicated tools, the advanced mode provides layers, layer masks and powerful tools for adjusting your images. You can still use the filters, but there are plenty of features here for professional-looking manual edits, too.
For many, Photo Pos Pro's only drawback is its image size restrictions. With this software, you'll only be able export images at a maximum size of 1,024 x 1,024 pixels. That may not be a problem if you're editing images for online display, but it's no good if you plan on making prints of your work.
This program works exclusively on Windows platform, though it does offer over 15 export formats.
Best Budget-Friendly Alternatives to Photoshop and Lightroom
If none of the free image editing software seems to have exactly the capabilities you're looking for, you do have some other options. In today's market, it's fairly easy to find less expensive alternatives to industry standard photo editing software.
In fact, both ON1 Photo RAW 2019 and Luminar can be bought for a one-time fee that's low enough to suit most budgets. Here's what we love about ON1 Photo RAW and Skylum Luminar:
7. ON1 Photo RAW 2020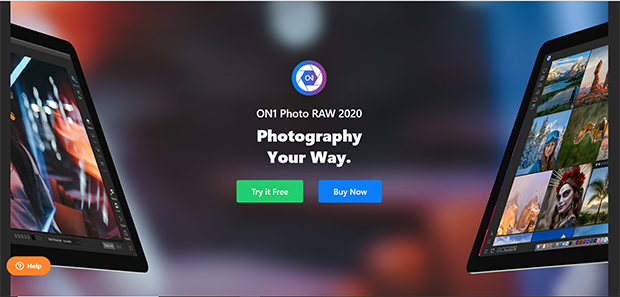 ON1 Photo RAW editing software provides a slew of tools for a reasonably low price. This all-in-one image editor functions as a RAW file converter and a photo editing suite — which makes it a great value!
It has all the tools you'll need to create flawless edits, including layers, adjustment filters and a large range of built-in presets and effects. And, you can use this software either as a standalone program, or as a plugin for Photoshop and Lightroom.
ON1 Photo RAW also offers organizational features like cataloging, image tagging, keywords and album creation. These tools will help you keep your work organized without a separate image organizer software. And new features like automatic timeline albums make it easy to view your photos by year, month and day!
Other new additions for the 2020 version of ON1 Photo RAW include a focus mask overlay that allows you to see areas of your images with the best focus, multiple language support, AI Auto Tone, AI Match, custom camera profiles, new filters and presets, a print module and SmugMug integration.
ON1 Photo RAW 2020 is available in Mac and PC versions, and supports all these file types:
Layered PSD and PSB files, including layer masks
TIFF
JPG
PNG
HEIC
Raw files from over 250 cameras
Common video formats
It's all in the name. ON1 Photo RAW is perfect for helping your process your raw images with ease.
8. Luminar 4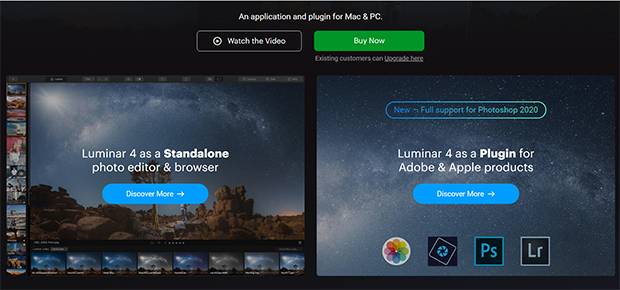 Skylum's Luminar 4 is another value image editor that doesn't ask you to sacrifice quality or functionality for price. It offers multiple workspaces for beginners and professionals, as well as workspaces dedicated to certain styles of photography. These include Street Photography, Black & White and more.
Luminar 4 also offers an image organization catalog with many of the same features as Lightroom and ON1 Photo RAW 2020. It can also be used as a standalone program, or as a plugin for Lightroom, Photoshop, Photos for Mac and Photoshop Elements. And, Luminar 4 is perfect for processing raw images that you can export in a variety of formats.
With Luminar 4, you can create adjustments using creative filters and Luminar presets, or you can make your own! It also has LUT mapping capabilities, as well as get some great cinema and film looks for your images. Finally, any other presets and LUTs you need, you can find in the Luminar Marketplace.
Which Best Photo Editing Software Will You Try?
As you can see, there are many different types of free and paid photo retouching software. Hopefully we've given you the tools to make an informed choice about which software is right for you.
Ultimately, your choice will depend on the software that best fits your needs and your budget. So, take your time to decide! You can even try two or three different free editing apps, if you want. They're free, after all!
If you're looking for even more photo editing options, these articles can help:
If you liked this article, join our email list for more handy photography resources, tips and guides. Don't forget to follow us on Facebook and Twitter, too!
Using WordPress and want to get Envira Gallery free?
Envira Gallery helps photographers create beautiful photo and video galleries in just a few clicks so that they can showcase and sell their work.