9 Best Photo Editors for Mac
by Alexandra Bateman on Sep 1, 2020
Photo editing on a laptop or desktop computer allows for a lot more control than you can achieve via mobile apps. If you're an Apple product user, you have access to a lot of great photo editing software options — many of which you may not even know about! So, what's the best photo editor for Mac users?
Many Mac users choose to work on Apple computers because of their high-resolution displays, responsive interfaces and easy-to-use apps. Of course, all of these features come in handy for photo editing, too. Given the popularity of Apple devices, it's no surprise that the number of photo editors for Mac have grown.
How can you take advantage of your Apple computer to maximize your photo editing software and create the best photos? Really, what is the best photo editor for Mac users?
We're here to help you understand what the best photo editing software solution is for you! We'll take a look at various photo editing apps for Mac and see how they match up to your editing needs. In this guide, we'll cover:
The best photo editing software for Mac
Best photo editing software package for Mac
How to edit photos on your Mac, and more!
Mac Photo Editors
If you're a new photographer and photo editor, you may not know what tools you're looking for in a photo editor. We can help with that, too. Look for an editing app you can grow with — one that allows for color correction and photo raw photo editing. White balance and tint sliders also make dramatic changes to your photos while still being easy to control.
While you may be accustomed to downloading your apps from Apple's App Store, most of these photo editors in this article are available only from third-party companies. Of course, they're still designed to integrate with your system, which is what makes them perfect for Macs! It also means they won't offer pesky the in-app purchases that many App Store applications have. Instead, you'll simply pay either a flat fee or a subscription fee to use the photo editor.
We'll talk more about downloading and paying for your photo editor later. For now, let's jump into what photo editing software you should use with your Mac!
Best Photo Editing Apps for Mac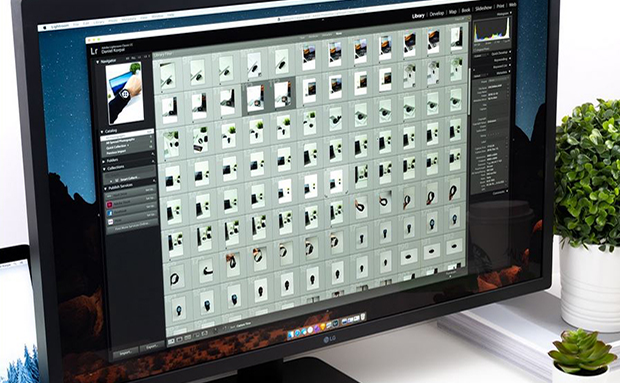 Now, let's talk about the best photo editing apps for Mac! These programs will help you harness your Mac's strengths to produce perfect, speedy edits in all your photos.
We'll look at how the programs in this list can help you in your photo editing jobs:
Adobe Lightroom
Adobe Photoshop
Skylum Luminar
On1 Photo RAW
Phase One Capture One
Corel PaintShop Pro
Fotor Photo Editor
Affinity Pro
Pixelmator
Let's get right to it!
1. Adobe Lightroom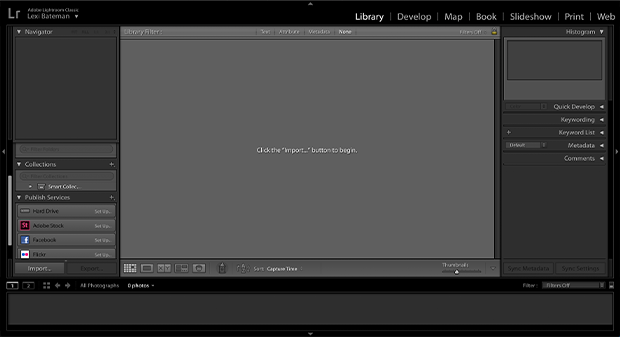 One of the leading photo editing software on today's market, Adobe Lightroom contains many of the tools you'll need to produce quality images. Adobe Lightroom's wide selection of tools and presets mean it's perfect for basic edits.
Because Lightroom has made a name for itself among professional photographers and enthusiasts, it has a large community dedicated to creating tutorials and instructional content for new users. That means it's super easy to learn Lightroom's basic tools and apply them to your photos to create new looks.
Lightroom allows for basic editing and exposure control, editing Camera RAW files and color correcting your images. Lightroom also allows you to fine tune more detailed elements, including highlights and shadows. With Lightroom, you'll find that your photo editing workflow is straightforward, direct and easy, which frees you up to take even more photos!
Lightroom makes photo editing even easier with its adjustment sliders. These sliders give you quick and precise control over your white balance and other image adjustments. Image editing in Lightroom feels like home to many photo editors who can't imagine working without it!
Furthermore, Lightroom's user experience allows you to explore and learn more on your own. Its internal presets library provides a catalog of presets to experiment with and expand your capabilities.
Of course, no photo editor is perfect, though. Lightroom does suffer in one area. While you can make both local and global adjustments, Lightroom does not allow for layer-based editing, which is necessary for more in depth photo editing.
If you find that your photos require more standard adjustments to things like exposure, saturation, color and white balance, then Lightroom just might be the tool for you. If, however, you want to create edits with masking and other advanced techniques, you'll need a program like Photoshop.
Get Adobe Lightroom with Adobe's Creative Cloud Plan for just $9.99/month.
2. Adobe Photoshop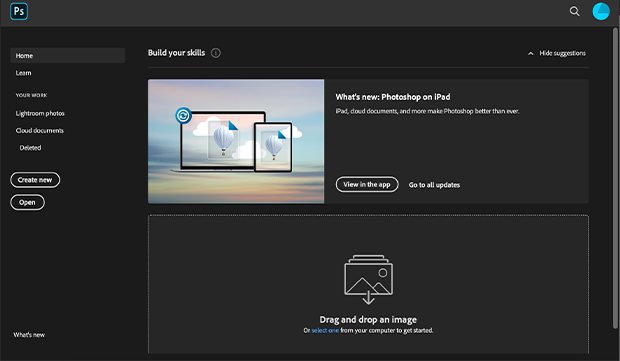 You can think of Adobe Photoshop as Lightroom's big sibling. While Lightroom allows you to store your images and make basic edits, Photoshop allows you to do much more, including more complex edits.
Thankfully, Adobe understand the value of the two applications together, so you can get them through a subscription to Adobe's Creative Cloud Plan. This plan, for $9.99/month, provides access to Photoshop and two versions of Lightroom. That way, all your photo editing bases are covered!
Working with Photoshop and Lightroom
We recommend that photo editors at all levels have access to both Adobe Photoshop and Adobe Lightroom. The price for both through the Creative Cloud plan is actually cheaper than subscribing to a single application. And, by combining their strengths, you essentially eliminate the need for any other photo editing software!
So what makes Photoshop different from Lightroom? Well, Photoshop is a layer-based destructive editor, which means is that Photoshop allows you to create multiple layers of edits and actually alters your original image file. That's why it's important, before you begin editing in Photoshop, to make sure you duplicate your file. Then, you can always return to your original image if you need to.
These two programs have been developed to run flawlessly on Mac computers at the same time. And, if you do run into a snag, Adobe is pretty quick at patching out bugs from updates.
Your workflow could look something like this: Start your simple edits with Lightroom's quick tools, then finish your advanced edits in Photoshop to bring your final image to fruition. Once you've done some light photo editing in Lightroom, open a copy of the image in Photoshop to finish out your editing. This combination allows for incredible edits in a shorter amount of time.
And, given Lightroom's presets and Photoshop's extensive toolkit, these programs will allow you to grow with them. As your photo editing skills increase, you'll be able to utilize more and more of these programs' tools to really maximize their potential. Get familiar with these programs now, and you'll be able to use them for the rest of your photography career!
Get Photoshop and Lightroom with Adobe's Creative Cloud plan for just $9.99/month.
3. Skylum Luminar 4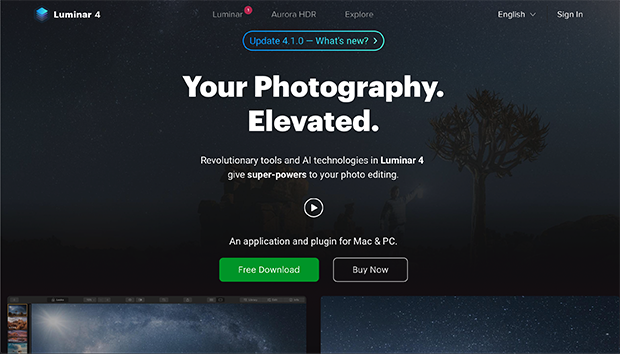 Skylum Luminar 3, and now Luminar 4, are two of my favorite photo editing software. The new Luminar 4 has improved in speed while retaining the same great features we know and love from Luminar 3. It's the best of both worlds!
Luminar 4 is a great alternative to Adobe products for those whose budgets can't accommodate a monthly subscription fee. In fact, you can purchase Luminar 4 for a one-time fee of $89.00. If you do the math, this program would end up paying for itself within a few years of photo editing if you chose it over Adobe's Creative Cloud package.
Luminar Presets
This program does a lot, and it can save you a ton of editing time. Although you'll still achieve better effects in programs like Photoshop through manual editing, Luminar has some built-in effects and presets that can radically change your image in one simple click. Effects like AI Sky Replacement and AI Skin Enhancer do all the heavy lifting for you, transforming skies and skin in your photos to look perfectly edited.
The results you can achieve with these two effects would take 10 times the amount of time — or more! — to do in Photoshop. AI Sky Replacement completely replaces skies in your photo while also changing the color temperature and basic global adjustments to make the image feel natural. The AI Skin Enhancer effect makes what used to be a cumbersome task in Photoshop much easier, smoothing out skin and removing blemishes.
In addition to its killer presets and effects, Luminar 4 is simple to navigate. Even beginners can easily learn how to apply quick global and local adjustments, like those you can make in Lightroom.
If you don't want to spend the time using Photoshop and can get away with a lower amount of control, Luminar 4 is the photo editor for you.
Other Luminar Capabilities
You can even edit your Camera RAW files in Luminar 4 through file conversion, and you can use it as a plugin on other photo editing programs. And, like Lightroom, you can use Skylum Luminar as an image storage system, too. This does tend to slow the program down, so we recommend using Mac's native Photos application for image storage, and then editing in Luminar 4. 
Perhaps the biggest pro in Luminar 4's column is its batch processing capabilities. While you can batch edit your photos in both Lightroom and Photoshop, the process requires a specific set of steps. With Luminar 4, you simply set the app to edit each image in the sequence and export them, which saves you from having to wait for imports or to set up a sequence of delicate actions.
Enjoy a 25% discount on Skylum Luminar 4 here.
4. ON1 Photo Raw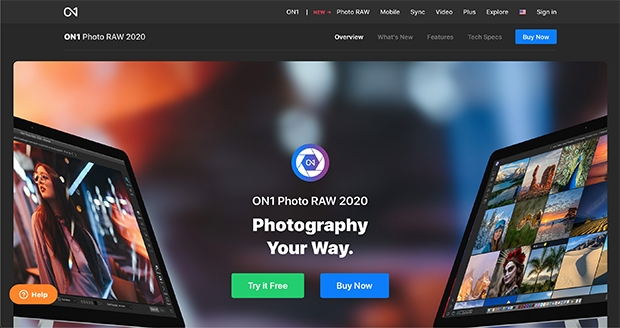 ON1 Photo RAW is actually really well integrated to the OS X platform, which isn't true of all third-party photo editing software. You can add ON1 Photo RAW as a Photos extension, and then use it in an almost native capacity on your Mac computer.
And, believe it or now, ON1 Photo RAW does have some advantages over top-leading programs like Lightroom. While editing in Adobe Lightroom, you must import your photos to edit, which can be a time-consuming task. ON1 Photo RAW instead allows you to store your edits in a database. This means that you can easily access images stored in Photos and edit them without having to execute a lengthy uploading process.
Outside of this great integration, ON1 Photo RAW also includes basically all the features of other Lightroom style editors, all for a one-time fee of $99.99.
If operating speed is important to you, then you should definitely consider ON1 Photo RAW. This program runs even faster than Lightroom, since it isn't trying to accomplish two tasks at once. Remember, Lightroom both stores and edits images. ON1 Photo RAW, on the other hand, operates exclusively as a photo editor. With less on its plate, it can run much faster.
We recommend photo editing users on Mac use ON1 Photo RAW in lieu of Lightroom if Lightroom's subscription cost is too high. The speed it adds to your workflow is staggering, and the photo editing tools are basically paralleled between the two software. You can tell that ON1 took some design hints from Adobe and improved upon them in a great piece of software.
5. Phase One Capture One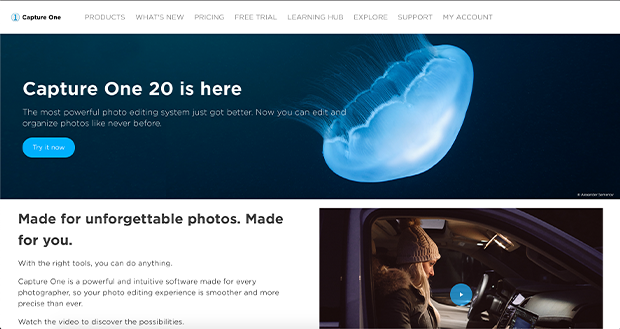 Capture One Pro by Phase One is a great editing software for those who use Sony or Fujifilm cameras alongside their OS X systems. This software is geared toward photographers who use those cameras. If that's you, you can purchase this program for Fujifilm or Sony for $9.99/month. For other users, the price jumps to $20.00/month. But, students receive a discount and pay only $7.00/month.
With that in mind, Capture One is a great option for users in those camera systems, and not so much for those outside of them.
Capture One Pro is another non-destructive photo editor and photo storage app. It is a great photo editing app, but not truly different than others on this list, like Lightroom and ON1 Photo Raw. Where Capture One Pro stands out is in a studio setting when it's tethered to a shooting camera.
In that environment, it worked much better than other applications we've previously tried. It was fluid and easy to use, and allowed instant access to images on a large screen. For studio photographers using OS X and these camera systems, the monthly price is worth it. You'll probably still find, however, that you need a more powerful layer-based photo editor like Photoshop.
For other users, the capabilities of Capture One Pro don't really justify the cost. Essentially, for photographers outside those camera systems, the program functions very similarly to Lightroom. The photo editing tools themselves are impressive, but are akin to those found in other applications.
Download the Capture One plan that's right for you here.
6. Corel PaintShop Pro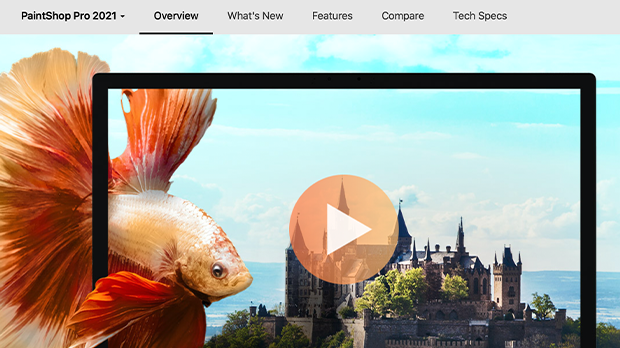 Corel's latest version of its premiere software, PaintShop Pro 2021, features a slew of new AI editing tools, as well as other advanced photo editing features that every professional photographer needs in their toolkit.
The latest PaintShop Pro release includes tools like AI unsampling, which allows you to drastically enlarge photos without sacrificing image quality, and AI Style Transfer to help you transform your photos into works of stylized art. This new version will also include tools to help you restore old photographs as well as precisely retouch portraits.
Because PaintShop Pro is a layer-based photo editor, its workflow mirrors that of Photoshop. You'll find that the PaintShop Pro workspace is arranged similarly to Photoshop's, right down to its workspace color scheme and pop-out panels design.
The good thing is, if you're already a Photoshop or Lightroom user, PaintShop Pro supports these programs as plugins. With a trifecta of photo editors like that, there won't be an editing technique imaginable that you can't master.
And, thanks to Corel's free trial and money-back guarantee, you can test out the program without fear of commitment!
Try 30 days of Corel PaintShop Pro free here.
7. Fotor Photo Editor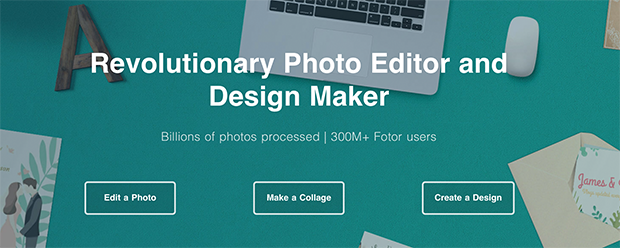 Fotor is a unique photo editor because it's web-based. That's right, Fotor Photo Editor is an online photo editing tool. And, it's also available in the Apple App Store. We love Fotor because few online photo editors offer as many high-quality editing tools or editing resources.
With this free online photo editor, you'll have the tools to create all kinds of photo edits with the click of a few buttons. Create fast photo collages for social media, retouch portraits with the Wrinkle Remover, Teeth Whitener, and Blemish Remover tools, or even take advantage of Fotor's world-leading HDR algorithm to make perfectly exposed composite photos.
Fotor also makes turning your images into designed deliverables easy by offering a selection of pre-made templates for social media, marketing, events, and more.
While Fotor's base editor is free, you can choose to upgrade to Fotor Pro for even more access to advanced features, cloud storage and premium content without watermarks.
This online program is great for beginner photo editors whose primary goal is to turn their photos into other things. Fotor is great at helping you make social media banners, covers and posts, or event invitations and even documentation.
But, it does lack some of the tools to create really complex edits. For those kinds of jobs, you're better off with a more powerful editor like Photoshop, PaintShop Pro, or another on this list.
Try Fotor Photo Editor for free online.
8. Affinity Photo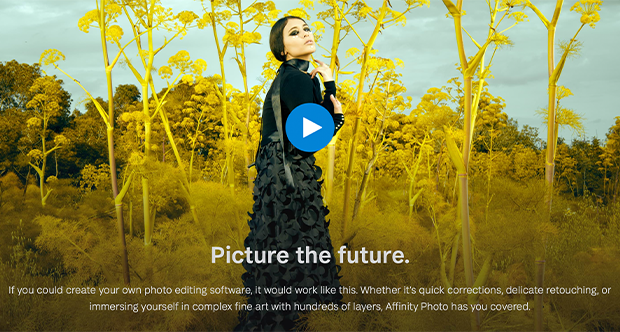 Fans of Photoshop are sure to love Affinity Photo for its array of editing tools, clean workspace, and unlimited layers. In fact, if you were to boil Photoshop down to its best tools, cleanest workflows and simplest features, you'd be left with a program that looks an awful lot like Affinity Photo.
This program boasts speed, power and precision — the hallmarks of any good photo editor. And, with integration across Mac, iOS, and Windows, it's a photo editor you can use on virtually any device you choose. Even iPad users can take advantage of Affinity Photo's Apple Pencil Support.
Affinity Photo supports RAW image editing, as well as HDR image creation, panoramic image stitching, focus stacking, and multi-layer composites.
If you've been working in Photoshop and are hesitant to switch editors, never fear. Affinity Photo can open and edit PSD and PSB files, and even import PSD Smart Objects.
Plus, Affinity Photo comes with a reasonable price tag — just $49.99 for the desktop app and $19.99 for the iPad app.
Try Affinity Photo's free trial before you commit here.
9. Pixelmator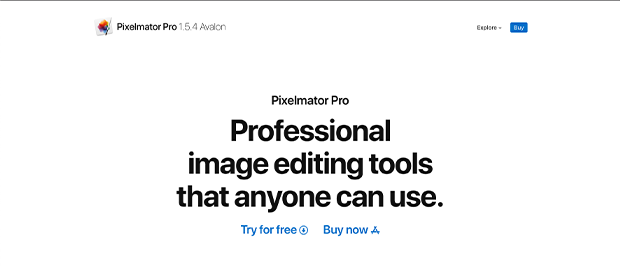 Pixelmator, like Fotor, is one of few Mac-integrated photo editors available through Apple's App Store. This application comes with a relatively low price compared to its competitors — $39.99. And, it works in conjunction with Mac's native Photos application. In fact, Apple boasts Pixelmator's native support on its website alongside Adobe Photoshop! 
Pixelmator mirrors the ease of use that we've grown accustomed to in Apple's products, which makes it an ideal pairing with Mac devices. While other photo editing software have been simplified over time, Pixelmator really belongs in the Apple ecosystem.
The software itself isn't overly impressive, but it is intuitive, and it gives users a good amount of control. If you're a Mac novice, Pixelmator can be a great place to dip your toe in the water without making a big financial commitment.
Click here to try Pixelmator for free.
Available Photo Editors for Mac
Native Mac Photo Editing Software
There are currently countless different basic photo editing apps for Macs. Instead of looking at all the different applications you could possibly choose, we'll look at the leading industry standard software and those that will meet the needs of photo editors at any skill level.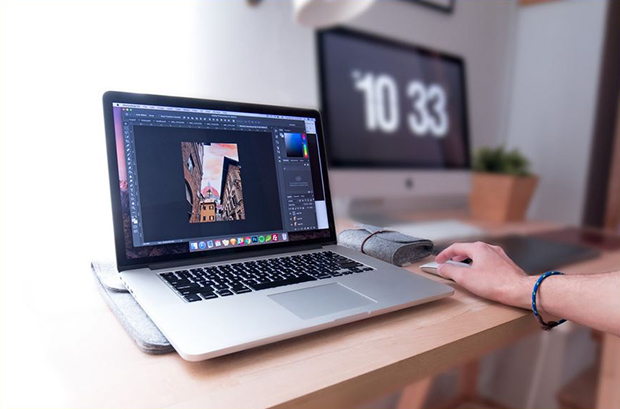 First, however, let's talk about the native Mac photo editing software.
Photos is Mac's native photo editing application. With Photos, you can sort and make minor editing adjustments to your images. While this native photo editor works fine for basic storage and editing, it is rather lackluster when it comes to editing images at a higher level.
The benefit to using Photos is its integration with your Mac Photos Library. Photos allows you to edit images straight out of your Photos Library by simply selecting an image and choosing Image >> Edit. Photos then opens up your image for editing without asking you to export it or search through the native Photos file structure.
Again, Photos can be a good place to start editing, but it likely won't get you all the way to a perfect image. For most editing jobs, you'll need a more powerful photo editor than Mac's native option.
What Photo Editing Software Can You Install on a Mac?
As we mentioned earlier, most photo editing software offer variants that integrate with Mac's OS X operating system. Most photo editing software is actually also available for iOS, which means they'll work on your Apple iPad or iPhone. But, there are some programs designed specifically to work with Macs. Others, though they may have Mac variants, don't run as smoothly on Mac systems.
Adobe Photoshop and Lightroom both function exceptionally well on OS X. These photo editing software are household names, and they're considered the golden standard for editing programs. But, as we've seen, these aren't the only photo editors that work with Mac devices. 
Unlike many other laptop and desktop manufacturers, Apple's Macbooks come with top-of-the-line screens. While other manufacturers make some great screens, they can't compare to Apple's Retina and 5K screens. These screens, with their crystal-clear pictures and brilliant color displays, are made for photo editing.
Of course, Macs don't come with studio-level screens, but their screens are powerful enough for most editing jobs.
You should also consider using a Mac computer for your photo editing — especially if you're a beginner — because they're easy to use. Getting them set up out of the box only takes a few minutes, which means you can get right to photo editing. And, because they're so popular, most editing software offer Mac versions.
How to Edit Photos on Your Mac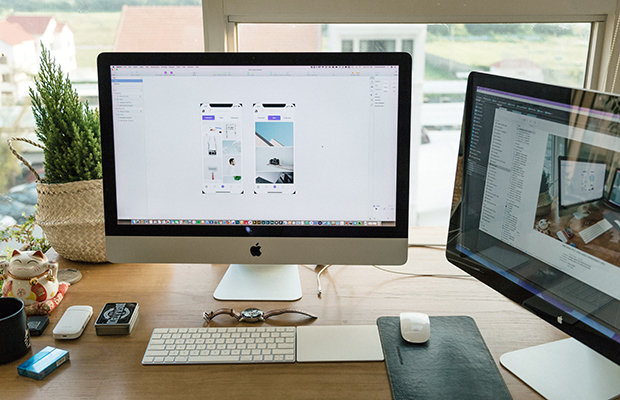 Editing photos on your Mac is rather straightforward, depending on which photo editor you choose to work with. Of course, the photo editors with Mac-specific variants are the easiest to work with, because the app developers have already done the integration work for you.
With a Mac-specific photo editor or photo editing variant, you can rest assured that your software will work seamlessly with your Mac's OS X processor.
How to Store Images on a Mac
Running out of storage for images is one of the most common problems Mac editors face. ou may run into image storage issues. Truth be told, Mac storage comes at a high price premium, so you may not be able to afford the amount of space you actually need to safely store your photos. What can you do to mitigate this?
Many photo editors who work on Mac devices choose to mitigate their storage problem with external hard drives. While external drives are a great temporary solution, the more photos you take, the more drives you'll end up needing. For this reason, I recommend finding a true storage solution, rather than having to regularly find new drives for your use.
Additionally, external drives tend to have a higher failure rate than internal drives in your computer. And, often, they're not protected by failsafes. You'll likely also find that editing from an external drive severely slows down your process.
Image Storage Solutions
It's best practice to save your images in at least two places other than your Mac's internal drive. This protects you from losing your images should something happen to your Mac. In fact, getting data off of a Mac that's been corrupted is expensive and puts your images at unnecessary risk. If your hard drive dies, sending it to a hard drive recovery shop will void your Mac warranty.
Really, saving your images in multiple places is your safest option.
Instead of using an external hard drive, consider a server or Network Attached Storage (NAS) for your images. You might also benefit from an additional cloud-based backup like Amazon Photos, iCloud or Dropbox.
Amazon Photos is a great choice if you're already an Amazon Prime member. Amazon Photos is free for Prime users, so you get unlimited online full-quality image storage without breaking the budget.
Consider investing in a home server with several terabytes of space. Connecting via cable will make it blazingly fast, and you will have access to all your images at the same time.
Where to Find Tutorials for Editing Photos on Mac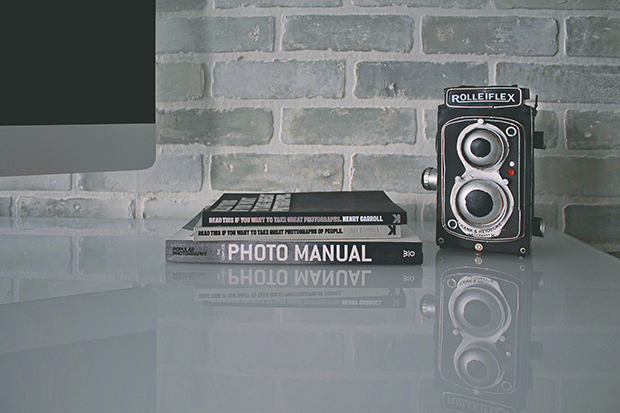 Third-party software tutorials are plentiful, but not all of them are Mac specific. If you're familiar with Windows and OS X, those general third-party tutorials will be easy to follow. If you're a Mac-only user, you'll want to find tutorials specifically written for Mac interfaces. Luckily, given the popularity of Apple's Mac computers, you shouldn't have too much trouble.
Look for tutorials that specify OS X in their titles or mention executing commands with the Command (cmd) button. Because only Macs have this key, a Command button mention in a tutorial is a dead giveaway that the tutorial was written for a Mac interface.
You can also find great tutorials by looking to photo editing sources that offer step-by-step guides, regardless of platform. Here on Envira Gallery, our tutorials will specify keyboard shortcuts in third-party software for both Mac and Windows users, so you can follow along with any tutorial no matter your editing device's operating system.
Either way, when image editing, general editing tools won't vary too much between different operating systems. Look for quality tutorials, and then try to find the ones for Mac. Worst case, you might have to do a little technological translation on how to access the same editing tools between Mac and Windows.
What Do You Need to Edit Photos on a Mac?
All you really need to edit photos on a Mac is your Mac computer, an editing program you love and a killer photo. But, there are some tools out there designed to make editing photos on a Mac even easier than it already is.
For example, you may find that editing with a mouse is easier for you than editing with your Mac's built-in trackpad. This is certainly true for me, though I have friends who disagree.
You can also try your hand at editing on your Mac with the help of a tablet like the Wacom graphic tablet. I find that the tablet gives more control for those small, precise edits.
Other tools that can be useful for Mac editors include a monitor calibrator, which is an editing tool that makes sure your monitor is color accurate. Furthermore, a monitor hood for a desktop monitor will make sure that glare isn't clouding your view during editing. Mac screens are reflective, so they suffer more glare than some other screens.
Best Photo Editing Software Packages for Mac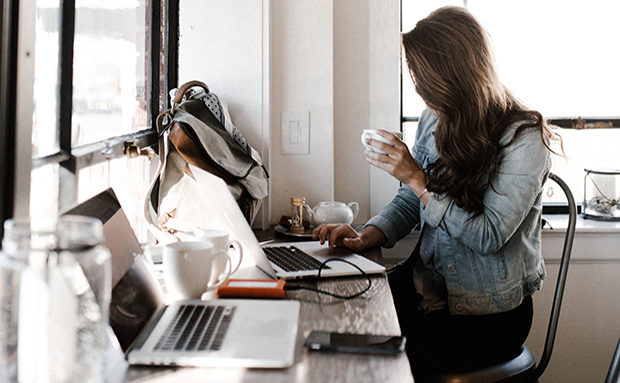 Many software developers offer photo editing software packages for Mac. These packages sometimes even include high-level video editing software. So, whether you want to solely edit photos or start video editing, you're bound to find a photo editing software package for Mac that fits your needs. 
No photo editing software package can beat Adobe's Creative Cloud plan. With their Photography bundle, you get access to three photo editing software — Adobe Photoshop, Adobe Lightroom CC and Adobe Lightroom Classic — for only $9.99/month. This package even includes 20 GB of free storage.
If you'd like to try your hand at Adobe's other Creative Cloud apps, you can subscribe to the entire platform for $52.99 a month. For this rate, you'll receive access to the whole host of Adobe software, including video and audio editing tools. If you can find a use for all or several of the tools, it is definitely worth spending the cash.
There You Have It!
We hope this guide to the best photo editor for Mac has helped you decide which editing software you need. If you found this article helpful, check out these other guides to help you maximize your photo editing work:
Let us know in the comments which photo editor you plan on getting started with. And, for more photo editing advice and tutorials, follow us on Facebook and Twitter. Or, sign up for our email newsletter!
Using WordPress and want to get Envira Gallery free?
Envira Gallery helps photographers create beautiful photo and video galleries in just a few clicks so that they can showcase and sell their work.